When it comes to urban cities like Hanoi, lakes are a unique feature. West Lake in Hanoi is not only a beautiful inner-city sight, but like a good friend as it is always there for you no matter what happens. Take a stroll around the lake and appreciate its serenity and tranquillity, which it is hard to find amidst a congested and dusty city.
[rpi]
WHEN WAS WEST LAKE ESTABLISHED?
Before it was known as West Lake, this epic site had a variety of quirky names such as Dam Xac Cao (Fox Corpse Swamp), Kim Nguu (Golden Buffalo Lake), Lang Bac, Dam Dam (Foggy Lake), Doai Ho and many others. Each name was closely associated with a mysterious legend which intrigued many people.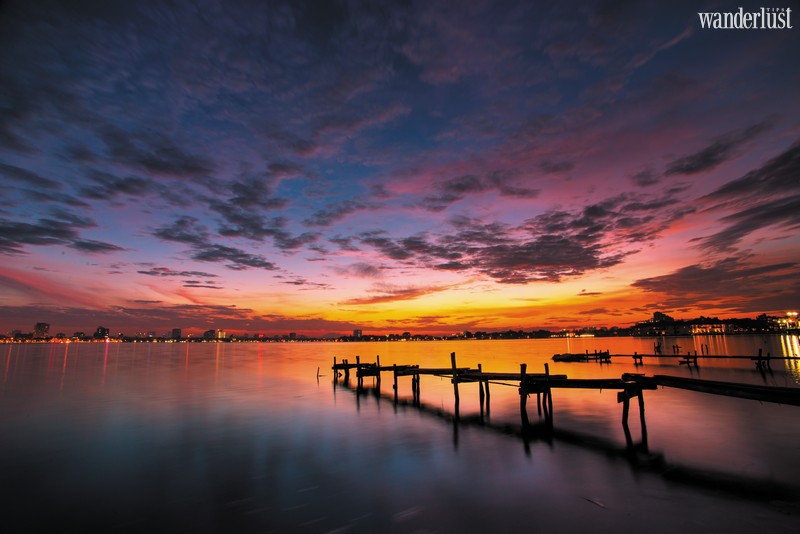 A historical book entitled Tay Ho Chi shows that West Lake dates back to the reign of the Hung Kings. At that time, there was a port named Lam Ap Port which was adjacent to the Red River in Lam Ap Cave. During the period of the Trung sisters, West Lake was depicted as a large lake that was surrounded by dense forests and home to many rare species and unique caves. Today, it has changed dramatically with the addition of small villages, peaceful streets and crowded residential areas.
Stretching from the North to the East, West Lake has long been a favourite destination as a resting and sightseeing place for royals. For instance, Thuy Hoa and Tu Hoa Palaces built under Ly Dynasty are known as Kim Lien Pagoda or Ham Nguyen Palace built under Tran Dynasty is now Tran Quoc Pagoda. Over the course of years, West Lake has exuded a refreshing ambience and gentleness, making it a favourite spot for people, who want to take a breather from their modern and busy life.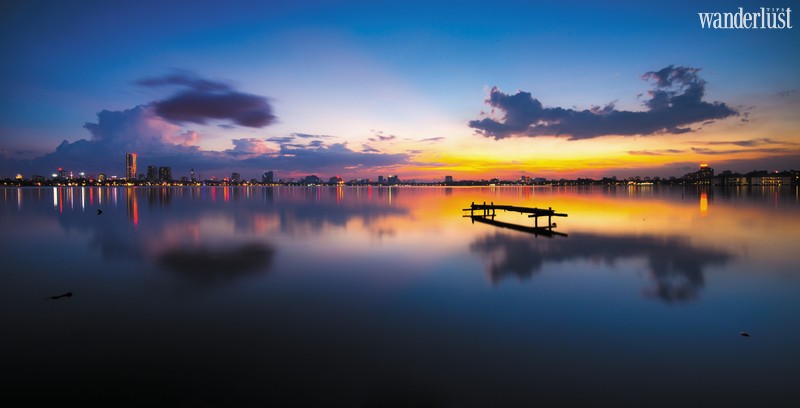 MORE THAN JUST A LAKE
Many people consider West Lake a sort of quiet friend. The lake boasts a distinctive beauty throughout the day. At the break of dawn, the lake paints a refreshing and alluring picture. When dusk falls, the lake embodies a sort of feminine and emotional view. Over time, West Lake has become the most romantic corner of Hanoi – a very buzzing and crowded city.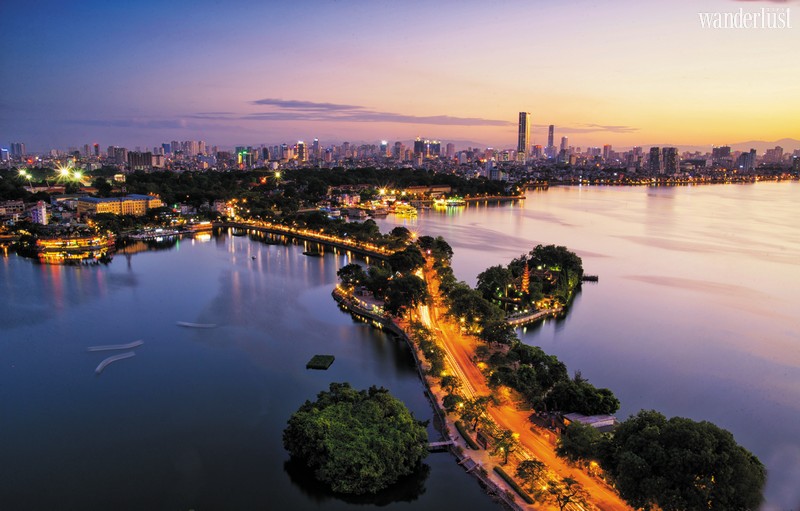 The largest inner-city lake is often called "the sea of ​​Hanoi" as it is rare for such an immense lake to exist in the topography of a hectic metropolis. As summer arrives, the lake is akin to a mini-ocean in the heart of the capital. You will find stone benches placed along the path around the lake, throngs of people enjoying the fresh atmosphere, mobile food carts full of flavourful snacks. Some locals sit fishing attentively by the lake while the older generations and children stroll around. West Lake exudes an authentic idyllic ambience that encompasses a closeness between people and nature, making it an adorable place whenever summer comes to Hanoi.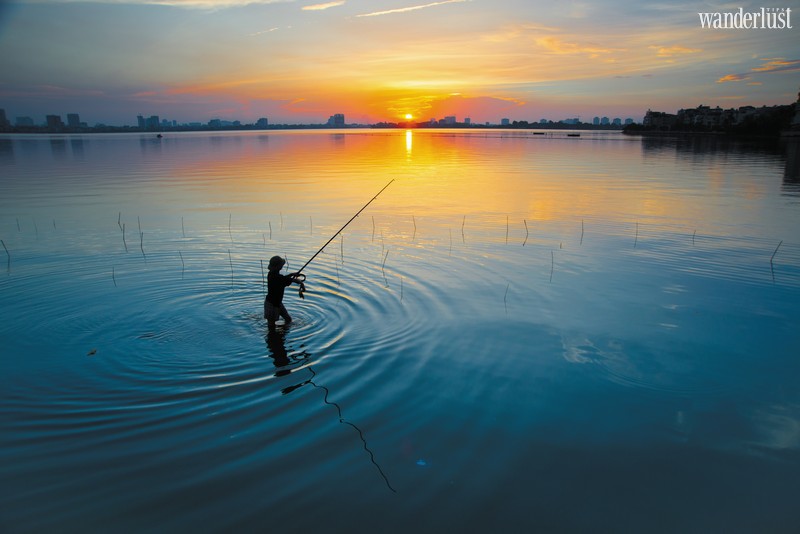 You will regret visiting the capital and not taking in the atmosphere around the stunning lake. West Lake is not particularly unique where lakes are concerned, but this place has locals and foreigners falling head over heels with its peaceful road and the whisper of the breeze rustling the leaves on the trees. There is nothing more fantastic than enjoying the cool breeze whilst wandering around the hassle-free road or sitting down on the concrete steps near the water while sipping a cool drink or enjoying an ice cream.
Whenever the sun sinks slowly below the horizon, West Lake becomes even more beautiful as the sky alights with an amazing array of dazzling colours such as pink, purple and orange. In the afternoon, many photographers usually gather together around the lake to capture Tran Quoc Pagoda at sunset. West Lake will definitely satisfy your wanderlust. In spite of its tranquillity, cosmopolitan glamour and sounds of nature, the fascinating lake always brings an endless sense of bliss and relaxation to visitors.
BEST THINGS TO DO AROUND WEST LAKE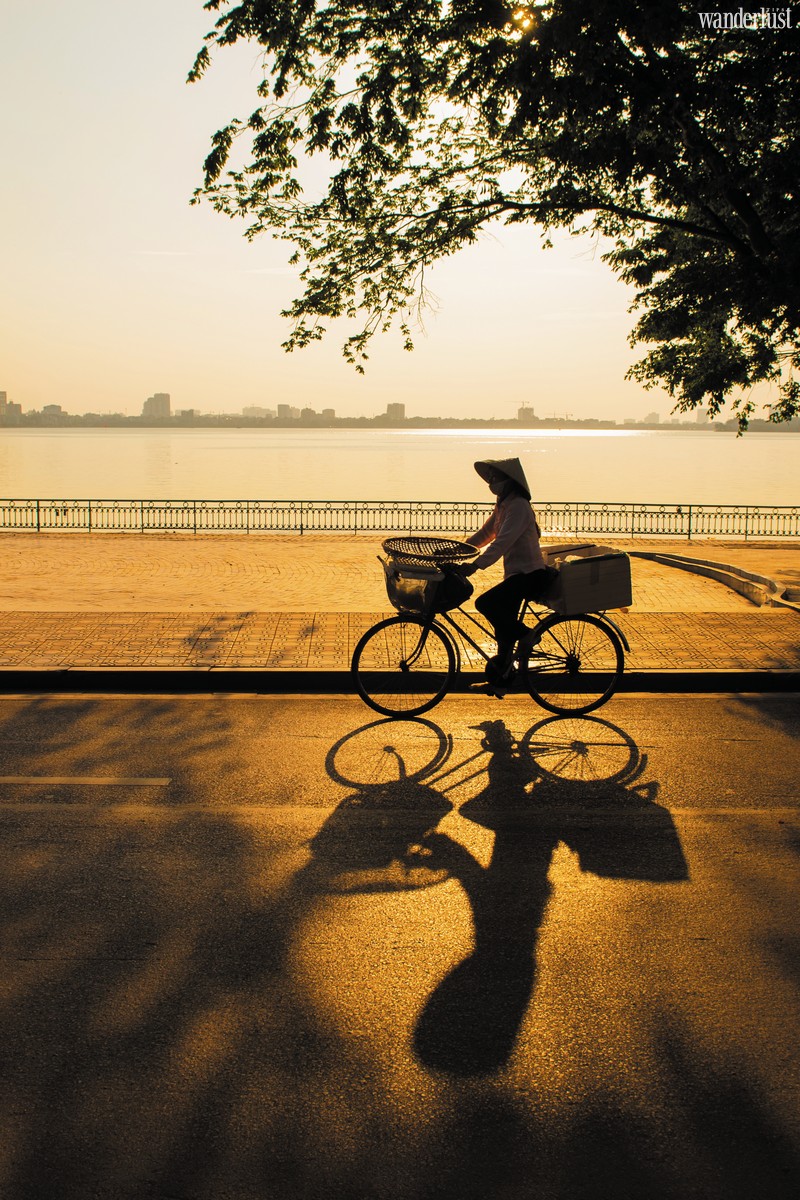 Aside from its peaceful and refreshing atmosphere, West Lake is known as a "green" recreational destination in a bustling city full of concrete roads and high-rise buildings. No matter how busy I am, I have fallen into the habit of taking my motorbike for a spin around West Lake on the weekends with a friend or by myself. The road encircling the lake stretches nearly 20km. When riding around, I feel all of my sorrows and sadness float away. I prefer riding around the lake with my friends as we can chat, enjoy the views and crack jokes together. Many people often think that there is nothing special and appealing about West Lake. However, if you spend your time searching for this lake, you will be surprised that there is whole host of interesting activities:
Stand up paddle boarding (SUP): Aside from the swan pedalos, the immense lake is a popular venue for SUP enthusiasts. As well as a healthy workout, SUP allows you to unwind and get closer to the water.
Cycling: If you are a sports enthusiast, West Lake is really a great place for healthy activities. Everyday, you can see people, both the elderly and children, exercising and relaxing on their bikes whilst travelling around the lake.
Experience the ancient temples around the lake: There are more than 20 famous temples, shrines and pagodas around West Lake. Travel to these religious sites on the 1st days of lunar moths and pray for peace and luck.
Marvel at splendid flowers: West Lake is a paradise for flower lovers as it is home to a large lotus pond. In season, the lotus flowers radiate a gentle fragrance, creating a staggering natural picture. Additionally, you can visit the famous Quang An flower market and buy some bouquets of beautiful flowers to decorate your house.
Drink coffee while sightseeing: There are so many lovely coffee shops on the lakeside streets such as Nguyen Dinh Thi, Trich Sai, Quang An and Xuan Dieu. Treat yourself to a coffee house by the lakeside and appreciate its serenity in the heart of the capital.
Grab some food: Trying shrimp cakes or ice-cream cones is always a must amongst foodies when visiting the lake. Additionally, there are lots of eateries and restaurants, where you can embark on a flavourful culinary journey.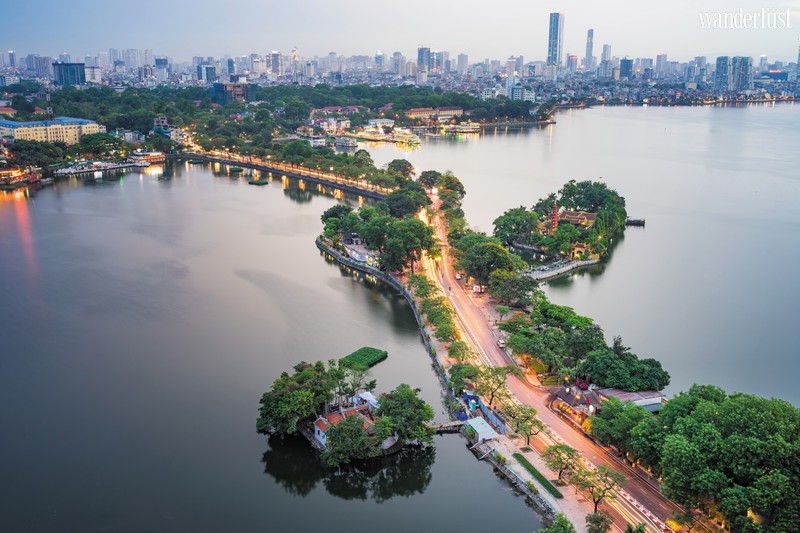 Many people often ask "How long does it take for a stroll along West Lake?" or "Why do you spend time wandering around the streets?". No matter how far the lake is and how the weather is, you always fall in love with its beauty. A far cry from the hectic pace of metropolitan life, West Lake conjures a laid-back and refreshing energy. Over the course of time, West Lake has intrigued many people with its silent, gentle and nostalgic vibe. Whether it is spring, summer, autumn or winter, Hanoi lovers take their time to travel around West Lake and to appreciate the idyllic charm of this waterside haven.
Wanderlust Tips