Sa Pa is not particularly glamorous, but I was absolutely fascinated by its magnificent maze of winding roads. The thatched roofs and small villages nestled in the misty valley really won over my heart. I was totally mesmerised by Sa Pa amidst the mountains and forests with its distinctive ethnic minority culture.
[rpi]
Known as a small mountain town in Lao Cai Province, Sa Pa is located about 350km northwest of Hanoi and shares its border with China. It is home to Hoang Lien Son Mountain Range, which includes Fansipan, the country's highest peak. Uniquely nestled among the mighty mountains, the peaceful town is inhabited by a variety of different ethnic minorities. There are five main ethnic minorities, including the H'Mong, Dao, Tay, Giay and Xa Pho. It is said that Sa Pa was first occupied by one group of ethnic people. After that, the Kinh or lowland Vietnamese colonised this mountainous town. Today, the town has become a popular tourist attraction thanks to its awestricken natural beauty and distinctive ethnic minority cultures.
THE ANCIENT HISTORY OF SA PA
The first people living in Sa Pa left their trace in the ancient rock formations in the 15th century. According to archaeologists, hundreds of stone carvings depict deftly and meticulously the local lives and folklore cultural activities of ancient generations. Among the ethnic minorities, the H'Mong and Dao people first colonised Sa Pa. The valleys in Sa Pa are so secluded and remote. It was only when the French arrived in highland Tonkin in the late 1880s that Sa Pa or Chapa, as the French called it, began to appear on the geographical map. After that, the French military parties, as well as missionaries, also paid a visit to the town. From the 1890s onwards, Sa Pa came under French colonial military administration.
In the decades that followed, French civilians and residents arrived in Sa Pa to settle, which changed it significantly. During a period of hostility in Sa Pa, nearly all of the large buildings and French architectural structures were destroyed. It was not until 1960 that the government encouraged the Kinh to move to Sa Pa. As a result, since 1993, this town has gradually become a famous tourist destination that attracts a huge number of tourists due to its stunning landscapes and fresh atmosphere.
FALL IN LOVE WITH SA PA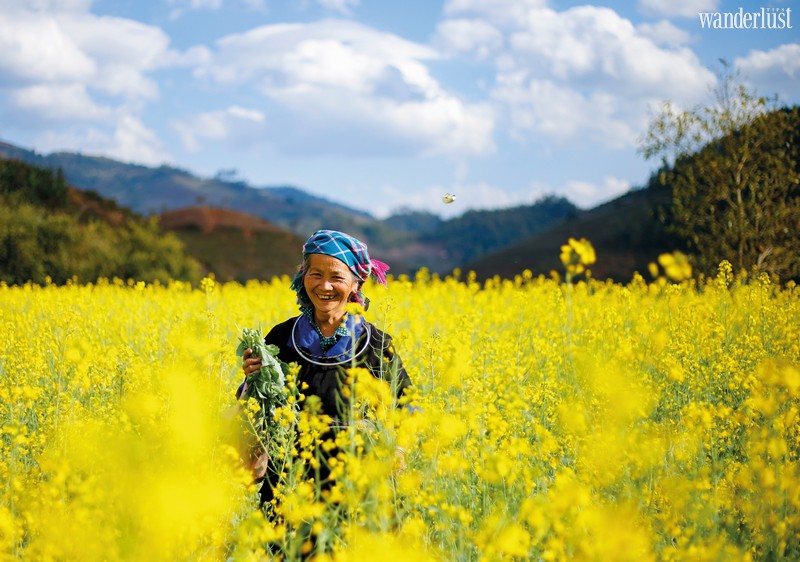 Sa Pa is not particularly glamorous, but I was absolutely fascinated by its magnificent maze of winding roads. The thatched roofs and small villages nestled in the misty valley really won over my heart. I was totally mesmerised by Sa Pa amidst the mountains and forests with its distinctive ethnic minority culture. It is undeniable that Sa Pa is a very different travel experience for both Vietnamese and international tourists.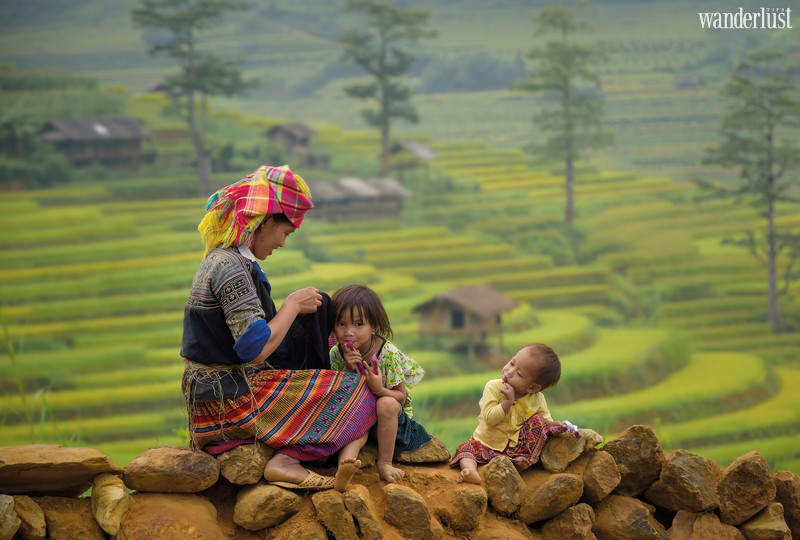 The ethnic minorities form and enhance a unique national identity for local cultural heritage. A far cry from other famous tourist attractions around Vietnam, this little town has visitors falling head over heels in love thanks to its one-of-a-kind beauty. For instance, it is easy to encounter the different ethnic groups dressing in traditional clothing and selling their own handmade products at the local markets in Sa Pa. From time to time, you can also witness a local wedding or celebration. If you were to hear about the White Dao people, would you assume that they have white skin? At first, I thought so, but the truth is that whiteness is the iconic colour in their local culture and traditional costume. The name White Dao is to distinguish from other Dao ethnic minorities.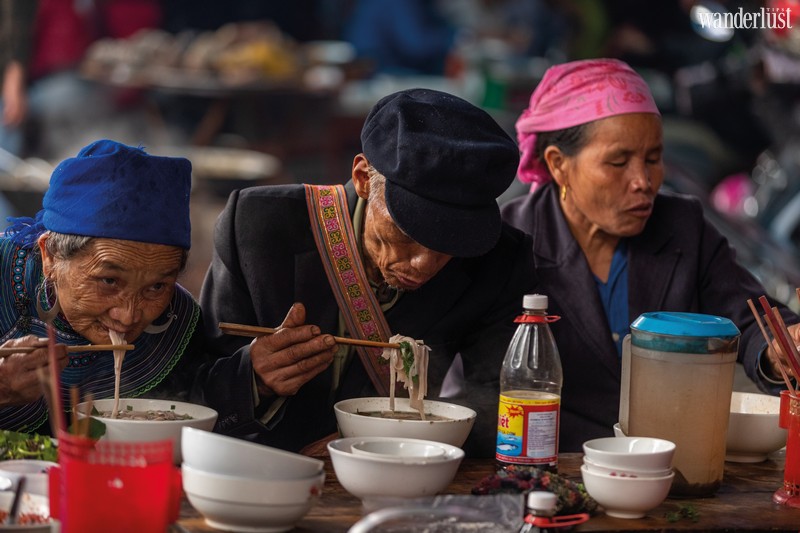 From Sa Pa, tourists will depart to Muong Hoa Valley by following the main road. From above, Hoa Stream flows gently along the valley, making it a magnificent natural picture. Several dark brown wooden houses, dotted on the immense paddy fields, form a poetic and somewhat secluded environment. There is a small path passing through the small villages located in the middle of the alluring valley, the smooth paddy fields are nestled in the rugged mountainside. Due to the cold temperatures, the covering of fog still swirls around the hillsides after midday. I was immersed in both poetic and fascinating natural ambience. If you are passionate about trekking, then Sa Pa is the place for it.
THE 8 BEST THINGS TO ADD TO YOUR SA PA BUCKET LIST
TASTING FOOD
It sounds quite simple, but if you are not a foodie, you may miss a whole host of delicious and attractive delicacies in Sa Pa. During my previous trips, I explored so many tourist attractions that I forgot to enjoy their local cuisine. Additionally, because of such fleeting visits, packing a lot into my time left me feeling somewhat exhausted. Hence, on this trip to this town, I tried my best to try the popular local food, for instance, Thang Co (horse meat soup), smoked buffalo meat, Mam Da (a kind of vegetable served with eggs), salmon, brook fish and pork.
CONQUERING FANSIPAN
Fansipan, located in Hoang Lien Son Mountain Range, is currently the highest mountain in Vietnam. Taking a trek through the mountains requires you to have excellent endurance and good health. For your comfort and safety, I recommend taking the cable car so that you can both admire the landscape through the cabin and go sightseeing after reaching the top. Standing at 3,143-metre and casting your eyes over the horizon will be truly unforgettable. Most interestingly, you will have the chance to get a view of the snow which is unique to Sa Pa in the winter.
VISITING CAT CAT VILLAGE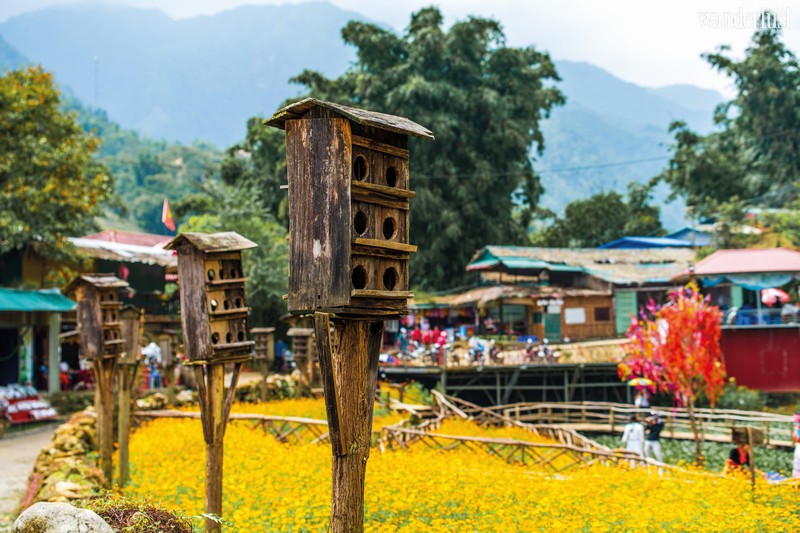 Cat Cat Village should always be a must-visit destination on any Sa Pa travel itinerary. Known as the earliest established village in Sa Pa, the village is home to the H'Mong people. Here, aside from admiring the picture-perfect wooden houses or strolling along the cool murmuring stream, you can learn about the traditional weaving techniques of the locals.
CHARMING LOVE WATERFALL
Before the trip, I had no idea about Love Waterfall or Silver Waterfall in Sa Pa. Due to my lack of knowledge, I departed quite late, it was 2.30 pm when I was standing at the gate to buy tickets. It was a very cold day, the temperatures dropped to between 6 and 7OC. Seemingly, there was only my friend and me. In the afternoon, Sa Pa was blanketed in thick fog, so it took more than 30 minutes to travel on foot. We were exhausted and it was getting darker, so we considered returning.
However, we struggled through as we were so desperate to catch a glimpse of the falls. We were ecstatic when we finally reached the water's edge and heard the thunderous tumble of the falls. The sound of the water crashing down brought me a great deal of joy and comfort. In the fresh air of the mountains and forests, I began to imagine beautiful fairies dipping in the cool water.
MEANDERING AROUND SA PA STONE MONASTERY
After Man Coi Church in downtown Sa Pa, I decided to visit the 100-year-old stone monastery located in a peach garden in Ta Phin Village. In the spring, the monastery will blow you away with its beauty, thanks to a blanket of peach blossom covering the mossy ground. Due to the ancient architecture of the walls, the monastery is an extremely historic structure.
O QUY HO PASS
O Quy Ho Pass is dubbed the "Heaven Gate" where you can admire a panoramic view of Sa Pa. Here, I caught a spectacular glimpse of the lush green valley and majestic mountains stretching across the horizon. You can opt for a motorbike or taxi to reach O Quy Ho Pass, but riding a motorbike on a beautiful sunny day will definitely be the most memorable option.
RELAXING IN SPLENDID SPACE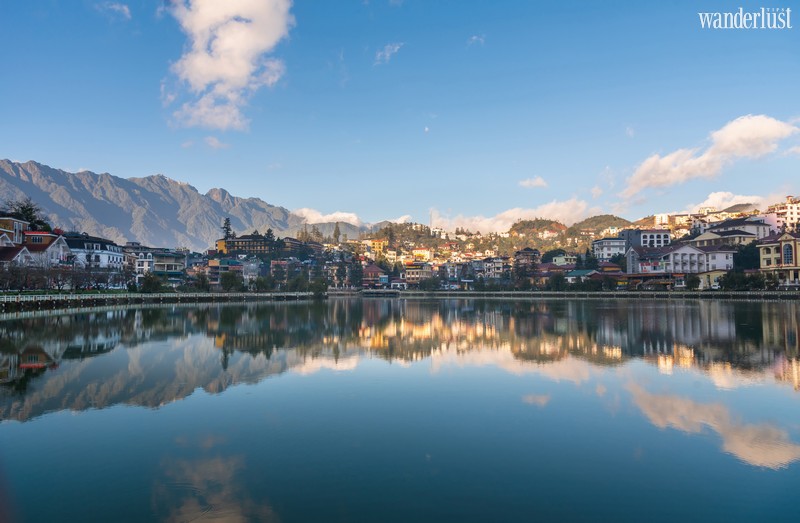 Aside from strolling around the breathtaking natural surroundings, pop into a restaurant or cafe to enjoy its elegant décor and good service. Treat yourself to gourmet meals or delicious drinks whilst socialising with your friends. If you are a solo traveller, you will have much more time to relax for your next destination.
VISITING THE LOCAL MARKETS
It is particularly necessary to visit the local markets and experience the colourful life of Sa Pa people. On weekends, you will be excited to see new and unique local products. Additionally, tasting the local specialities, for instance, Northwestern corn wine or smoked buffalo meat is a must. Especially, forest vegetables stir-fried and served with grilled meat is an iconic flavour which is unique to the local markets in the Northwestern province.
W.TIPS
BEST TIME TO TRAVEL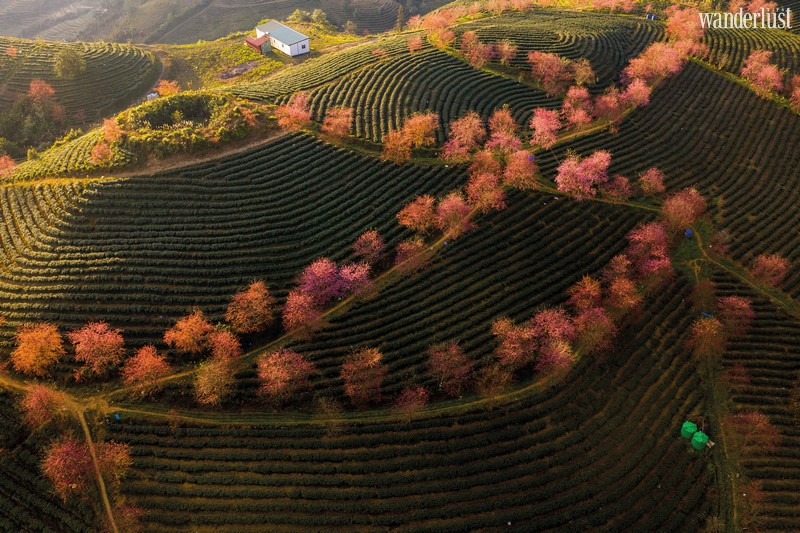 Between late November and early February, winter arrives in Sa Pa. Occasionally, the weather is slightly drizzly, so it is necessary to pack suitable clothes. The plum and peach blossoms are in full bloom between late February and late March. During this time, Sa Pa boats an unrivalled charm with hundreds of beautiful blossoms. If you are interested in taking photographs of the terraced paddy fields, between June and August is the best time for smooth greenness, however, it is important to note that this is also the rainy season, so it is not the most convenient for travelling. You can experience the yellow ripe terraced paddy fields usually from early October to November.
TRANSPORTATION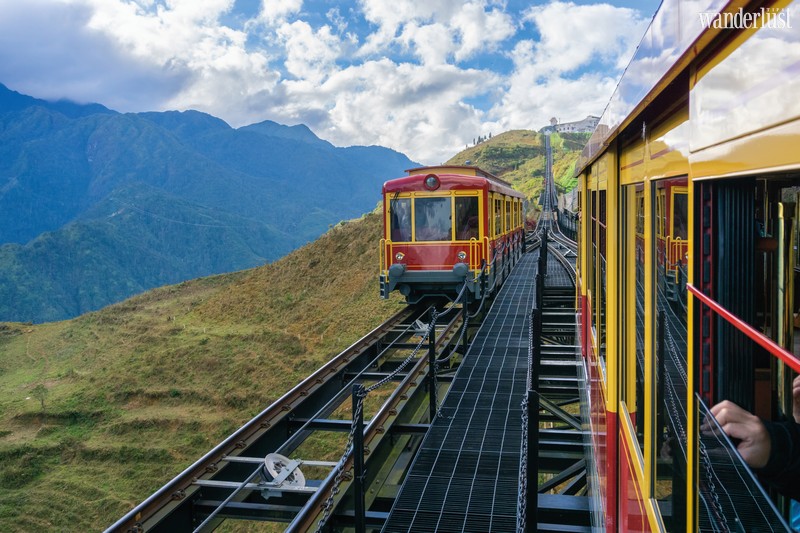 From Hanoi, there are many options for your journey to this town, for instance, train, sleeper bus or car. Travelling to Sa Pa may be smooth and easy due to the controlled-access highway. It is advised to depart for Sa Pa around 7 am because you will arrive at noon which is very convenient for check-in at hotels.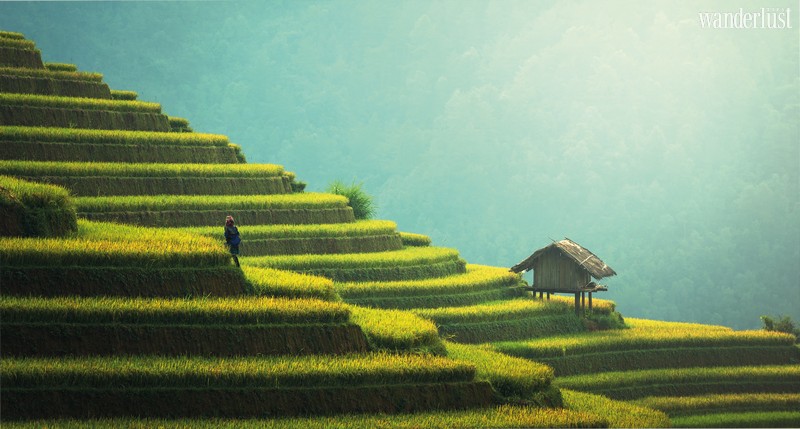 ACCOMMODATION
There are various types of accommodation in Sa Pa. You can stay in a five-star hotel, a homestay room overlooking the rice paddy fields or experience the local lifestyle in a stilt house.
QUYNH Mori | Wanderlust Tips