The winds and clouds of the mountains are natural 'spices' that add romance and the sense of freedom to everyone's life. If you have a chance, you should go on a trekking trip at least once to experience the clouds and the winds. After the long, difficult journey, the well-deserved reward is a sea of clouds shining under the sunlight as a new day begins.
[rpi]
Fansipan – A sea of clouds
Chasing the clouds on high mountains will always delight and impress you. Fansipan, Vietnam's tallest peak atop Hoang Lien Son mountain range is the ideal destination if you wish to swim in a sea of clouds. The sun rises and rays of light reflect upon the billowing clouds as they collide with the cliffs. You can take a sip of warm tea from a thermostat and leisurely watch the cloud formations in this purest of moments – a must-have life experience.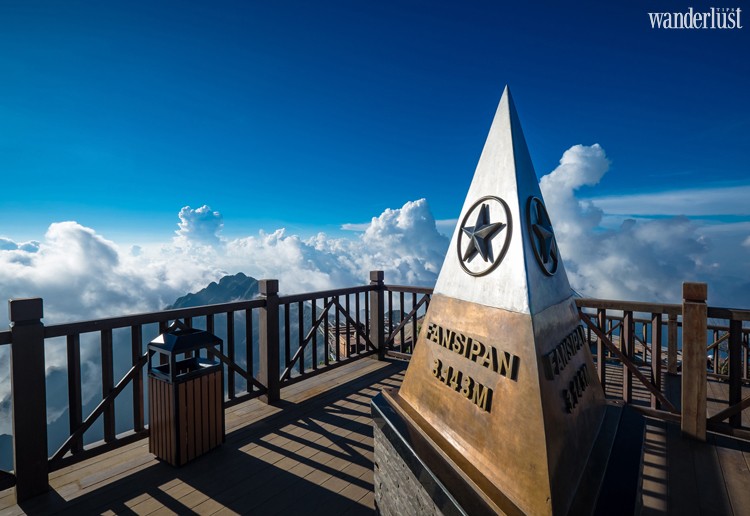 Tips
– Location: Fansipan is the highest mountain in Vietnam and the three Indochina countries at 3,143-meter tall. Fansipan is a part of the Hoang Lien Son mountain range, located about 9 kilometres Southwest of Sapa Town.
– Transportation: From Hanoi, you can take a sleeper bus to Sapa. You should not bike because it is a long and not very scenic journey. If you take the train, you will need to take another bus or taxi from Lao Cai City to Sapa Town.
– How to get there: After reaching Sapa, you can choose between two options: trekking for two days and one night following the Tram Ton Trail, or go on a 15-minute cable car ride for the price of 600,000 VND per adult (round trip).
If you choose trekking, you will need to prepare for mental and physical health. In exchange, you will have an unforgettable experience with two days and one night in nature, crossing different terrains and the beautiful landscape of Hoang Lien Son forest. In addition, you can welcome the red-cloud sunset at a height of 2,800 meters near your rest stop, and watch the early sunrise on the mountains. For those who do not have the time and energy, you can choose the cable car, but the experience will be much less thrilling.
– The best time to 'chase the clouds' is at sunrise and sunset. The first glimmering sun rays at dawn highlighting the sea of clouds or when twilight dyes the clouds pink and mountains a golden orange. These moments will leave any traveller speechless.
– Cost: If you want to trek Fansipan, you must buy a tour from a licensed travel agency. A tour will include travel insurance, an entrance ticket to Hoang Lien National Park, food, a sleeping bag and a guide and porter to be with you throughout the journey. The cost for a regular tour is about 1.5 million VND (about USD 65); the longer tour passing Cat Cat Village (which takes three days and two nights) costs 2.5 million VND (USD 110). There are two rest stops along the way.
Floating clouds in Y Ty
Waking up early one morning at Ms My's homestay, I opened the doors to be greeted by a sea of clouds, floating right before my eyes. The clouds piled together into thick dunes, it seemed as if I could walk out into a terrace made of clouds above the valley. It is no coincidence that Y Ty is considered a cloudy paradise. Here, day and night, the clouds mesmerise every visitor. Season after season, they yearn to come back for a perfect moment in this windy, cloudy valley.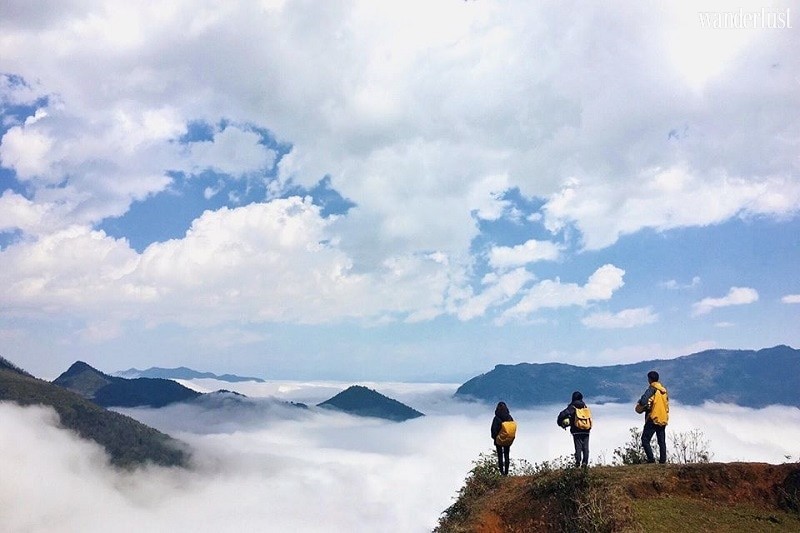 Tips
– Location: Y Ty is a border commune and a part of Bat Xat District, Lao Cai Province.
– Transportation: From Hanoi, take a sleeper bus to Sapa Town then rent a motorbike to Y Ty (located only 70 kilometres from Sapa). During dry days, the road is quite easy. When it rains, the path to Ngai Thau Commune can be more difficult.
– Ideal time for "chasing the clouds": If you want to chase the clouds in Y Ty, the best time is to go on a sunny day right after a period of rain. The warm sunlight will chase away the light layer of fog, and the sea of clouds will appear right below you. It's quite easy to take a beautiful picture here because the clouds are present all day. No wonder the place is dubbed the "land of clouds".
– "Chasing the clouds" places: There are two places where you can chase the clouds in Y Ty:
+ Ngai Thau Commune, a landmark popular in the community of travellers, is located about 4 kilometres from downtown Y Ty. Despite the steep, difficult roads, you can still reach it by motorbike. Following the steep road, you can stop your bike and start hiking up the hills for a great view. You can also stop along the way by a terraced field for a great view of the clouds. Ngai Thau is a rare destination in Vietnam where you can conquer the peak of 2,000-meters by bike.
+ Lao Than's mountaintop takes a whole day of trekking to reach. New to tourism, but Lao Than already attracts thrill-seekers. From downtown Y Ty, you can travel 5 kilometres toward Phinh Ho Village. Start trekking at a vegetable farm, which used to be a French airport. Two days and one night on this mountain will allow you to witness endless seas of clouds at a height of 2,700 metres.
– Other destinations: You should also visit other beautiful spots in Y Ty such as Lao Chai Village, Choan Then Village and Thien Sinh Bridge.
– Accommodation: Hotels and restaurants are focused around Y Ty Market. Popular items on the menu are cabbage, pork, wild bamboo, and the famous rose myrtle wine. You can stay at the homestay of Ms My or A Ho, located in downtown Y Ty for only 60,000 VND per person per day.
– Cost: For two days and one night is from 500,000 to 1,000,000 VND per person.
Waves of clouds in Ta Xua
Ta Xua is a special place for cloud chasers thanks to the spectacular mountainous scenery, which makes it very easy to catch a beautiful photo. The clouds gather into a thick pile and roll into waves by the cliff sides of the mountains, even along the roads you travel. The clouds in Ta Xua disappear very late in the day because the valley nestles behind the mountains, which makes it less windy.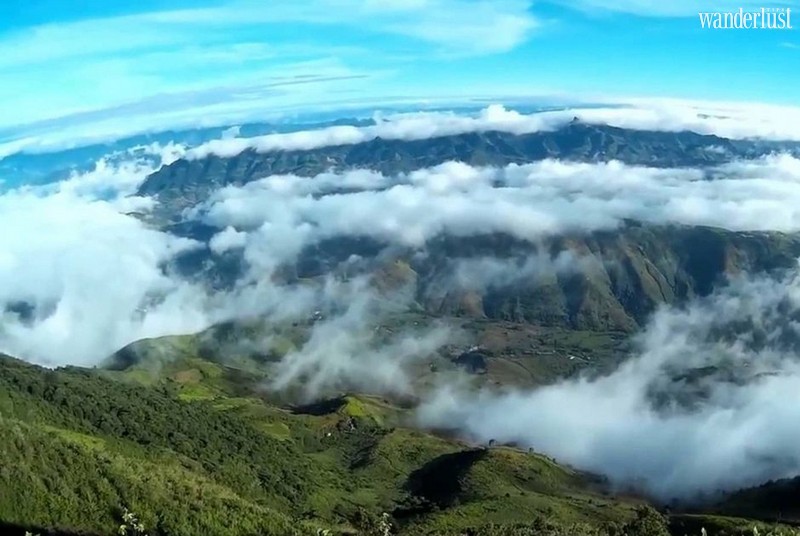 After a long night's sleep in O Ngong (a popular rest stop in Ta Xua), I woke up early in the morning to see waves of clouds in the valley. I hastily put on a jacket, prepared some breakfast, and took off to chase the clouds. Enjoying a simple breakfast in strange territory, amidst the clouds and the mountains, next to my close friends, was a fresh and inspiring experience.
Tips
– Location: Ta Xua Commune is a part of Bac Yen District, Son La Province, located 220 kilometres from Hanoi. You can take off in the morning or at sunset and you will already be there to enjoy the view. You can stay the night, and greet the clouds at dawn, travel around town, and return to Hanoi in the afternoon if your time is limited. If you have more time, you can also visit Moc Chau.
– Transportation: You should take a motorbike to enjoy the majestic scenery of the mountains and pass through the clouds on winding mountain passes. You can also take a personal car, or take the bus from Ha Noi to Bac Yen Town and rent a motor taxi to reach Ta Xua. There is not yet a motorbike-renting service here, so it's difficult if you don't have a personal vehicle to travel around.
– Accommodation: Ta Xua is still a poor village with limited services, so there are not a lot of choices for you. You can stay at O Ngong Hostel, located downtown, with balcony views of the cloud-filled valley. There are only three restaurants here, all are of similar quality, and average prices are 50,000 VND per person per meal, with basic dishes like fried eggs, fried chayote, boiled cabbage and fried meat.
– The best place to chase the clouds is Hang Dong Hillside, Gio Mountaintop with a lonely Assam apple tree, in front of O Ngong Hostel, and the valleys from Bac Yen to Ta Xua's centre.
– Cost (two days and one night): about 500,000 VND per person.
An ocean of clouds atop Salt Mountain
This is the best place for cloud chasers in Northwest Vietnam, with clear views of the highest peaks surrounded by billowing clouds. After a long journey, overcoming steep mountainous paths, you will be overwhelmed with joy and then left speechless in front of the horizon unfolding in front of your eyes. You will wish that time would stop so that you could keep this perfect moment forever.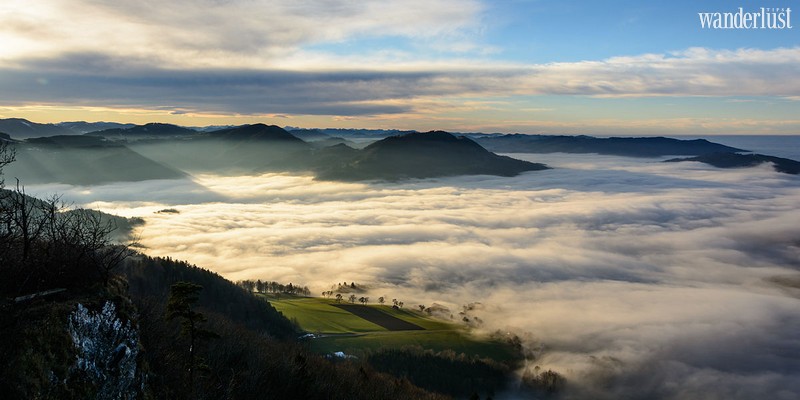 Tips
– Location: Salt Mountain is a part of Bach Moc Luong Tu mountain range, with the tallest peak reaching 3,000 metres. This marks the natural border between Lao Cai and Lai Chau Province.
– There are two ways to approach Salt Mountain:
+ From Lao Cai: From Hanoi, you can catch a sleeper bus to Lao Cai. From here, you can rent a motorbike or car and follow the roads from Lao Cai – Bat  Xat – Muong Hum – Sang Ma Sao. This is a popular route with a rest stop at a height of 2,100 meters. The rest stop has a capacity for 50 people. You can contact porters Tua (0125 424 308) and Pao (0166 900 3251).
+ From Lai Chau: From Hanoi, catch a sleeper bus to Lai Chau. At Lai Chau bus station, you can catch a motor-taxi to Den Sung Village, Sin Sui Ho Commune or Phong Tho. You can also contact a guide to pick you up and lead you through the trip. This is not a popular route so you should prepare a tent and sleeping bags and camp at suitable points. You can contact porters Quay (01243 310 026) and Sin (0944 697 096).
– You should get up early and trek from the rest stop to Salt Mountain at a height of 2,800 metres for the best view.
– Other destinations: You can also conquer the peak of Bach Moc Luong Tu if time and energy allow. If not, you can visit Salt Mountain and return the following morning, which will take two days and one night.
– Food: You should ask a porter to buy food and cook on the road, this is much simpler than depending on a tour company.
– Cost: For two days and one night is about 1.5 million VND.
Lazy clouds atop Black Virgin Mountain
If you are a cloud chaser in the South, Black Virgin (Ba Den) Mountain is the perfect spot. The mountain is not too high, but you can still witness a sea of clouds provided favourable weather and a bit of luck.
Standing on top of the mountain covered by lazy clouds, you can see the colours of the forests and the rice fields. It's been said that Black Virgin Mountain is a bamboo hat standing in the vast Mekong Delta. The mountain seems like an island standing out amidst a sea of white clouds, reflecting the sunlight.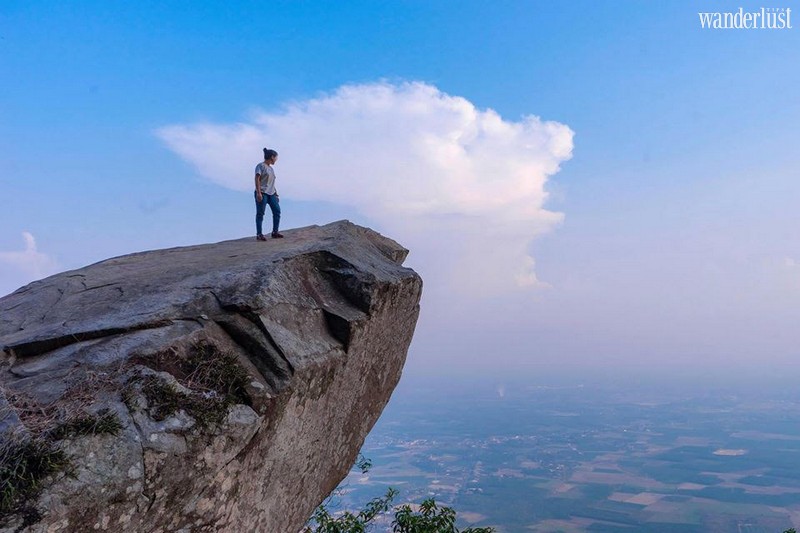 Tips
– Location: Black Virgin Mountain is the highest mountain in Southern Vietnam at 986-metre height and is located about 100 kilometres from Ho Chi Minh City and 11 kilometres from Tay Ninh City. This is a favourite destination with thrill-seekers who wish to challenge themselves, perfect for camping and cloud chasing.
– Transportation: There are many ways to get there. You can ride your motorbike from Saigon toward Tay Ninh. You can also take two buses: from Benh Thanh to Go Dau and from Go Dau to Long Hoa. From there, you can reach the mountains via a 20-minute cable car or even take a slider. From the cable car, you can enjoy a panoramic view of the mountain. However, conquering the mountain on foot relying on your own strength will be much more rewarding.
– There are many ways to get there with various difficulties. Following the path to the temple is the easiest since it's also a tourist area. You can enter the temple and follow the path. You can camp by a cliff on the road, facing the sun, which will make it easier to see the clouds. 4:30 to 5 a.m. is the best time to see the clouds. If you want to experience a more difficult path to challenge yourself, follow the Ma Thien Lanh Path. This is difficult but also quite interesting. You should do lots of research before going, or hire a guide.
– Accommodation: You should bring your own food, sleeping bag and tent because there are not a lot of services here.
– You can also visit famous attractions such as Tay Ninh Holy See, Dau Tieng Lake and Long Hoa Market.
– Cost for two days and one night is about 300,000 VND per person.
The general guide for a successful cloud chasing trip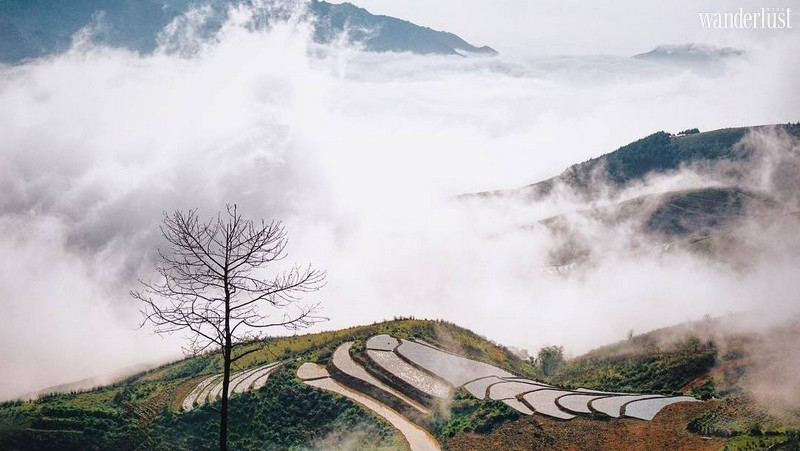 – The best time to chase clouds is from October to March. The weather must be favourable: the drizzling rains of spring are just over, low temperature at night and high temperature and sunshine during the day for ideal views. You will also need a bit of luck because the weather in the highlands is unpredictable.
– You should bring warm clothes, food and a raincoat because the temperature in the mountains is low.
– You should study the terrain and map a route and timing to achieve your goal. The high mountains are not necessarily difficult to conquer, and on the contrary, some low mountains are harder to climb. Difficulties depend on the distance from the departure point to the top, the length of the trip, and especially the terrain and slope. Bigger slopes often mean a shorter distance to the top but also require more strength and skill. On the other hand, a smaller slope will mean a longer distance, which can tire a traveller. For different terrains, you should plan rest stops and suitable timing.
– Do physical training such as stair climbing, running, swimming at least once a week before your trekking trip.
Nguyen Hanh Ha My | Wanderlust Tips