Most celebrities and public figures are known for their singing, acting, modelling, glamorous events and extravagant stagework. Their glamorous jobs aside, they're just young people with different passions and especially the love of travelling.
[rpi]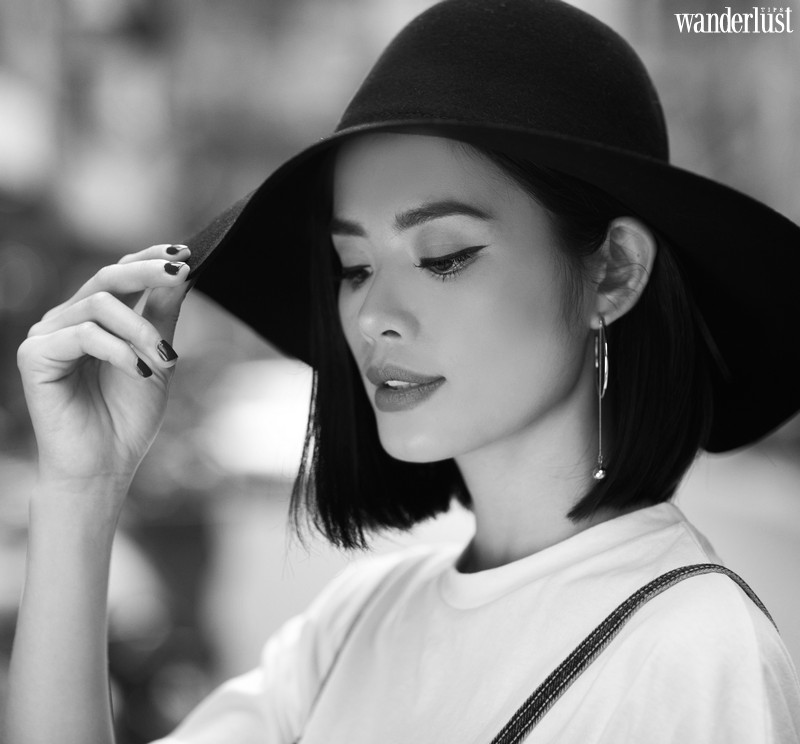 One of the top 5 contestants in the first season of Vietnam's Next Top Model, Thu Hien left a lasting impression with the audience thanks to her strong personality. Her feminine appearance also surprises people when they learn that when she's not walking the runway, her two biggest passions are for travelling and motorcycles.
Hello Hien. You're known in the modelling industry as an avid backpacker. Can you tell us about your past travels?
I really love travelling, it's as natural as breathing. Up to now, I have been through 60 out of 64 provinces in Vietnam, and have been to over 10 countries and territories such as France, Germany, Belgium, the Netherlands, Singapore, Thailand, Malaysia, Nepal and The Maldives.
This is quite impressive. It seems like you love travelling in Vietnam?
Our country is beautiful, and that's why it has attracted many international visitors, so why is it that Vietnamese don't appreciate the beauty of our country? I always think that I have to explore my own country before travelling abroad. In 2010, I went to almost everywhere in Vietnam, and following that, I travelled to some remote, isolated areas. Now, there are only a few places like Dien Bien, Cao Bang and Bac Can, that I don't know very well.
Since you travel a lot, what have you learned from your travels?
I love riding my motorcycle to travel to different parts of the country. This way, I can fully appreciate the greatness of our country, the beautiful scenery, the wonderful people, and the peaceful atmosphere. During my travels, I like visiting every little corner of a destination, because it helps me to learn the meaning of many things and gives me perspective in life. My travels also help me unwind after stressful work days, and it makes me happier and love life more.
As a model, what do you think are the advantages and the difficulties of backpacking?
My journeys have gone quite smoothly so far, I think it's thanks to my friendly smile and my fun personality, so I am welcomed everywhere. For me, the only disadvantage of backpacking is that I cannot take care of my appearance so I can take photos. (laugh)
Backpacking and especially backpacking alone must be difficult and even dangerous. From your experience and spontaneous travels, what advice do you have for girls who also love travelling?
When travelling alone, you must always be careful with your personal documents, money, and other personal belongings. Women must be extra careful. My advice is to avoid travelling alone at night. I also book hotels in crowded, central areas, even though they're usually a bit more expensive, they're much safer than a cheap place that's quiet and farther away.
Can you share about a memorable experience, or a trip filled with memorable experiences?
In 2015, I traveled with a friend; we rode our motorcycles from Sai Gon to Mui Ne, Da Lat, Nha Trang and back to Sai Gon. This was a beautiful journey. From the city, to the coast, to the mountains, and back to the coast again. I am a great rider, but when we rode from Da Lat to Nha Trang, it was raining and very cold, and I was shivering the whole way. When we got back to the hotel, I took a hot bath for too long, got hypotension and fainted. After that, I always took care of my health during my travels.
I will always remember my trip to Nepal last October. It was a holiday there, and I could not find any place that sold food. I had to survive on chocolate and water. Fortunately, the holiday was just ending, so I was only  starving for one day. The food in Nepal did not fit my appetite anyway. This trip was the most difficult one for me, but I did learn a lot from it.
Hai Dang | Wanderlust Tips | Cinet