The spirit of old Hanoi will sweep through the Sofitel Legend Metropole Hanoi this month, as the hotel celebrates Tet with a traditional Old Quarter-style market from Jan. 17-19. The festivities continue with special culinary offerings beginning Jan. 24.
[rpi]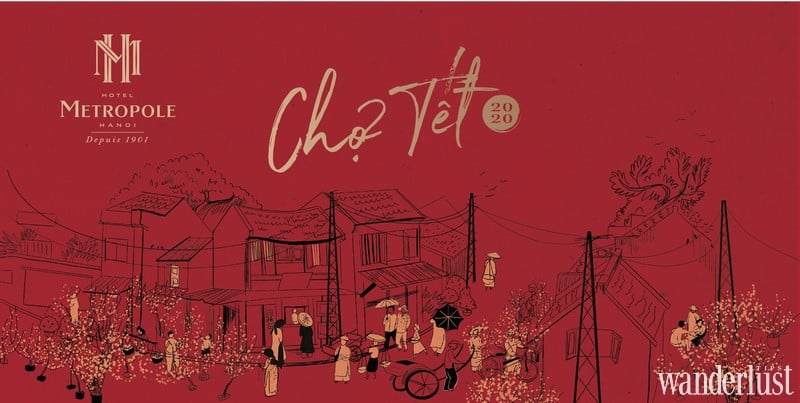 At the Tet market, food vendors in the hotel's patio will sell authentic Vietnamese favorites, while children will be given traditional toys known as to him, edible figurines made from glutinous rice powder shaped to look like flowers and animals. Market-goers can also learn the art of classic Vietnamese calligraphy.
Wine, craft beer and other refreshments will also be on offer, as will souvenirs that visitors can take home as memories of the Vietnamese lunar new year. Traditional-style Hanoi houses will also be erected in the hotel's walkway outside La Boutique du Metropole, adding to the "Old Quarter" ambiance.
The Tet market at Metropole Hanoi is open to the public daily and kicks off Friday, Jan. 17 at 4 pm with an opening ceremony featuring a traditional dragon dance. The market continues on Jan. 18 and 19 from 11 am to 8 pm. More than 15 vendors will take part in this year's bazaar. Special Metropole Tet hampers with luxury and gourmet items will be available for sale at the market and at L'Epicerie du Metropole from 6 January onwards.
The hotel will host a cooking competition at the market at 5 pm each day. On Jan. 17, contestants will vie to see who can create the most delicious "Chung cake" (a traditional Vietnamese rice cake) while Jan. 18 will witness a battle of Banh Cuon, and Jan. 19 will determine who is able to produce the tastiest spring rolls. Winners will receive a voucher for a complimentary homemade cake from L'Epicerie du Metropole.
A Vietnamese floral specialist from local boutique Liti Florist will host a flower workshop from 2 pm to 4 pm on Jan. 18.
An exclusive six-course Tet 2020 Gala Dinner at Spices Garden will be served on Jan. 24 featuring grilled oysters with shallots and roasted peanuts; blue prawn in a mild coconut soup; fresh yellow bamboo and beef salad; braised Chinh fish with green banana; grilled pigeon and foie gras; and banana fritter, traditional Tet candied fruits, and vanilla ice cream. The gala dinner is priced at 2.5 million VND.
Wanderlust Tips | Cinet