A delicious yet inexpensive sandwich that can be found on any street, Banh Mi has evolved over the years and has become even tastier with ever-varying combinations of eggs, ham, pâté, pork sausage and vegetables. Beyond the street-side food trucks or the small stores, Banh Mi has gained widespread praise for its excellent quality in America, Europe and around the world. People fall in love with its authentic and unique flavours and some would go as far as to say that it is the best sandwich in the world.
[rpi]
THE ORIGIN OF BANH MI
Are you curious about the history of Banh Mi? Well, the bread originated from France and is more commonly known as a French baguette. The bread was then introduced to Vietnam – a country famous for authentic Asian cuisine. The typical crunchy French baguette is stuffed with a culinary blend of butter, jam and ham or served with soup. However, Vietnamese people were not formerly acquainted with the Western style, as a result, Banh Mi Hoa Ma was launched in Saigon to supply a Vietnamese twist to this French staple. A far cry from the French-flavoured baguette with butter and jam, the first Vietnamese sandwich was stuffed with a mélange of regional ingredients including pâté, Chinese char siu (barbecued pork), pork floss, cucumber and coriander.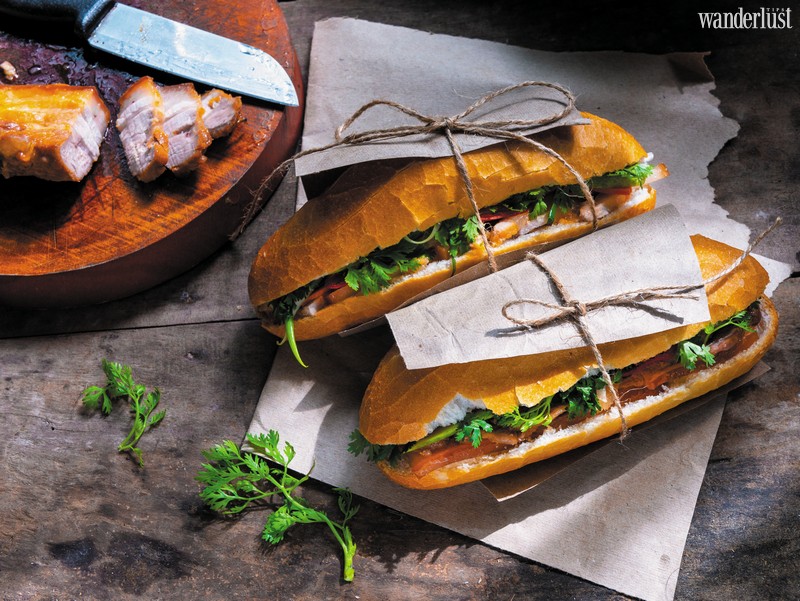 There is a significant difference between the traditional Western baguette and Banh Mi. A baguette is a long loaf of French bread that is commonly made from soft lean dough, meanwhile, Vietnamese sandwich has a soft, fluffy interior and is distinguishable by its thin crisp crust. Since the 90s, bread has become familiar to Vietnamese people. Nevertheless, it was not until ten years later that this Vietnamese bread was officially given the name "Banh Mi" instead of using Western terminology. Since then, the food has been an authentic icon of Vietnamese cuisine and has become popular around the world.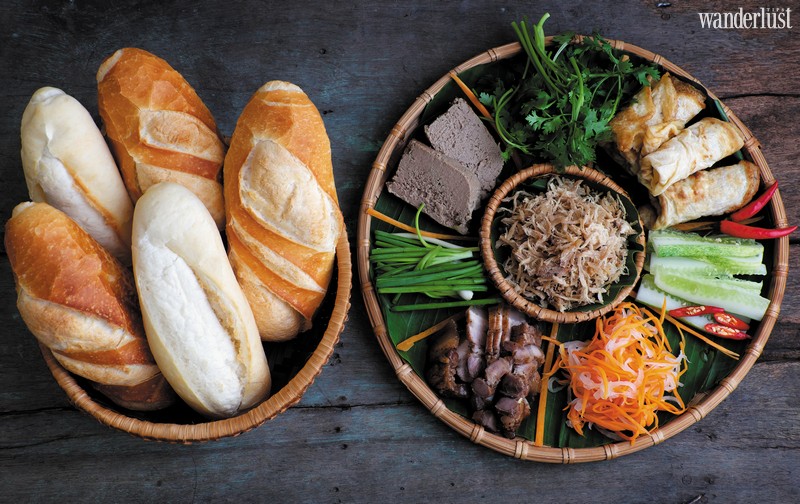 MORE THAN JUST A DISH, VIETNAMESE SANDWICH EXUDES AN UNPARALLELED TASTE
Over the course of time, Vietnamese sandwich has become more and more diverse with many regional variations, making it an attractive culinary experience amongst local and foreign foodies. A traditional Vietnamese sandwich is usually slathered in butter, pâté and then simply topped with a few slices of smoked pork, pork floss and refreshing cucumber. However, every region boasts a very different recipe, making changes to incorporate local ingredients.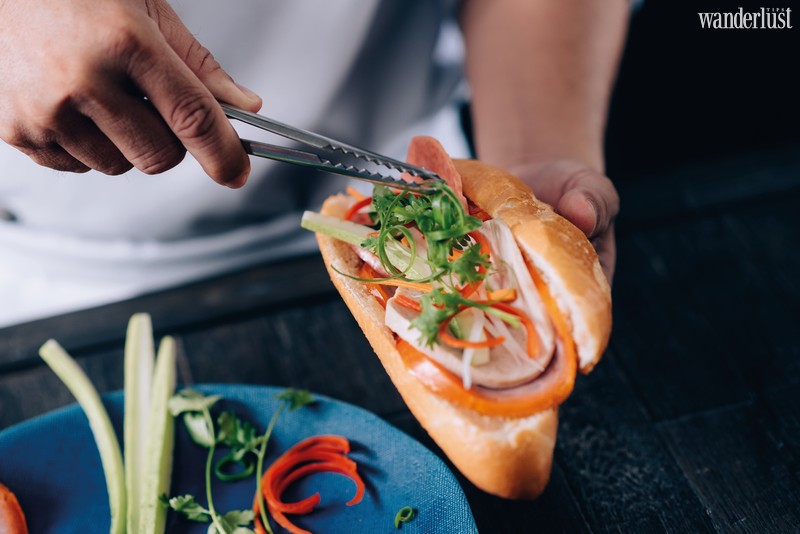 No Vietnamese food tour would be complete without eating an authentic Banh Mi and you will not miss out as it can be found everywhere in Vietnam. In Hanoi, you can easily enjoy Banh Mi Chao (bread with toppings served in a hot pan), Banh Mi Nem Khoai (bread with chips and fermented pork rolls) – a portion of famous junk food for students. Going a little further from the capital, you can try breadsticks – a famous dish from Hai Phong Province. You will definitely feel nostalgia for your schooldays when eating this zesty snack.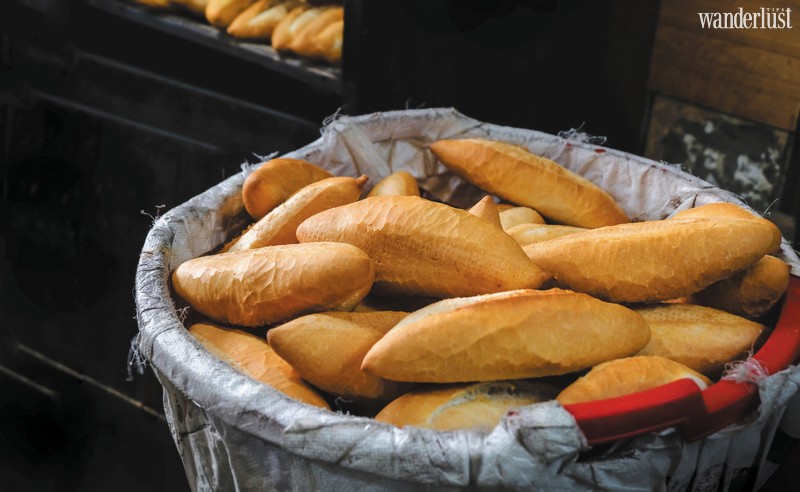 Central Vietnam has travellers falling head over heels for its out-of-this-world cuisine and it is home to plenty of unique Vietnamese sandwich. Have you ever heard of Banh Mi Bot Loc – a unique blend of bread and Vietnamese tapioca dumplings? It is the "pièce de résistance" of Central provinces. An odd yet delectable combination, this dish is truly an excellent concoction that will keep your tastebuds guessing. A far cry from Vietnamese sandwich in the Northern region, Banh Mi in Nha Trang boasts an authentic sea-inspired taste as its topping is often made from basa fish and mackerel. After being marinated, they are sliced and fried until crispy golden brown. There is nothing more wonderful than frolicking on a sun-drenched beach and enjoying the refreshing ambience whilst you chow down on Banh Mi Nha Trang. It is an absolute must-try when visiting this fascinating coastal city. What's more, do not miss a chance to try the famous Banh Mi Phuong in Hoi An, bread served with dried fish in Da Nang.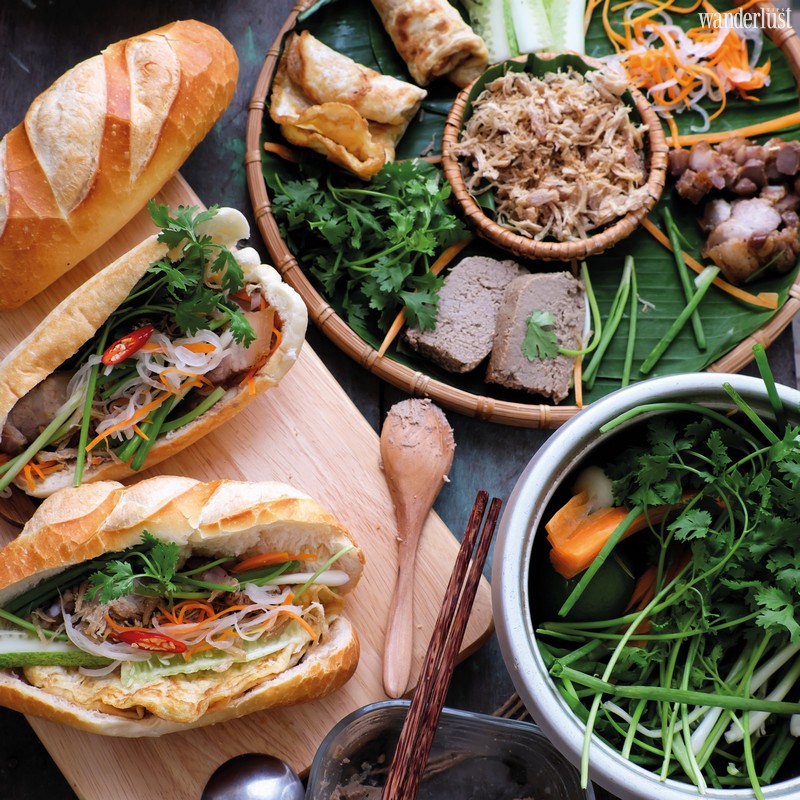 Waving goodbye to Northern and Central Vietnam, head towards Saigon – the homeland of Vietnamese sandwich. Banh Mi Saigon is not only a very delicious dish full of flavour, but it also has a close bond with Saigonese people. Pop to a roadside store and grab a Vietnamese sandwich. Saigon is famous for its diversity of Banh Mi, for instance, hot mixed bread, bread with pigskin.
Over time, this food has played a significant role in Vietnamese cuisine and culture. Vietnamese people have always had a special place in their hearts for this exquisite food. It became a popular dish that can be eaten regularly for breakfast, lunch or dinner. If you want to experience an authentic Vietnam lifestyle, then sitting on the sidewalk and chatting with your friends whilst chowing down on the most delicious sandwich in the world is definitely the way to do it.
BANH MI AND ITS GREAT ACHIEVEMENTS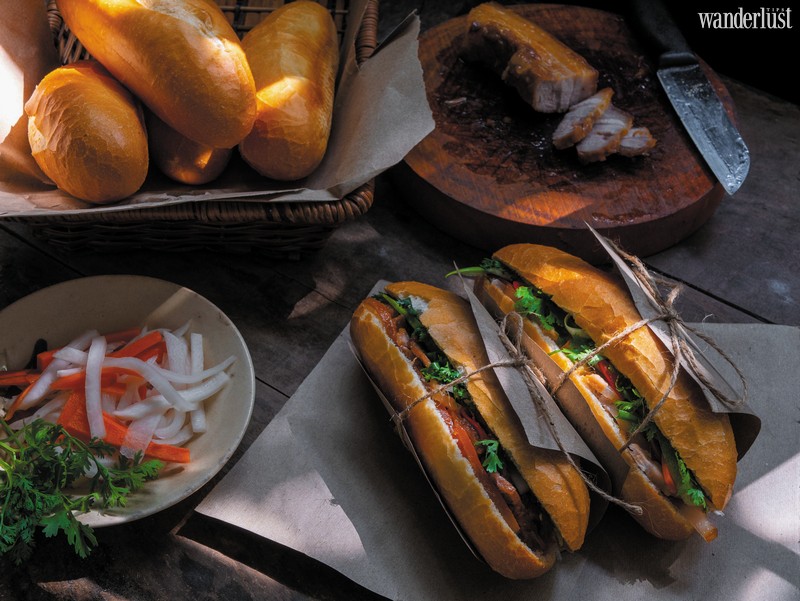 Vietnamese sandwich is so delicious that it can tantalise the tastebuds of the fussiest of eaters across the globe. As the Vietnamese community immigrated and settled in America, the United Kingdom, Australia, Canada, Germany and France in the 1975s, they also introduced Vietnamese sandwich to these Western countries. Today, Vietnamese people are so proud when Banh Mi is on a par with signature Western-style delicacies. There are so many beautiful words to describe this delicate dish, but if you are a fan of Banh Mi and have a special love for Vietnamese cuisine, then read about the significant events below for a profound insight into Vietnamese sandwich: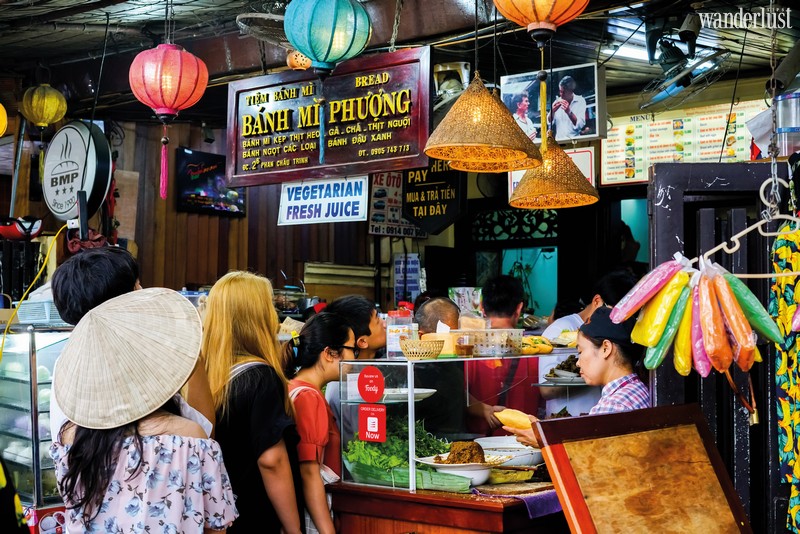 Famous chef Anthony Bourdain praised Banh Mi Phuong as the best Banh Mi in the world when visiting Hoi An in 2009.
On 24th March 2011, "Banh Mi" was officially added to the Oxford dictionary to define that it is Vietnamese food.
Voted as the world's best sandwich by The Guardian.
Voted as one of the 11 best street foods in the world by National Geographic magazine in 2013.
Ranked in the top 20 world's best street foods by Huffington Post.
Topped the list of the 12 best street foods by American travel magazine Conde 'Nast Traveler.
Ranked in the top 100 world-famous dishes, announced by the World Record Alliance – Wordkings and the World Top Institute in 2016.
CNN favoured as "The king of sandwiches in the world".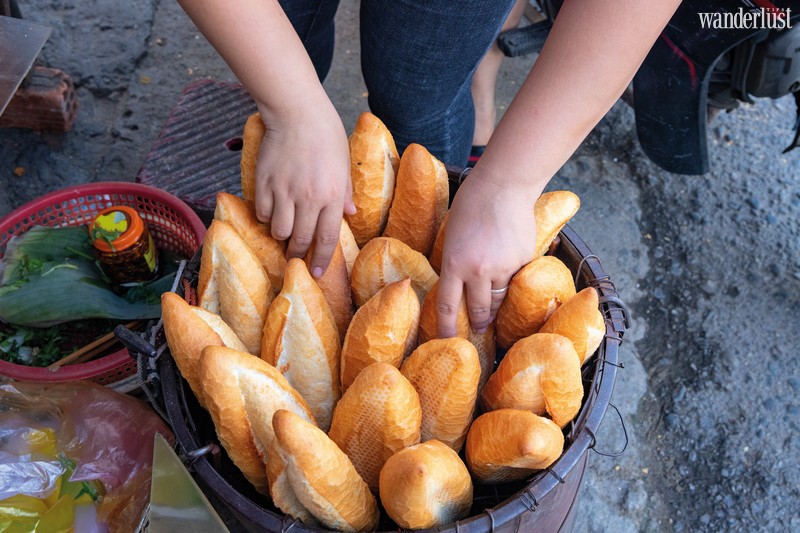 Vietnamese sandwich has been making its mark on the globe due to its delicate deliciousness and rich aroma. However, it is the authentic Vietnamese flavour which embodies the endless love and soul of the Vietnamese people.
Wanderlust Tips