Looking for a brewers' hub in the United States? Philadelphia is home to a stunning array of breweries and styles, ranging from classic lagers to the most cutting-edge crafted flavors. Check out our list of the six best breweries to kick off a beer tasting tour of this fantastic city.
[rpi]
WISSAHICKON BREWING COMPANY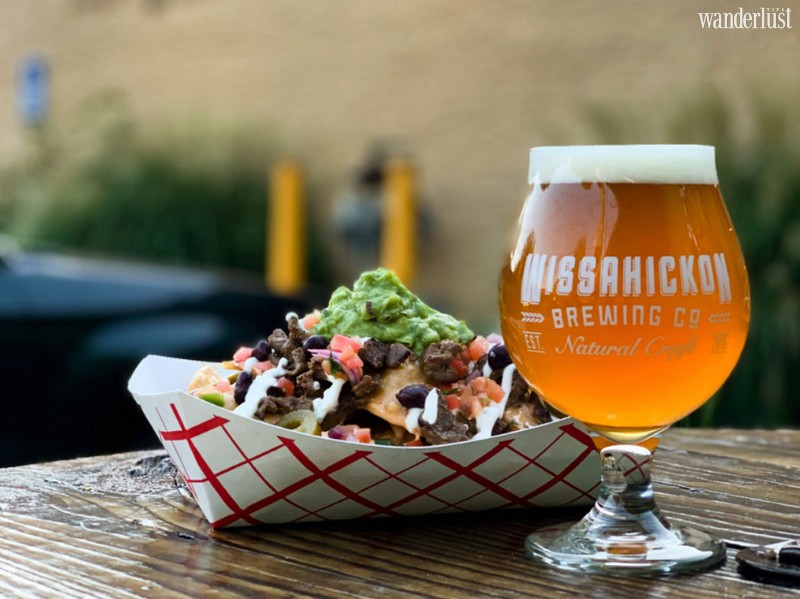 Located in East Falls, Philadelphia, Wissahickon is a family-owned and operated brewery that offers flights of eight beers and tours in a lively setting. There are weekly events, like live music, bar games, beer yoga and regular food trucks, geared toward getting people together. This space is packed with not only groups of hearty beer drinkers but also their babies, parents and pets. It is well worth a visit after a hike in nearby Wissahickon Park.
Address: 3705 W School House Ln, Philadelphia, PA 19129, USA
DOCK STREET BREWERY, PHILADELPHIA
Looking for a laid-back spot to hang out with friends and family, enjoy hand-tossed, wood-fired pizza, fresh craft beer poured directly from the tanks or a brewery tour? Dock Street Brewery should be on your list. Opened its doors in 1985 in West Philadelphia, it is the first microbrewery in Philadelphia. Recently, it opened up a new location in the Point Breeze neighbourhood. Both of the brewery locations offer up delicious brews for a whopping $3.50 during happy hour.
Address: 701 S 50th Street, Philadelphia, PA 19143 | 2118 Washington Ave, Philadelphia, PA 19146, USA
SECOND DISTRICT BREWPUB
Known as one of the best places to eat and drink in the city, Passyunk Avenue in South Philadelphia is also where some folks are brewing some very good beer. Visiting Second District Brewpub, you can find inventive beers and mighty delicious nosh in a rustic-chic warehouse space. This convivial brewery also serves up a great food menu, part of which is vegan and vegetarian.
Address: 1939 S Bancroft Street, Philadelphia, PA 19145, USA
YARDS BREWING COMPANY
Fans of interesting brews, Yards Brewing Company is here for you. Started by homebrewers in a city garage in 1994, Yards is the largest and most quintessential brewery in Philadelphia. The brewery's latest expansion landed the brewery in a giant hall in the middle of Northern Liberties. The inside looks like a massive taproom, stuffed with long communal tables, making it great for outdoor drinking and dining. If you are more interested in the history and science side, Yards also offers tours twice a day for $10 per person.
Address: 500 Spring Garden Street, Philadelphia, PA 19123, USA
LOVE CITY BREWERY
One of the relaxed spaces for true beer aficionados in Philadelphia is Love City Brewery. Situated just down the street from Roy Pitz, the newly opened Love City Brewery boasts a 9,000-square-foot space now available for both indoor and outdoor dining, as well as beer pick up, delivery and shipping. It also offers drinkers a variety of hearty beers such as the Love Fest, the perfect Oktoberfest beer, with touches of caramel and dark fruit or the signature hazy IPA. Whether it is a crisp lager or a full-flavored IPA, beer drinkers should be able to get a fresh, locally-made pint to satisfy their thirst.
Address: 1023 Hamilton Street, Philadelphia, PA 19123, USA
EVIL GENIUS, PHILADELPHIA
Set in the heart of Fishtown, Evil Genius makes for a pretty standard brewpub and is truly a spot for people in the know. Here, you can find the best beers with twists of hops and dashes of citrus, herbs or florals. The first sip is generally a bit of a surprise, but it leaves you curious, so make your way through the extensive, rotating beer list. Sample everything in person at the outdoor beer garden or get the goods delivered.
Address: 1727 N Front Street, Philadelphia, PA 19122, USA
Wanderlust Tips