Unlike a bus or train ticket, the price of a flight ticket can keep changing and be priced depending on the airline's brand, its policies, booking class as well as day and time of booking. In principle, the closer it gets to the departure date, the more airlines will charge for tickets. Here are some suggestions to help you get cheap flights.
[rpi]
Book a ticket early
You should plan your travel well in advance to buy your air ticket earlier and get a cheaper ticket than when buying one at the last minute. However, travel specialists also advise that you should not buy too early. The optimal time to buy a ticket, then, is between 1 to 2 months before the flight, unless the airline launches a low-cost campaign one year or several months before the departure date.
Keep an eye out for ticket deals
Waiting for discount tickets is also a good way to save money. If you're wondering how to keep up with the promotions and take advantage of cheap tickets, don't worry, it's very easy. Sign up for the "newsletter" on the airline's website, follow their social networking sites and register for a loyalty program membership to get promotional information. Many brands will notify you via email with information and offers of cheap tickets and membership is free.
Flying in off-peak season
If you're not bothered about the time you travel, you can choose to fly in the early morning/late night and off-peak seasons. It is recommended to fly before or after holidays or in the middle of the week. However, these are just hints and you still need to check the airfare on the website to know the actual right time to buy the cheapest ticket for each flight.
 Use Flight Comparison websites / Apps
There are now plenty of websites and applications to compare flights such as Tripi, Traveloka, Skyscanner, Hipmunk, etc. Enter the place and date of departure and arrival and information about flights will appear, including direct flights, transit flights and in many cases you will find a transit flight which is cheaper than a direct one. If you have time and want to save money, why not choose cheaper transit flights? These websites also help you compare the airfares of many brands to choose the best fit for yourself. You can buy tickets from these sites or from airlines' official websites.
Consider the reasonableness of flights and services
When buying an air ticket, it is recommended to consider the flight schedule as well as your needs. For example, you buy a ticket to Singapore and want to come back on Monday, but then you find a cheaper one with the arrival date on Tuesday. But in fact, you will spend a lot more money if you stay there one more day. In addition, this consideration is also extremely important because sometimes tickets of low-cost carriers are not always cheaper than tickets of premium airlines, especially when you have to pay for your checked baggage.
And there are times when business class tickets are cheaper than economy class ones. For example a business-class ticket at D class is cheaper than an economy-class ticket at M or K class. You can secure a business class seat for a reasonable price while being offered top tier services.
Join the Frequent Flyer Programme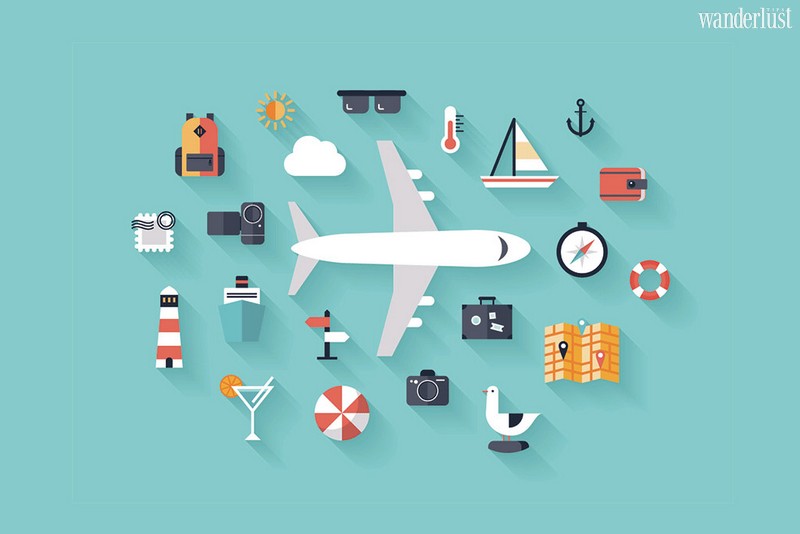 Many people that love travelling by plane take advantage of loyalty programmes to get free flights. Joining Frequent Flyer Programmes enables you to earn and accumulate points for each flight. Currently, airlines are also cooperating with banks, hotels and other services to help customers earn bonus points when paying by credit card, booking hotels, renting vehicles or making electronic bill payment. When you earn enough points, you can exchange them for free tickets, upgrades to a higher class and other rewards such as access to the lounge or extra baggage allowance.
For customers in Vietnam, popular Frequent Flyer Programmes that can earn you points are: the Golden Lotus Program of Vietnam Airlines, BIG of AirAsia, FlyingBlue of Air France / KLM, Enrich of Malaysia Airlines, KrisFlyer of Singapore Airlines, etc …
Buy a ticket package
There are a number of airlines that offer ticket packages with multiple flights with fairly good fares for those who want to fly often over a short period of time. For example, AirAsia has an ASEAN Pass that allows passengers to fly around ASEAN for 30 days (with a 10-credit card) and 60 days (with a 20-credit card). The 10-credit card costs USD160 and the 20-credit card costs USD290. You can exchange 1 credit for a flight under 2 hours and 3 credits for a flight of more than 2 hours. This rate does not include airport taxes and other fees.
It is recommended to buy using Malaysian ringgit, in which case a 10-credit card would cost only MYR499, equivalent to USD117 and a 20-credit card costs MYR888, equivalent to USD208, much cheaper than the option to buy in dollars. If you fly 10 flights with 10 credits, the fare will be about USD16 excluding tax, it is very economical and you do not have to hunt for cheap tickets. Besides AirAsia, some other airlines like Garuda Indonesia also have similar ticket packages.
In short, the key to getting a cheap ticket is to keep abreast of discount airfares and promotions, schedule your trip suitably, earn points through Frequent Flyer Programmes, and take advantage of any ticket packages.
Wishing you many bargain priced future journeys to your dream destinations.
Wanderlust Tips