When it comes to Vietnamese rolls, each dish offers foreign foodies a completely different insight into the country's cuisine. Though for many Vietnamese people, this dish evokes a great sense of nostalgia that stirs their cravings wherever they go.
[rpi]
PHO ROLLS – THE SIGNATURE FLAVOUR OF HANOI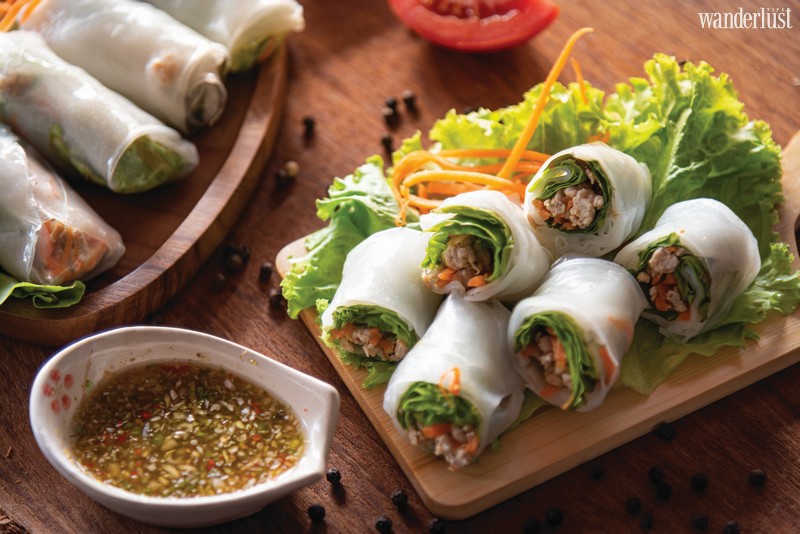 When Pho pops up in conversation, a hot bowl of noodle soup served with either beef or chicken or a delicious plate of stir-fried pho immediately springs to mind. However, there is another dish of its kind that is a firm favourite of many diners: Pho rolls. Bearing a close resemblance to Hanoians' characteristics, the dish is so simple, delicate and distinctive that they can tantalise your tastebuds from the very first bite.
The story of Hanoian Pho rolls derives from a small Pho restaurant located at the crossroad on Ngu Xa street near Truc Bach Lake. It was late at night, there was no more broth at the restaurant, so the owner quickly created an alternative recipe. After brushing a thin layer of the dough on an oiled cooking tray, he let it cool and then wrapped it full of beef and herbs and served it with a small bowl of delicious dipping sauce. Many diners raved about this variation of the traditional Pho and Pho rolls have since become a popular speciality unique to Ngu Xa Street.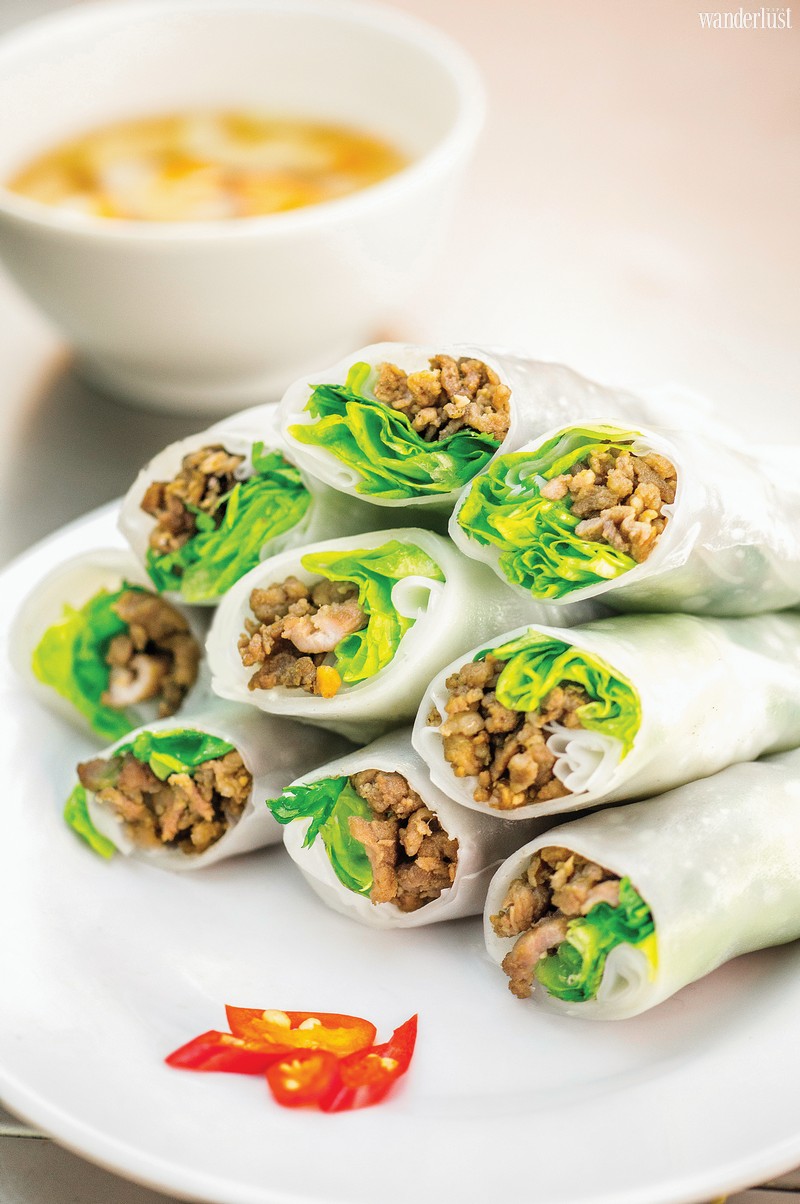 Hanoian Pho rolls are basically a combination of rectangular rice papers, stir-fried beef and an assortment of fresh vegetables such as lettuce, coriander, bean sprouts and more. In addition, a sumptuous plate of Pho rolls is usually served with a flavourful dip. This sauce is typically made of diluted fish sauce, a little sugar, garlic, chillies and pickled vegetables. Neither fussy nor expensive, Pho rolls are just a seamless combination of the simplest ingredients. Chowing down on a plate of these Vietnamese rolls at a street stall is also a fascinating experience that has added a unique feature to Hanoian cuisine.
NEM LUI TYPICAL OF CENTRAL VIETNAM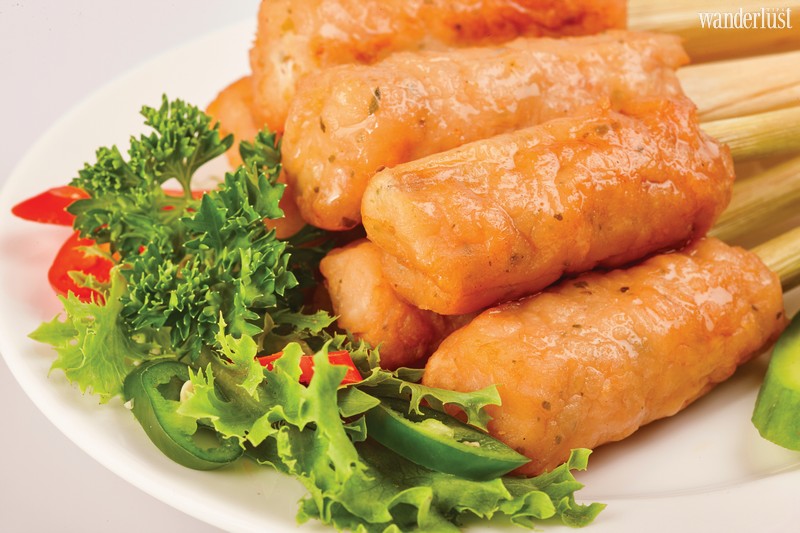 Known as a foodie paradise, Central Vietnam is home to Nem Lui, Hue's take on the famous Vietnamese rolls that are perfect for fighting off any cravings. Nem Lui Hue is the embodiment of authentic cuisine in Hue. So much so in fact you can smell the signature scent of lemongrass lingering in each and every road and alley around the city. It is not a complicated dish to make.
After being minced, the meat will be marinated in a secret recipe and then thread onto a stick of lemongrass and finally barbecued on a hot grill until turning golden brown. these Vietnamese rolls are best served with the local fish sauce which is considered the soul of Nem Lui Hue. Made from minced peanuts, fish sauce and either minced liver or pork, the sauce boasts a characteristic-rich aroma that cannot be found anywhere else.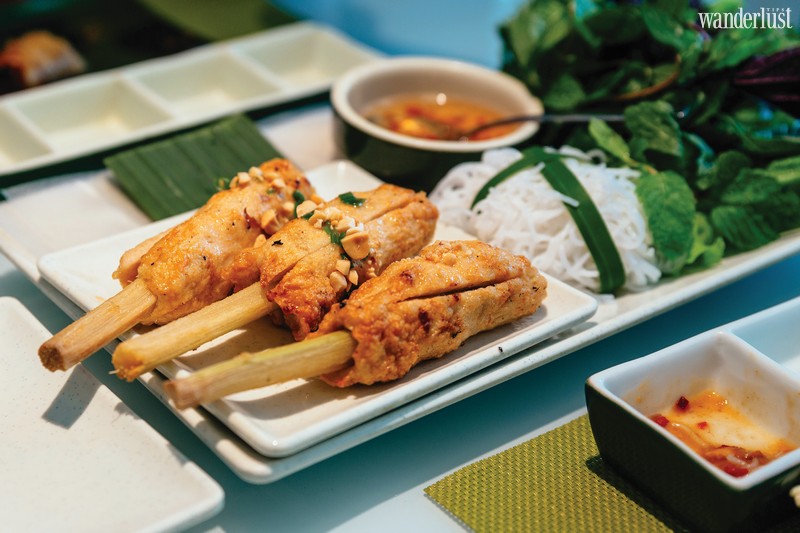 For an ultimate Nem Lui Hue experience, diners have to wrap these freshly baked lemongrass skewers in a thin layer of rice paper and add some fresh vegetables such as lettuce, herbs, bean sprouts, cucumbers, starfruits, green mango and noodles. Enjoying a dish of rolled meat and vegetables whilst chatting and enjoying each other's company is a simple yet fascinating culinary pleasure had by locals.
SOUTHERN FRESH SPRING ROLLS BURST WITH DIVERSE FLAVOURS
Saigon is famous for countless delicious dishes such as broken rice, noodles and mixed rice papers. However, fresh spring rolls are also worth a try when travelling to this metropolis. These fresh spring rolls are widely available, but only in Southern Vietnam, can you really enjoy the proper fresh spring roll experience.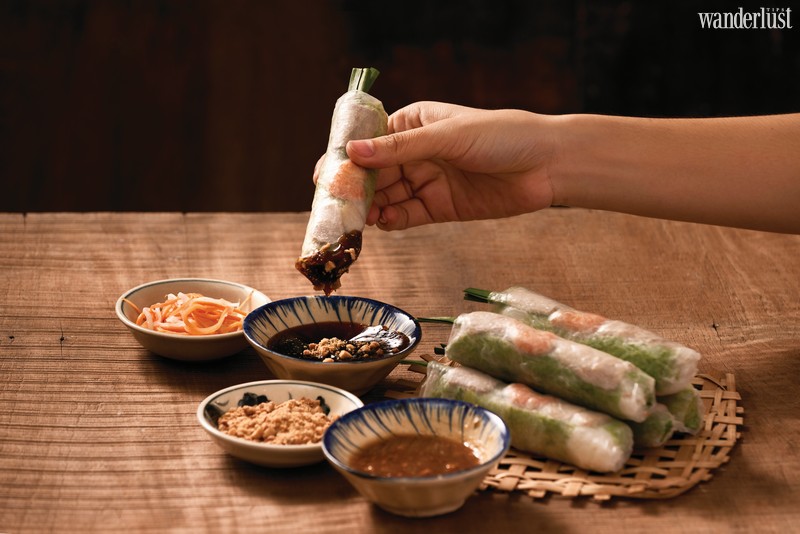 Originating from the Southern provinces, fresh spring rolls are typically rolled in a soft, translucent rice paper and stuffed with a vast array of different ingredients. To create delightful fresh spring rolls, you need to prepare lots of ingredients, including boiled pork or shrimp, noodles, sliced cucumbers, chives, split scallions, pickled carrots, starfruits, herbs, lettuce, bean sprouts and basil. All will be garnished and then rolled carefully and beautifully in a very thin layer of rice paper that defnitely has diners watering at the mouth. Interestingly, Southern fresh spring rolls are either boiled or eaten raw, which means the dish retains the fresh flavours and stimulating the tastebuds without being too heavy in the scorching heat common in the South.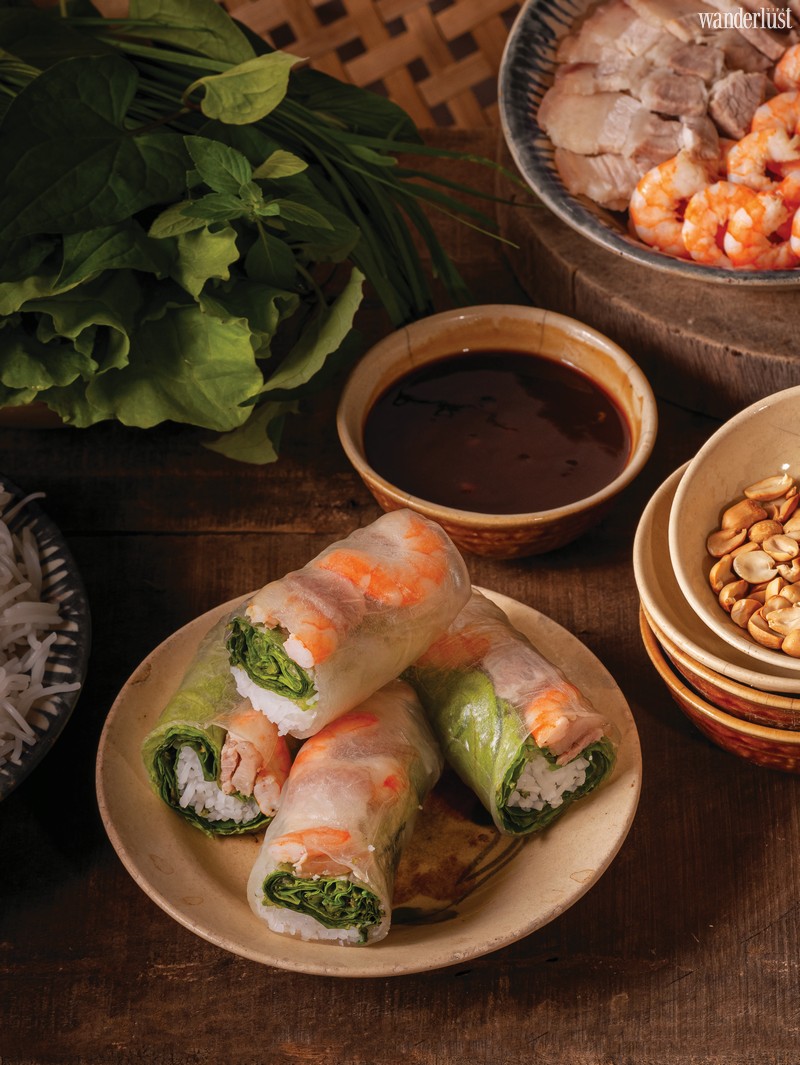 Additionally, the sauce of this dish can be varied to suit individual preference. You will be spoilt for choice with many options such as fish sauce seasoned with chillies and garlic, fermented fish, black soy sauce or even peanut sauce, which is the perfect accompaniment for fresh spring rolls. From top-end restaurants to quaint street food stalls, Southern fresh spring rolls intrigue many diners from far and wide.
Wanderlust Tips