Everywhere I go, I find new pleasures, and meet interesting new friends. I consider this a blessing that not many share, and the more I travel, the more I feel blessed. You know, solo travel doesn't have to mean loneliness.
[rpi]
Tam Thanh, Hoi An, Vietnam
It's hard to find anywhere in Vietnam that is as diverse, colourful, and easy-going as Hoi An. For hundreds of years, it has remained the same, sitting on the banks of the Hoai river, with its ancient mossy roofs and peaceful pace of life. Hoi An is an extremely safe place for a solo traveller, but you won't be lonely in this ancient city. You can roam the streets, try dozens of the city's specialities, or sit for hours in a small café to watch flower lanterns float across the river.
On a typical day in Hoi An, you'll wake to the sounds of bells from the trishaws on the streets. You can visit a small restaurant and enjoy the famous Quang noodles before touring the streets in the early morning. Hoi An is special because it is for everyone, from loud, energetic creatures to torn souls seeking refuge.
Follow the river and head down to Cua Dai to enjoy the sun and the wind, and visit Tam Thanh fishing village on the coast of central Vietnam. The small homes withstand many storms each year but still are always filled with laughter. Coastal people are generous, they will spend hours showing you around their village. They will show you every mosaic on their walls, and tell you about their boats, the sea, the nets and the storms of the past year.
Tips
Transportation: Many people fly to Danang because it's easier to find cheap tickets. You can drive your car or ride your motorbike from Hanoi or Ho Chi Minh City to Hoi An. In Hoi An, you can rent a motorbike or bicycle to tour around the city, Tam Thanh village, and the surrounding areas.
Accommodation: In Da Nang and Hoi An, there are many hostels, hotels, and cute little homestays that you can book remarkably cheaply. You can sleep in bunk beds in a hostel room, camp on the beach, or even sleep at a local's home along the route. There are no hotels in Tam Thanh village, but the hospitable people here will welcome you into their homes and shower you with stories of their lives on the ocean.
Dining: There are many specialties for you to try: There are literally dozens of kinds of seafood in Da Nang and also banh mi Hoi An, Quang noodles, Dap cake, chicken served with rice and barbecue pork with noodles.
Sapa, Vietnam
Although it is no longer home to only dreamy villas built by French colonials during the last century, Sapa still makes for an attractive tourist destination in Vietnam. Located on Hoang Lien Son mountain range, with its chilly weather and majestic mountains, Sapa is home to many ethnicities and diverse cultures. Sapa is suitable for solo travellers because it's safe and there are many things to explore.
This small town is full of activities to fill your time. You can take a walk around town and admire the church, enjoy a cup of coffee, or rent a motorbike to head to Silver Falls or Muong Hoa Valley and enjoy the view of the terraced rice fields. You can visit Ta Phin Village to learn about the weaving craft of the Dao, or visit Cat Cat Village to witness the life of the locals here.
If you seek adventure, you can attempt to conquer the summit of Fansipan by trekking there, or taking the quicker route on aa award-winning cable car, for a spectacular view of the mountain range. You can also drive a motorbike to Y Ty or Muong Hum to chase the clouds and discover the lives of Ha Nhi people.
Tips
Transportation: From Hanoi, you can take the train to Lao Cai and from there, catch a bus which will take you a further 30 kilometres up the mountain. You can also catch a sleeper bus to Sapa. In Sapa, you can rent a motorbike for only 80,000VND to allow yourself easy access to everywhere. You can also drive your motorbike from Hanoi through Yen Bai or Mu Cang Chai before reaching Sapa.
Accommodation: There are countless luxurious mountainside resorts, hostels and hotels on offer with prices from only 200,000VND per room per night. You can also stay at a local homestay. If you want to witness the lives of the locals, you can go to a local's home and stay for one or two days, you'll learn so much more about the local people's diverse lifestyle.
Dining: On your way to Y Ty or Muong Hum, crossing O Quy Ho pass – the highest and longest mountain pass in Vietnam, you can enjoy all four seasons in one day. The morning is as chilly as spring, noon is as sunny as summer, the afternoon is as cool as autumn, and the evening is as cold as winter. There's nothing better than sitting in the cold, misty night air, by the crackling fire of a roadside shop, and enjoying a cup of rice wine with grilled eggs and chestnuts. Delicacies like stewed horse meat, salmon, wild vegetables, sticky rainbow rice, and chicken are always available at any roadside shop.
Ninh Thuan, Vietnam
The solo traveller usually travels without a destination in mind. Sometimes their only companion on the dusty road is a worn-out motorbike, and they stop wherever they feel. Ninh Thuan can satisfy all the needs of the solo traveller, from the mountains and the ocean, rich with culture and wildlife to the local hospitality.
Located on the coast of south central Vietnam, where white sands and untouched beaches run for kilometres on end; you can visit Ninh Thuan year-round, but autumn (August – October) is the season of ripe grapes and Champa festivals, while summer is better known for beach activities. You can get here easily by motorbike, car, train or plane. If you're flying here, the nearest airport is in Cam Ranh, and from here you can travel to many nearby attractions. If you're taking the train, stop at Thap Cham station to get to Phan Rang city.
This place is best to explore by motorbike. Your first destination should be Po Klong Garai Cham temple towers, located on a hill on the outskirts of Phan Rang city. The tower was built at the end of the 13th century by the Cham king Jaya Simhavarman III. It is considered the most well-preserved and most beautiful Cham tower in existence today. Cham people still come here during the annual Kate festival in October.
If you love the ocean, visit Ninh Chu, Hang Rai, Vinh Hy, or Binh Tien for a different experience. Adventurers to Hang Rai can bear witness to the strong waves or take photos of the green moss-covered cliffs. Vinh Hy is as peaceful as an ink painting, a place where you can discover the coral reefs on a glass-bottomed boat, go diving or surfing, and try some seafood. Go a bit further and you'll get to Mui Dinh, where you can see a beach filled with strange rocks and a hundred-year-old lighthouse.
Don't forget to visit the sheep in An Hoa, where you can experience living life like a nomad. You can camp on the green meadows, set up a small fire, boil a small pot of water and make a cup of coffee to enjoy the sunset. You can even play with the sheep. In a small tent in the meadows, enjoy some local specialities or some of the fresh grapes of Thai An. You'll fall in love with Ninh Thuan.
Tips
Some Cham festivals in Ninh Thuan:
+ Rija Nagar Festival in May, the traditional new year festival of the Cham people, featuring exciting folk dances and singing of the Ka-ing.
+ Ramawan Festival which takes place at the end of June/beginning of July, which features pilgrimages of the Cham to their ancestral graves.
+ Kate Festival in October, is considered the largest and most important festival of the Cham. It takes place around Cham temples.
Some specialties of Ninh Thuan:
Phan Rang fish ball thick noodle soup, fine rice noodles with pork buns, fish salad and lamb dishes. You can also buy wine or Cham craft souvenirs.
Travel to Ubud, Bali, Indonesia
Overseas travel is not usually an option for first-time solo travellers. For those who have explored every corner of Vietnam, Southeast Asian destinations are the next best choice because the cost is similar, and travelling there is convenient. Bearing great resemblance to Bali by way of its architecture, cuisine, and pace of life, Ubud always knows how to keep visitors enthralled.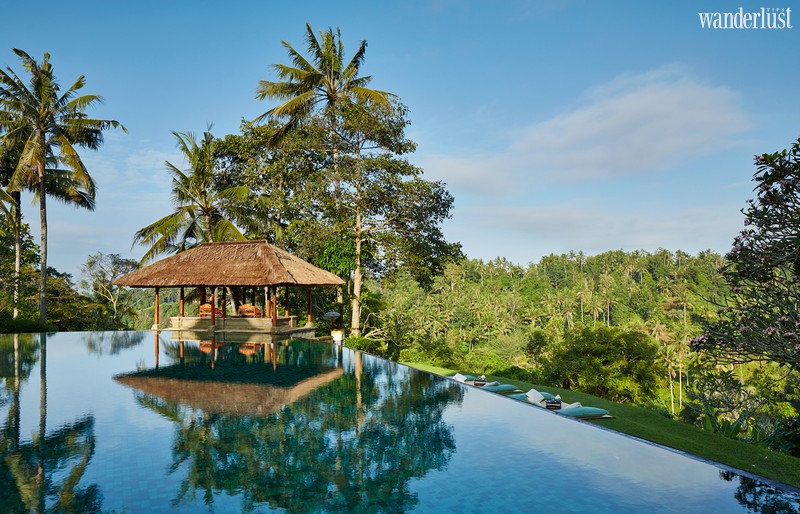 Similar to Hoi An, life in Ubud starts later because people are never in a hurry, but spend time in the morning for religious rituals or shopping, before opening their shops or going to work. You'll see that mornings in Ubud are as peaceful and quiet as the Vietnamese countryside, thanks to the cool, fresh air from the fields, even down to the sound of frogs croaking in the distance.
The terraced rice fields ub Tegallalang, are not as spectacular as Mu Cang chai, but are enough to assault your senses with the fresh scent of cinnamon and rice. If you love nature, you can visit the forest and see hundreds of monkeys, or visit the park, home to thousands of birds and the famous Komodo Dragon of Indonesia.
When in an unfamiliar city, I like to visit the central market to witness the everyday life of the locals, or visit the museums to learn about the local history and culture. Agung Rai Museum of Art in Bali displays classical Kamasan art, as well as paintings and sculptures from famous artists. Here, you can also learn to cook local delicacies or watch the making of traditional craft items.
Stop by Goa Gajaj, an ancient temple with unique architecture, or Puri Saren Royal Palace, a representative of Balinese architecture, which still holds performances every night. Must-see destinations include Kajeng Road with its signatures of visitors on the pavement, central market, or the traditional craft villages. If you're feeling spontaneous, you can visit Batur Volcano, Tirta Empul Temple or watch Barong traditional dances at Batuluban.
Tips
You should look for a cheap airfare well in advance because this is the easiest way to get from Vietnam to Bali.
Stay at a homestay, which is cheap and allows you to witness the local culture. There are many on Jalan Kajeng and Jalan Hanoman roads.
Motorcycles are the most popular means of transportation in Ubud.
Ubud is famous for dishes with strong flavors thanks to the locally grown herbs and spices. Local cusine is served at almost every restaurant and even sidewalk shops in town; foods such as Babi Guiling, Lawar, Nasi Goreng and Sate Lilit. Shops with the word "Warung" in the sign serve traditional Balinese food.
You should wear long pants and skirts when visiting temples. It's a requirement. You should also buy a sarong as a souvenir.
Always bargain when shopping. Stated prices are often high and locals won't mind when you bargain.
Explore Luang Prabang, Laos
Luang Prabang is a must-visit destination in Laos. Here, you can feel the tranquility of the ancient city, dotted with hundreds of temples, monks begging for food every morning, and pleasant and hospitable people. Luang Prabang has four seasons similar to northern Vietnam, you can visit year-round, but the best time of the year is always spring or autumn.
There are many ways to get here. You can drive from the capital city of Vientiane to Luang Prabang. It's possible to drive a car or ride a motorbike around Laos, stopping by Luang Prabang before returning to Vietnam thanks to the easy customs procedures at border gates like Nam Can (Nghe An Province), Ten Tan (Thanh Hoa Province), Pa Hang (Son La Province) and Tay Trang (Dien Bien Province). There are also direct flights from Hanoi or Ho Chi Minh City, but the airfare is rarely cheap. In Luang Prabang, you can rent a motorbike, bicycle, or tuk tuk to explore the city for a few days.
If you wish to buy traditional crafts and in particular, silverware, you can visit the night market downtown. During the day time, you can visit the H'mong market to see the paintings of the local people. Must-see sites are of course the temples and shrines around Luang Prabang. The most visually appealing ones are Mai temple and Xieng Thong temple.
Pak Ou cave, also known as Buddha cave, is home to thousands of Buddha statues, a unique wonder of the world. On the way to Pak Ou cave, you can visit the Whisky Village to enjoy local wine and buy local handicrafts. Similar to Angkor, there's also a wonderful place to watch the sunset in Luang Prabang, it is Chomsi Hill, which has a temple on top and a panoramic view of the ancient city.
If you visit this city in the summer, you should visit Kuang Si Waterfall, located about 30 kilometres from the city centre. The main falls are over 60-metres high, cascading down into the smaller ponds at the bottom. If you love elephant riding like in Buon Me Thuot (Vietnam), you can try this at Khammu Village.
Don't forget to stop at a roadside shop by the Mekong River for a cup of Laotian beer, the best in Asia, and observe the sedate, peaceful life there.
Tips
1 Laotian Kip is equal to 2.7 Vietnamese Dong (27,000VND = 10,000LAK). You should exchange your cash into different value bills for ease of use. USD is also a common currency here.
You can rent a tuktuk for long trips and group with others to reduce costs. You can even take a tuktuk from the airport to your hotel.
There are many hotels and homestays here; you can stay around the riparian area for easy access to the night market and to witness the local lifestyle.
When shopping at the night market, you should bargain for only 1/3 of the asking price.
Sampling the vegetarian food here is also an interesting experience.
Visit Siem Reap, Cambodia
Many travellers believe that a Cambodia without Angkor Wat would not be worth visiting. This is quite true, because you can easily spend a month here and still not fully explore this ancient temple complex, rich with history and culture.
Modern-day Siem Riep is a haven for backpackers. It is affordable, filled with wonders to visit, has interesting homes, great food and beer, easy transportation, and kind and hospitable people. If you're seeking a solo trip abroad, Siem Riep should be your first choice.
You can fly directly to Siem Riep, or ride a motorbike through border gates between Vietnam and Cambodia. Many even choose to take buses from Saigon, which depart at around 6 a.m., get to Phnom Penh around noon, and finally arrive in Siem Riep at 6 p.m. You only need a valid passport. The cross-border paperwork will be taken care of for you by the bus attendant. From Hanoi, you can fly directly there or fly to Saigon to catch a bus to Siem Riep.
The most convenient means of transportation in Siem Riep is tuk tuk. You can rent one from 12 – 15USD per day and you can go with a group to reduce costs. Traveling on a tuk tuk allows you to enjoy the scenery, take photos and even chat with the drivers, they will passionately share many interesting stories with you about the city.
A complex of temples is the main attraction in Siem Riep. There are more than 1,000 temples of various sizes. If you have only 3 or 4 days, you should visit the few biggest ones. Angkor Wat is the largest and most famous of them all, surrounded by fences and fronted with a pretty lake. Watching the sunrise at Angkor Wat is a once in a lifetime experience. A second must-see is Bayon Temple, located at the centre of the Angkor Thom complex, with dozens of towers of various sizes. Each tower has four stone faces, facing four directions.
The third must-see is Ta Prohm, which appeared in the movie "Tomb Raider", the trees growing out of the tombs are its most distinctive feature. Don't forget to visit Banteay Srei temple, built with red sandstone which gives it a distinct orange hue. The temple worships the Hindu god Shiva, and the intricate bas relief carvings on the wall also give it the name "Citadel of the Women". On your way, you can visit dozens of other temples to learn more about the history and culture there.
Tips
In Siem Reap, three currencies are acceptable: VND, USD and Cambodian Riels. You should exchange your money into USD bills with various values and Riels for ease of use.
There are many options for hostels, hotels, or homestays. If you're traveling solo, you can stay in a dorm room at a homestay, priced at only 8 – 10USD for a fan room and 13 – 15USD for an AC room.
You should get up early in the morning to visit the temples, this way you can watch the sunrise and the sites will not yet be crowded.
You can enjoy a birds-eye view of Angkor from a hot air balloon.
Entry fees to visit Angkor are 20USD for 1 day, a 3-day package is 40USD and a 7-day package is 60USD. You should budget your time and buy your tickets accordingly. Save your tickets during your stay, and keep them as a nice memento, as they have your picture on them.
In addition to visitng the temples, you can visit the mine museum and the cultural museum to learn more. You should visit the night market, especially Phsar Chas Market, which offers unique souvenirs and merchandise. Always bargain for half or one-third of the asking price.
You can also visit the floating village on Tonle Sap lake with its floating schools. Many students here are Vietnamese.
Wanderlust Tips