The holidays are meant to be a time of relaxation and looking for the best beaches to escape to. Forget sugar-white or golden stretches of sand. If you are seeking unusual beach destinations, the gorgeous Pfeiffer Beach in Big Sur is the place where you can bury your toes in purple-hued sand.
[rpi]
Located about seven miles south of Andrew Molera State Park next to Los Padres National Forest, Pfeiffer Beach is a beautiful, unspoiled beach that is popular with locals yet somewhat unknown among tourists. At Pfeiffer Beach, you will get eye-popping views of expansive shorelines covered by towering, vegetation-heavy bluffs and dramatic rock formations. The vast stretch of sand shows a gradient of violet hues caused by manganese garnet deposits washing down from the craggy hillsides above. You will not see purple sand every visit, but the streaks of purple are much more visible if you visit just after it has rained, which generally happens in winter and early spring in California. The purple sand is especially fun for making a sandcastle.
This phenomenal crescent-shaped beach is also known for its huge double-rock formation, called Keyhole Rock or Keyhole Arch which is the main centrepiece of Pfeiffer Beach. Located a few feet out into the ocean, the beautiful Pfeiffer Keyhole Rock is considered the most photographic attraction in Big Sur after Bixby Creek Bridge and McWay Falls. On a good sunset evening, the sky is imbued with hues ranging from orange to pink to purple just after the sun dips below the horizon, providing a dramatic backdrop for the beautiful arch. In the spring and early summer, wildflowers add splashes of colour to the rocks. When the tide is low, the visitor is able to wade through the water and take a stunning close-up look at the striking surroundings.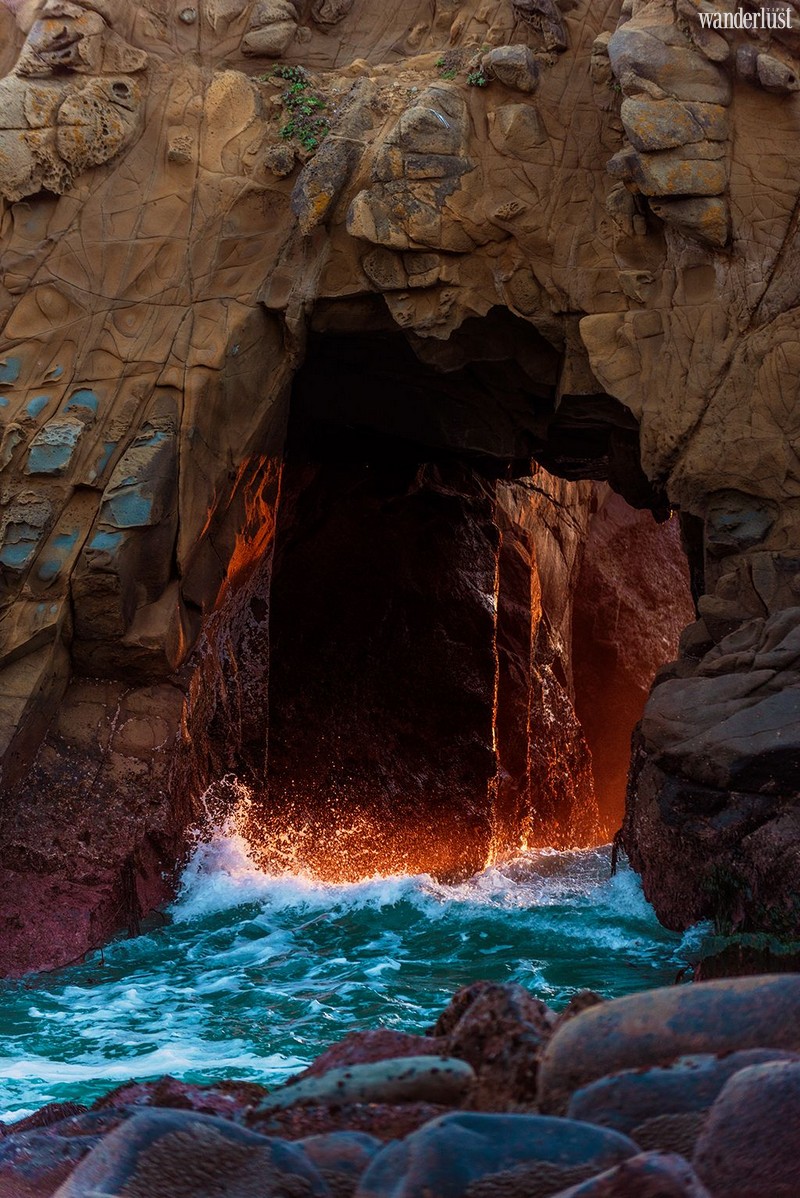 Pfeiffer Beach is beautiful and photogenic at any time of year, but the best time to see the Pfeiffer Keyhole Rock is between November and January, especially at sunset when the sun shines dazzlingly through the keyhole, creating a stunningly magnificent show of light. The glow through the arch makes it look like a doorway to another world. Enjoy the time in the sun and spend time capturing the ocean, rocks and waves. The beach is always busy between Christmas and New Year since people have that time off. Hence, you should go shortly afterwards in early January to avoid the crowds. If you plan on taking photos, do not forget your tripod and ND filters.
The beach itself is down a narrow, one-lane dirt road, but there are no entrance signs. You can either drive to the beach or take the bus from the Big Sur Visitor Centre area. The entrance to Pfeiffer Beach costs $10 cash per vehicle. There is a small parking lot near the beach, vault toilets and some picnic tables. There is no camping allowed, swimming is considered dangerous due to the geography of the beach and dogs on leash are permitted at Pfeiffer Beach. If you plan to walk or scramble over the rocks at Pfeiffer Beach, you should bring water shoes with excellent grip. Additionally, you should wear sunscreen, sunglasses and a wide-brimmed sun hat.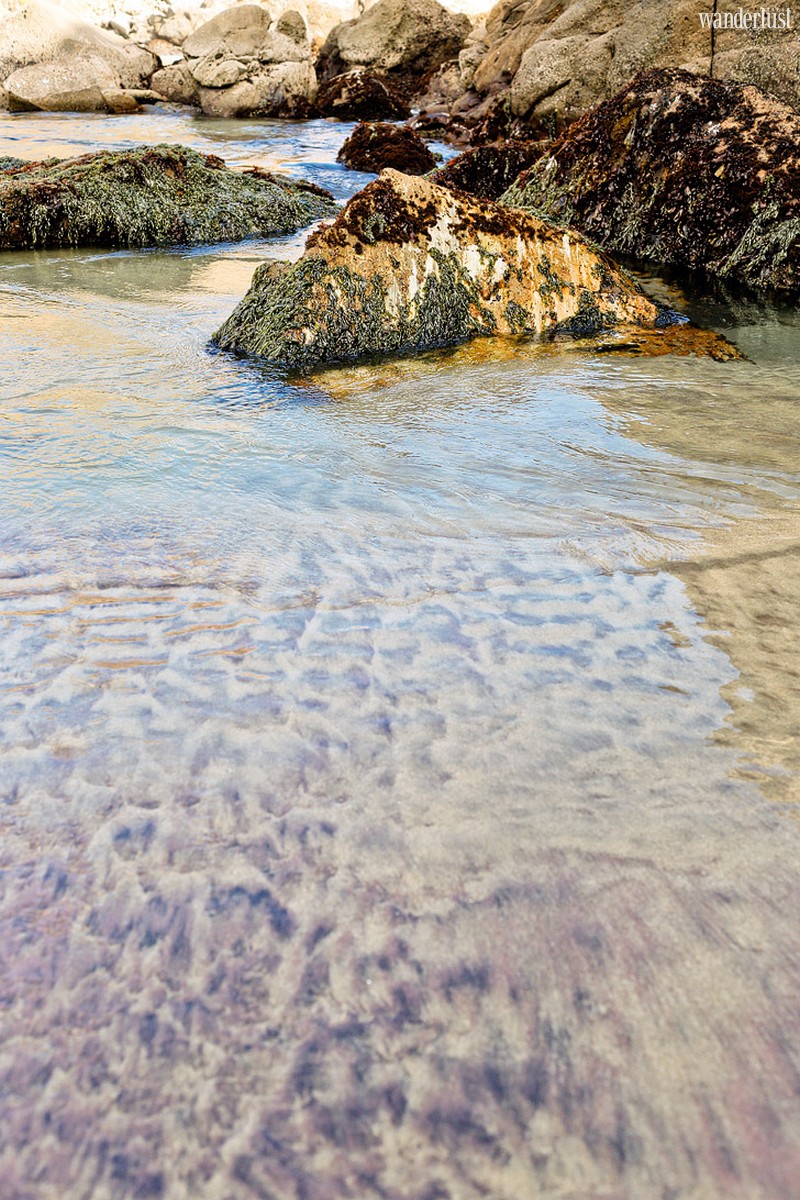 There is no drinking water and food available for purchase at Pfeiffer Beach, so bring snacks to nosh on. Alternatively, there are places to eat nearby such as Nepenthe or Big Sur Bakery. If you are taking a California road trip, a stop at Pfeiffer Beach is a must for you. Take in the natural views of slender palm trees swaying, seabirds circling aloft and waves caressing the shore as the sun's morning rays throw long shadows across violet sand. You can also look for surfers in the water and keep your eyes peeled for marine life and birds.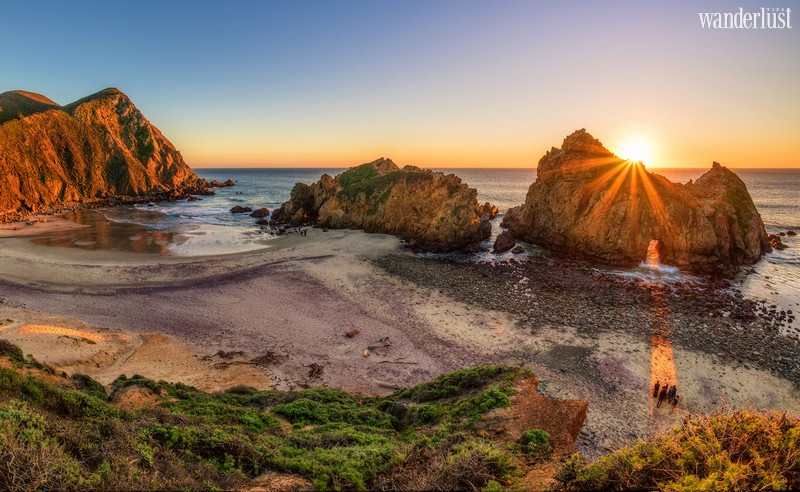 Address: 9101 Sycamore Canyon Road, Los Padres National Forest, Big Sur, CA 93920, USA
Opening hours: 9 am – 8 pm, Daily
Wanderlust Tips