As one of the most ruthless hunters in the ocean, sharks bring terrifying but fantastic experiences for most. If you are looking for breathtaking shark experiences, these excursions will definitely leave you in awe.
[rpi]
FIVE-DAY GREAT WHITE SHARK CAGE DIVE, GUADALUPE ISLAND, MEXICO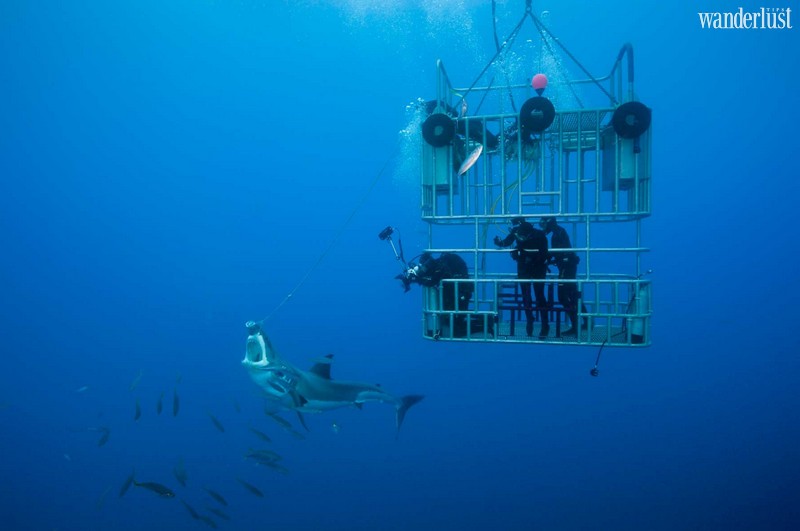 Located in the Pacific Ocean approximately 210 miles west of San Diego, California, Guadalupe Island has become the world's best location for diving with great white sharks. By booking a trip with Horizon Charters, a professional cage diving operator at Guadalupe Island since 2000, you will be transported from San Diego to Guadalupe Island in a liveaboard shark diving boat for five days. Food and drink will be offered. There are two giant shark cages and 16 shark diving guests on board. You will get to drop below the surface of the water and see great white sharks close up from the safety of a specially designed cage system that is built for beginners and non-divers.
OPEN-WATER SHARK SNORKEL, OAHU, HAWAII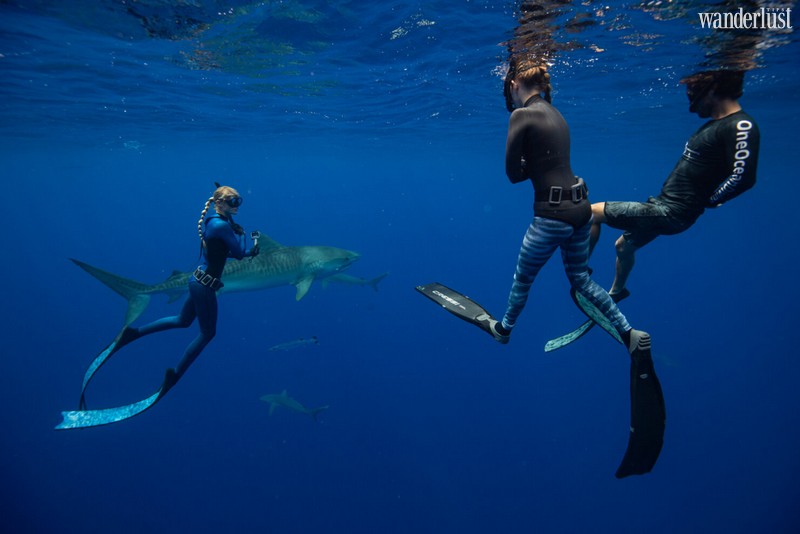 If you get annoyed by overcrowded tourists blocking your view or hampering your experience, the North Shore of Oahu is a fantastic destination for you to swim with sharks in the open ocean. One Ocean Diving provides small dives with six to eight people at most and plenty of time to swim alongside sandbar, Galapagos and tiger sharks. Submerge below the blue Hawaiian waters as these awe-inspiring creatures of the ocean gracefully swim around you. Furthermore, you will have the chance to learn about the creatures, how to interact with them in the water and how to help with conservation efforts.
SCUBA DIVING WITH TIGER SHARKS, GRAND BAHAMA ISLAND, BAHAMAS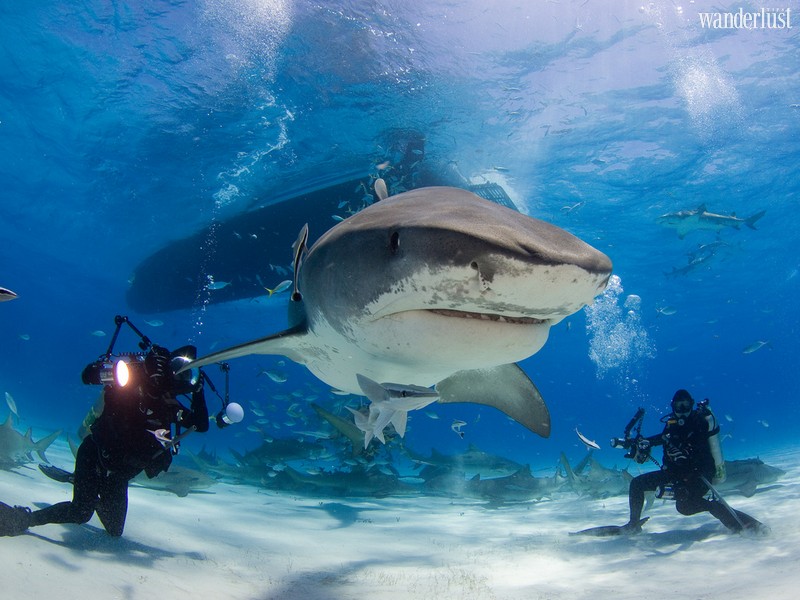 For underwater photographers and adventurers who are keen to get up close and personal with tiger sharks, Tiger Beach in the Bahamas is a must on your bucket list. The waters are known for their resident tiger sharks and hammerheads, depending on the season. Here, you will have the opportunity to get close to these giant beauties and enjoy cage-free shark dives when booking a trip with Jim Abernethy's Scuba Adventures. Trips are capped at 10 divers and the liveaboard boats depart from West Palm Beach, Florida. Additionally, you will need a scuba certification and a little planning.
FIVE-DAY SCUBA DIVE IN A SHARK SANCTUARY, PALAU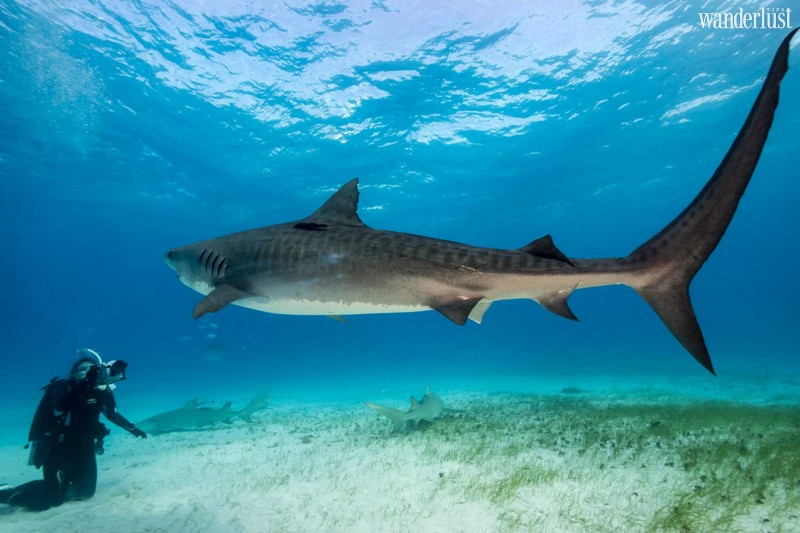 As a smattering of tiny islands off the coast of the Philippines, Palau intrigues shark lovers with the world's first shark sanctuary, Palau Shark Sanctuary. This destination is home to over 135 species, including grey reef, leopard and whitetip reef sharks which are all protected from commercial fishing. Here, you can dive in these protected waters with Palau Dive Adventures and take on a five-day excursion including 13 dives alongside just 10 other lucky visitors. Make sure you get a scuba certification before trying the most overwhelming experience in your life.
GREAT WHITE SHARK CAGE DIVE, SIMON'S TOWN, SOUTH AFRICA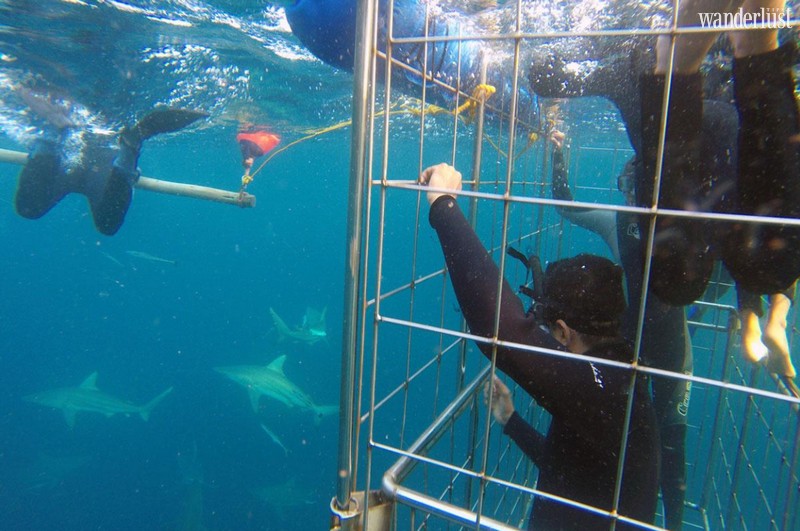 Having a good reputation as the spot to see great white sharks in their natural habitat, South Africa is an ideal destination for those looking for amazing shark experiences. Taking a trip with African Shark Eco-Charters, you will come within inches of these giant creatures from the safety of a cage with their "first do no harm" approach. To get the most of this once-in-a-lifetime experience, groups are capped at 18 with only four to five people in the cage at a time.
SCUBA DIVING WITH 50 SHARKS AT ONCE, PACIFIC HARBOUR, FIJI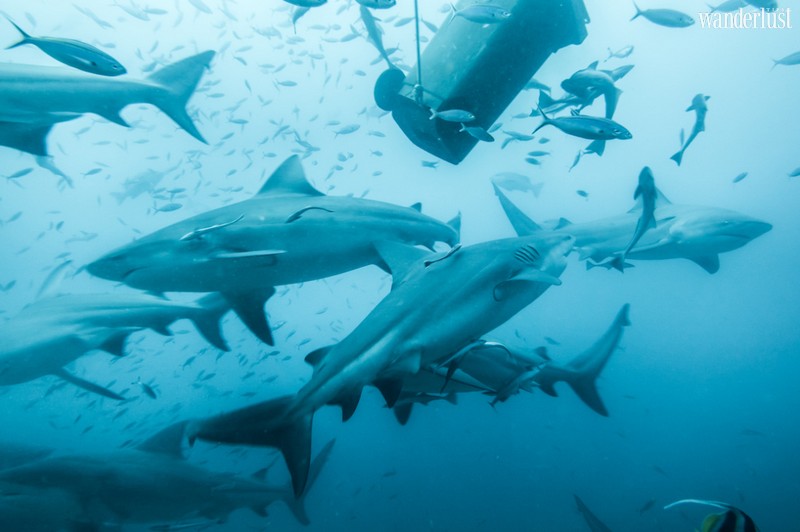 Created to study the resident sharks and support conservation efforts, Fiji's Shark Reef Marine Reserve will blow your mind of the dives with Beqa Adventure Divers. Visiting here, you will have the opportunity to see up to eight different species, including bull, tiger, sicklefin lemon and silvertip sharks. An intimidating and awe-inspiring experience of diving with as many as 50 at a time will definitely leave you in awe.
MULTIDAY DIVE WITH HAMMERHEAD SHARKS, COCOS ISLAND, COSTA RICA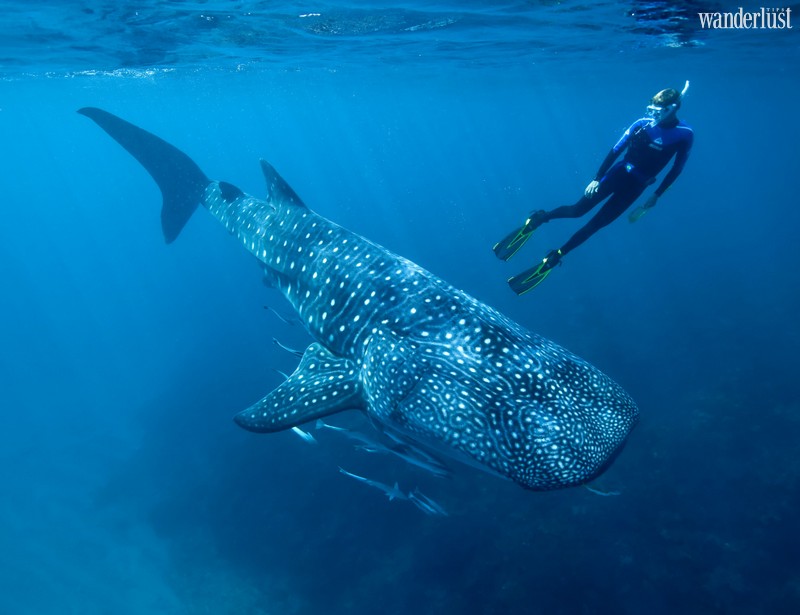 No shark adventure would be complete without travelling to Cocos Island, Costa Rica, known for its hammerhead shark population, in addition to tiger, Galapagos and silvertip sharks. For the most breathtaking shark experience on the stunning island, make sure you book a spot on a liveaboard boat with an excellent dive crew and check out Bajo Alcyone, an area that attracts dozens of hammerhead sharks.
Wanderlust Tips