So many people, like me, have a strong desire to travel to the magnificent city of Seoul at least once in their lifetime. Seoul is truly a must-visit destination to add to your travel bucket list, where you can enjoy the captivating scenery as well as local lives whilst falling more in love with this gorgeous city.
[rpi]
Since I was in primary school, I have been passionate about drama series, live performances and the unique South Korean culture. I told myself that I would definitely visit Seoul one day. Finally, I have fulfilled my big dream. Seoul, in reality, is exactly as it is in the movies, the streets and roads of Seoul bring to life what I have seen on my screen. Seoul embodies modernity, luxury and rich culture and the Koreans always seem to be in a rush.
PEACE AND SERENITY IN THE HEART OF THE CITY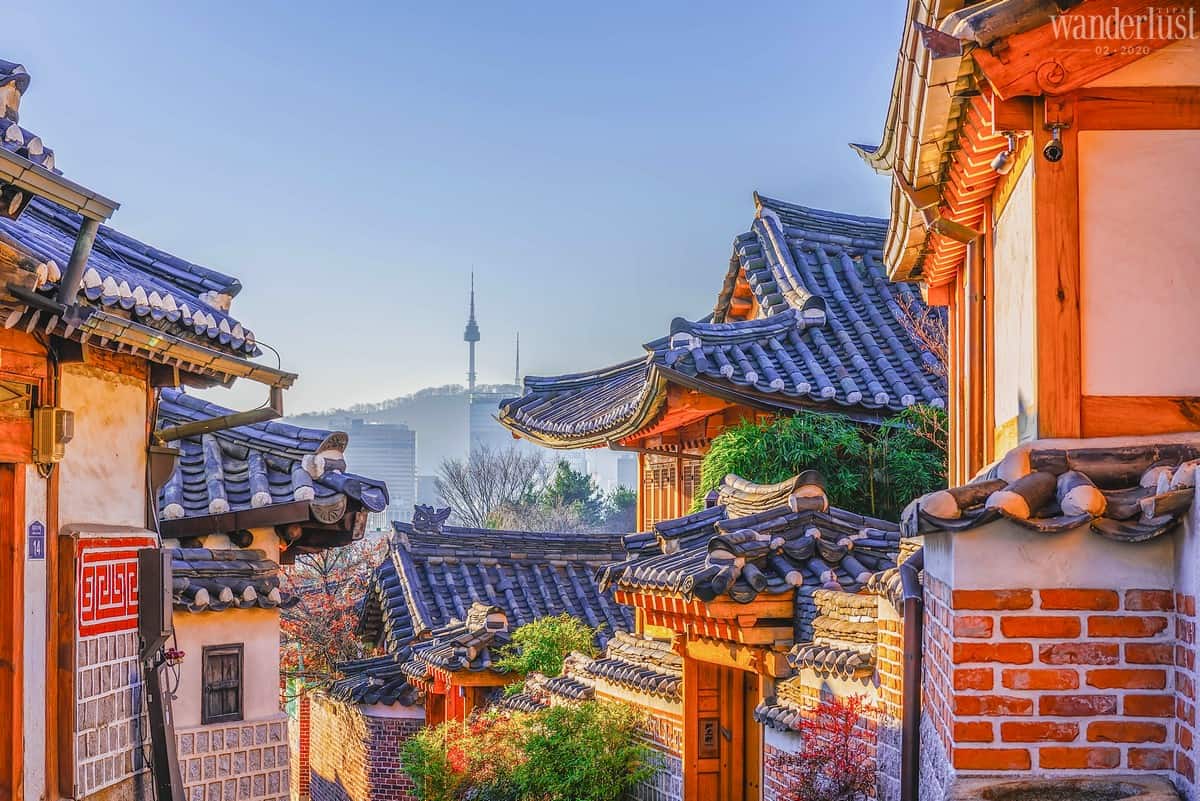 I consider myself fortunate to have had such a nice trip in November. I was lucky to still be able to catch a fleeting glimpse of the autumnal ambience, the trees were adorned with a blanket of yellow and red leaves. Then I took a wander around the ancient Ikseon-dong Hanok Street, which is renowned for its rich Korean culture, then headed towards Gyeongbokgung Palace. There is a long row of trees running along the ancient street. The leaves fell gently in the light breeze and paved the way for a chilly winter, making me feel as if I was walking in a famous romantic movie.
It would be no exaggeration to say that only when you visit Seoul, can you appreciate how beautiful the autumn in Seoul truly is. In the afternoon, my friend and I quickly pulled ourselves away from the charming boutique shops and the winding alleys through an old village by Namsan Seoul Tower for a sunset view. The bus to Namsan was busy with both Korean and international passengers, they were totally mesmerised by what they could see through the window. The city is surrounded by an amazing variety of fascinating landscapes.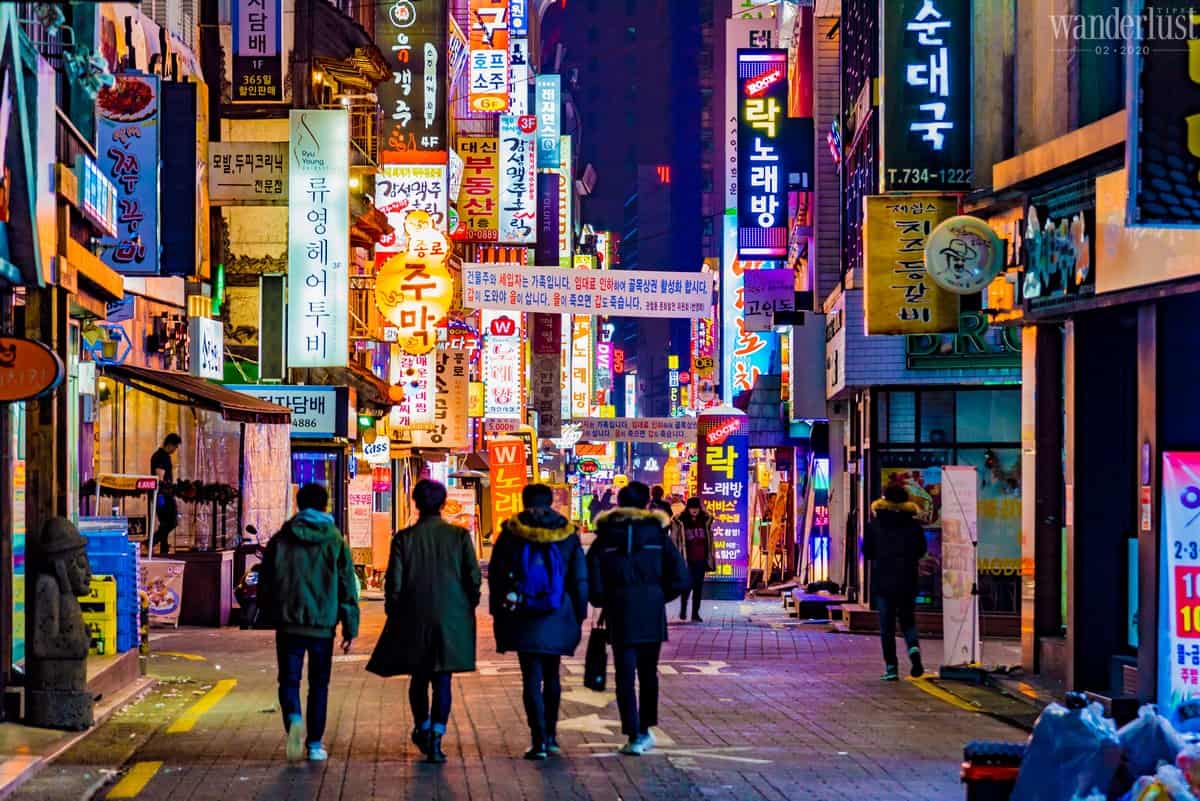 When I hopped off the bus, I was extremely excited about walking along the crowded streets. There is no doubt that Namsan has always been a must-visit attraction for tourists to Korea. The pavements are lined with lush green trees and in the distance, a breathtakingly beautiful panorama of Seoul appeared before my eyes. I wonder how such an amazing area like Namsan exists in the heart of the most modern metropolis in Asia. It allowed me to be at peace and provided the space to indulge myself in charming nature and escape the hustle and bustle.
Among these popular sights, I was particularly impressed to stumble across an incredible maze of small roads where only a few people passed by. I cannot put my finger on why, but strolling along the winding roads full of residential houses and convenience stores made me realise that Seoul was more beautiful than ever. Especially because that is where I saw the first snowflakes, they gently floated into the space lit by warm streetlights and gradually settled on the ground. It was my favourite and most unforgettable moment during my time in Seoul.
SEOUL IS A BUSY AND FLASHY METROPOLIS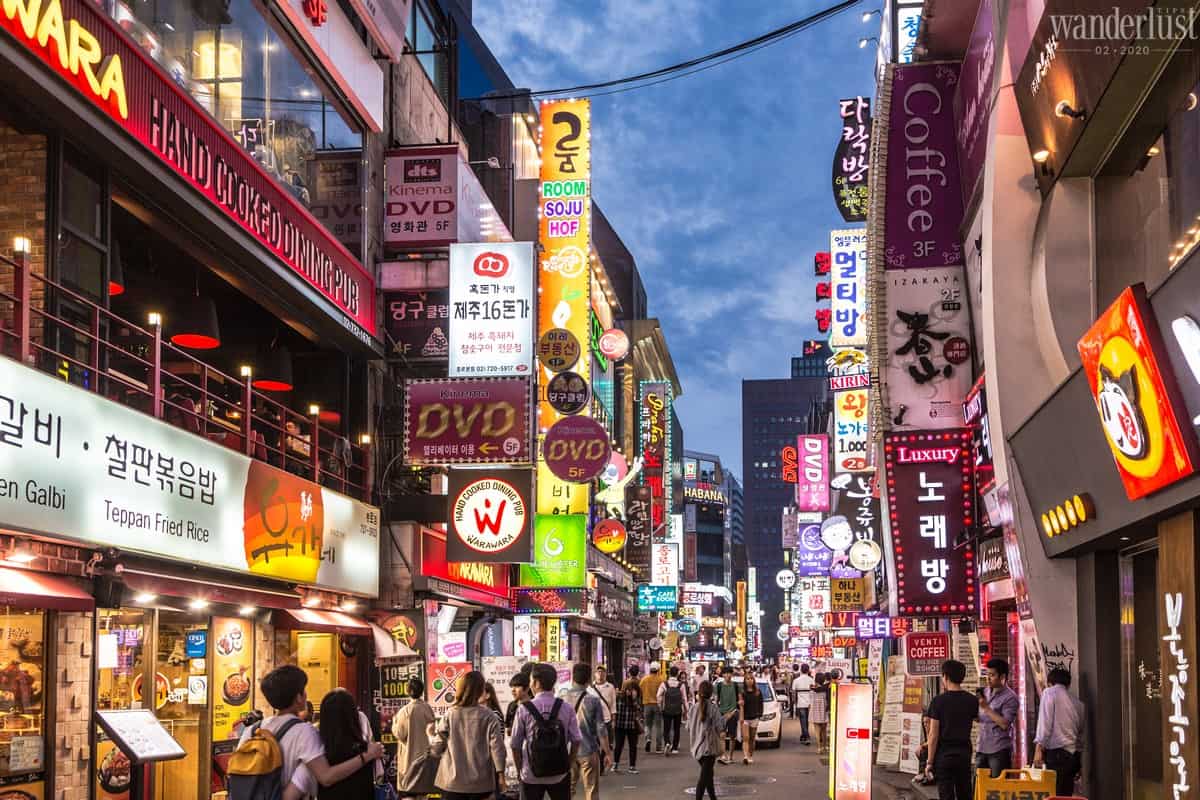 It would be no exaggeration to say that Seoul is the most modern, bustling and luxurious city in Asia. Aside from being an ancient and peaceful city, Seoul itself is wrapped in magnificence and luxury. As I strolled around the major roads in Kangnam District, I was really overwhelmed by Seoul's wealth. An amazing variety of expensive shops adorned with dazzling lights stand out in the streets. The humming music echoed from a nearby bar and eye-catching large advertisements made everything in Kangnam more shimmering and appealing. I was drawn to its metropolitan glamour and enjoyed wandering around Seoul until late into the night.
After a while, I realised I was in Apgujeong-dong, which is known as the most expensive ward in Korea. It is said that the place is home to a diversity of exceptionally sumptuous styles dedicated to the elite, for instance, state-of-the-art commercial centres and two-storey apartments well-appointed with spacious gardens.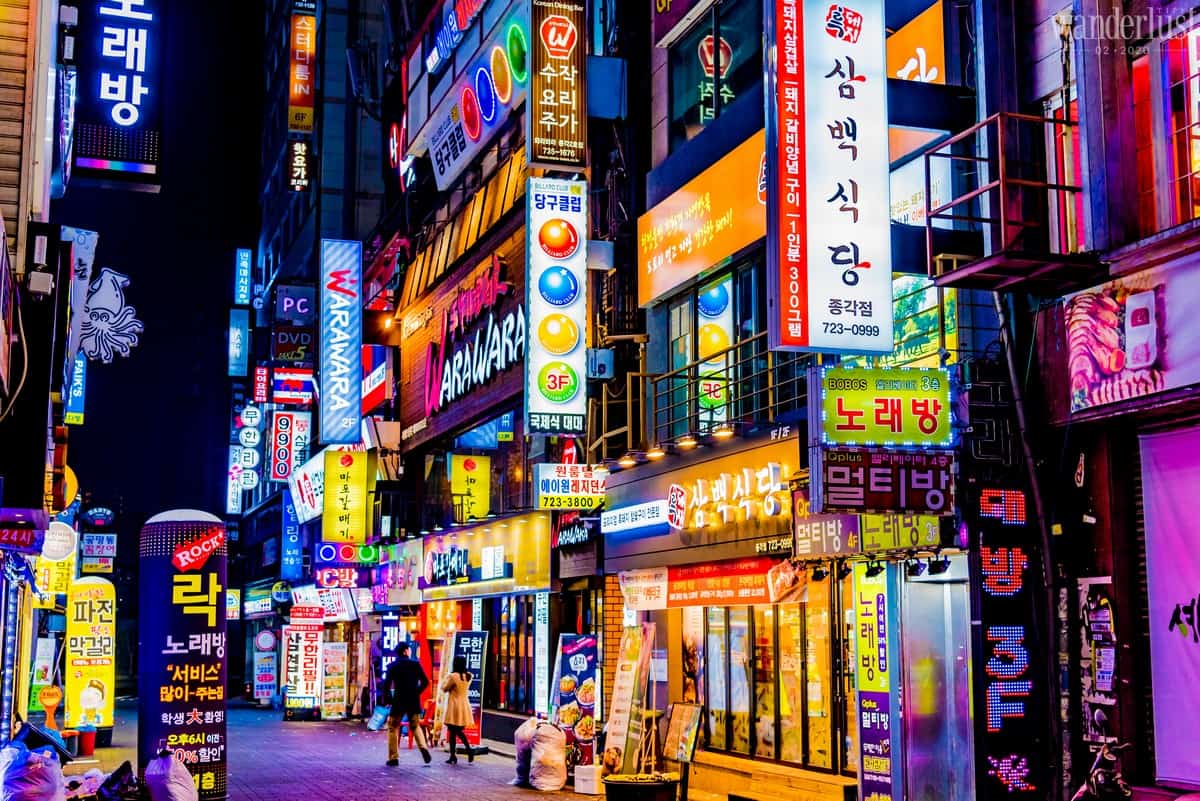 Nonetheless, I was wowed by the bustling shopping paradise of Myeong-dong. The place is home to a kaleidoscope of items, ranging from expensive to cheap. I could not help myself when it came to shopping in Seoul. Leaving Myeong-dong, we strolled around the city again to look for items to buy. Hongdae is always jam-packed with people toing and froing and popular restaurants and dynamic music buzzes from every street corner.
If you are a big fan of K-pop, then Hongdae is a must on your Korea bucket list. I was flabbergasted to see so many music groups, singers and amateur dancers performing here. After just a few steps, I could see a crowd gathered to enjoy the fascinating performances. The atmosphere was so exciting that when I waved goodbye to Seoul, the picture of a funny artist and his impressive performance in Hongdae stuck in my mind.
EMBARK ON A THRILLING CULINARY EXPERIENCE IN SEOUL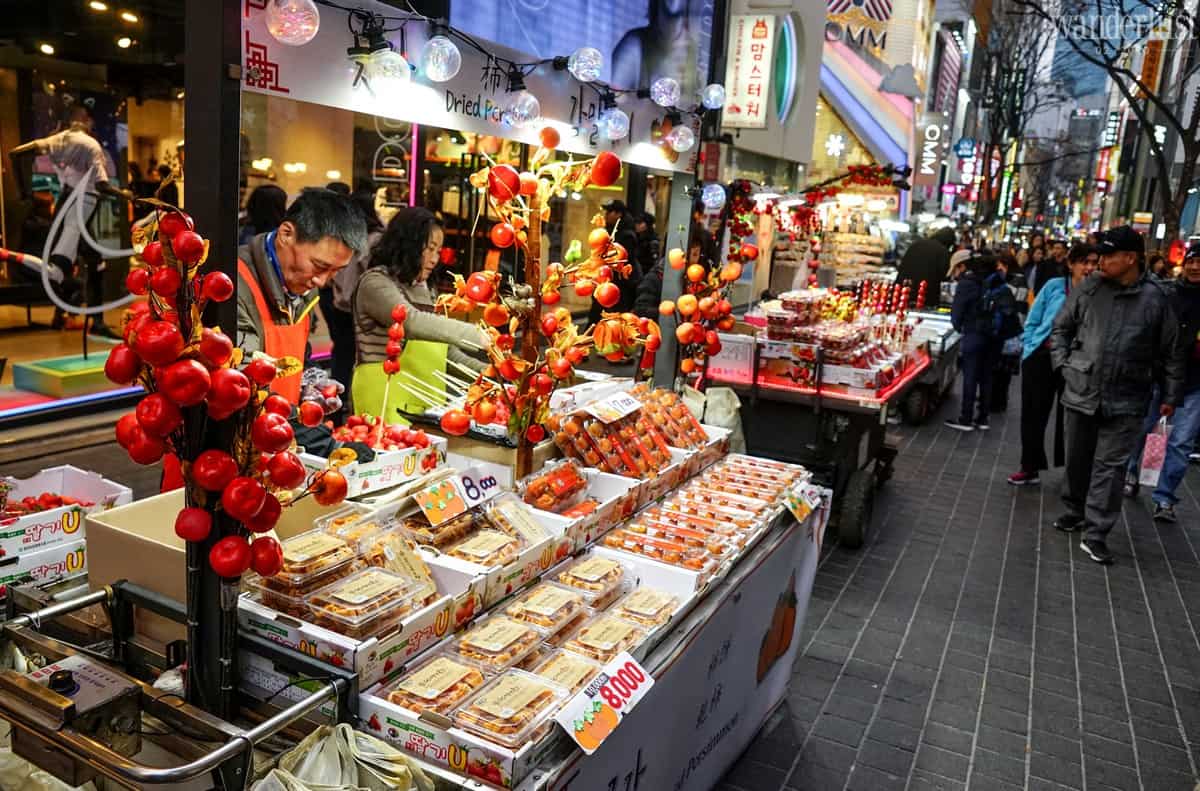 I can honestly say that I have fallen head over heels in love with Korean cuisine and only Seoul can satisfy my hunger for the delightful delicacies. Thanks to the chilling temperature of 0°C, walking along the bustling roads full of mouth-watering food stalls, I just stepped out of one food stall before hurrying into the next one.
For me, Korean cuisine has always had a very unique flavour. It is the sizzle of an aromatic barbecue or the crispy fried chicken and the slurp of diners whilst savouring hot soup in the cold weather. Believe me, aside from an amazing variety of aromatic Korean delicacies, you will certainly be fascinated by the signature sounds and drinking culture that is unique to Seoul.
W.TIPS
BEST TIME TO TRAVEL
Seoul boasts an extremely distinctive beauty all year round, but spring and autumn are the best time for you to travel as cherry blossoms are in full bloom between March and May. Alternatively, yellow and red leaves paint a romantic picture between September and October.
TRANSPORTATION
Currently, there are a variety of airlines operating direct flights from Vietnam's major cities, such as Hanoi, Saigon or Da Nang to Seoul at a very economical price, so travellers can easily choose depending on their needs. Public transport is the most popular mode of transportation in Seoul and is also preferred due to its affordability. Recharge your T-Money Card and then you can use the bus and subway system in Seoul.
ACCOMMODATION
There is an amazing variety of accommodation options in Seoul, ranging from expensive to budget. Nonetheless, you should reserve hotels or hostels near the subway or bus stations for convenient access to the sights around the city.
POPULAR TOURIST ATTRACTIONS IN SEOUL
Seoul, an amazing city – a blend of ancient and modern beauty, will surely satisfy tourists with its attractive destinations, for instance, Gyeongbokgung Palace, Hanok Bukchon Village, Cheonggyecheon Stream, Namsan Seoul Tower, Everland Theme Park or the shopping plazas in Myeongdong and Dongdaemun.
CUISINE 
Seoul is home to typical Korean cuisine with a diversity of famous delicacies, for instance, Tokbokki, Gimbap, grilled tripe, fried chicken and spicy Jokbal. Most uniquely, you can experience the Korean drinking culture, pour yourself a glass of Soju whilst enjoying Korean BBQ or grilled pork tripe.
Le Ha | Wanderlust Tips