Originated in India, Holi has explored in popularity and spread throughout the world. If you are not in India during the Holi festival, then check out these 7 best places to enjoy this colourful celebration from all over the world.
[rpi]
CELEBRATING HOLI IN MAURITIUS
Mauritius is a small island nation east of Madagascar in the Indian Ocean and it is home to a large Hindu presence. One of the best ways to experience the multi-cultural, multi-ethnic country of Mauritius is to embrace one of their magical festivals, Holi. The Festival of Colours not only celebrates the arrival of spring and the triumph of good over evil, but it is also an occasion for Hindus of all ages from around Mauritius to come together and indulge in the festivities by folk singing, dancing and throwing handfuls of coloured powder and water on each other. This year, Mauritius will celebrate Holi from March 29.
HOLI IN GUYANA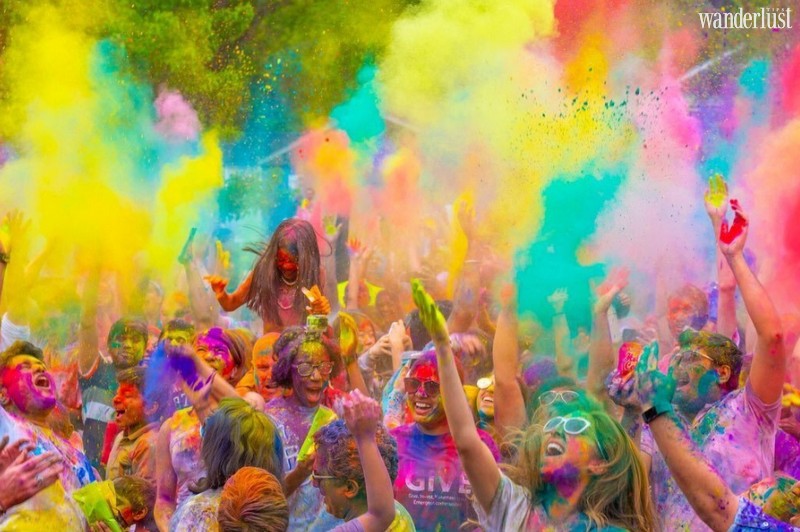 Sitting hidden on the northern coast of South America, Guyana is an ideal place to celebrate the Holi festival of Colours which boasts a fascinating mix of Afro-Caribbean, Indian, Asian and native cultures. In Guyana, this celebration is called Phagwah because it was originally celebrated during the month of Phagun, the twelfth month of the Hindu calendar. Guyanese celebrates by throwing dye in the form of water and powder, along with processions, traditional songs called chowtals and foods like gulab jamun, gulgula and pholourie. This year, Guyana will celebrate the Holi festival on March 28.
HOLI IN NEPAL
If you want to experience one of Nepal's most lively and colourful festivals, the spring festival of Holi, known as Phagu Purnima, is a fantastic option. The Holi festival intrigues visitors with lots of colours and picturesque traditions. Unlike India's festival, Phagu Purnima is celebrated with the erection of the chir, a wooden pole decorated with colourful strings of cloth, in a public space one week prior to the start of the festival. In Kathmandu, the capital and largest city, Durbar Square and the streets of Thamel are the best places where participants throw powdered dyes and water balloons at each other, dance, pray and exchange food during the festival. In 2021, Holi will be celebrated on March 28 and 29.
TRINIDAD AND TOBAGO
There is a significant presence of the Indian diaspora on the Caribbean island. In Trinidad and Tobago, Holi, popularly known as Phagwa, is one of the country's most important celebrations. Dating back to 1854, the festival is observed with much splendour and enthusiasm. Like everywhere else, Hindus in Trinidad ring in spring with a festival of colours, folk songs, dance and a variety of special Holi dishes. The community members take advantage of this festival as an opportunity to rid themselves of all types of enmity and animosity.
BERLIN, GERMANY
The Holi Festival of Colours has made its way to Berlin, Germany. As a celebration of summer, people colour each other with dry powder. This year, the Holi Festival of Colours will take place on August 28 from midday to 10pm. You will see huge crowds descending upon the Zentraler Festplatz in Berlin for the most lively colourful festival in the country. DJs, bands and musicians from India and all over the world will be performing live on stage. You can spend more on colour packages and VIP experiences and tickets cost approximately $22.
RIVERSIDE, CALIFORNIA, USA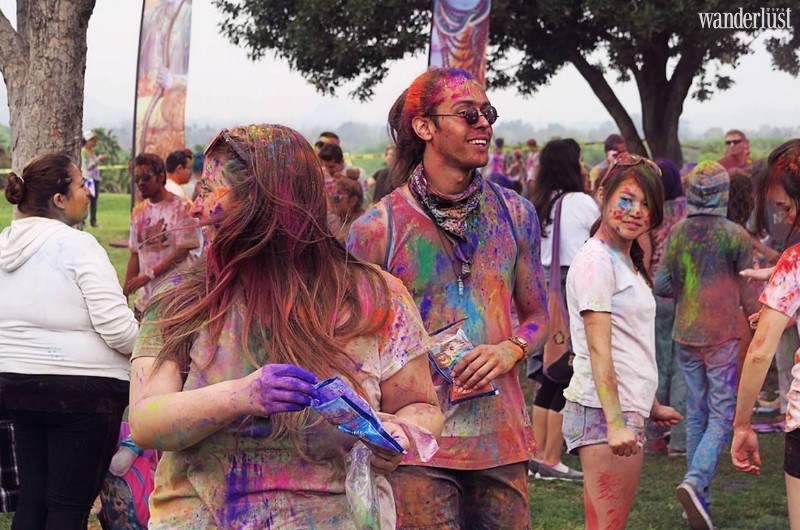 Located in the southern part of California, Riverside is famous for the Holi Festival of Colours. This Californian take on Holi combines the festival's traditional and spiritual elements with more modern features that make participants feel like they are at one big party. Taking place at Riverside's Martha McLean Park, the festival intrigues huge crowds with amazing activities, for instance, live music, yoga, traditional dancing, Indian cuisine and the throwing of colours.
SPANISH FORK, UTAH, USA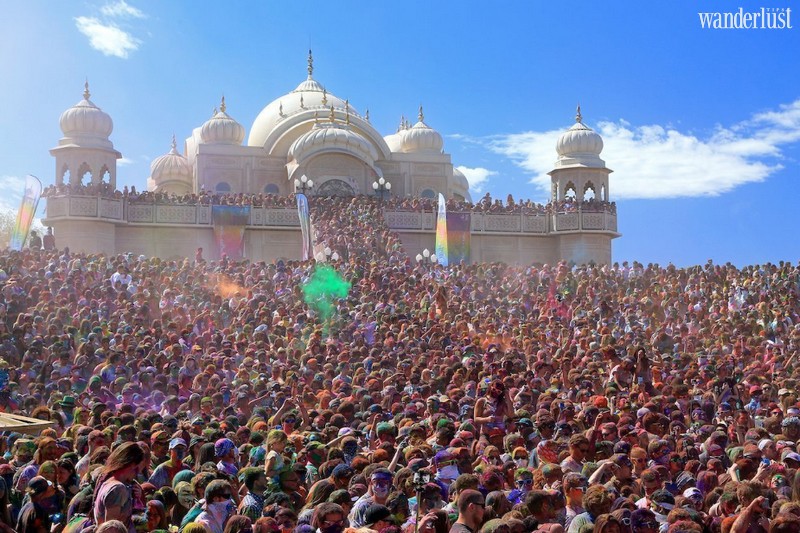 Just outside the city of Spanish Fork, Utah, USA, approximately 70,000 people regularly attend the Festival of Colours, which was started by the local Hare Krishna temple in 1989. There are two days of lively, colour-filled activities, including interactive dance, bands, yoga classes and cuisine. People of all different ages are seen dancing, singing and throwing environmentally-friendly colours on each other. The celebration of Holi 2021 takes place at the Sri Sri Radha Krishna Temple on Saturday, September 25 from 10am to 5pm and Sunday, September 26 from 11am to 4pm. Colours, dust masks and bandanas will be available for sale.
Wanderlust Tips