Looking for somewhere spectacular and exotic? Here are the most unique tree spectacles around the world that will give you an inspiring love for nature.
[rpi]
AVENUE OF THE BAOBAB TREE, MADAGASCAR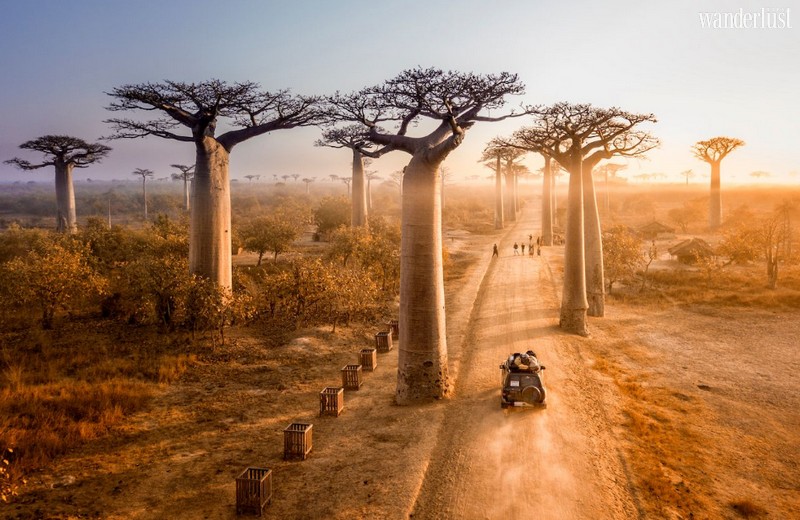 When it comes to Madagascar, the 'Avenue of the Baobabs' springs to mind which you can easily find enormous trees – approximately 100 feet – lining the road between Morondava and Belon'i Tsiribihina. Tree avenue is considered the most accessible place to see baobabs in Africa and the most marvellous road in Madagascar. In sunny evenings, hordes of tourists are seen wandering along this idyllic road and taking countless pictures.
WISTERIA TUNNELS, JAPAN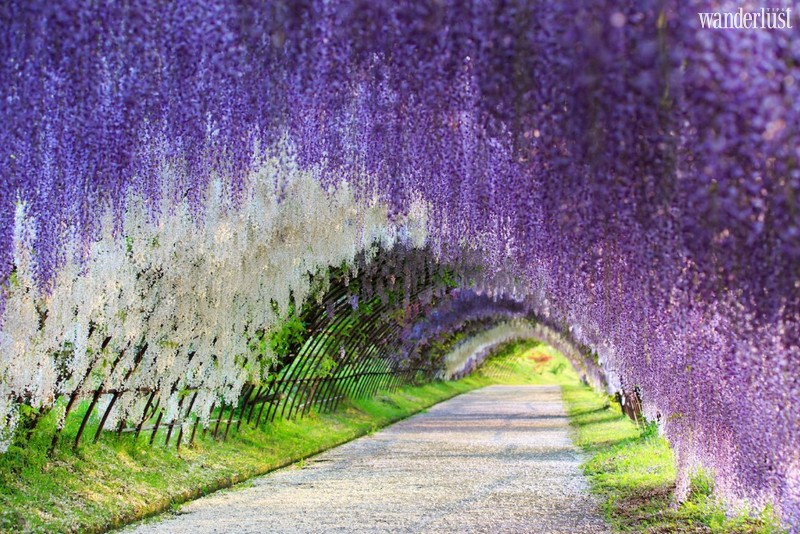 Every spring, Japan intrigues a large number of visitors to take a walk underneath the mesmerising wisteria tunnels of the Kawachi Fuji Gardens in Kitakyushu, Japan. As a type of flowering vine, the wisteria tree can be bent to create mystical designs, including a spectacular 100-metre tunnel. Visiting Japan in spring, you should not miss the Wisteria Festival (Fuji Matsuri) in late April or early May which you can indulge in colourful natural spectacles and admire the enormous wisteria 'tree' of Ashikaga Flower Park in Tochigi.
RAINBOW EUCALYPTUS TREE, PAPUA NEW GUINEA, INDONESIA AND THE PHILIPPINES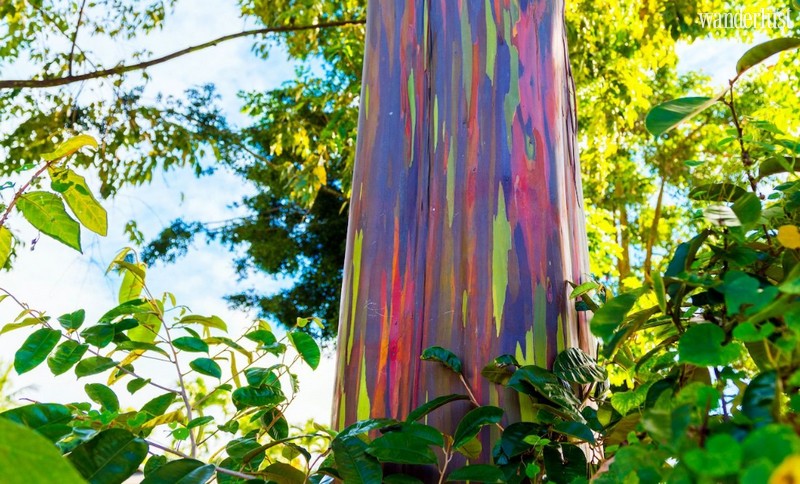 Originated from the rainforests of the Philippines, Indonesia and Papua New Guinea, the rainbow eucalyptus is an unusual tree with a beautiful trunk. Once its bark is shed, the rainbow eucalyptus reveals its astonishing beauty with striking shades of green, purple, orange and pink that are reminiscent of your average four-pack of assorted highlighters. Aside from the Philippines and Indonesia, you can also admire these unique trees in the US, including Balboa Park in San Diego, California, as well as in specific spots Kauai, Maui, and Oahu in Hawaii.
DARK HEDGES, NORTHERN IRELAND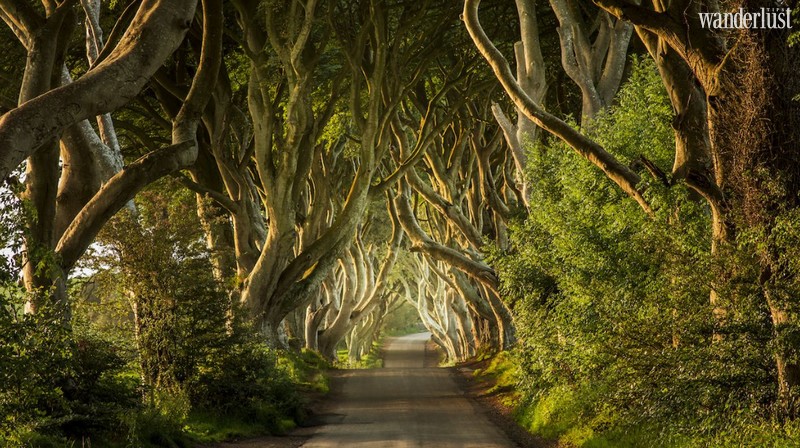 Located on a quiet road near the town of Ballymoney in County Antrim, Northern Ireland, the Dark Hedges intrigue with 90 with beech trees twisted branches forming an arch over the road. This eerily tree-lined road is well-known for being featured in HBO's Game of Thrones. Today, the Dark Hedges become the most photographed location in Northern Ireland. Tour buses stop regularly here in the afternoon, so get there early to avoid the crowds.
TA PROHM, CAMBODIA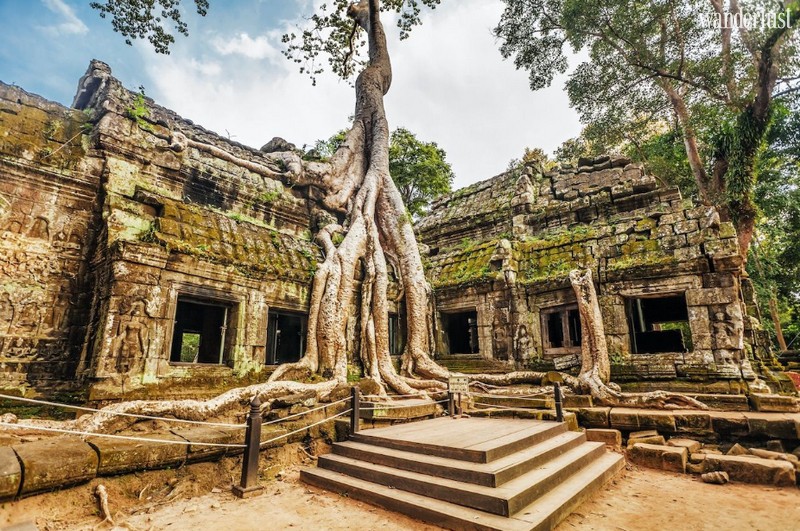 As the mystical backdrop for the 2001 Hollywood hit starring Angelina Jolie, Ta Prohm is one of the many beautiful temples in Siem Reap, Cambodia. The 1000-year-old temple impresses visitors with the ceiba and fig trees that are slowly reclaiming the centuries-old stonework, their roots encroaching on the ruins, in a scene that shows the power of nature. Strolling around the temple's corridors, you will be mesmerised by the ancient trees surrounding the temples and the natural maze created by the expanding roots.
BLUE JACARANDA, SOUTH AMERICA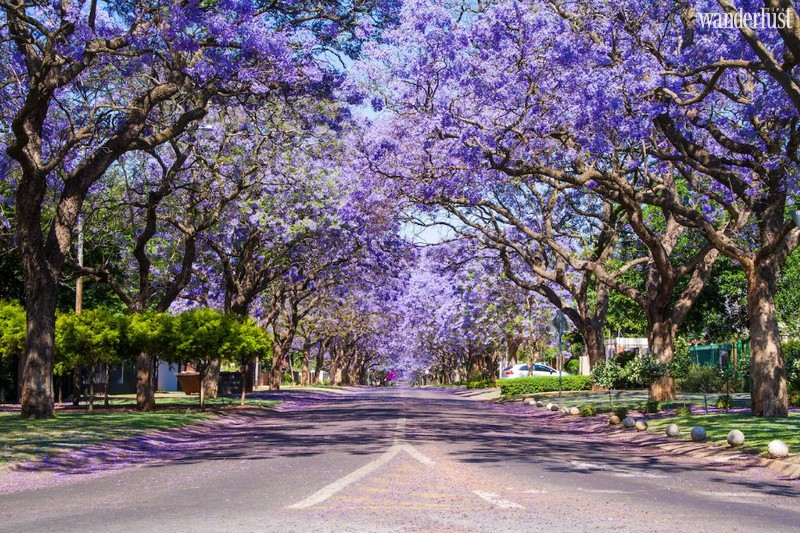 The blue jacaranda is a sub-tropical deciduous flowering tree native to South America, particularly north-western Argentina and southern Bolivia. This fabulous plant is known for its bell-shaped violet flowers. You can admire the striking beauty of the blue jacaranda in many other countries such as Australia, Hawaii, Kenya, Tanzania, South Africa and Zambia. Aside from its fascinating beauty, the blue jacaranda is listed as a Category 3 invasive species in South Africa.
BANYAN TREE, INDIA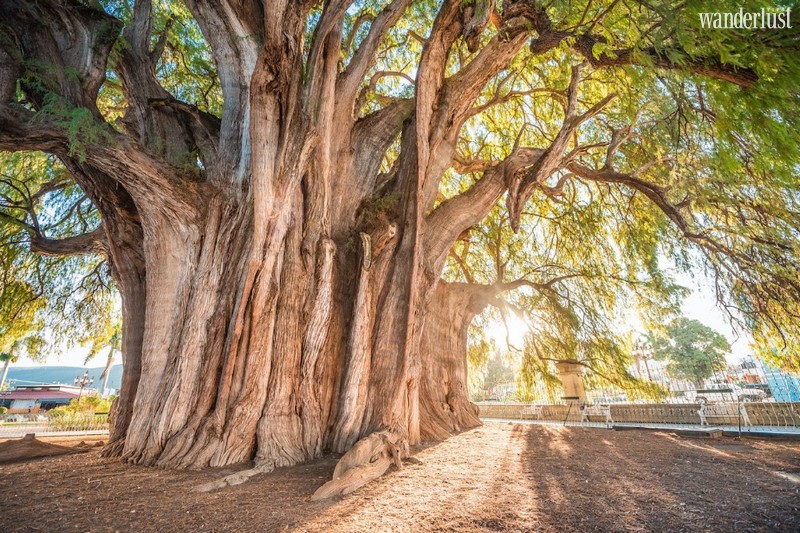 If you are a nature lover, India is a must-visit country that is famous for its rich vegetation. Banyan trees are short and stout trees native to India. What makes these trees a popular tourist spot is that their aerial roots develop from their branches and drop to the ground to grow new trees. Apart from having amazing physical features, this grand old tree is also regarded as a holy place. Nothing can be better than sitting idly under the shades of nature and gazing at its spectacular beauty and magical charm.
Wanderlust Tips