Thanks to the fermented rice, many dishes from simple to sophisticated ones are not too intense in taste, helping diners feel the richness but also the serenity, the gentle sourness and sweetness at the same time.
[rpi]
Many people often say markets in Vietnam are a miniature culinary world where you can find everything you need and fermented rice is a staple that is always available. In the tradition of families in Northern Vietnam for hundreds of years, each family often has their own jar of fermented rice beside the jar of sugar and the jar of fat in the corner of the kitchen. The vinegar may run out, the dracontomelon and tamarind are seasonal fruits, but fermented rice is always available.
Making fermented rice is easy. When you want to make a batch, all that is required is a visit to a neighbour's house to ask for a bowl of fermented rice, then put it in a clean porcelain jar and keep it carefully sealed. Cold rice is the most efficient and clean ingredient to begin the process. After several days, the cold rice will begin to ferment and the rice's odour will turn to a slightly sour smell when it has turned into fermented rice. Fermented rice that is well stored can be used for a long time and any left which is not used is still carefully taken care of in case a neighbour asks for it when cooking. A jar of fermented rice becomes a bridge connecting people in a small neighbourhood.
People skillfully add the fermented rice in their cooking of all the delicious dishes served with rice: grilled sliced meat with lesser galangal and fermented rice, a special pork dish, deliciously cooked snails with banana & soya curd and the not to be forgotten fresh and delicious sour fish soup. These are traditional dishes that are familiar to many Vietnamese families; however, nowadays talented chefs also inventively create an array of dishes using ingredients combined with fermented rice.
Dong Tao chicken is prized for its succulent texture combined with an intensely deep flavour and is often cooked with lesser galangal and fermented rice creating an iconic Northern delicacy. Chicken cooked with fermented rice is not only soft and savoury but also has an exquisite taste and is invitingly served with vermicelli noodles. Meanwhile, Ha Giang wild boar cooked with lesser galangal and fermented rice helps to balance the heavy earthy aromas from the black pigs living in the forest. When it is grilled, the thick pieces of meat do not dry out and become tough but remain tender and juicy, the skin still crispy and crunchy.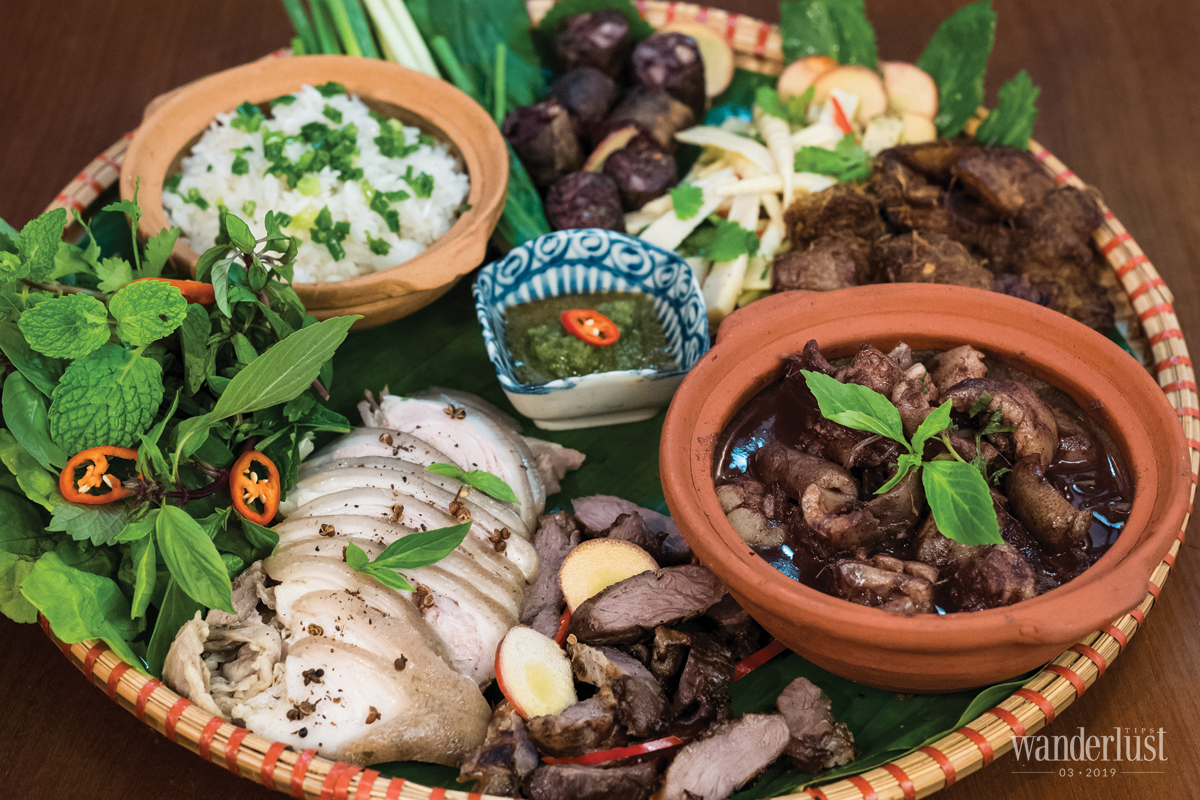 Another mouthwatering dish is fermented rice cooked with Ha Long cobia fillets dipped in green pepper. The cobia is sliced thinly and has a firm texture, filled with the flavour of the fermented rice and piper lolot. Tasty sour soup with Phu Quoc green pepper is full of character with an enticing aroma. The mild spiciness of pepper and the warm hot pot became the perfect comfort food on cold rainy days.
It is thought that people who eat fermented rice too often are prone to stomach problems; however, in moderate amounts, it will aid digestion. Fermented rice is always an indispensable ingredient in Vietnamese kitchens, which contributes to enriching the culinary culture of Vietnam.
The article features exclusive content from Vietnamese Luk Lak restaurant
Address: 4A Le Thanh Tong, Hoan Kiem District, Hanoi
Number: 0943 143 686