Whether you are a local or visitor, if you want to get intimate with this city, check out these seven rooftop bars in Los Angeles with the best views, from Malibu sunsets to city views over the Sunset Strip.
[rpi]
L.P. ROOFTOP BAR IN LOS ANGELES
Located above E.P., a restaurant featuring a hodgepodge of vibrant Asian cuisine, the L.P. rooftop bar is one of the largest rooftop patios in Los Angeles. Aside from stunning views, the bar features a global snack menu and handcrafted cocktail program that is perfect for any get together, day and night. There is nothing better than sipping a delightful cocktail whilst watching the sun setting on West Hollywood. Hit this roof at just the right time during the summer and you can catch an outdoor screening.
Address: 603 N La Cienega Boulevard, Los Angeles 90069, California, USA
Opening hours: Monday – Friday 4pm – 12am and Saturday – Sunday 12pm – 12am
MAMA SHELTER
If you are looking for a rooftop bar as a hotel and a restaurant in Los Angeles, you should take a visit to Mama Shelter. The bright space is splattered with multicoloured sofas and chairs, where you can lounge while waiting for your salmon pita to arrive. On warm nights, you can dance under the stars while DJs spin an eclectic mix of music or take in a classic movie on their outdoor screen. There is also a foosball table, a yoga area and sweeping views of Hollywood.
Address: 6500 Selma Avenue, Los Angeles 90028, California, USA
Opening hours: Monday – Thursday 11.30am – 3pm, 6pm – 11pm; Friday – Saturday 11.30am – 3pm, 6pm – 11.30pm; Sunday 11.30am – 4pm, 6pm -11pm
MARGOT
Situated at the stunning rooftop of the platform in Culver City, Margot is a very popular spot. Take a visit to this bar on the early end so that you can stake out a table on the heated patio, as opposed to the glassed-in atrium. With a Mediterranean-leaning menu, especially when it comes to wine, Margot intrigues a lot of chic friends and romantic couples on dates. There is also a collection of gin and tonics, boozy slushies and bright, breezy cocktails, as well as a variety of different dining experiences for your preference.
Address: 8820 Washington Boulevard, Culver City, California 90232, USA
Opening hours: Daily 11am – 3am
HIGH ROOFTOP LOUNGE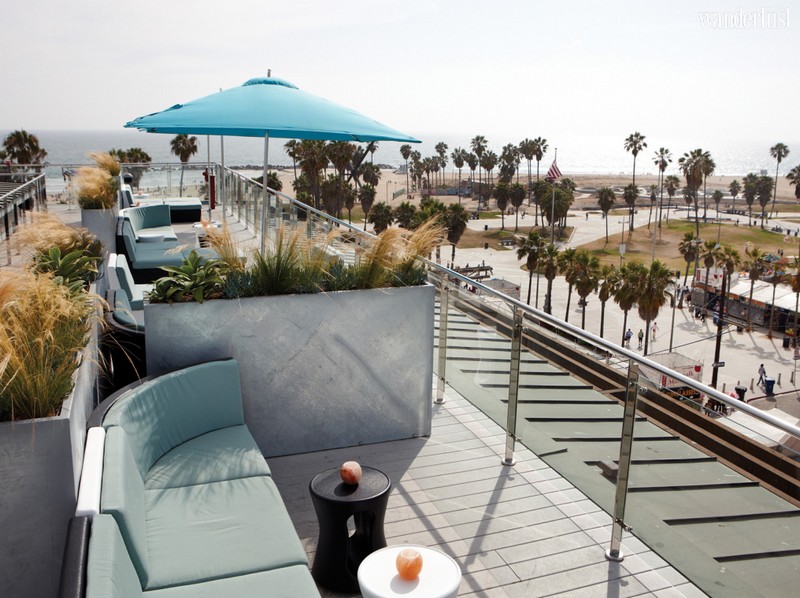 High Rooftop Lounge is a completely open-air destination, overlooking the Pacific Ocean, Muscle Beach and the Venice Beach Boardwalk. It offers a variety of stunning views, day and night. Evening bar-goers can wrap themselves in one of the bar's cozy blankets, along with spiked cocoa or hot toddy. If you do not like your drinks sweet, stick to local craft brews to pair with gourmet sliders and street tacos. This rooftop bar is truly perfect for small groups and casual gatherings.
Address: Hotel Erwin 1697 Pacific Avenue, Los Angeles 90291, USA
Opening hours: Wednesday – Friday 3pm – 10pm, Saturday – Sunday 11am – 10pm
ÉLEPHANTE
This breezy, all-day rooftop restaurant and bar is a perfect retreat at all times of the day. Here, guests can enjoy bright food with seasonal ingredients on the plate and in the cocktails, but the real star is the view. The indoor-outdoor space feels like a dream living room with modern, comfortable-but-chic furniture and a stunning view of the ocean off the patio. For the most perfect bar experience at Élephante, you should book in advance instead of fighting the Westside's most gorgeous clientele for a walk-in spot.
Address: 1332 2nd Street, Santa Monica 90401, USA
Opening hours: Monday – Wednesday noon-midnight, Thursday – Friday noon – 1am, Saturday 10am – 1am, Sunday 10am – 10pm
PERCH LA
This rooftop bistro is one of the prettiest in town with its patterned tile floors and potted trees full of twinkly lights. Inside, the eclectic French décor displays a series of tasteful boudoir paintings over the bar and a scattering of plush sofas. Guests can sample a wide selection of wines and kir-style cocktails. The after-work crowd drops in for happy hour, dubbed Apéritif Hour, weekdays from 4pm to 6pm, while late-night partygoers and music-lovers can find frequent DJ sets and live bands.
Address: 448 S Hill Street, 13th floor, Los Angeles 90013, USA
SPIRE 73
Perched atop InterContinental Los Angeles Downtown's 73rd floor is Spire 73 – the bar that just so happens to lay claim to the title of the tallest open-air bar in the Western Hemisphere. It offers breathtaking views of the entire city, chic fire pits, signature cocktails and a wide selection of whiskey, as well as culinary experiences to rival the view. There is nothing more wonderful than sipping a classic cocktail on one of the luxurious lounge seats along the extended bar whilst enjoying one of the best views Los Angeles has to offer.
Address: 900 Wilshire Boulevard, Los Angeles 90017, USA
Wanderlust Tips