Saigon is the Audrey Hepburn of South East Asia – luxurious, magnificent and beautiful, it will take your breath away at first sight. And what will really make you fall more and more in love with this city is the hot warm heartbeat of daily life flowing like an endless stream of excitement and perfectly harmonizing with the generous characters coming here from all corners of the world. All this rightly gives Saigon the reputation of a city of dazzling features'. One of its unique and adorable quirks is that all who unexpectedly fall in love with the place will find it hard to forget.
[rpi]
Saigon – A maze of alleys
If you are acquainted with Dong Khoi, Nguyen Hue, Le Loi, and Ham Nghi Avenue you will know that they are crowded and full of colorful lights, but if you take one of the many corners leading into Saigon's countless alleys you can enjoy some of the best features Saigon has on offer!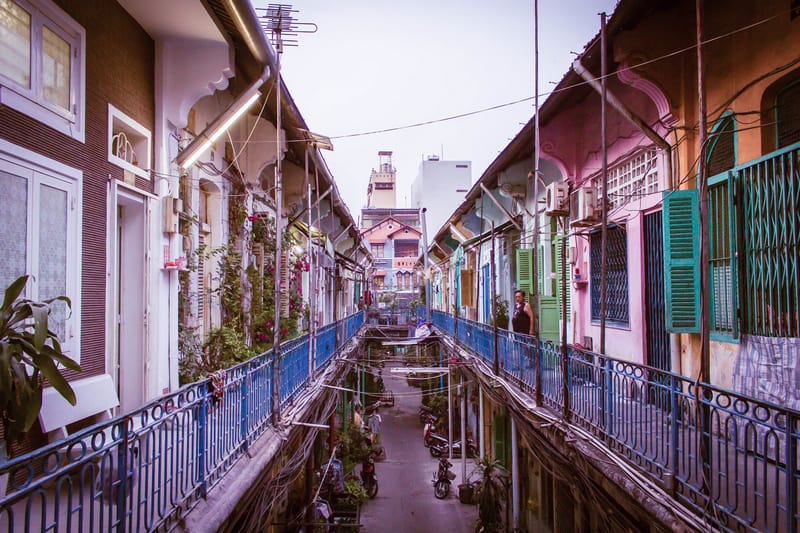 Hanoi is associated with its thirty-six trade streets, where small alleys and lanes nestle between peaceful lush rows of trees; Hoi An is home to old long winding streets covered with moss, evoking its taciturn and poetic characteristic and Saigon to sports an interesting maze of streets, which often surprises people who do not live here. Numerous small meandering alleys connect to each other like an interlacing chessboard.
I got lost once in the maze of allies in District 4. Here small back streets shaped like tree branches, connect endlessly with one another. Miss only one step and you find yourself in a strange alley or as a musician once put it in his lyric: "Getting lost in Saigon means losing each other" – probably not only alluding to losing love but to actually getting lost.
But these countless alleys are full of attractions, endlessly entertaining visitors who love wandering and exploring unique features – and that is just "so very Saigon". Like Luoi Alley in District 1 with tons of restaurants, kiosks, fashion shops, and services available for lazy feet, which want to stay in one place for a day. Thien Alley has five pagodas enveloped in incense smoke in a small area of Go Vap District. The 'coffee alleys' are home to many cafés sitting right next to each other varying in style from retro to simple but lush hanging gardens.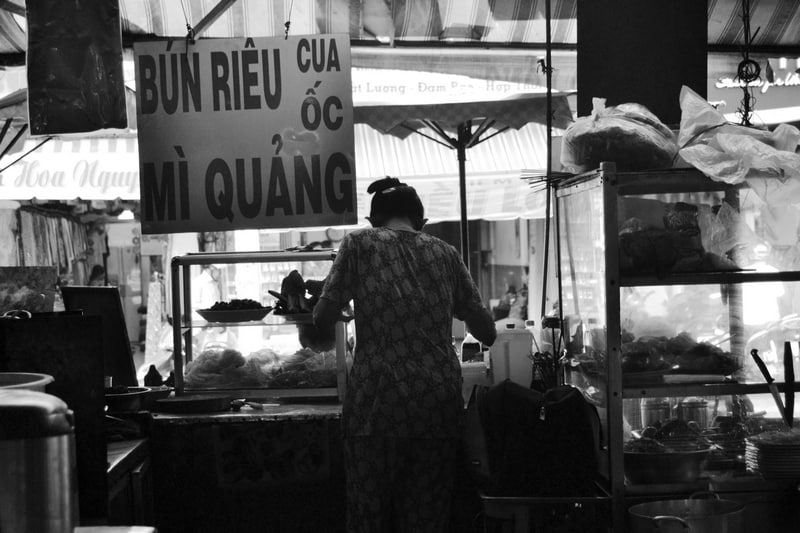 If you get lost in 'celebrity alley' – one of the most open-air alleys in Saigon located next to Duc Ba Church, prepare for pure joy upon seeing the blue and green walls, in front of which celebrities often take hip photos.  To discover this alley, of course, you must spend time wandering, seeking, and…. getting lost.
But, don't you worry; Saigon's citizens are very enthusiastic. If asked for help they will not hesitate to give you careful directions until you get out of those sinuous alleys. And that might leave you pondering whether getting lost in Saigon is a troublesome or lovely experience.
Saigon – The enchanting sound of street vendors
The most exciting city in Vietnam isn't only filled with traffic noise. If you dip your mind into the flow of life, you will hear sounds that evoke the peaceful and faithful soul of Saigon: the street vendor's cries!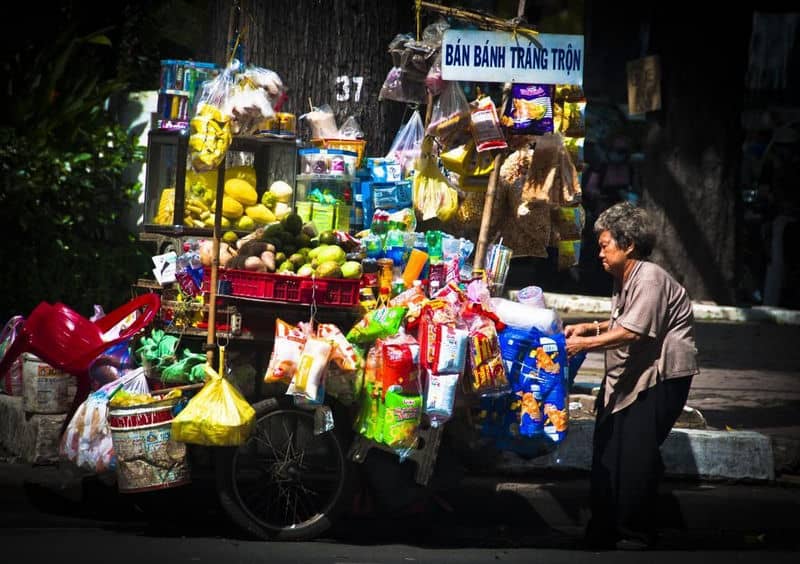 This Southern city full of sunlight nurtures uncountable numbers of people from all over Vietnam and combines all their dialects throughout the allies. The soft vowels of Western Vietnam can be heard from the vegetable and fish sellers in the early morning, followed by the tired husky cries of old men sharpening knives from the Centre of the country during the hot midday. The unique cries of the afternoon ticket sellers seem difficult to assign to any region, and there are the monotonous industrial cries advertising for mousetraps or "Saigon bread, thick with the flavor of butter" from old cracked speakers attached to bicycle saddle.
After a busy day, the cries at night are Saigon's particular specialty. They often start to echo at the last light of the day, when the noise of the busy streets slowly fades off. Wandering through the alleys at night, you will encounter the clip-clop of two bamboo bars knocking against each other hanging from a mobile noodle soup stall – a sound that makes the night become more sad and lonely.
When I was a student living in a labor hamlet, at about half-past one in the morning I longed for the melodious cries announcing sweet porridge: "Anyone for coconut cubes wrapped in sweet potato flour?" to wake up the peaceful hamlet at night. A little emphasis and a long vibration make the cries sound more melodious, both warm and lovable like a lullaby. And the women selling the sweetened porridge of the South are graceful, they do not cry too fast or too slowly, each sentence following the other melodiously, the passionate sound of the cry blending with the dark night.
As the workers finish their shift late at night, some who guys will have been drinking since the afternoon suddenly feel hungry, and even if not, they still crave the taste of sweet potato flour blending with a little coconut water. A bowl of hot sweet porridge handed to them at night reminds them of the close and simple sentiments of the Saigon people.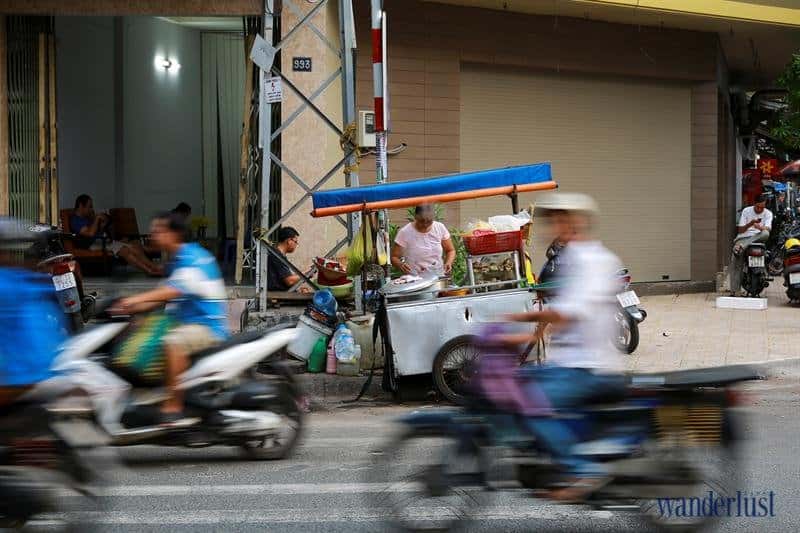 Saigon – A foodie's paradise
"Saigon people know how to enjoy their food". My foreign friend does not hesitate to say that she is very surprised when seeing office girls with pretty clothes sitting at the stalls of girdle-cake sidewalk hawkers to buy food that she describes as a "must-eats". Saigon people seem addicted to enjoying an abundance of all kinds of tasty foods and crave to sit at the stalls and enjoy all the flavors from every region in Vietnam and all over the world. You only need a map or just follow a local food lover and you will soon know many ways and routes to find special cuisines from everywhere without ever leaving Saigon.
The Saigonese can eat in generous manners at any time of the day: in the morning, at lunch, when it is raining or in the heat. Expensive restaurants, bars, lounges as well as cheap sidewalk hawkers with all kinds of Western and Chinese food are always open and serve hungry customers day and night.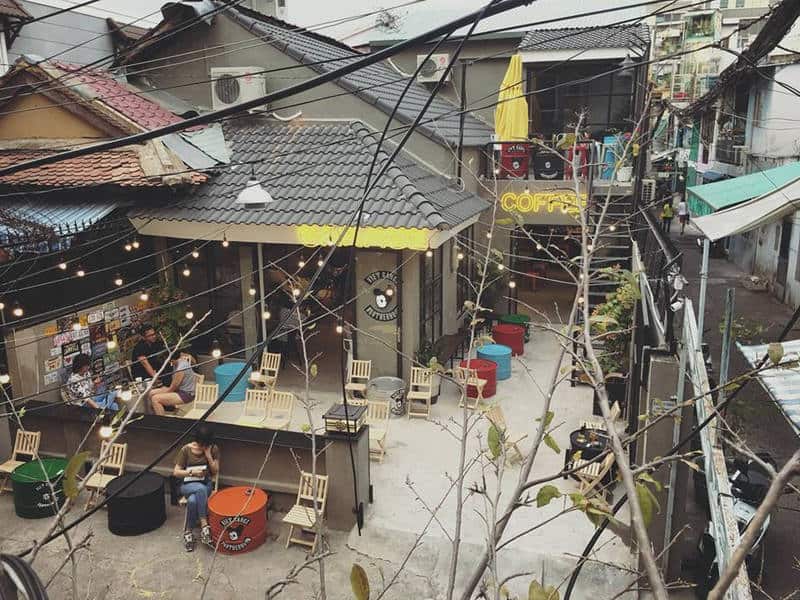 In the morning, eat Hue beef rice noodles and then drink a glass of Ban Me coffee, at noon enjoy Hanoi spring rolls, and in the evening taste a dish of Saigon broken rice that is so ordinary, yet so delicious. In this city of the best sidewalk hawkers, you will wake up in the morning and feel the alluring smell from the start of the street to the end of the market. Many kinds of snacks like mixed rice paper, shellfish, beef jerky salad, raw fish and vegetable rolls, three-region sweet porridge, smoothies, milk tea…are always sold in a rush n the street and alleys.
It is said that Saigon does not have a particular cuisine, but instead it transforms all flavors into new and original foods. With a desire for good food, the imagination of Saigon's citizens is unlimited. A paradise for foodies from all over the world who can quaintly enjoy a shisha lemon tea, cold milk coffee with flan cake, mango shakes with salt and sugar, Vietnamese pizza created from girdle-cake, fried milk cake, or exotic roasted bread with salt and pepper.
In the nonstop flow of life, Saigon with its magnificent beauty is developing quickly, however, it has remained harmonious and you can wander on your own to discover new experiences, interesting little things every day. You only need to come, live and feel and Saigon will soon become a love you long for.
Wanderlust Tips