After a day traveling to discover attractions in Hue, where  you should go in the evening, what to do to have a new experience? Here are the detailed suggestions from Wanderlust Tips for so you to have a journey to discover the perfect land of Hue.
[rpi]
Folk songs on The Perfume River – Daydreaming to the tunes of Hue
Listening to folk songs performed on The Perfume River is a unique offering of Hue, a tradition that has been preserved and developed over hundreds of years. Every visitor to Hue will seek to sit on a dragon boat and listen to the sweet tunes of Hue folk songs in the midst of The Perfume River. Those who love Hue and wish to see into the soul of Hue can find it here in this delicate art form.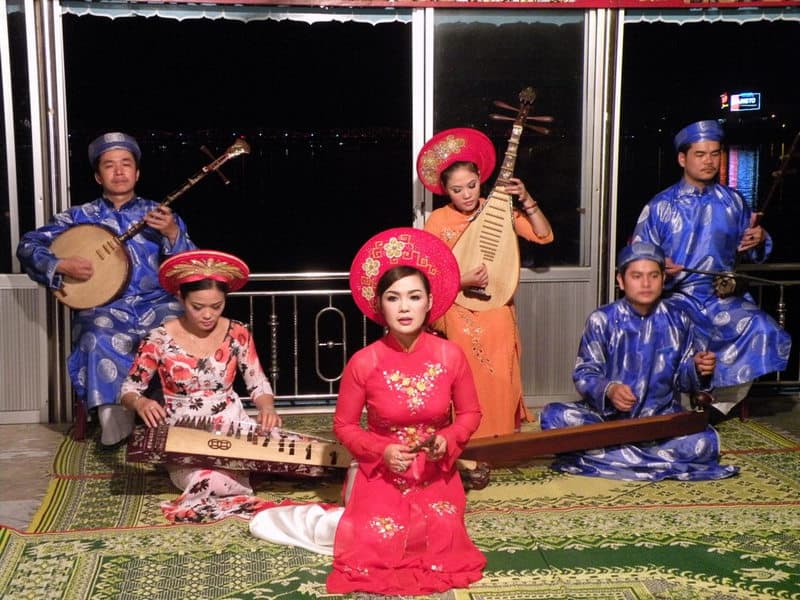 ♦ Top tips: Tickets are 100,000VND for Vietnamese and 150,000VND for foreigners. During the daytime, there are also boat tours of The Perfume River, visiting famous sights along the river and listening to Hue folk songs. The price depends on the tour company and the number of guests.
♦ Dining: Restaurants located along the river: the floating restaurant on The Perfume River (Park 3/2 Le Loi), Old Town Restaurant (Nguyen Dinh Chieu), Hoa Vien Restaurant (4A Vo Thi Sau), Dao Nguyen Ice-cream (11 Le Loi).
Imperial City – Shimmering, mysterious beauty
Several places in the Imperial City are open to visitors at night, from Ngo Mon Gate to Thai Hoa Palace – The Temple – Dien Tho Palace – Truong Sanh Palace – Tu Suong Vo Su Pavillion – Hoa Binh Gate. The Citadel is also decorated with flickering lights, which gives it a mysterious beauty that is completely different from in the daytime. In addition, other tours and activities are also on offer here, such as a "Night at the Citadel" which offers cultural activities on Doan Thi Diem Street. An Dinh Palace seeks to offer high-end royal services, and Hien Lam Cac (Citadel) has a centre for royal worship practices.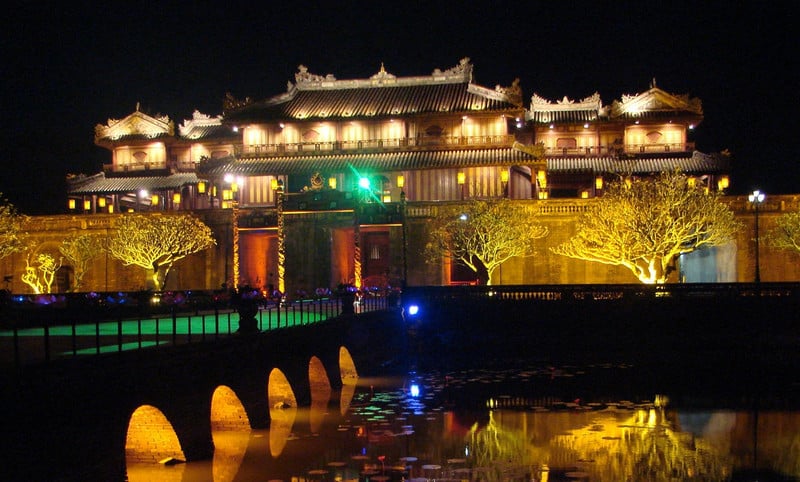 ♦ Top tips: Hue Citadel will officially open at night starting in the second quarter of 2017, opening from 6:30pm to 10 p.m. every night, prices will remain the same as daytime prices.
♦ Dining: Huong Sen Restaurant (Nguyen Trai), Les Jardins de la Carambole CIUDADELA (Dang Tran Con), Banh Khoai Hong Mai (65 Nguyen Table), Phi Yen sweet tea shop (40 Le Thanh Ton), Di Nhien Ta That (Nguyen Thien Thuat).
Nguyen Chieu Walking Street – A hub of entertainment, shopping and dining at night
Located in Hue city centre, along The Perfume River and the shining Trang Tien Bridge, Nguyen Dinh Chieu Walking Street is the ideal destination for sightseeing, walking, shopping for cute souvenirs, and enjoying the specialities of Hue.
The walking street is divided into 11 houses with different kiosks for small businesses to sell souvenirs and specialities of Hue. Young people also come here to perform street music, acoustic music, flashmob, or street painting. This is a place filled with fun and excitement at night.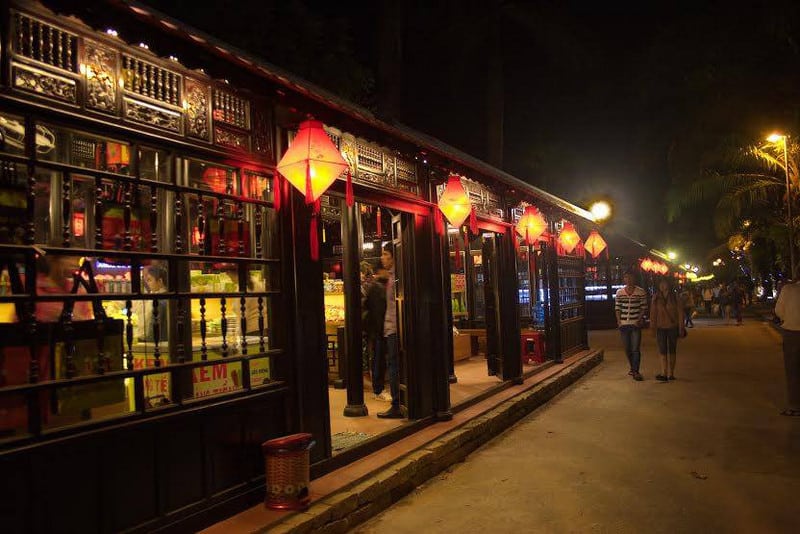 ♦ Dining: At the end of the walking street, you'll see many restaurants offering specialities of Hue such as water fern cake, tapioca dumplings, mussel rice, thick noodle soup, and sweet soup.
XQ Co Do Gallery – The soul of Vietnamese embroidery
The XQ Co Do Gallery is at No. 49 Le Loi Street. This is an impressive gallery combining installation and performance art. XQ embroidery fuses the characteristics of painting with traditional Vietnamese embroidery techniques, breathing life into traditional Vietnamese stories. This is the brain-child of artisans Vo Van Quan and Hoang Le Xuan, who seek to restore and preserve traditional embroidery. This can also make for a meaningful souvenir visitors to Hue can purchase.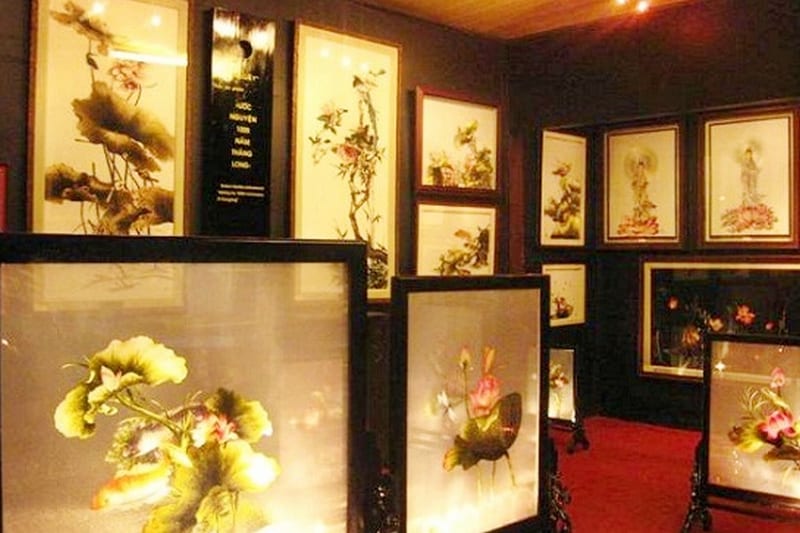 ♦ Must see: After visiting the gallery, you can get a tailor-made ao dai from a nearby tailor. In the space of just  one day, you can possess the signature costume of Hue.
♦ Dining: Am Phu Restaurant (51 Nguyen Thai Hoc), Hanh Hue Restaurant (11 Pho Duc Chinh), Little Italy Restaurant (10 Nguyen Thai Hoc), Golden Rice Restaurant (40 Pham Ngu Lao), Tea Lane (17 Hung Square).
Tour the city on trishaw – An exciting cultural experience in the ancient capital
The trishaw is a popular vehicle that fascinates many tourists to Hue. A trishaw can take you through the streets, the citadels, the rivers and the quiet gardens, allowing you to get lost in the tranquility. At night, the view is even more intriguing.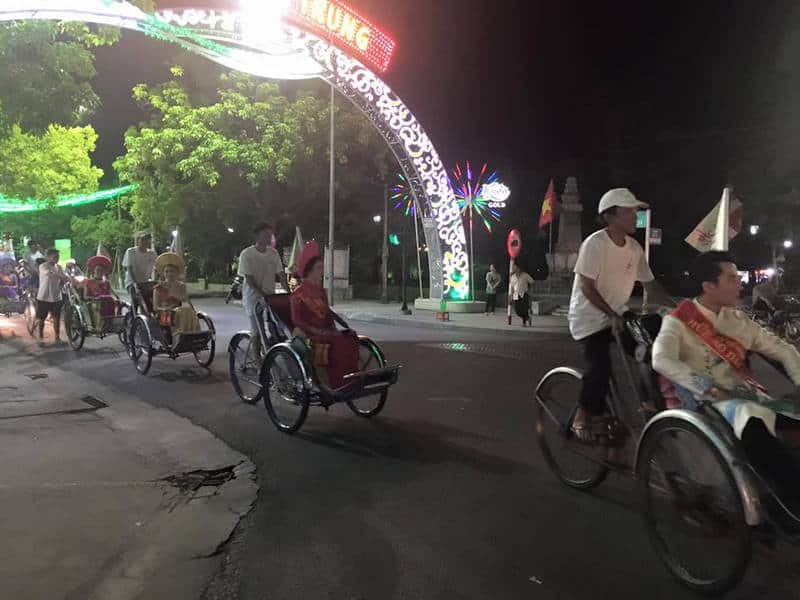 ♦ Top tips: A tour by trishaw will allow you more freedom to stop and take photos, or even stop at a streetside teashop for a cup of tea while your driver waits. Some trishaw drivers in Hue seem like professional tour guides, they speak English and even French, and they have a rich knowledge of the local history and culture. Some of them will even recite a poem for you. Don't miss an opportunity to talk to your trishaw drivers to hear some interesting stories.
♦ Dining: Ba Do Restaurant (8 Nguyen Binh Khiem), Hang Me Restaurant (12 and 16 Vo Thi Sau), Nam Pho Restaurant (54 Nguyen Cong Tru), Ba Phung Noodles (5 Nguyen Du), mussels rice and corn tea (Con Hen, Vi Da), Imperial tea of Hue (31 Nguyen Hue).
Cafés with a view of the Perfume River – Enjoy a quiet moment and the vanity of the ancient capital
Hue is home to many beautiful cafés with charming views and great coffee. After dinner, you can visit a quiet café and watch the city after dark. On The Perfume River, folk songs performed on dragon boats echo through the air. You will be immersed in the true tranquility and beauty of Hue.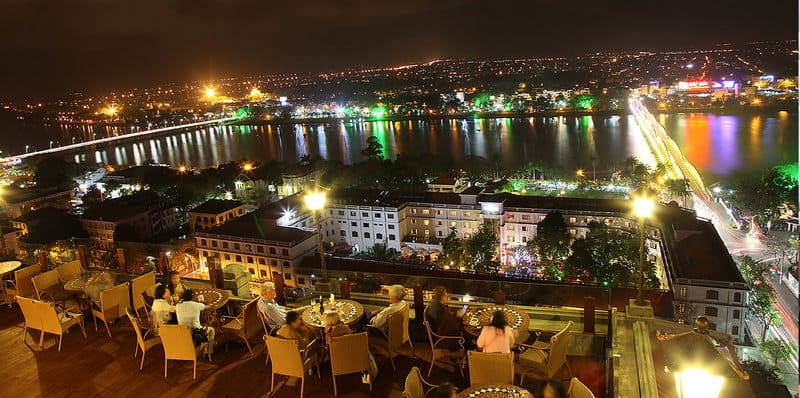 ♦ Top tips: There are many cafés in Hue with a stunning view of The Perfume River, including the Café on the 16th floor of the Imperial Hotel (8 Hung Vuong), Sky Café inside Midtown Hotel, Co Huong Café (2 Tran Hung Dao), Black And White Café (17 Le Loi), Song Trang Café (8/27 Nguyen Sinh Cung), Vi Da Xua Café (131 Nguyen Sinh Cung)
♦ Dining: Most cafés offer a wide variety of drinks to choose from.
Pham Ngu Lao Street – An exciting atmosphere in the tranquil city
Pham Ngu Lao Street is located on the south bank of the Perfume River. Nobody knows when, or why this street became the gathering place of westerners in the city. This is a small street filled with ancient homes mixed with modern tube-shaped houses.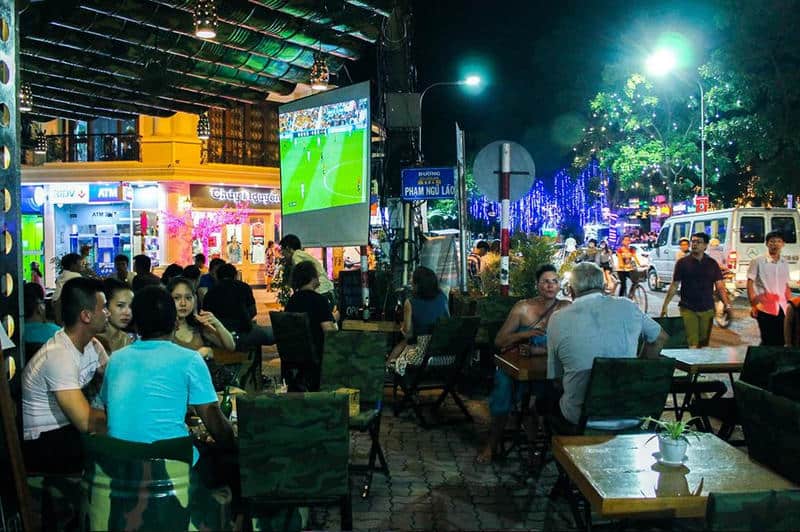 ♦ Top tips: Along this street, you can find many souvenir shops, restaurants, cafés, bars, hotels, and tour operators. This street becomes most crowded after nightfall. This neighborhood, including nearby streets like Chu Van An, Le Loi and Vo Thi Sau, is now a hub for foreigners.
♦ Must see: There's a folk group that performs here at the home of writer Buu Y (No. 9 Pham Ngu Lao) every Saturday. This place regularly welcomes tourists to enjoy and learn about the art of Hue folk songs.
♦ Dining: Missy Roo Restaurant (11 Pham Ngu Lao), Golden Rice Restaurant (40 Pham Ngu Lao), La Carambole (19 Pham Ngu Lao), Gecko Pub (9 Pham Ngu Lao), T'House Coffee (2 Scope Ngu Lao), Kangaroo Hue Restaurant & Cooking Class (31 Vo Thi Sau).
Bars – Exciting music and nightlife
If you wish to find some cheap thrills in this quiet city, visiting a bar or pub at night is your best option. This is where you can let loose with friends and fill your night with great music and drinks.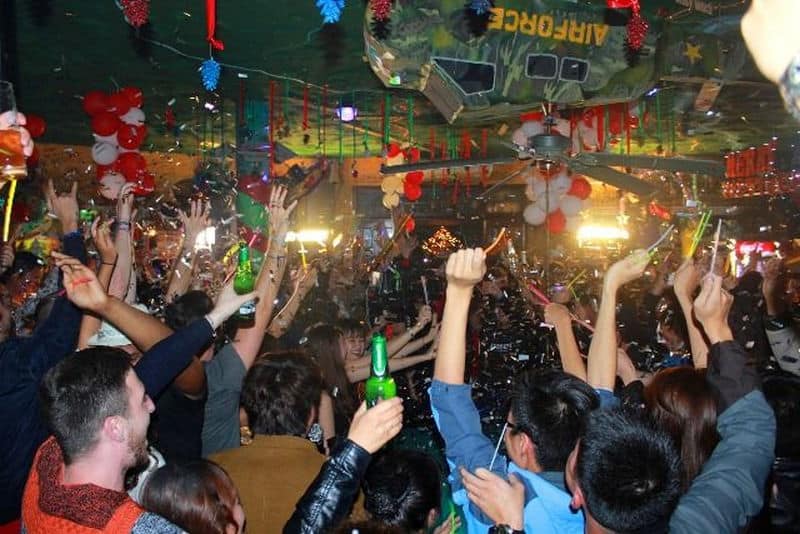 ♦ Top tips: Most popular bars are: the bar at Cherish Hotel (59 Ben Nghe), DMZ Bar (60 Le Loi), Brown Eyes Bar (56 Chu Van An), Tipsy Pub n 'Bistro (16 Pham Ngu Lao), Why Not Bar & Restaurant (26 Pham Ngu Lao), Cococlub (53 Ham Nghi), Le's Garden Bar (14 Pham Ngu Lao), Hangout Coffee and Bar (48 Nguyen Tri Phuong).
♦ Cuisine: These bars offer a wide range of alcoholic and non-alcoholic drinks.
Van Ly | Wanderlust Tips | Cinet