A glamorous trip to the beautiful Los Cabos coast side can be topnotch perfect with dining in the breathtaking ocean views, relishing the signature mild breeze, and savoring the most beloved Mexican dishes in the best restaurants in town.
[rpi]
 1. Restaurante Maria Corona
Being cherished as "Cabo's hidden gem", Maria Corona is a Trip Advisor's certified restaurant that promises food lovers the most authentic senses with the sights, sounds, and flavors of 100% Mexican tradition with family recipes. The dining house has lovely hacienda designs and alight candles that fill the lovable romantic vibe into the air.
It's going to be an ideal evening to pick booze from the lavish menu with Maria Corona. While waiting for the grill to be fired up for some top-class seafood, you can start to taste Mexican with a ceviche dish, have a Miraflores salad, or try a bowl of Poblano cream traditional soup. No worries, you will be spending the entire evening enjoying wonderful cuisine with incredible chefs and staff to make sure you will have the best Mexican grill experiences with fresh lobsters, Mex style pork, and abundantly so on.
Location: 16 De Septiembre, 23469 Cabo San Lucas, Baja California Sur, Mexico
Phone: +52 624 143 1111
Opening hour: 5 PM – 10 PM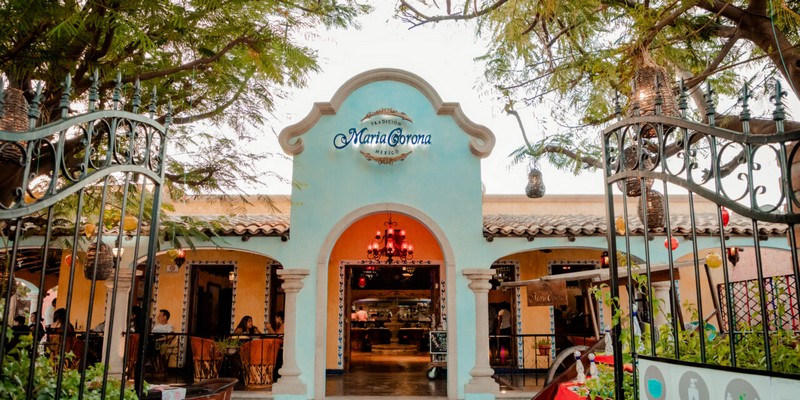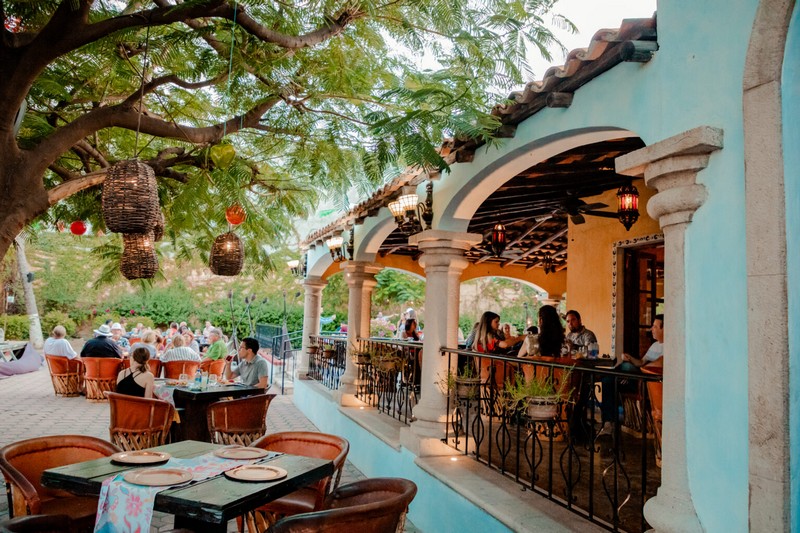 2. Los Tres Gallos
This widely loved restaurant carries the pure Mexican soul, from its bridge design, vibrant decorations to the wooden platter, stone bowls, and patterned ceramic plates. The romantic vibe, terrific food, and superb services could be perfect reasons to come to Los Tres Gallos for a date or an anniversary dinner.
Los Tres Gallos operates two restaurants in Los Cabos, each of Cabo San Lucas and San Jose del Cabo owns one. Nothing is more ideal than dining at this local favorite restaurant, then strolling down Gallery Street in San Jose for an artistic visit, or having a sea-view drink at an open bar by the Cabo famously magnificent beach.
In Cabo San Lucas: 
Location: Leona Vicario esquina 20 de Noviembre S/N, Centro, 23469 Cabo San Lucas, B.C.S., Mexico
Phone: +52 624 130 7709
Opening hours: Daily, 5 PM – 10 PM
In San Jose del Cabo:
Location: Alvaro Obregon 15, Gallery District, Centro, 23400 San José del Cabo, B.C.S., Mexico
Phone: +52 624 130 8589
Opening hours: Daily, 8 AM – 10 PM
3. La Santeña
Located in the beautiful Todos Santos town, La Santeña Restaurant stands out for offering Mexican food with a modern twist, always using the finest local and seasonal products. As a part of the charming Hotel Casa Tota, you can choose to sit indoors with well-designed Mexican-inspired interiors or enjoy your al fresco meal for a local street view.
La Santeña is a lovely choice for any meal of the day, suiting all types of travelers' diets. You can start your day with a fresh-brewed cup of coffee and a slight toast for breakfast, then give Tortilla soup a try for lunch, and have an unforgettable culinary spree with a unique cocktail and enjoy nachos, burros, and all of the classy Mexican dishes.
Location: Calle Álvaro Obregón 23300, Centro, Todos Santos, B.C.S., Mexico
Phone: +52 612 145 0590
Opening hours: Daily 7 AM – 11 PM
4. The Office
Say goodbye to your office in the city and hello to The Office on the beach! Witnessing a relaxed sunset sitting on the sand of the Medano bay with great selections of seafood and meat, and enjoying one of the best seaside Mexican restaurants in Cabo. This place will fulfill your look, taste, and feel with a splendid white sand-blue ocean view, signature multicolor decorations, incredibly appetizing dishes, and wholehearted services.
The surprisingly diverse menu at The Office offers various options for all main meals of the day, raising the desire for a comeback in food lovers, hence there are no specific recommendations for travelers. Just make sure you will not regret missing a meal at this wonderful restaurant.
Location: Playa El Medano S/N, El Medano Ejidal, El Medano, 23450 Cabo San Lucas, B.C.S., Mexico
Phone: +52 (624) 143 3464
Opening hours: Open daily, 7 AM – 10 PM
5. Choriarte
We all come to a restaurant wishing to have great service, outstanding food quality, and fair prices. Combining all of these traits, Choriate is the ideal place for a full feel-good pack to dine when staying in Los Cabos. Choriarte represents Latin-American culture in Cabo, where delicious recipes can be found with a warm ambiance, open-air, cool vibes of music and art in just one place.
This Trip Advisor's 5-point voted restaurant is WOW-ing for its exceptional grilled dishes and several signature street food options, like arepas, tacos, and empanadas. Besides bountiful choices for a drink among all the famous local wines, Choriarte goers can try some creative cocktails, order a glass that is specially made for your digestion, and be impressed by a locally crafted beer while enjoying daily live music.
Location: Jose Maria Morelos corner Alvaro Obregon, San Jose del Cabo 23400, Mexico
Phone: +52 624 132 0606
Opening hours: Daily, 5.15 PM – 10.30 PM