Looking for a place to blend in the nature and enjoy your time without minding any daylife worries? Pack up, find your flight to Los Cabos and note down these must-visit destinations.
Where is Los Cabos? 
Los Cabos is a municipality located at the tip of Baja California's Sur, Mexico. This is a premier tourist destination in Mexico, which comprises two towns: Cabo San Lucas and San Jose del Cabo. The whole area is a harmonious mix of a starkly beautiful desert landscape and one of the world's richest marine environments encompassing both the Sea of Cortez and the Pacific Ocean.
An international airport has been making it easier for travelers from many places of the world to take a nonstop flight to the "Los Cabos" area. From the US, you can take this great escape in just a few hours with direct flights from San Diego, Los Angeles, Ontario, San Jose (CA), San Francisco, Seattle, Salt Lake City, Denver, Chicago, Atlanta, Minneapolis, Phoenix, Houston, Dallas and Las Vegas.

Where to visit in Los Cabos?
Cabo San Lucas
Cabo San Lucas, or just Cabo – as locals call it, is a city located at the southern tip of the Baja California Peninsula, where it is believed to be Mother Nature's favorite kid for being given a majestic beauty of the ocean and a rich marine life.
For its heavenly gifted charm, Cabo is a paradise for luxury travelers, a top of the list for passionate fishermen, and a refreshing getaway destination for celebrities. All tourists wish to visit Cabo to experience the nightlife, fresh seafood, and a wide variety of activities.

2. The Arch of Cabo San Lucas
Located at the southern tip of Cabo San Lucas – also the extreme southern end of Baja Peninsula of Mexico, is the locally worshiped El Arco – meaning the arch in Mexican. The famous rock formation is also called Land's End for having the Pacific Ocean and the Sea of Cortez meet at its place, and magically is sea lions' favorite gathering spot.
To access this must-visit location, visitors can book a boat trip and firsthand cherish the majestic beauty of nature. Local offers various boat services so that tourists can have the most suitable option for their budget, from a 45-minute ride with a large boat suitable for shared tourists or a big family with a friendly captain tour guide, to an enjoyable private boat that drives you to Al arco and all of the best spot on Cabo ocean.

3. Cabo Pulmo
Let's think of an entire ocean getaway, what do you think of? Turning all of your devices off, diving in the refreshing waves, snorkeling with the marines – just literally getting away from the daily worries. If you're thinking about such a paradise location like that, Cabo Pulmo is the place for you.
What's wonderful about this place is their attempt in operating sustainable tourism activities. You may be excited to know that there are completely solar-energy facilities available on your by-the-sea accommodation, but I bet you would be thrilled to fully enjoy a night sky filled with sparkling stars since this place provides NO phone lines and very limited electricity to make sure your trip is completely off-the-grid.
Other experiences, like kayaking or snorkeling, are also one-of-a-kind because guiders will show tourists to unique spots that promise them an unforgettable day discovering marine life, at the same time protecting the incredible natural underwater life.

4. San Jose del Cabo
When visiting Los Cabos, if you find Cabo with the wish to blend into the blue ocean, then San Jose del Cabo is where to experience the endless Mexican liveliness of the municipality. This charming colonial town holds adventurous local stories to be transformed from an ancient area with gatherers, fishermen, and hunters living under palm trees, to a place for pirate hideouts.
Downtown San Jose del Cabo is the ideal place for shopping and dining. The vivid artisan shops are where visitors can find their favorite Mexican piece of art. Local farm-to-table restaurants are always ready to offer unforgettable Mexican dishes. Historic architecture, colorful buildings, and eye-catching attractions are always ideal spots for a look-and-feel walk. And outside of the towns, golden beaches are the best for worldwide surfers to sample the tasty waves along the coast and topped off with a walk to the bars for a celebratory drink.

5. Todos Santos
Just an hour away from Cabo San Lucas, there is Todos Santos – the "Magic Town" with wonderful colonial architecture, Mexican arts and crafts, delicious local specialties made from indigenous ingredients, and uncrowded beaches for relaxing and surfing.
If you want to spend some nights here, Todos Santos has five-star boutique hotels, great beachfront hotels, and lovely rooms and suites with a pure Mexican vibe. The chilling life pace here is ideal for sipping a beer and watching the sunset on the welcoming sands of Los Cerritos, or a stroll down the quiet streets browsing local art puts any visitor in a Zen-like state of mind.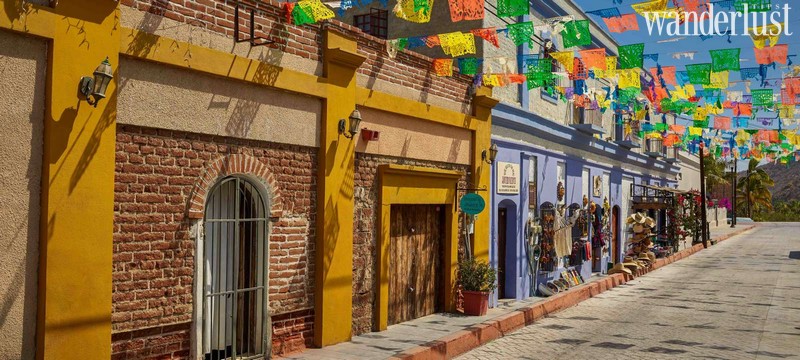 6. The Tourist Corridor
The Tourist Corridor is a 20-miles, four-lane highway connecting San Jose del Cabo and Cabo San Lucas, surrounded by stunning views of both the desert and coastline of the Sea of Cortez. This place has been the favorite choice of celebrities for a hideaway with beautiful beaches and luxury private resorts, and also a golfers' paradise with famous designers' stunning courses.
The place is considered a wonderful destination of all needs with its loaded things to do, whether you are an active traveler or a relaxing soul. Near Wild Canyon Adventures is where to get the adrenaline flowing with bungee jumping, zip-lining, or holding on to a giant swing for a near-death experience. Otherwise, you may find your peace at some luxury resorts with a stroll on the green during a golf match, or enjoy the incredible marine life by snorkeling, diving, and swimming at Chileno Bay. Don't forget to explore Mexican boutiques and try the myriad restaurants that invite the visitor to come to wander and enjoy the tastes of local fare.