Imagine spending your honeymoon on a road trip traveling all over the country; spontaneously stop by a lake or spend the night camping after a barbeque. All of which makes for much more exciting than staying at a hotel or being served at a restaurant.
[rpi]
Doing road trips has recently gained popularity. There is nothing more wonderful than spending a weekend or a holiday with your family on the road, discovering places you have never been to before. Singles can travel alone, or with a group of friends. Your road trip could take you North to visit the terraced fields or to the coast to sunbathe on beautiful beaches.
Set up chairs in a meadow, listen to the wind, and start a bonfire to have a barbeque and make a cup of coffee. If you're feeling adventurous, you can camp overnight. A car is necessary but definitely not all you need for a trip like this. Below are some of Wanderlust Tips' suggestions for what you need to bring on your adventure on the road.
1. Mini fridge or cooler
A portable mini fridge that you can plug into the cigarette lighter of your car is a must to keep your food fresh and delicious. If you traveling to the middle of nowhere with your family or a group of friends, it ensures the meat for your barbeque is fresh and the drinks cold. If you have a small car that cannot fit a mini-fridge, a mini cooler might also suffice.
There are many options and sizes, and you can easily fit the cooler in the back seat or the trunk. You can buy a mini-fridge or cooler for prices starting from 1 million VND. The price varies depending on the size, capacity, and features. You can buy them at auto accessory stores, or online shopping sites like Lazada or Sendo. Prominent brands include Mibicool, Deepact, Free cool, and NFA.
2. Inflatable car mattress
Inflatable mattresses specifically designed for cars will turn your backseat into a comfortable bed for a good night's sleep. You can also use this inflatable mattress outside to sleep in a meadow, or as a pool mattress if you want to sunbathe in the middle of a lake. When not in use, you can fold it up to the size of a laptop. When you need sleep again, it only takes five minutes of inflating before you have a comfortable bed.
An inflatable mattress costs between 800,000VND and a few million VND, depending on the material, brand, and size. You can buy them at auto accessory stores or online at demhoioto.com, demhoioto.us, thanhbinhauto.com, or phukienxehoi.net.vn.
3. Camping tents
For couples that want to enjoy their honeymoon on a road trip, sleeping in a tent in nature can be a refreshing experience. During peak season when it's impossible to book a hotel, a tent can come in handy. The experience can be romantic, wild, and exciting. If you don't know how to put together a tent, you can buy a pop-up tent in the appropriate size. Don't forget to buy the water-resistant kind, and set it up steadily to avoid it being swayed or blown away by the wind.
You can buy tents at outdoor camping stores for prices from 300,000VND to a few million VND depending on the brand, material, and size.
4. Folding chairs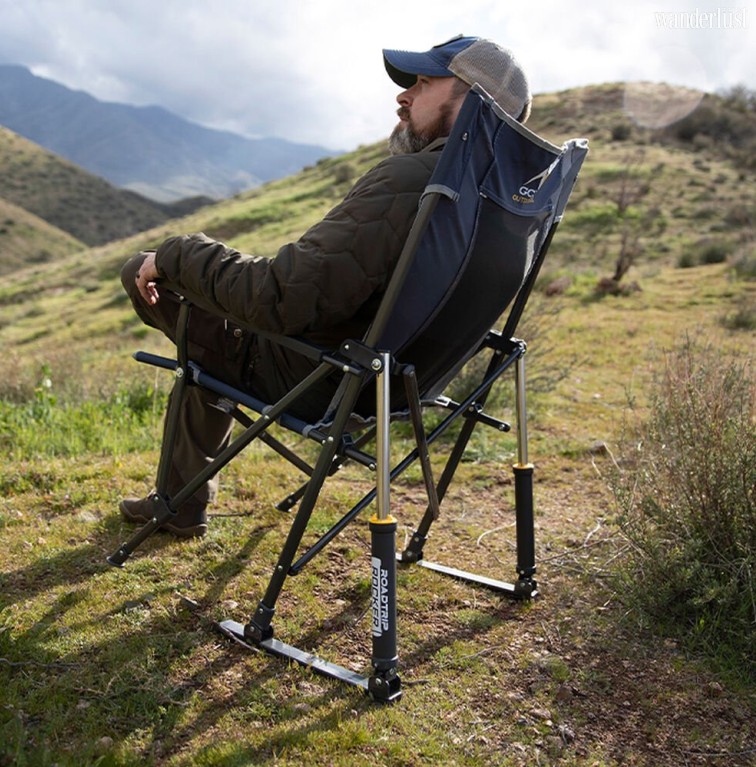 For road trips, folding chairs are must-haves as they provide comfort when you need a rest stop outside. You can use folding chairs while eating, fishing, or simply reading in the poetic landscapes of the mountains. You can use lightweight chairs with backrests and cup holders. Travel stores or fishing equipment stores are where you can find folding chairs, priced from 150,000VND.
5. Roof-bag or cargo carriers
For longer road trips, when your trunk and backseat are already full, rooftop cargo carriers can be lifesavers, especially if your car has roof racks. For clothing and shoes, you can pack them in small bags, and put them in a big water-resistant roof bag, and strap them securely on your roof. For heavier items such as travel stoves, gas cans, or smelly food, it's best to have a cargo carrier. Roof bags are priced from 1 million VND, and cargo carriers are priced from 3 million VND. You can buy these items at auto accessory stores.
Get packing for your adventurous road trip and start driving!
Wanderlust Tips