(#wanderlusttips #Dananghoian) Stunning beaches and beautiful historic architecture draw tourists to the beautiful coastal city of Danang and Hoi An. Below are 8 places to visit in afternoon, which are suggested by Wanderlust Tips Magazine. 
[rpi]
1. Hoi An Ancient Town – Where time stopped
Chinese, Japanese, Dutch and Indian influences have all left their mark on Hoi An's unique old town. The former port has maintained its ancient features over the centuries and beckons with its tranquil atmosphere. Get up early to witness the leisurely morning rituals of the residents. During these hours the small streets are almost deserted with only the occasional person going for a stroll or bike ride. Old houses with distinctive dark yellow walls line the streets of the town centre lending Hoi An its distinct charm. Beautiful tiles, colourful balconies with flowers and the handmade lanterns add a homey atmosphere. At dusk the town glitters in the glow of hundreds of colourful lights. For further information visit: www. hoianworldheritage.org.vn.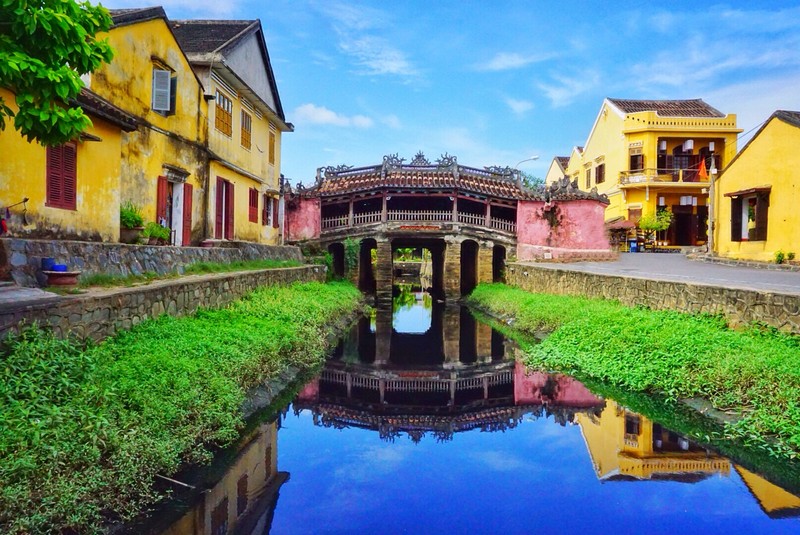 Must see: Cau Pagoda also known as the Japanese Bridge built by a Japanese businessman mid 16th century.
Cuisine: Le Fê Cafétéria (Phan Chau Trinh Street), Ms. Buoi chicken rice (22 Phan Chau Trinh), Mi Quang CT (Thai Phien), Cao Lau Trung Bac (87 Tran Phu), Banh Dap (Ba Gia store, near Cam Nam Bridge), Banh Beo Hoi An (Cam Chau, Cam Nam), Banh Uot with grilled meat (cuisine street by Hoai River), Che Bap (Tran Phu, Le Loi Streets)…
Shopping: Custom-made silk dresses, lanterns, To He earthenware, leather handbags and wallets with brocade patterns.
2. Hoi An Market – Get a taste for Hoi An's best known specialities
Escape from streets busy with shoppers and get a glimpse of local life at Hoi An market in the centre of the ancient town. From catch of the day seafood in the morning to every and any food item you can imagine you'll find an incredible assortment of products here. Introduce your taste buds to a wide range of local specialties on offer at the food stalls in the market, which is the perfect destination if you are looking to try as much variety as possible.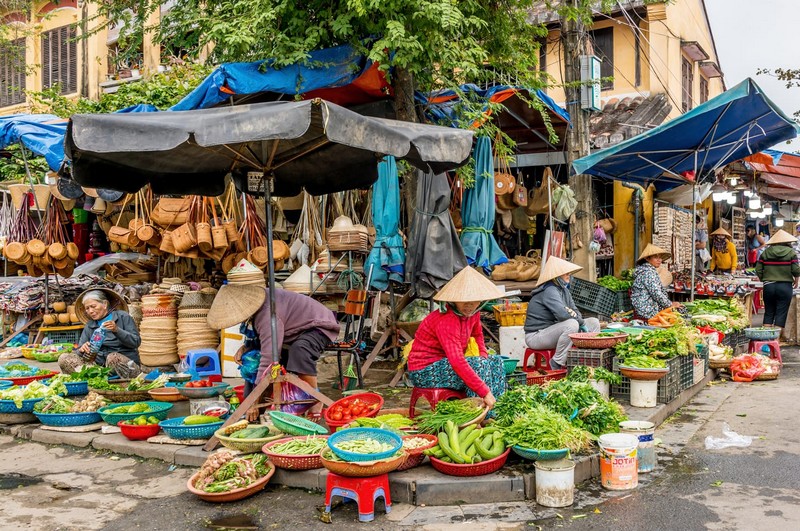 Must see: Randy's Book Xchange (Cu Lao Cam Nam) selected by Travel Wire Asia as one of the 10 most interesting book stores in Asia and the only book store in Vietnam raked featured in the selection.
Cuisine: Banh Dap Ba Gia Restaurant (Hamlet 1, Cam Nam Commune). The food area in the market where you can try local specialties including Mi Quang, Cao Lao, Hoanh Thanh, and various kinds of Che.
3. Tra Que vegetable village – Be a farmer for a day
Tra Que Vegetable Village is located 3 km outside Hoi An's ancient town to the northeast. Witness the whole process of growing vegetables that meet the standards of 'green-clean-beautiful'. The village farmers show visitors how to plant, care for and harvest vegetables. After working the field you can enjoy dishes made from local Tra Que vegetables and relax in a hammock or bamboo bed in the garden with a book and simply enjoy the leisurely atmosphere in the quiet space of this peaceful village.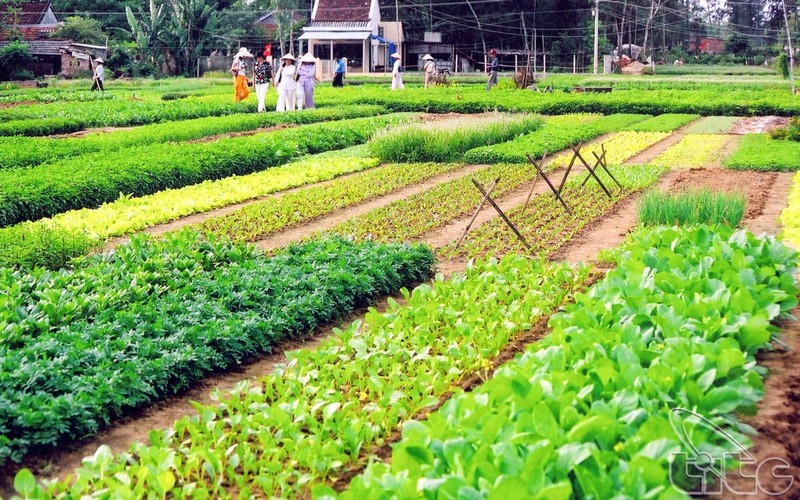 Top tips: If you are looking for a guided tour to Tra Que Vegetable Village you'll find all the information you need here: www.vietnambookingtours.com.vn.
Cuisine: Enjoy local dishes like Mi Quang, Cao Lau or Banh Xeo made from ingredients grown in the village.
4. River excursion in Hoi An
Enjoy a sunset cruise on Hoai River, which flows straight through Hoi An's ancient town and is considered one of the city's most beautiful sights.
During the day this gently flowing river is bustling with boats and ships, but once night falls countless floating lanterns turn it into a sea of light, especially during full moon nights. From the marina in Bach Dang Street a boat journey down Hoai River will take you to Thu Bon River. Both rivers are lined with picturesque sand dunes, rice fields and mountains. The sun setting over Thu Bon River is an especially breath-taking sight. During the trip you will stop at Kim Bong Carpentry Village, Thanh Ha Pottery Village, Duy Vinh Mat Village to discover the intricate products made by the highly skilled artists of the Quang region.
Top tips: Join a river excursion with stops in traditional craft villages – Hoi An International Travel Centre, No. 10 Tran Hung Dao, tel: 0510. 910400, website: www. hoiantourism. info
Cuisine: Enjoy local specialities including Mi Quang, Cao Lau or Chicken Rice in the ancient town.
5. Cham Sculpture Museum in Danang – Discover the unique world of Cham culture.
Known as Co Vien Cham (No. 2, Street 2/9), this is the only museum in the world dedicated to Cham culture. The museum houses thousands of precious artefacts, three of which are recognised as national museum pieces: My Son E1 Temple, Tra Kieu Temple and the Tara Bodhisattvas statue. When visiting the Cham Sculpture Museum, take a moment to revel in the tranquillity of its statues, embossments and temples. In the presence of the stone, copper or terracotta artefacts, you can feel a breath of the ancient time hidden in the sophisticated patterns and each sculpture.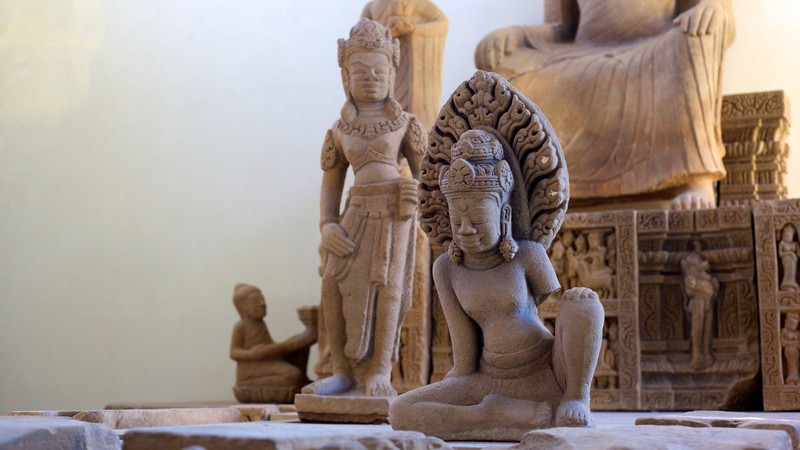 Top tips: The museum is located 4km away from Danang Airport and 6km from the train station and easily accessible by taxi. Opening hours: 7. 00 – 17. 30 every day. Ticket price: VND40, 000/adult; VND 5, 000/student. Free admission for children under 16.
Cuisine: Danang rice paper with meat: Tran eateries on Le Duan Street, Ms. Huong eateries on street 2/9, Phu My Hung Restaurant 44 street 2/9. Floating Restaurant: cruise ship on Han River, Phi Lu III Restaurant (Lot 1+2+3 street 2/9).
6. Han market – Con Market
Han and Hon market are two crowded shopping areas in the heart of Danang. Han Market is located near Han River lined by four of the city's main streets: Tran Phu, Bach Dang, Hung Vuong and Tran Hung Dao. The market has an astonishing assortment of goods, but is best knows for its fresh seafood, juicy fruits and specialty stores selling fish sauce, dried fish that make for popular souvenirs. Con Market is located on the crossing of Hung Vuong and Ong Ich Khiem in on of Danang's busiest squares. For first time visitors to Danang Con Market offers a place to enjoy and discover delicious, local snacks. Thanks to its colourful features and lively atmosphere Han and Con Market are not only places of local business but have become a tourist attraction in of itself. Visitors can simply immerse themselves in local life and do a little shopping of their own.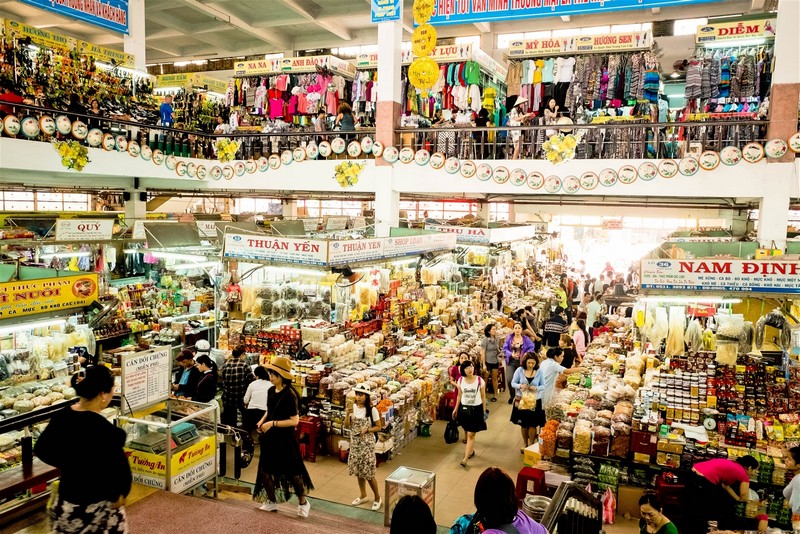 Must see: The swing bridge crossing Han River, Hai Chau Communal House, Da Nang Art Museum (78 Le Duan).
Cuisine: Try some of Danang's local specialties including rice paper with meat, banh xeo, mi quang, bun mam, veal on Mong Bridge, oc hut (a type of snail) in the food areas of Han and Con Market.
7. Tuy Loan ancient village
Tuy Loan has kept its traditional features. The village is over 500 years old and located about 15 km southwest of Danang's city centre in Hoa Vang District. The original village entrance remains and is covered in moss, the communal house is built in the architecture of times long passed and sits under an ancient banyan tree. The paths winding their way through the village are lined with rice paddies on both sides. The old houses have witnessed time come and go and continue their watch silently. Tuy Loan Market in the village centre has local products on offer including Cam Ne mats and hats, rice paper Mi Quang and Central Vietnam delicacy: dried fish with an earthy taste.
Must see: Cam Ne Mat Village is famous for the traditional pattern of its mats that date back to the dynasty of the Nguyen Kings. Phong Nam ancient village. Phuoc Nhon hot stream resort in Hoa Vang District about 25 km from Danang.
Cuisine: When in Tuy Loan do not miss the chance to taste their famous rice paper and Mi Quang.
8. Hai Van Pass
Famous for the best panorama of Danang Hai Van Pass is the highest pass, towering 500m above the sea, of the craggy Truong Son mountain range. The curvy road leading to Hai Van Pass winds its way along dense forest on one side and a stunning view over the sea on the other side. The mountain peaks are often hidden in the clouds lending it its nickname: Cloud Pass. Hai Van Pass has long been a popular trail for cross-country travellers looking to find Vietnam's most stunning stretches of road.
From Danang the national highway 1A leading north passes Nam O before starting the to climb to Hai Van Pass. It winds its way up the mountainside in tight curves, like a silk ribbon tying earth to the cloudy sky. If the sky is clear at its highest points awaits a stunning panorama of Danang, Son Tra peninsula, Cu Lao Cham, and seemingly never-ending beaches bordering the endless clean and green sea.
Must see: Nam O Reef, Xuan Thieu Beach, Van Village.
Cuisine: Return to Danang for local specialties of the Quang region or continue your journey and enjoy fresh seafood at Nam O Reef or Xuan Trieu Beach.
Ngoc Anh | Wanderlust Tips | Cinet