(#wanderlusttips #Dananghoian) From splendid bridges in Danang to ancient temples and houses in Hoi An, the coastal cities seem to be more attractive in evening. 8 places to go in evening by Wanderlust Tips Magazine will give the tourist more options for their journey to the beautiful cities of the Middle of Vietnam.
[rpi]
1. Festival Temples in Hoi An
Hoi An's Chinese festival temples were built by overseas Chinese. Phuc Kiem Festival Temple on 16 Tran Phu Street, worships Thien Hau Thanh Mau, the saint of trades in charge of helping to overcome difficulties on precarious sea routes. A number of restoration mainly funded by overseas Chinese of Phuc Kien, have expanded the temple its intricate design add a distinct feature to Hoi An's architecture. Trieu Chau Festival Temple on 92B Nguyen Duy Hieu is unique in its architecture. Its wooden frame are sculpted and decorated beautifully and the altars feature intricate wooden and ceramic works. In Quang Dong Festival Temple on 176 Tran Phu Quan Cong and Tien Hien of the guild are worshipped. The use of wood and stone in the bearing structure and decoration lend the temple a majestic and distinctive beauty. Hai Nam Festival Temple and Thuong Duong Festival Temple are also worth a visit.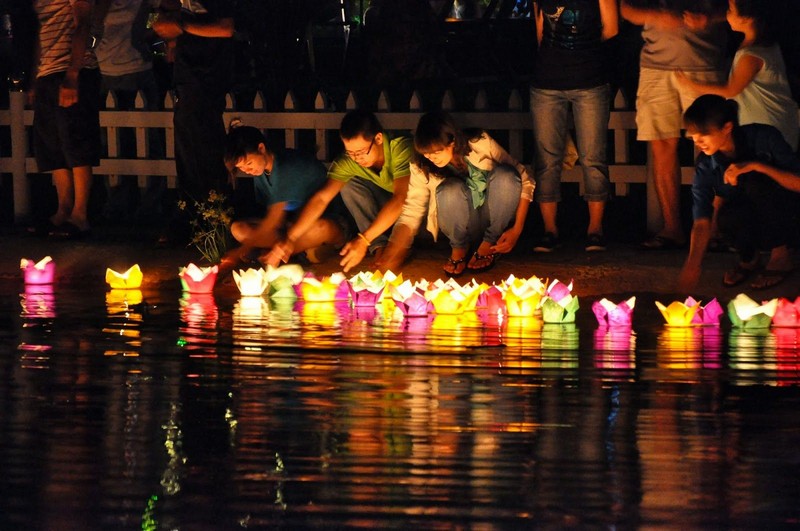 Must see: Hoi An Museum of ceramics trading on Tran Phu, Sa Huynh Culture Museum on 149 Tran Phu, History – Culture Museum on 13 Nguyen Hue, Kazik Park on 138 Tran Phu, Tran Clan Church on 21 Le Loi, Truong Clan Church on 69/1 Phan Chau Trinh.
Cuisine: Van Loc Restaurant 27 Tran Phu, Mi Quang at the end of Tran Phu Street, Hai Café on 111 Tran Phu, Cao Lau Trung Bac on 87 Tran Phu, Chicken rice Ba Buoi on 26 Phan Chau Trinh, Cocobox on 94 Le Loi, Reaching Out Tea on 131 Tran Phu, May Concept on 8C Nguyen Thi Minh Khai.
2. Hoi An's ancient houses
Tan Ky ancient house on 101 Nguyen Thai Hoc is some of Hoi An's oldest houses were built 200 years ago, in the typical architectural style of the time. It's divided into multiple structures each with a different function. The front of the house is used for shops while the back opens onto the river for easy access to goods being shipped in or shipping our products.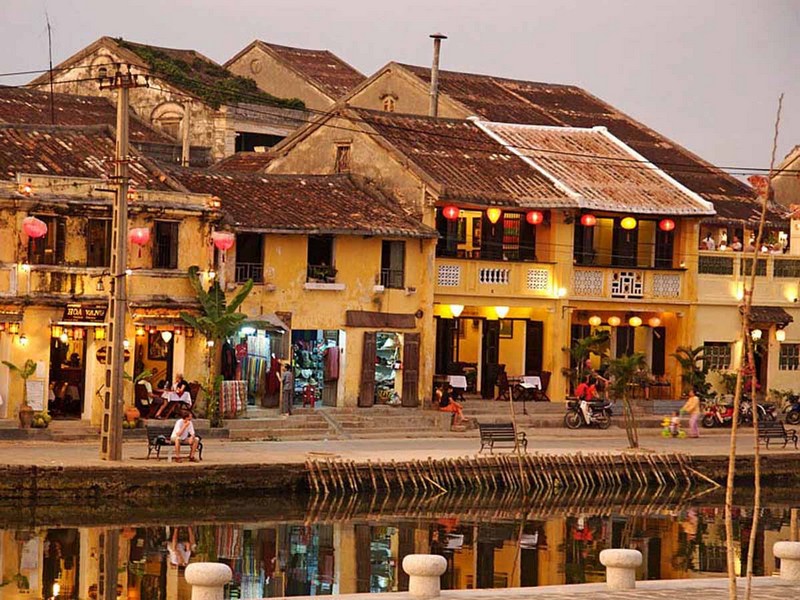 Phung Hung Ancient house (4 Nguyen Thi Minh Khai Str.,) not far from Tan Ky ancient house on the other side of Cau Pagoda on where the birthplace of eight generations of the Phung Hung family, which dates back 200 years. It is the most beautiful example of Hoi An's ancient architecture.
And then there is the ancient house on no. 104 Thai Phien that, though flanked by modern houses, is an outstanding example of traditional architecture.
Must see: Hoi An crafts workshop in Phi Yen ancient house on Nguyen Thai Hoc Street. Gemstone Art Museum at no. 130 Nguyen Thai Hoc is a museum and café with hundreds of precious stone on display.
Cuisine: Cargo Club on 107 Nguyen Thai Hoc, Mango Rooms Restaurant on 111 Nguyen Thai Hoc, Dive Bar & Restaurant Hoi An on 88 Nguyen Thai Hoc, Hoa Dao Restaurant on 119-121 Nguyen Thai Hoc, Gia Dinh Restaurant on 108 Nguyen Thai Hoc, Tam Tam Cafe on 110 Nguyen Thai Hoc.
3. Full-moon night in Hoi An's ancient town
To get a feel of Hoi An's atmosphere during the height of its history as a trading port visit the town on the night of the 14th of every month of the lunar calendar. When the full moon is out the electricity in Hoi An's ancient town is turned off and is only illuminated by the soft and colourful light of uncountable lanterns. The people of Hoi An revive what once was in this way and turn each full moon night into a mini culture festival. Mi Quang and Cao Lau vendors sell their hot, delicious dishes by flickering candle light, riverside bars get a romantic glimmer, ho khoan melodies waft over the river, and bai choi poems can be heard. Blended together they create a truly special experience of this already extraordinary town. Make use of the occasion if you are in town and release a floating flower light on Hoai River.
Top tips: The best place to experience the above is in the roads along Hoai River in the ancient town: Tran Phu, Le Loi, Bach Dang, Nguyen Thai Hoc, Nguyen Thi Minh Khai… At 8.00 pm, lanterns are lit and electric lights turned of.
Cuisine: Try the local dishes prepared by vendors along the streets.
4. The colourful world of Hoi An's night market
Located along Nguyen Hoang the night market is made up of about 50 kiosks. During a stroll along the various stalls you won't just find souvenirs but also get to enjoy a leisurely walk along Hoai River. From lanterns, to pieces of art and pottery, clothes, hand-made craft items to local specialities you will find everything at the night market. The most impressive feature is the colourful lanterns of all sizes, shapes and shades hanging along the street giving the world a mysterious shine. Their light making the ancient town truly irresistible.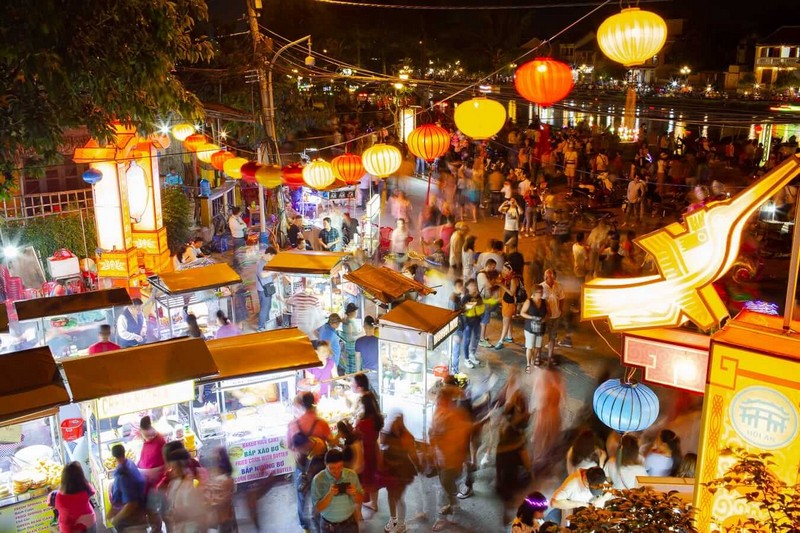 Top tips: The market is held from 17.00 to 23.00 every day. You should visit Hoi An on the14th and 15th of every month of the lunar year. On these days you can send a floating flower light down the river, listen to traditional songs join in a local game.
Must see: An Hoi Statue Park, Hoai River.
Cuisine: Numerous local specialties are on offer at the market including: Mi Quang, Cao Lau, Nem Lui, Banh Dap, Che Bap.
5. Danang's unique bridges – A sparkling night.
Danang is known for its beautiful bridges. The most unusual of all is the Rong Bridge with its 666m dragon shape striving to the sea. The dragon's head and tail follow the design of the Ly dynasty and its head can release water and fire. Tran Thi Ly Bridge stands like a sail over Han River. The rotating bridge spans Han River with a length of nearly 500m and a width of 12m, connecting the two central roads between Hai Chau District and Son Tra District. At 1.00 am every day, the middle section of the bridge rotates 90 degrees to open and make way for ships. It makes for a popular spectacle for locals and visitors alike. Located right by the waterfront is Thuan Phuoc Bridge the largest suspension bridge in Vietnam. It is equipped with a light system than shines through the night. Between Tran Thi Ly and Rong Bridge is the historical Nguyen Van Troi Bridge its arch made of rare Vietnamese Poni. The bridge has become one of Danang's historic relics.
Cuisine: Enjoy specialties of the Quang region in Han market or in any of the restaurants or simple eateries in Bach Dang, Tran Phu, Hung Vuong, Tran Hung Dao Streets.
6. Asian Park – A ride on the fairies wheel
Asian Park is made up of four areas. There is a cultural section where you get to know the culture of nine Asian countries. The amusement part of the park is dynamic, lively and features the latest in entertainment including adventure rides and modern arcade games. Visitors can get their thrills on roller coasters, elevated trains and a free-fall tower. The huge fairies wheel is one of the 10 highest in the world and the largest in Vietnam. It has become one of Danang's landmarks and is known as "Danang Vision". At night, the wheel lights up with 13,000 led lights, adding some sparkle to Danang at night. For further information, please visit: www. Asia-park.vn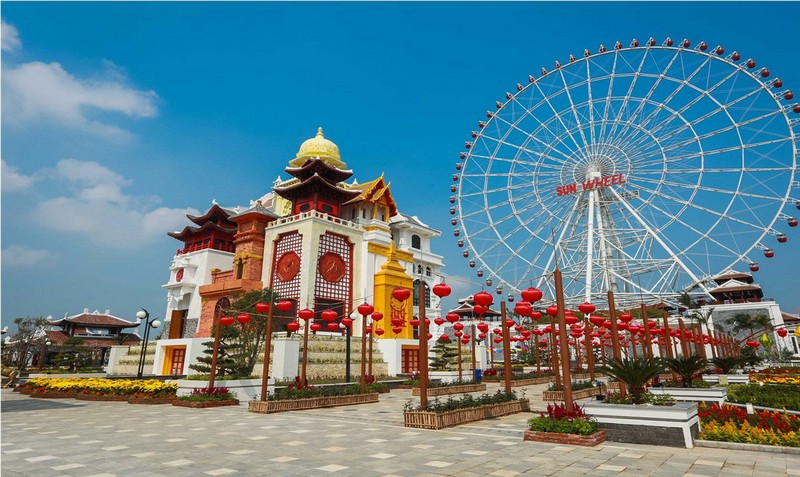 Must see: Tran Thi Ly Bridge, the swing bridge over Han River, Han Market, Hai Chau Communal House.
Cuisine: Enjoy Asian cuisine at the food section of the cultural space in Asian Park.
7. Sky36 – the highest sky bar in Vietnam where elegant and stylish VIPs meet.
Stretching over the 35th and 36th floor of Novotel Danang Premier Han River Hotel, Sky36, with its sophisticated design and state-of-the-art sound system, is a luxurious nightspot perfect for visitors wanting to relax with a perfectly mixed cocktail after a day of discovering Danang. Sky36's is a elegant and luxurious combination between outdoor bar, comfortable sofas and cushy VIP lounge inside. The outdoor bar features a stunning view across Danang City with its famous bridges and Han River leisurely snaking its way underneath them. Another impressive highlight of Sky36 is the view towards the sea you have from the sofa area. From here you can watch the sun set over the city centre. Must see: Swing Bridge over Han River, Hai Chau Communal House.
Cuisine: Enjoy a wonderful dinner in any of the hotel restaurants on Bach Dang Street.
8. Helio Centre entertainment centre – The perfect spot for a family night out.
Spanning an area of more than 35,000 m2 and located in the city centre southeast of the Monument park on street 2/9, Helio Centre offers visitors the perfect selection of entertainment to be enjoyed with friends and families. Helio Centre opened in 2015 and includes three main areas: a play area for children, Helio Play with an array of fun, new and unusual games and a food court offering dishes from various countries around the world. Helio Centre has enriched the nightlife in Danang with its state of the art facilities, novelty factor and young visitors. Features like accumulating your score to exchange for gifts have made Helio Centre a popular spot to spend your free time.
Must see: Museum of Cham Sculpture.
Cuisine: There are various eateries close to Helio Centre.
 Ngoc Anh | Wanderlust Tips | Cinet