(#wanderlusttips #Dubai #Thetower) Ground has been broken for Dubai's latest and tallest building in Dubai – The Tower – which will be at 928 meters once complete. It will dwarf the nearby Burj Khalifa, which is 100m shorter and currently the tallest building in the world.
[rpi]
Located in Dubai Creek Harbour, The Tower's abnormal design evokes the image of a minaret, reflecting the fact that the UAE is an Islamic country. The construction features observation decks, hanging gardens a hotel and a number of high-end restaurants. At the peak will be a floating "flower bud" emitting rays of light by night.
The Tower is scheduled to be open in time for Dubai's Expo 2020, with the aim that it will represent the city the way the Eiffel Tower, which was built for the 1889 Paris Expo, does for the French capital.
Estimated costs to produce the Dubai landmark are around the 1 billion USD (Dh3.67 billion) mark, reports the Khaleej Times. Real estate company Emaar is behind the project, and chairman Mohamed Alabbar described The Tower as "an ambitious project on a never-before scale and design" which will require "high-precision engineering across all its facets." He added that it will "serve as a beacon of hope and positivity for the city and the region."
Huge cables will anchor the slender building to the ground, where it will be surrounded by gardens. Despite the dizzying height of the project, it is unlikely to become the tallest building in the world. Work is already underway in Saudi Arabia on Jeddah Tower, which is planned to reach over 1km tall and also be completed in 2020.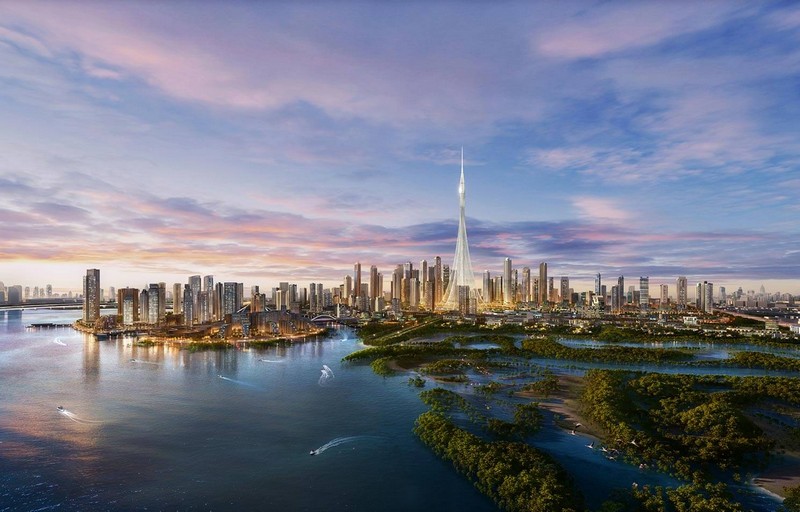 Dubai Creek Harbour is a waterfront development off Dubai Creek, one of the most historic parts of the city. It is 10 minutes from Dubai International airport and close to the Ras Al Khor National Wildlife Sanctuary.
Lonely Planet | Wanderlust Tips | Cinet