Amidst the beautiful buildings of Barcelona, there's a unique buildings unlike any other – Gaudi's architectural masterpieces.
[rpi]
"You are either a genius, or an idiot. Only time will tell," the dean of his architectural school told Antoni Gaudi (1852 – 1926) at his graduation, because his grades were mediocre and he had even failed a few times.
Antoni Gaudi did not wait long to prove to the world what he could do. His first works immediately resonated with the world. Decades later many people still admire his works of wonder, which are unique and impressive. He left a big mark on the architectural landscape. In 2002, on his 150th birthday, his admirers had this to say: "Without Antoni Gaudi, there is no Barcelona. Without Barcelona, there is no Spain".
His works are famous for their freedom of expression, shown through his use of shapes, colours and materials and respect for natural elements influenced by Neo-Gothic architecture, Eastern culture, realism and religion.
Child of nature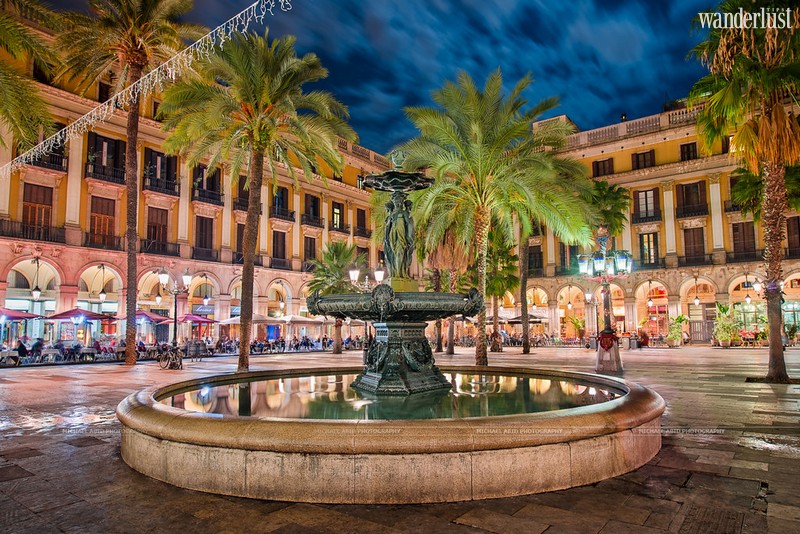 Born to a blacksmith family in Rues (Catalonia), the young boy learned about shapes and space while helping his father and grandfather in the family factory. Due to his arthritis, Gaudi could not play with other children. He spent more time discovering nature, which later became a prominent feature in his architecture. He believed that nature is the ultimate creator and teacher of all knowledge. He once said: "Originality consists in returning to the origin." By origin, he meant nature and simplicity. He is famous for incorporating natural elements in his architecture.
At the age of 18, Gaudi moved to Barcelona to study architecture and learn about philosophy, history, economy and art. He said that architecture is not only influenced by art, but also its social, economic and political context.
He had numerous jobs to earn money for school. He worked as an assistant for sculptors, carpenters and blacksmiths, all of which inspired him to become an architect. He paid attention to every little detail and worked with different materials, including ceramics, glass, iron processing and wood. Working with these materials, he guided his workers to achieve his intentions. He sent a breath of fresh air into modern architecture in a unique way that no one could replicate.
After graduating, he opened his own architectural firm in Barcelona. His talent was immediately recognised after he designed the lanterns at the Royal Plaza (Placa Reial), which can still be seen today in the city centre. The lantern at the centre represents Barcelona, shaped like a king wearing a crown and protected by the surrounding lanterns – his soldiers. The two entwined snakes in the central lantern are the symbol of the Roman god Mercury. Everything combines to create a shield and makes the icon of the city.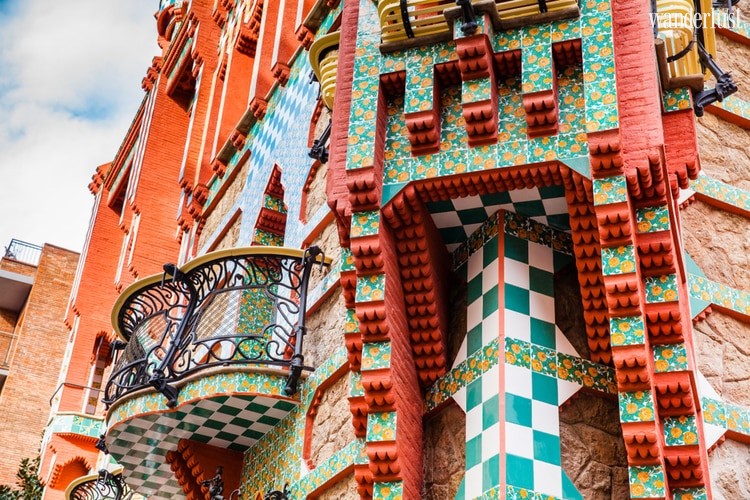 The first building Gaudi designed was for a stockbroker. Casa Vicens had simple designs compared to his later works, but still showed his unique talent. The walls are made of stones that are interspersed with brick tiles of the golden colour of a local type of flower. The highlights are the mosaic art, the shapes and colours of which are influenced by Arabic and Islamic culture, making the building unique and becoming the precedent of the modernism movement.
After Casa Vicens, Gaudi worked on several buildings; prominent among them are his works for aristocrat Eusebi Guell. He was one of the richest men in the city with huge influence on Spain's economy and also happened to love art. Guell became a friend, a loyal customer and supporter of Gaudi, which influenced his later career.
Among nearly a dozen buildings built for the Guell family, Parc Guell and Colonia Guell are two of seven works by Gaudi that have been recognised as UNESCO world cultural heritage.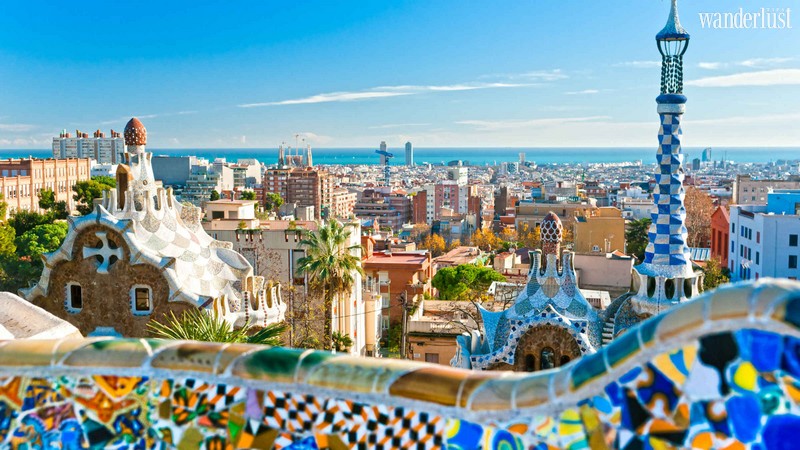 One of the must-visit destinations in Barcelona – Parc Guell – at first was a suburban garden that belonged to the Guell family and was later acquired by the municipal government. Gaudi's love for nature is evident in this work, through the organic structure (designed to be the most natural) of the geometric details, which rid them of their rigid nature.
Right from the gate, Parc Guell is eye-catching with two fairy-tale gingerbread houses, colourful thanks to the exquisite ceramics details. Gaudi kept the natural features of the hill where Parc Guell is located, with its steep slopes and diverse natural landscape. With a few steps, you can reach the 'rooftop' to enjoy a view of the city. This terrace has a curved shape like a sea serpent running around the park, with colourful ceramics details shining under the sun.
Around the terrace are several small balconies and walkways protected by stone fences, uniquely shaped like figures and trees. You will feel as if you have returned to your childhood, lost in a fairytale, or as if you have suddenly become Juliet waiting for your Romeo on the balcony.
Unlike Parc Guell, the crypt of the Church of Colonia Guell was only finished when World War I in 1914 and the death of Count of Guell interrupted construction in 1918. The unfinished work still became a heritage.
The crypt with its unusual oval shape is also a culmination of Gaudi's works thanks to the ingenious combination of different materials such as bricks and stones. The domes are elegantly designed to bring in natural light. The protruding windows and leaning pillars were the first of their kind to appear in architecture. The pillars of stone or bricks are shaped like trees titled by the wind, which is the charm of Gaudi's creation. Despite being titled, the structure is still solid, and after nearly a century, it still stands firm like the name of its creator.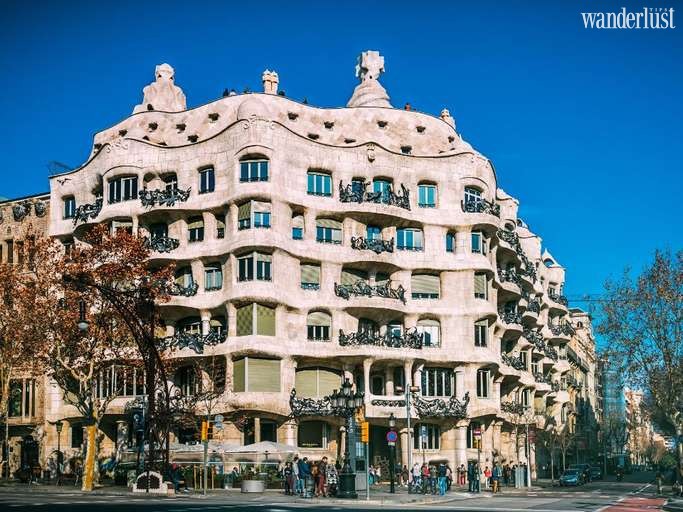 Nature and arches, typical of Gaudi's work, continued to play a big role in another one of his famous works – Casa Milà.
 More popularly known as La Pedrera, which means the stone quarry. The name is not due to the material, but f its rugged exterior. Casa Milà showcases Gaudi's research and exploration of natural laws to create a second nature for humankind. This can be seen through floral decors, structures made of curved steel, and the roof, which is rugged like a natural cave.
A unique feature found only in Casa Mila is the terrace. Deep craters, surrounded by ducts 'wearing' iron helmets resembling an army, welcome visitors. This surreal scene was unprecedented in the history of architecture. The building ended a historical period of architecture beginning in the 20th century, right after the Renaissance period ended. Gaudi put an end to traditional structures and created a new style of building that can be aesthetically pleasing to anyone.
God's Architect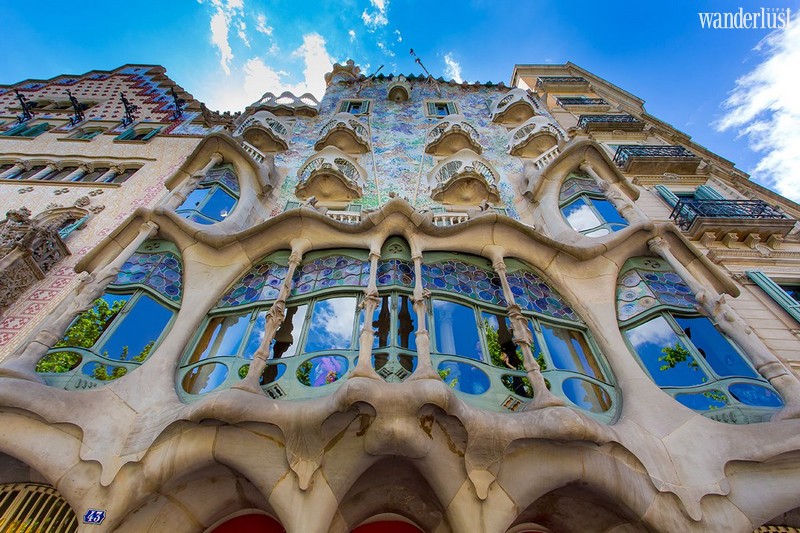 This is Gaudi's famous nickname, as beside nature, his love for religion is always shines through his work.
This can be seen at Gaudi's Casa Batllo, a famous house that Gaudi designed for a bourgeois family in Barcelona. The roof of Casa Batllo is unique thanks to its dragon-back design using tiles of different colours. The dragon represents the dark forces defeated by St. George in the bible. The balconies are shaped like bones while windows are oval-shaped resembling skulls of the victims of the dragon.
Casa Batlló is also unique because it resembles a skeleton, although the details are not in a straight line, giving it its name (Casa Batlló means "House of Bones"). The façade is sophisticated with mosaic art made of ceramics and glass. Gaudi also designed the furniture for this house as well as other objects, including furniture, lamps and an altar with unique shapes.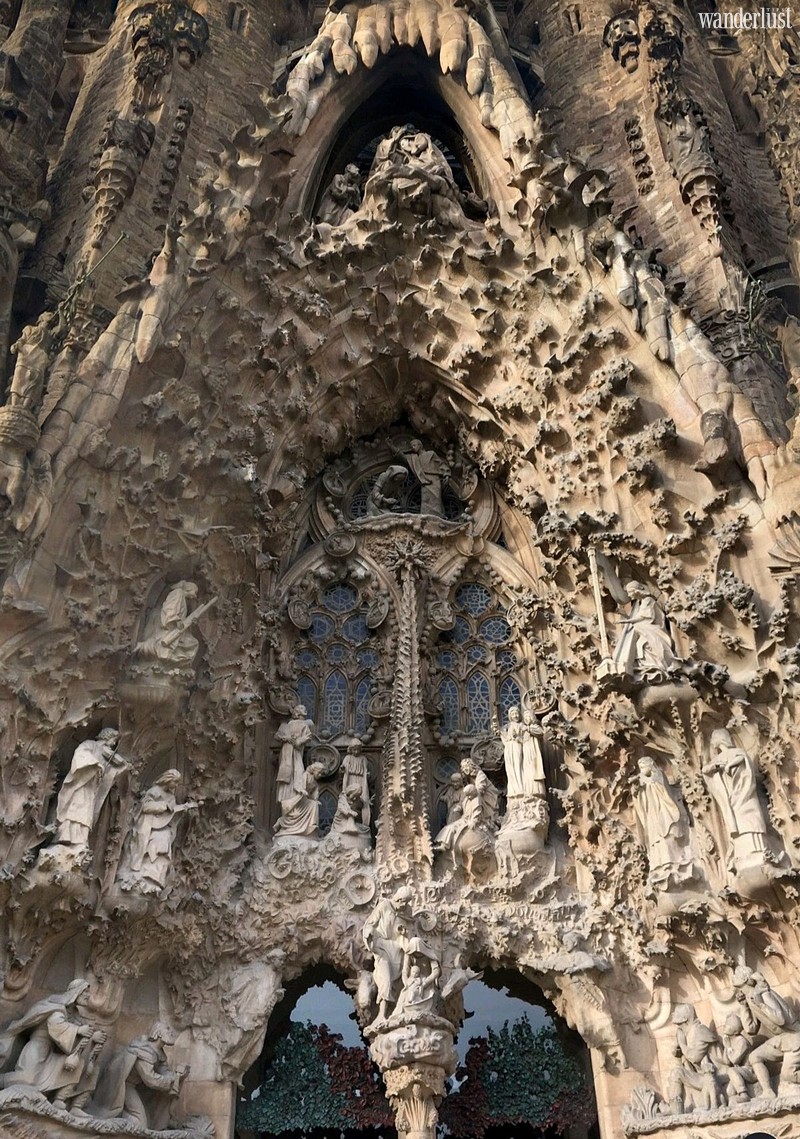 However, Gaudi's love of religion is best seen at the unfinished Sagrada Familia (Basilica and Expiatory Church of the Holy Family) – his masterpiece. Gaudi started this project in 1883 at the age of 31, and 43 years later when he died, the building was not yet finished.
Gaudi's intention was to retell the entire history of Christianity with one building. The cathedral was designed with three signs, representing the birth, passion and glory of the Lord.
The current cathedral has only 8 towers, though 18 were planned – symbolising God, the saints and the apostles. However, the unfinished work is still enough to attract millions of visitors each year.
Visitors recognise the 100-meter tall towers from afar. At first glance many people think that the cathedral is a magic castle, due to the odd design and herringbone pillars – Gaudi's trademark. He combined traditional Gothic architecture with modern touches of Art Nouveau with its curvilinear forms. This makes the building unique, breaking the monotony of the surrounding streets.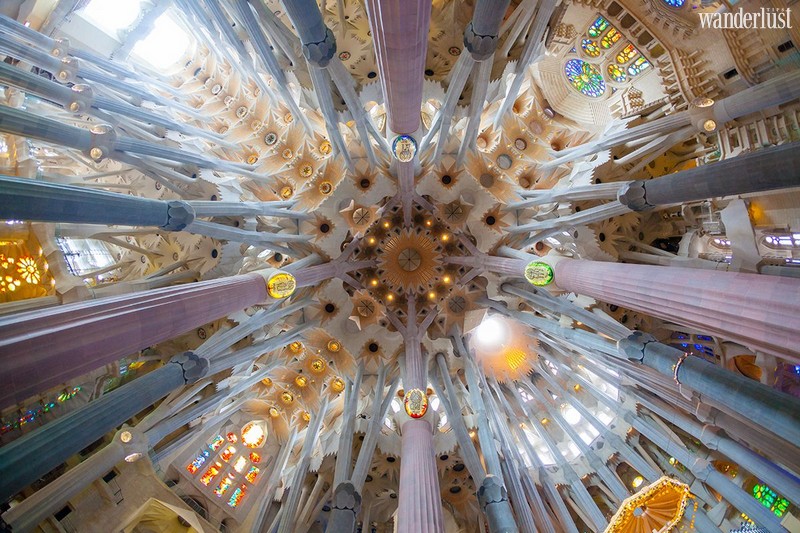 The façade is decorated with elaborate sculptures depicting angels and mankind celebrating the birth of Christ. The interior is uniquely designed to bring in plenty of natural light, thanks to the clear and stained glass windows. Columns are designed to mirror trees and branches, crisscrossing to support the dome. The walls surrounding the church are also shaped like rows of trees, showcasing Gaudi's love of nature.
If the façade describes the birth of Christ, the back depicts his life and sacrifices with images of Judas embracing Christ with a serpent by his feet showing his betrayal, the crucifixion and resurrection of Christ. Gaudi's profound piety is ever present.
When he learned that Sagrada Familia would become a cathedral for the poor, Gaudi devoted the last ten years of his life to this project and refused to take any other job. However, an unfortunate car accident killed him at the age of 74. Half the people of Barcelona wore black and mourned him after his death, full of appreciation and admiration for the creator of Barcelona's landmark.
Wanderlust Tips