(#wanderlusttips #wineexpert #Sommelier) A trip to the ocean will become even more poetic when you enjoy a glass of fine wine with premium seafood dishes. Here is some helpful advice from Sommelier To Viet.
Wine and exquisite seafood dishes
At the beginning of 2015 I was honoured to cooperate with Lexus Vietnam, Flix Event Planning Company and Christine Ha, a renowned Vietnamese American chef, to introduce some exquisite seafood dishes and pair them with champagne and wine.
Christine Ha, a talented chef who grew up eating traditional Asian cuisine always adds beautiful colours to exquisite ingredients, and combines them with Vietnamese spices to create her recipes. This is why pairing Christine's dishes to suitable wine is always both a challenge and a great inspiration for many sommeliers.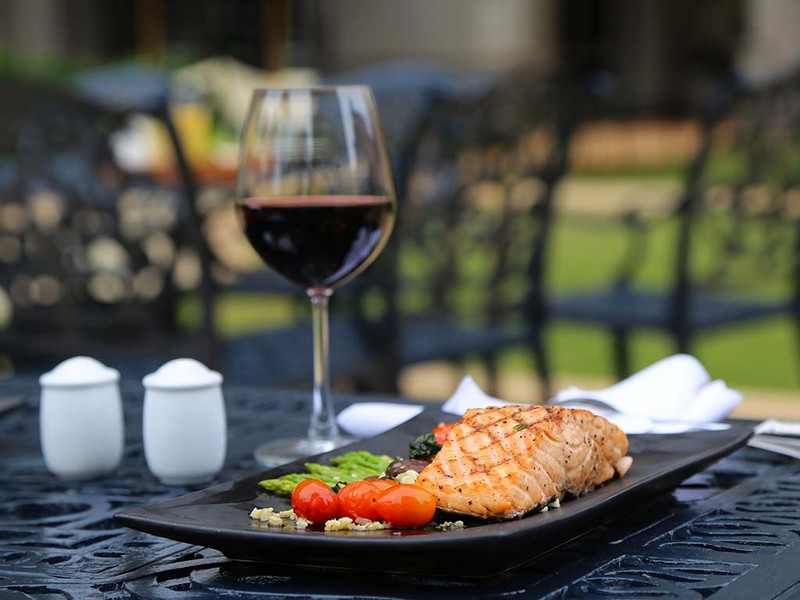 A bottle of champagne like Taittinger Brut Reserve or Taittinger Prestige Rosé is often chosen to welcome diners along with appetizers such as buttered bread and sturgeon roe. The presence of a champagne bottle on the table always prepares guests for a memorable event. The popping sound of a champagne cork is like the delightful laughter of a young woman. The sparkling gold or pink liquid satisfies every sense from taste and smell to sight. Bubbles emerge from the liquid like a string of pearls wrapped around the neck of a beautiful woman and then burst like the fireworks during a festival night.
At many events I indulge in a bottle of Taittinger Comtes de Champagne "Blanc de Blancs" along with appetizers like fried shrimp balls, squid cake, Japanese sushi and sashimi, or buttered bread and sturgeon roe.
Wine and fresh seafood
In traditional Vietnamese cuisine dishes with uncooked ingredients are rare. However, because of the culinary cultural exchange between Vietnam and other countries ways to enjoy fresh uncooked seafood entered Vietnam and are now widely accepted. Popular dishes include French-style raw oysters, sardinella salad, or Japanese sushi and sashimi. Normally, uncooked seafood dishes will give diners a fresh, cooling sensation and are slightly fishy and salty so white wine with a light taste, sweet scent of flowers and wet grass and crisp sour taste are an excellent companion of these dishes. A bottle of "Blanc de Blancs" made from Muscadet grapes from the Loire River valley, or Chablis Laroche that wasn't kept in oak barrels and is rich with kimmeridgien minerals from Bourgogne (France), or even a bottle of Villa Maria Private Bin Sauvignon Blanc that has the aroma of peach blossoms, wet grass and passion fruit from New Zealand, are suitable choices.
So what are the general principles when pairing wine with fresh seafood?
Experts say that the best way to pair white wine and seafood are based on several simple criterions:
White wine is suitable to pair with seafood, because the sour acidic taste can cancel out the fishy smell. On the other hand, the acrid taste and iron minerals found in red wine will enhance the salty and fishy smell and make it more uncomfortable. However, young and sour white wine must be served at a cool temperature (7 – 9 degrees Celsius) as at this temperature, the sour taste will be softer.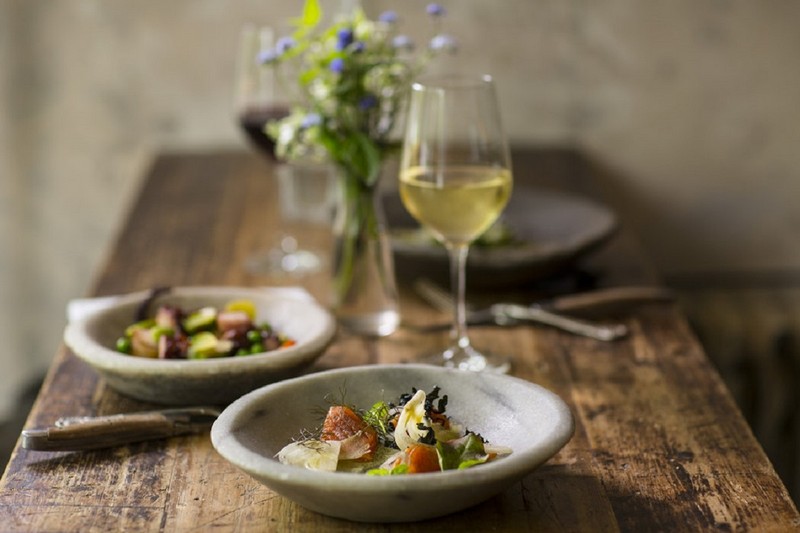 Freshwater fish are smellier, which means they must be served with young white wines, which are dry and have the pleasant floral aroma of Sauvignon Blanc grapes (white Bordeaux, Sancerre wine from Loire River Valley in France). Some examples are Chardonnay not aged in oak barrels from temperate zones, Riesling Trimbach, Pinot Blanc, Muscat, Sylvaner (from Alsace of France), Sauvignon Blanc and Riesling from New Zealand, Sauvignon Blanc-Semillon-Colombard from Australia or Torontes from Argentina.
Clams, oysters, snails, and mussels should be paired with wine that has the scent of minerals or ocean salt, such as Chablis not aged in oak barrels, Muscadet (France) and Xeres (Spain).
Smoked fish is suitable to pair with Chardonnay grapes aged in oak barrels such as Bourgogne Chardonnay Louis Jadot or Pinot Gris or Gewurztraminer Alsace (France).
Fatty fish are suitable to pair with rich tasting wine such as Chardonnay Louis Jadot, Condrieu Guigal, or Hermitage White Guigal, which is a mix between Roussanne and Marsanne grapes.
Fish with lean meat and elegant taste are suitable to pair with dry grapes, which are light and have a floral aroma such as Sancerre Henri Bourgeois, Sauvignon Blanc New Zealand, Muscat d'Alsace or Pinot Blanc d'Alsace, Gewurztraminer from Austria.
Grilled shrimp and fish are suitable with Sauvignon Blanc-Semillon aged in oak barrels, with the scent of vanilla or toasted bread such as Chateaux Carbonnieux (Graves), Pouilly-Fumé Louis Jadot (Borgogne), or Chardonnay aged in oak barrels from Chile, US, Australia or Argentina.
Fish cooked in sauce can be paired with wine that is more concentrated, aged in oak barrels. The scent of vanilla, oak and butter of the wine will enhance the fatty taste of the sauce.
Recently, when I visited the Lucaris crystal factory in Thailand, I was invited to eat lobster cooked in cream sauce, and sea bass cooked in white wine sauce. Both of these dishes are paired with Mersault Louis Jadot 2002. The wine had a complex taste, an aroma of butter and vanilla, and was paired with the fatty taste of seafood and sauce. This pairing received a lot of praise from diners. I thought of an Italian saying: "One barrel of wine can work more miracles than a church full of saints."
Where to buy:
Red Apron Fine Wines & Spirits stores:
Hanoi: 18 Yen The – (04) 3 747 4889 | 28 Xuan Dieu –  (04) 3 719 8337 | 91 Xuan Dieu – (04) 3 718 0577 | 10 Da Tuong – (04) 3 943 7226 | 83 Linh Lang – (04) 3 760 6587 | No. 6, Alley 1, Au Co Street – (04) 3 718 6271 | E5-RS 1 Ciputra – (04) 3 743 0743
Ho Chi Minh City: 2 Chu Manh Trinh – (08) 3 822 8260 | 9A Thao Dien (08) 3 744 3363 | 102 Ham Nghi (08) 3 821 2134
Danang: 46 Phan Chu Trinh (0511) 3 889 126
Hoi An: 185 Ly Thuong Kiet (0510) 3 917 070
website: www.redapron.vn
 To find out more about Red Apron Fine Wines & Spirits, please contact: redapron@celliersvn.com
Sommelier To Viet  | Wanderlust Tips | Cinet