Planning to visit Puerto Rico for the first time? You probably need to know a bit about the destination and people here, as well as some guidance to prepare for the best trip. Here are some destination information and travel tips that should help you! '
Puerto Rico Overview
General information
If you are dreaming of a vacation in the Caribbean, Puerto Rico is among the top paradises. Besides jaw-dropping beaches, this destination has much more to offer: diverse natural ecosystems and rich culture influenced by the indigenous Taino, Spanish, the US, and African ones that appear in different aspects of life.
Located in the northeast of the Caribbean Sea, approximately 1,600km southeast of Miami, Florida, Puerto Rico is a commonwealth associated with the United States using Spanish and English as the official languages. The capital and most populous city is San Juan nestled on the main island; while there are several smaller islands such as Mona, Culebra and Vieques to explore.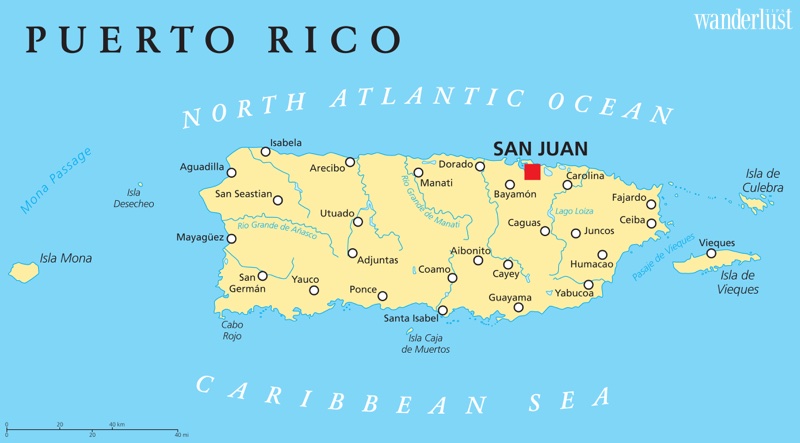 History in brief
Puerto Rico was originally inhabited by the indigenous Taino people 1000 years before Christopher Columbus arrived and started the colonization of the Spanish in 1493. During the time, European diseases and maltreatment had begun to devastate the Taino population, while the Spaniards were largely immune. With the lack of workforces, the Spanish subsequently brought Native Americans and Africans to the island to fully staff their placer mines. After the 1530s, more Europeans migrated to the island. 
After various political, administrative and economic movements under the period of Spanish colonization, the result of the Spanish-American War in 1898 permitted the US to take Puerto Rico from Spain. 
Currently, Puerto Rico is granted commonwealth status associated with the United States, despite undergoing various political debates. However, when it comes to traveling, Puerto Rico is a great choice for Americans for a Caribbean vacation as they don't need visas to enter the destination.     
Culture highlights
Throughout the timeline of history, the modern Puerto Rican cultural life is a blend of Northern American, Latin, African and Caribbean forms. Visit Puerto Rico, you may find the marks of such cultures in many senses: language, architecture, music, dances, arts, customs, sports, historical landmarks and heritages…
Puerto Rico travel guides and tips
When to visit
Located in the tropical climate zone, Puerto Rico has a dry season and a wet season in a year. As you may look for different fun when visiting Puerto Rico, here are some recommendations for different types of trips. 
For good weather: The dry season from December to April brings you the most pleasant weather with few rainy days and fresh temperatures. This is a plus point for many international travelers coming from the "deep freeze" regions, as they are looking for a winter escape. Therefore, the island is at its peak tourist season during this time of the year. 
For cheap prices: If you are looking for a time when the room rates and service charges are not skyrocketing, visit Puerto Rico in the time between August and November. This is the low season that you can get a great deal even in the center of the capital San Juan, but you may catch bad weather such as hurricanes.
For warm beach days: With higher average temperatures in summertime (from June to August), the beaches are better for swimming. You might meet many local people hanging out during the summer, despite the combination of heat and humidity. June is the hottest month, while rainy days happen the most in August. 
For family and kids: There are many cool local activities and festivals in Puerto Rico from December to February; thus exciting your family time together.  
For surfing: Surfing is definitely a popular watersport in Puerto Rico. Especially from September to December, surfers can catch the greatest waves on the beaches of Cabo Rojo and Rincon. There is also the world-famous Rincon International Surfing Festival that takes place in Playa Domes. 
How to get there
Aeroplane: There are several daily nonstop flights from major cities in the US landing to the 2 international airports of Puerto Rico, which are San Juan Airport (SJU) and Rafael Hernández Airport, a smaller one in Aguadilla. Additionally, nonstop flights from international destinations such as Montreal, Toronto, Frankfurt, Madrid, Bogotá, Panamá City and San José are operated weekly.  
Cruise: Visiting Puerto Rico on a cruise, or listing Puerto Rico on your cruise itineraries is probably the to-do thing. The San Juan Cruise Port is ranked among the top 20 ports in the world, offering easy access to sightseeing, dining, local culture and more; while Ponce Cruise Port in the south is a fast-growing one, welcoming guests to come and visit many historical sites nearby.     
Where to stay
With developed tourism activities, Puerto Rico has many things to offer when it comes to lodging. You are spoiled for choice between luxury resorts with exclusive services, historic hotels in Old San Juan, paradors (small hotels) in nature reserves, glamping eco-retreats in bird sanctuaries or vacation rentals near the beach or in the mountains. 
Wherever your accommodation is, make sure you check its information and contact the service provider prior to the trip.
What to explore
How can we skip the beach when visiting a Caribbean island! Definitely, there are many beautiful beaches across Puerto Rico. It's up to you to find yourself relaxing on which beach, from the calming one to those with high waves for surfing. 
Check out our recommendations for the best beaches in Puerto Rico here. 
Additionally, you can participate in many other interesting activities if you are looking for an adventurous vacation, not a laid-back one. Have a look at our suggestions here.