With splendid beaches, art deco architecture and vibrant nightclubs, Miami, Florida is truly a "Magic City". Besides the beaches, you will be able to find a large number of high-end shops, delectable eateries and great museums scattered across the city as well as plenty of nightlife options.
[rpi]
The city got the nickname "Magic City" in the 1920s, after a construction boom seemed to have transformed Miami overnight. Today, the city's tropical climate and convenient transportation to Miami Beach and South Beach attract a lot of tourists from honeymooners to families. Besides the beaches, you will be able to find a large number of high-end shops, delectable eateries and great museums scattered across the city as well as plenty of nightlife options.
Below are 8 classic must-visit spots for you all who'd love to discover the beautiful Miami – the city of magic.
Port of Miami
It's a good idea especially for cruise lovers to explore Miami Beach's waterfront on a trip to Miami harbor. This is the largest cruise port in the US and can berth up to 8 giant liners. Around the port area are some smaller marinas and many waterfront cafes and small boat trips.
If you come here at the peak of the holiday season, the drop off and collection areas might be understandably hectic but generally seem to work out fine in the end. The terminal is modern and newly renovated making it super easy to access to your ship.
The port of Miami is a perfect venue for boarding a cruise ship. It is very close to major hotels and a plethora of restaurants that make it convenient to arrive a day or two prior to embarkation. There are plenty of shuttle services to get you to the port from your hotel and a well organized taxi stand to get you to the airport after disembarkation.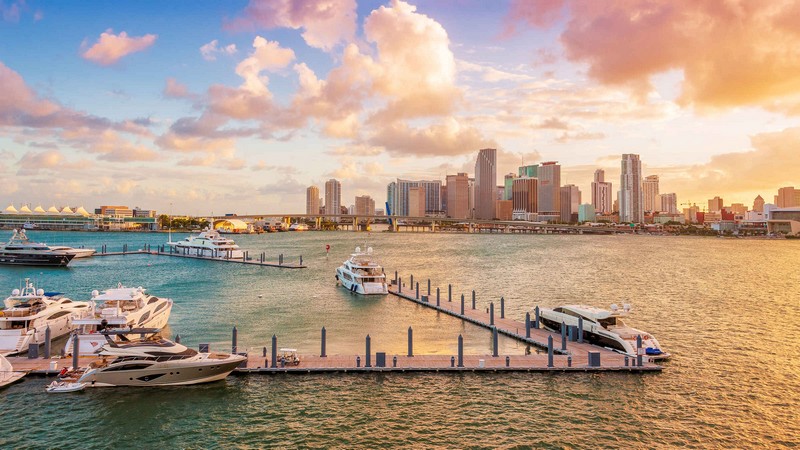 Ocean Drive
Ocean Drive – the most iconic street setting the fashion trends of Miami – located in the heart of South Beach. The fascinating landscape features more than 30 designer brands, such as Guess, Armani, Tommy Hilfiger, and Kenneth Cole. With a clothing boutique around every corner, Ocean Drive has been referred to as the Capital of Cool, due to the youthful fashions and unique accessories that appeal to those who like to stay ahead of the curb.
South Beach, which also has long been known with its Art Deco style, features Ocean Drive – a collaboration of different styles introduced by the different architects of the time. South Beach has come to be known as the Art Deco capital, and rightly so as it is home to the largest concentration of 1920's and 30's resort style architecture in the world. And what better place than the beautiful and majestic coast of the Atlantic Ocean, where the neon lights and bustle of South Beach are shadowed only by the historic architecture?
Besides the exotic architecture, Ocean Drive provides lots of great activities for you. You can start your day at the Art Deco Welcome Center and go on a walking tour on which you will gain an interesting insight into the history and architecture of the area. It's also your chance to visit the many iconic Art Deco buildings here, you'll surely be amazed to recognize a few of Hollywood blockbusters' locations.
After the tour, you can enjoy a meal at the Front Porch cafe, Ocean Drive cafe, or News Cafe. Alternatively, you can go shopping on nearby Lincoln Road and finish up your day by relaxing at the South Beach pool party. Another suggestion for you is renting a bicycle and wandering around since Ocean Drive has many CitiBike rental stations available. There are also many bicycle rental spots along the street. This is indeed a great activity to bond with your family on a Miami trip.
Hard Rock Stadium
If you can, make time to join a fun event at Hard Rock Stadium during your trip to Miami Gardens. Hard Rock Stadium is home to many events such as the Miami Dolphins, the Miami Hurricanes, the Miami Open, world-class soccer, etc. Come watch your favorite teams or band play in our beautiful open-air stadium. Games and concerts under the stars are a great way to enjoy Miami's weather.
The stadium itself is truly a work of art. Make sure to check out the murals and fine art pieces on display when you visit. What's more, the newly renovated Hard Rock Stadium has transformed into the perfect venue for all events regardless of size whether you are planning for an intimate group affair or hosting thousands of people. Host your next event here and experience the quality of service, atmosphere and history that encompasses this world-class destination.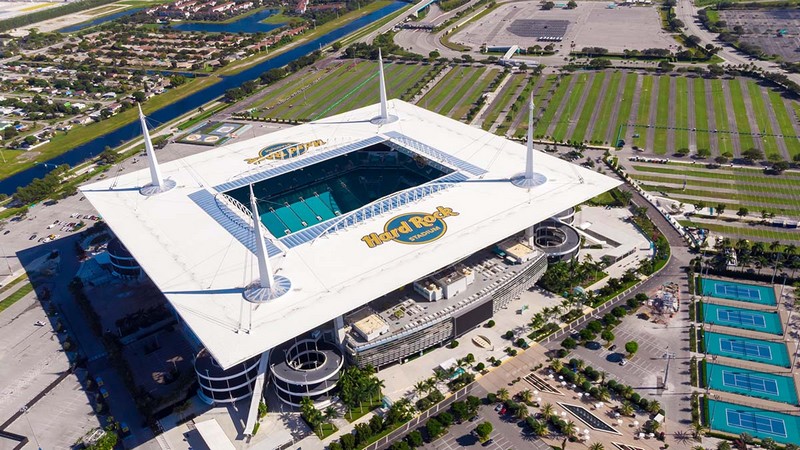 Collins Avenue Shopping District
South Beach is central to the story of Miami's evolution as an arts, fashion, cultural, celebrity and entertainment hub. The Collins Avenue Shopping District has been an edgy fashion mecca since the late 1980s, when the visionary developer Tony Goldman began buying properties and reshaping this beachfront neighborhood with a mix of restaurants, nightclubs, retailers and hotels.
From fashion models to club kids to graffiti artists, Collins Avenue Shopping District draws creatives with its chameleon-like ability to stay on trend. The retail mix appeals to a younger crowd with stores like Zara, Uggs, Free People and H&M. Boutique hotels abound if you are looking for an accomodation, including The Hotel, a completely refurbished property at Collins Avenue and 8th Street.
Miami Beach Boardwalk
The Miami Beach Boardwalk is a must-see when visiting Miami, Florida. It is a beautiful and scenic pathway that stretches from the southern point of South Beach northward for approximately 40 blocks. Walking along the Miami beach boardwalk, you will have beautiful views of the Atlantic ocean on one side and views of lavish South Beach hotels and condos on the other.
The boardwalk is sometimes referred to as the South Beach Boardwalk or Beachwalk since much of it spans through the hottest destinations on South Beach. There are plenty of places to stop and rest or to get a drink and a bite to eat. Feel free to walk or jog along the path and enjoy the beauty of South Beach.
The Miami Boardwalk is one of the most popular and scenic destinations for all Miami visitors and is also enjoyed equally by the locals. The Miami Beach Boardwalk is truly a South Florida gem!
NOTE: No bikes are allowed north of 21st street. Most of the path south of 21st street is bike friendly.
Bayside Market
Located on Biscayne Bay in the heart of Downtown Miami, visitors of Bayside Marketplace can experience the real Miami – home to impeccable international cuisine, fine shops and exotic music in a beautiful, waterfront setting. This two-level, open-air festival center features more than 150 shops including unique and national retailers such as Guess, GAP, and Victoria's Secret, as well as 12 delicious restaurants, such as Bubba Gump, Hard Rock Café, and The Knife. In addition to the numerous shopping and dining options, you can also enjoy live music performances at the center stage every day from Miami's best local musicians.
Bayside is the number one most visited tourist attraction in Miami, with an impressive number 5 ranking statewide. The combination of sunshine with a dose of Latin flavor makes Bayside a feast for all the senses. Make sure you drop by and enjoy a few drinks by the water or hop on a refreshing Bay cruise, from tours of the celebrity homes on Star Island to gambling cruises, fishing and party charters.
Lincoln Road Shopping Center
You can easily access the epic famous Lincoln Road pedestrian thoroughfare from the Beach Boardwalk at which Lincoln Road (which runs East and West) terminates. In the west of Washington Avenue (one block to the west of Ocean Drive and the boardwalk), Lincoln Road features premier shopping, restaurants, and nightlife as well as South Beach classic architecture and Miami style. It is also a cultural hub with the elegant Art Deco – era Lincoln Theatre and incredible music and theatrical productions at the Colony Theatre.
Feel the sunlight on your face and smell the ocean air as you sip cocktails over a tasty dining experience after a day of strolling around the galleries and shops lining the walkway. These one-of-a-kind boutiques, art galleries and trendy shops make Lincoln Road a retail adventure. Best of all, stores and cafes stay open late for a crowd that never sleeps! There's simply never a dull moment on Lincoln Road – a fabulous place to eat, hang out and, of course, shop till you drop!
American Airlines Stadium
Miami's American Airlines Arena is a versatile venue in a vibrant waterfront setting that showcases world-class sports and entertainment. Home to the three-time NBA Champion Miami Heat, the arena is located in the center of downtown Miami. American Airlines Arena ranks among the nation's top 10 venues annually for total ticket sales and among the top five for Latin entertainment. Over the past 15 years, American Airlines Arena has hosted diverse musical superstars such as Marc Anthony, The Eagles, Taylor Swift, Sam Smith, Ed Sheeran and JAY Z, as well as family shows including Disney On Ice, Harlem Globetrotters, WWE and Cirque du Soleil.
The acoustics/sound system here is exceptional and visuals are great. Another plus point is the service is at a high level of quality. When booking tickets it is advised that you book through a third party affiliate site to preview the view from the seat. Once you have done that, all left to do is come and satisfactorily enjoy the show.