Glamping is becoming increasingly popular to visitors who seek for both adventures while camping amidst nature and the comforts of luxury accommodation. From dry isolated deserts and snow-covered mountains to peaceful quiet beaches, the following top 7 glamping sites in the world will ensure that you discover the magic of pristine natural environments. It is a place where you can be immersed in a paradise of haute cuisine, and sip a glass of fine champagne while listening to the sounds of nature harmonizing into a larger piece of natural music under a sky full of stars.
[rpi]
WHITE DESERT
Featuring an average temperature of -250C, it is impossible to imagine that Antarctica can be the most expensive tourist attraction in the world. A ski expedition to Antarctica coincidentally inspired Patrick Woodhead to build the first luxury camp named the White Desert on the most isolated place on Earth. This camp has 6 dome pods; from a distance, they look like giant balls on the white ice in Antarctica. Apart from enjoying the best part of the luxury life in the pods, travellers can marvel at the enchanting scenery of Antarctica, climb the mountain, explore ice valley and mysterious emerald-green ice caves. You will also be taken to Atka bay by private jet to watch 6,000 Emperor penguins and visit the Amundsen-Scott South Pole Station of the United States.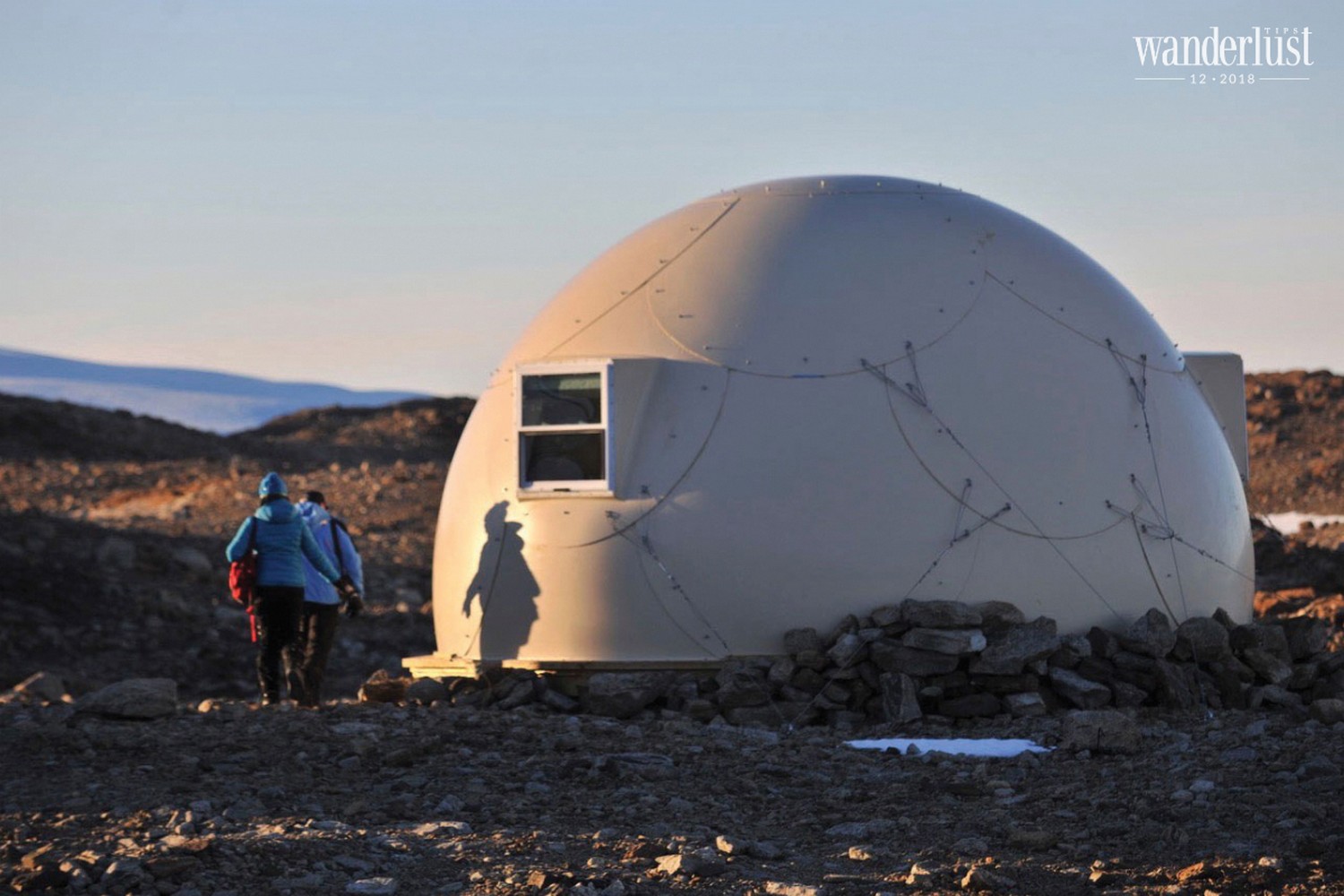 Phone: +44 7900 216 584
Website: www.white-desert.com
Price: USD11,420 (~VND262,000,000) per room per night
LONGITUDE 1310
Longitude 1310, which was honoured to welcome 2 VIPs including the first African American woman to become a billionaire – Oprah Winfrey and Prince William, is the most luxurious Glamping spot in Uluru, Australia. Longitude
1310 has sixteen tented pavilions which feature glass walls offering a 360-degree view of the UNESCO World Heritage site Uluru-Kata Tjuta National Park and Ayers Rock (also known as Uluru). Here, you can go on an exploration trip to learn about the biodiversity of the desert, immerse yourself in the ancient cultures, and listen to the spiritual stories of the giant rock Uluru. Here, you will be granted a chance to try haute cuisine made from fresh ingredients, enjoy retreats at Spa Kinara, leisurely lie on a king-sized bed, and admire the spectacular nature of Northern Australia.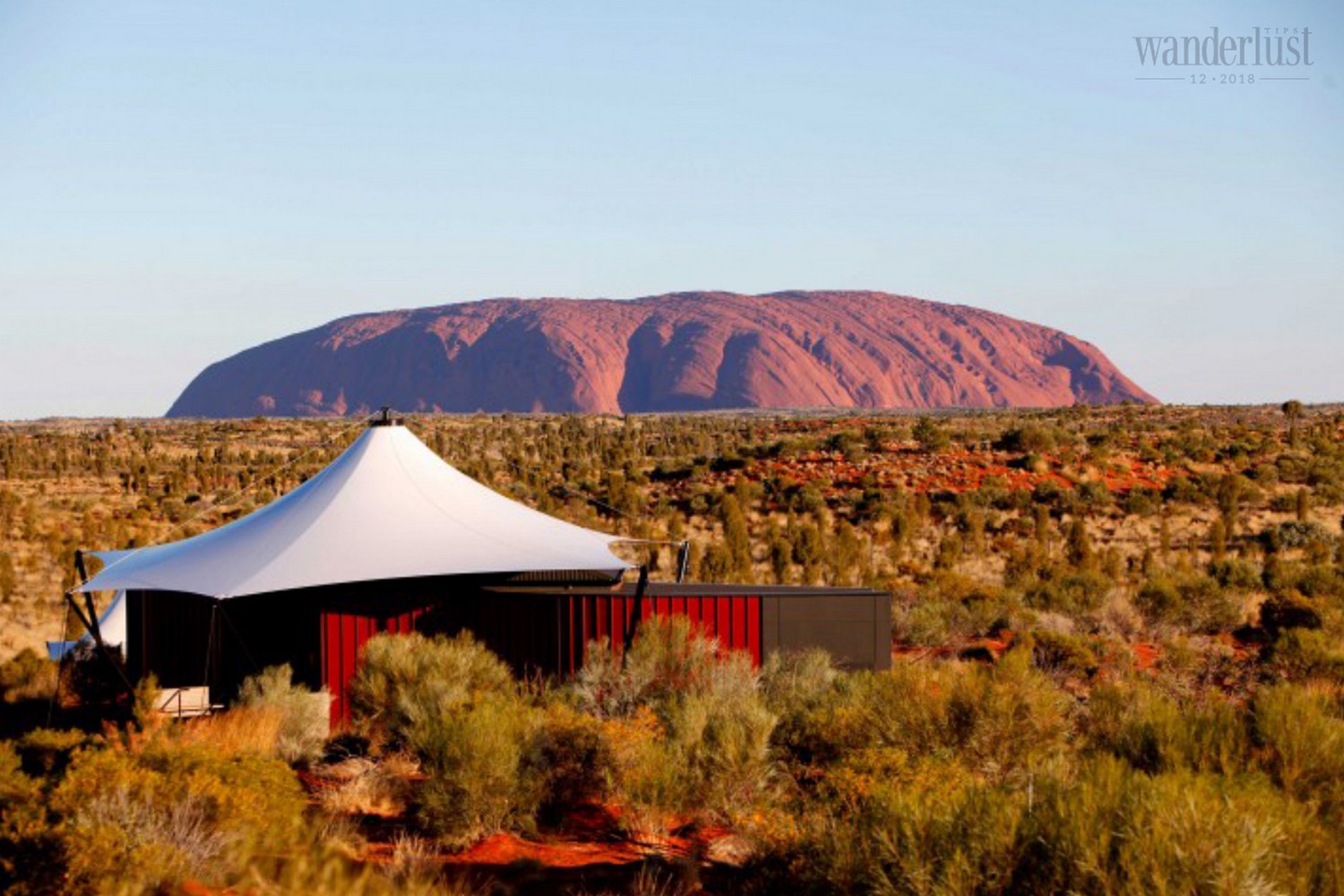 Phone: +61 2 9918 4355
Website: longitude131.com.au
Price: USD4,349 (~VND100,000,000) per room per night
TREASURE TREEHOUSE
Nestled deep in the Brecon Beacons National Park in Powys, England, Trewalter Treehouse, one of the most popular hiking destinations in Europe, also known as the luxurious gem, was built amidst breathtaking landscape. It is also the best place for couples on honeymoon who seek sumptuous luxury. Trewalter Treehouse hovers above the Llynfi river, guest rooms are fully equipped with smart TVs, washing machines, and beautifully hand-carved double beds with cashmere mattresses and Egyptian cotton bedding. The tree house structure harmonizes perfectly with the hills at a distance and the surrounding valley. Sometimes, you can find some chickens wandering around on the green grass. Also, you can visit some famous historical attractions such as Brecon church, Llanthony monastery, and the Crickhowell bridge which was built in the 18th century.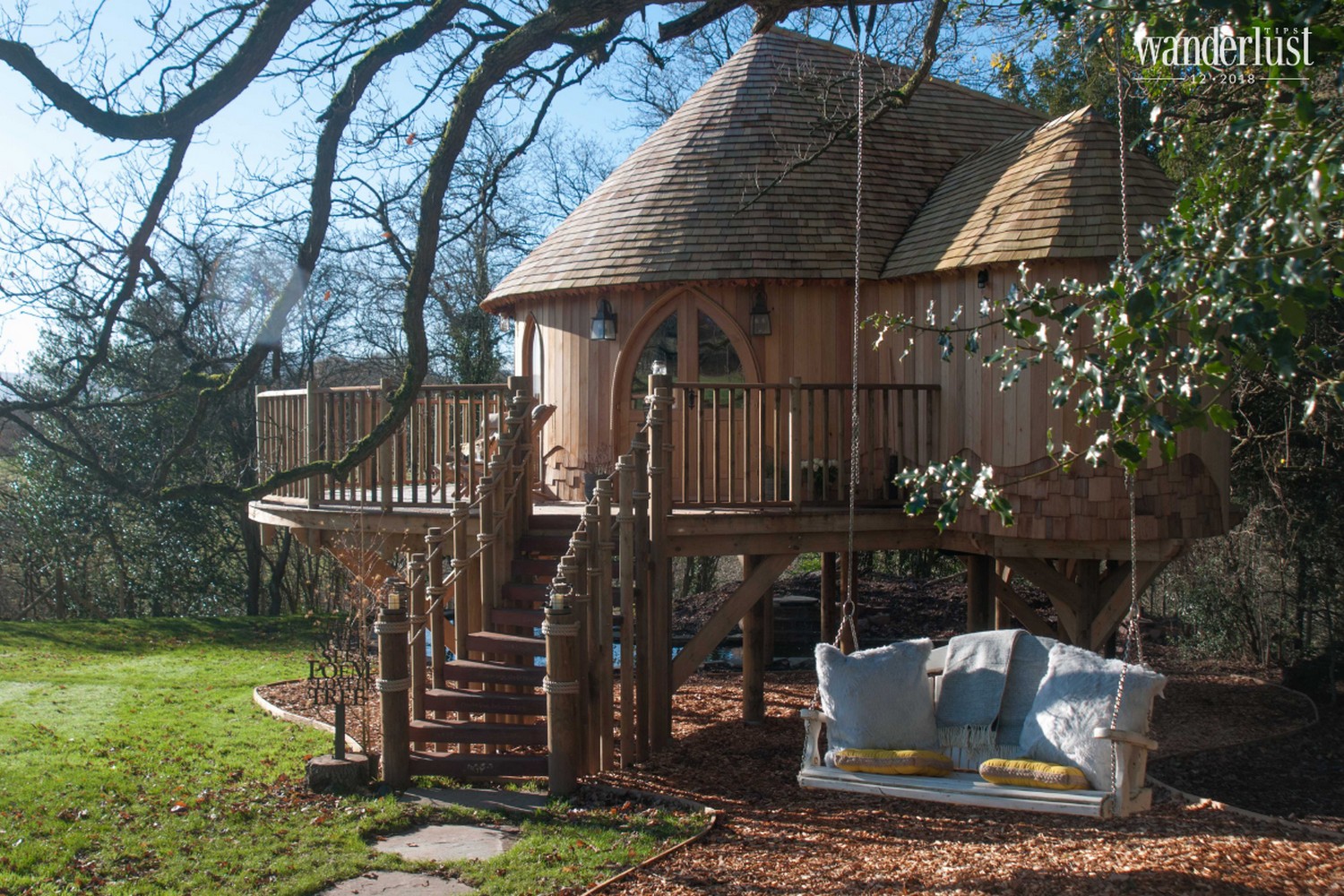 Phone: 01892 75 00 90
Website: www.blueforest.com/commercial-project/trewal-ter-tree-house
Price: USD2,093 (~ VND48,000,000) per room per night
THREE CAMEL LODGE
Located in North China, on the Gobi Desert – a barren land with spectacular natural landscape, Three Camel Lodge is an Eco resort of the Mongolian nomads. It is an ideal destination for those who want to learn about local life. Everything at Three Camel Lodge reflects the surroundings. The furniture is made by the local craftsmen; modern equipment is combined with the traditional decoration of the Mongols. This special resort also offers many activities such as music performances, visits to learn about the history of nomads. Or you can go on a excavation journey to Flaming Cliffs, home to the fossils of ancient creatures from the dog-sized herbivore Protoceratops to the ferocious predator Velociraptor. It is an unforgettable experience to be able to admire dinosaur fossils or sunset on the cliffs. Three Camel Lodge was listed among the world's most unique accommodations by National Geographic Traveller in 2013.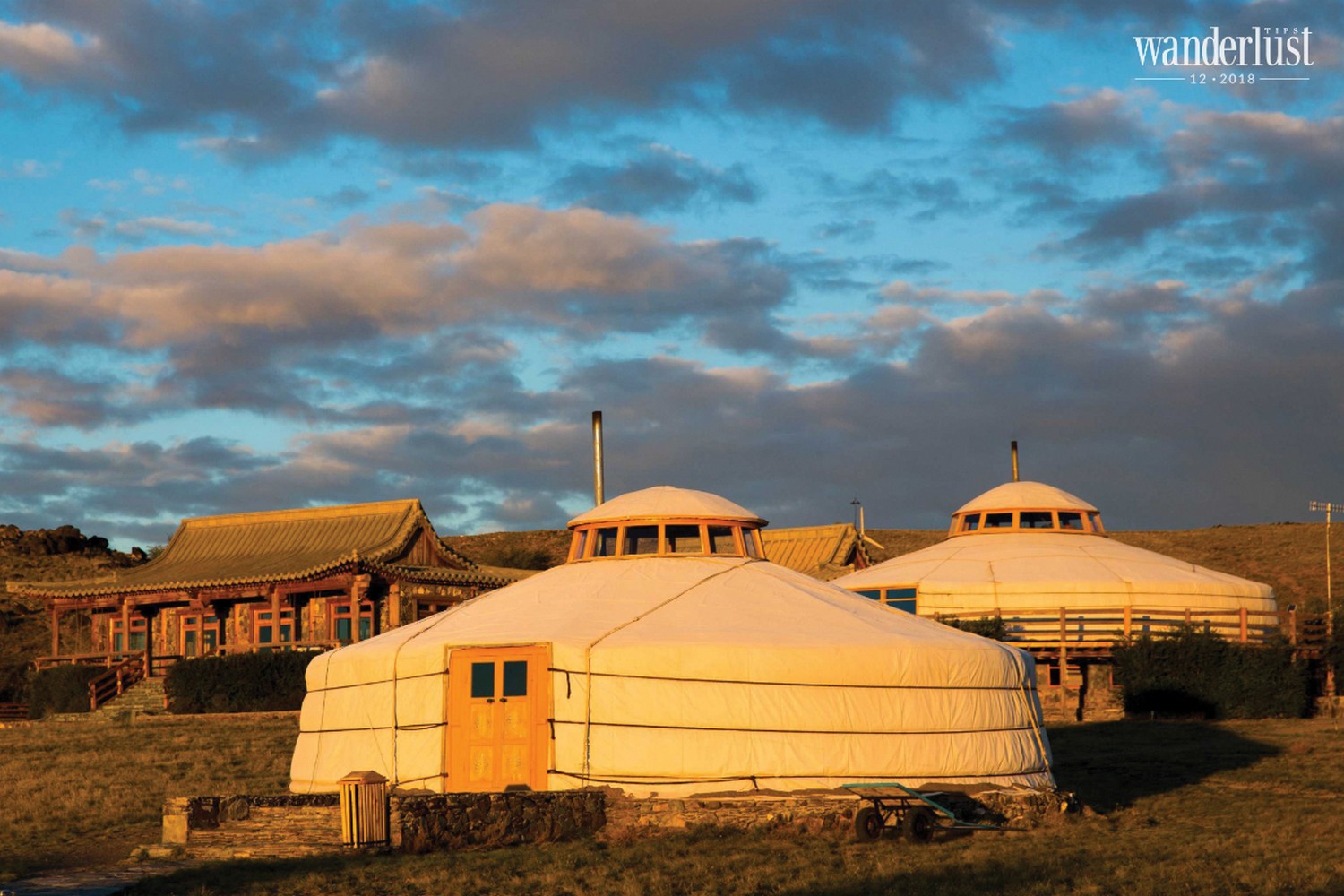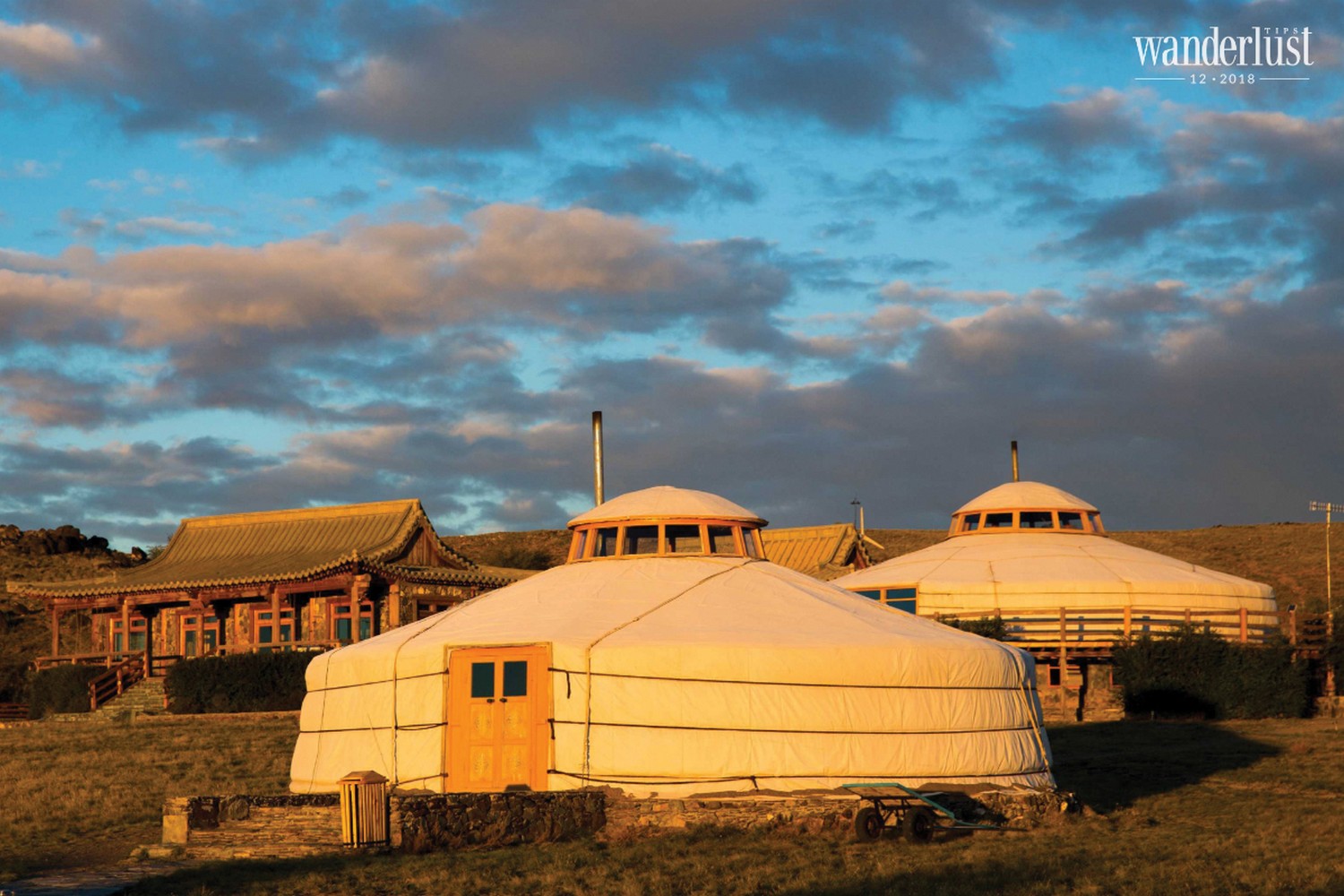 Phone: +1 800-998-6634
Website: www.threecamellodge.com
Price: USD1,700 (~VND39,000,000) per room per night
AMAN-I-KHAS
Located about 10 minutes' walk away from Ranthambore National Park, Aman-i-Khas offers luxury experiences, modern comforts, and special services. This resort has 10 tents which have been decorated in traditional Mongolian style with features such as cotton curtains and all spaciously laid out with separate rooms including a living room, a bedroom, a dressing room, and a bathroom. In addition, Aman-i-Khas has 3 separated tents used as a dining area, spa, and relaxation area. In the morning, you will be awakened by the birds singing or start your morning with yoga poses, then enjoy breakfast made from fresh ingredients grown in organic gardens. The tents are located near Ranthambore National Park, so you will be granted the opportunity to admire wild animals such as tigers, panthers, deers, antelopes, crocodiles, and more than 350 kinds of birds. If you are a nature lover but do not want to give up luxury and comfortable accommodation, Aman-i-Khas is your best option.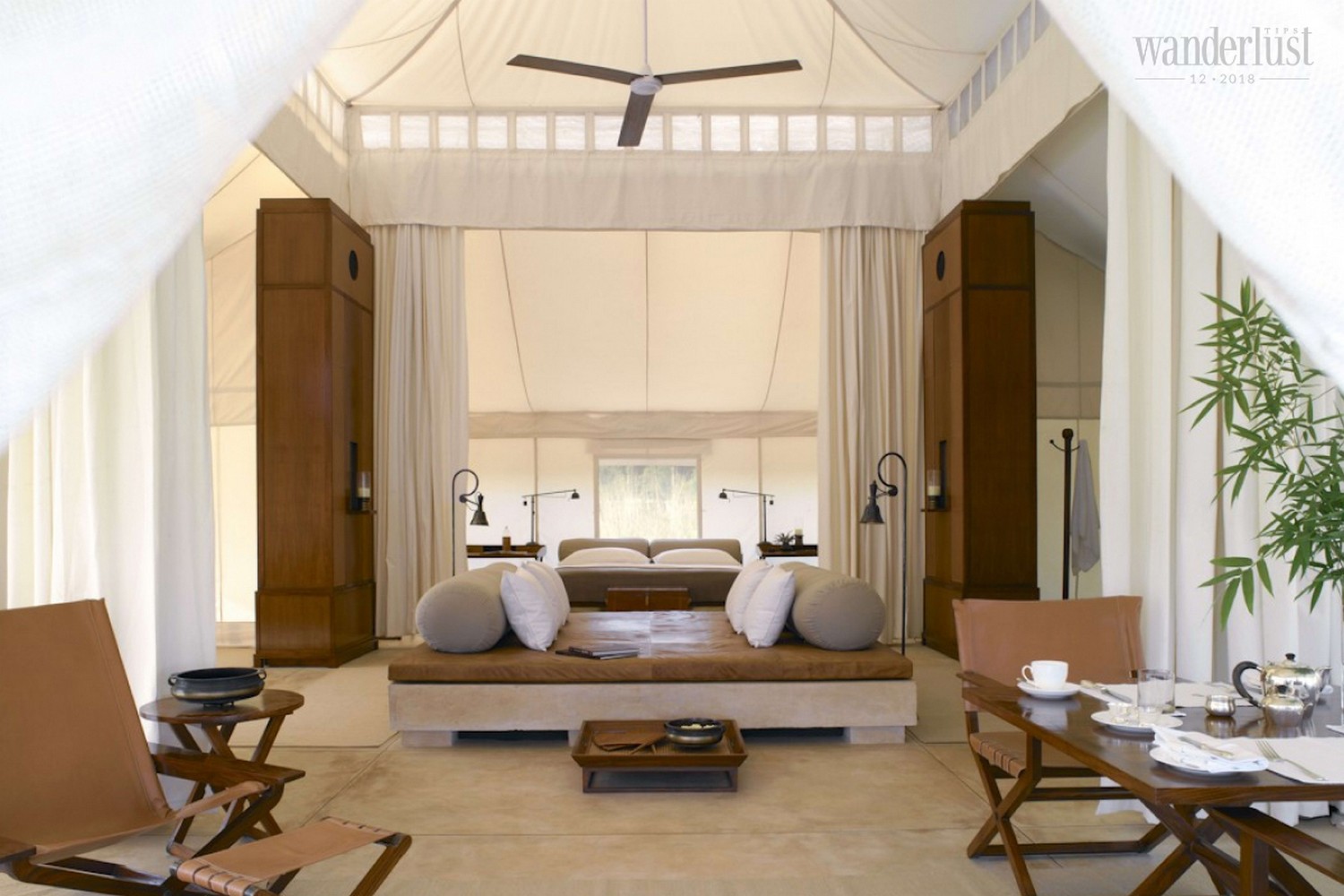 Phone: +91 74622 52052
Website: www.aman.com/resorts/aman-i-khas
Price: USD1,200 (~VND28,000,000) per room per night
WHITEPOD
Whitepod is a paradise for those who love pure beauty. Nestled on the Alps mountainside of Valais, Switzerland, from a distance, Whitepod's guest rooms look like giant snowballs covered by white fabrics in winter and giant green, grass covered balls in summer creating the harmoniously camouflaging with the surrounding scenery. Whitepod preserves the values and pristine beauty of the ecosystem. Whitepod was the winner of the Responsible Tourism Award in 2005 thanks to the use of eco-friendly building materials.
The giant snowballs are all decorated in a simple yet luxurious style with beautiful bedspreads and elegant bright wooden floors. This glamping site is a perfect destination for a family vacation, offering many interesting seasonal activities such as skiing in the winter or strolling on the green grass, biking or mountain climbing in the summer.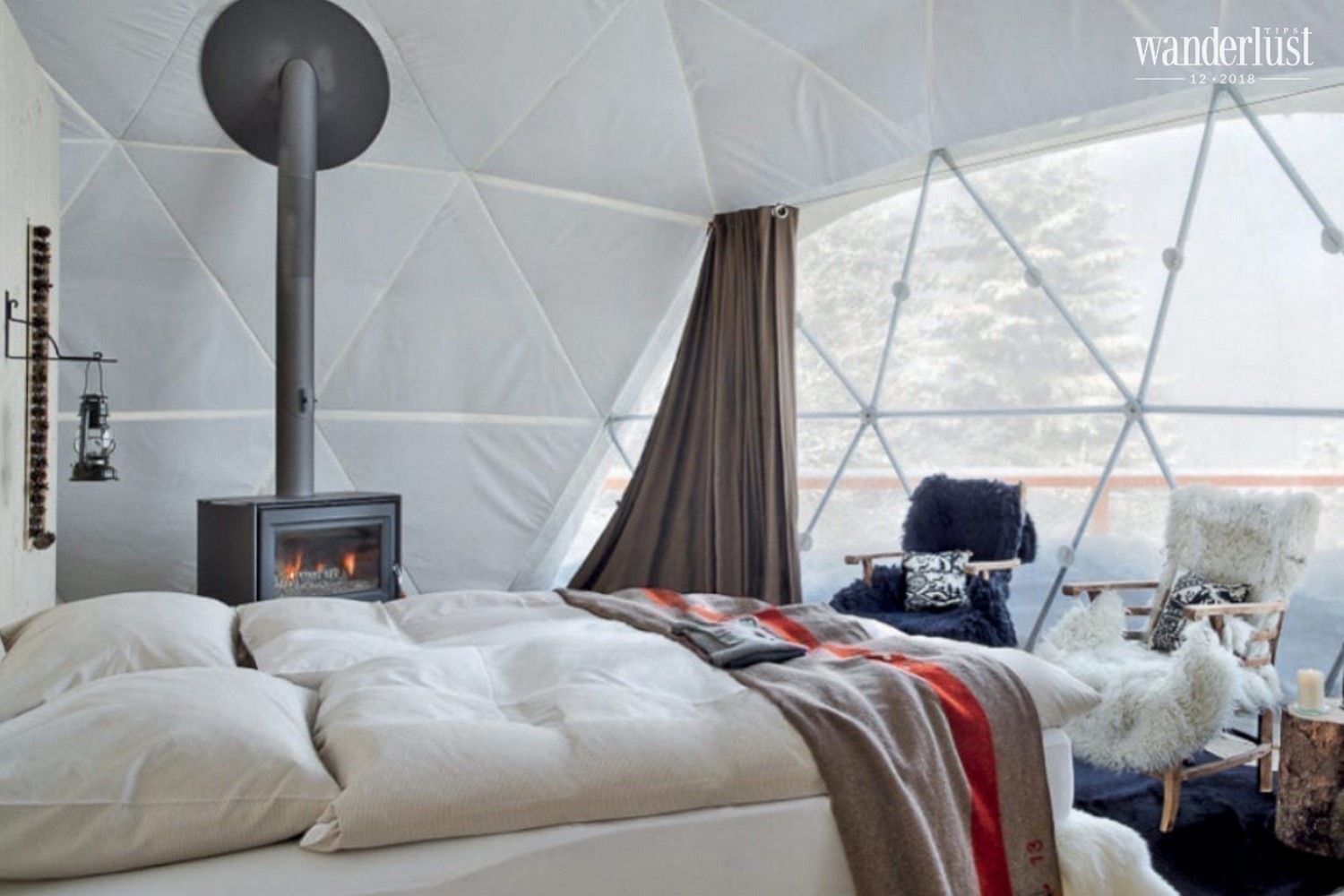 Phone: +41 24 471 38 38
Website: www.whitepod.com
Price: USD1,100 (~VND24,000,000) per room per night
THE DUGOUT
If you are seeking accommodation with features that highlight environmentally-friendly architecture, The DugOut meets all of the mentioned criteria. The earth houses which are nestled on the Orcop Hill will grant you the opportunity to immerse yourself in the surrounding nature in Herefordshire. Most tourists come here to enjoy a peaceful life of simplicity, which we unluckily miss out on as citizens of the busy city life. Every room has glass windows offering a great view of the peaceful countryside. The kitchen, dining and resting area, and the double bed for two people are all made of local materials. The tub is designed and arranged next to a bookshelf, allowing you to soak into the hot water while reading your favourite books and sense the gentle pace of life. Stepping out of the room, you will be overwhelmed by the blue colour of the sky and the pureness of the atmosphere. This resort will promise to satisfy all your senses.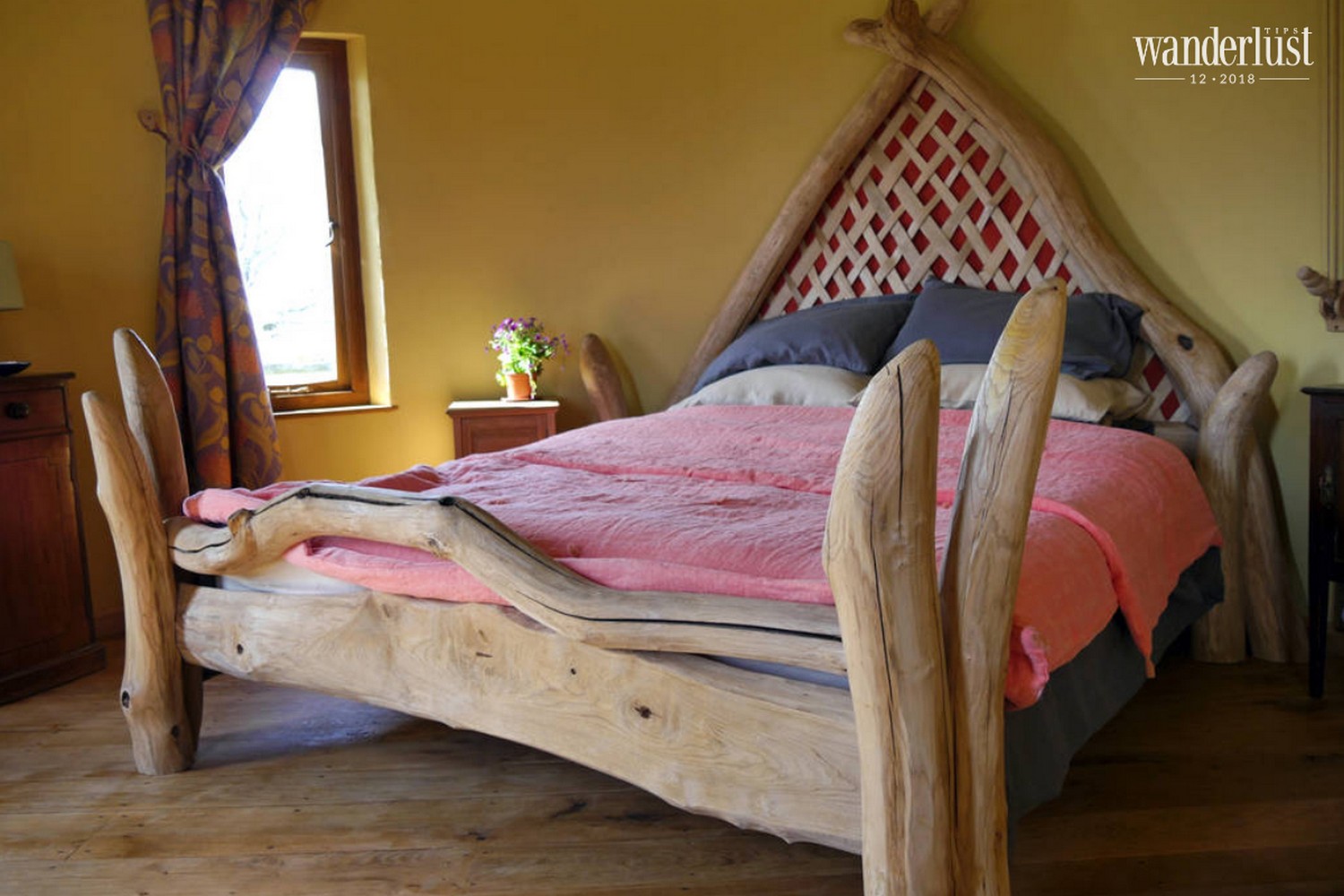 Phone: +44 7546 339015
Website: lifeonthehill.co.uk
Price: USD434 (~ VND10,000,000) per room per night
Oanh Kim | Wanderlust Tips