Known as the coolest city in Texas, Austin nurtures a world-class live music scene, mouth-watering cuisine and chic bars ranging from party spots to date spots and after-work spots. Pack your summer gear and soak in the sun on these seven best rooftop pool bars in this city on your travels.
[rpi]
LA PISCINA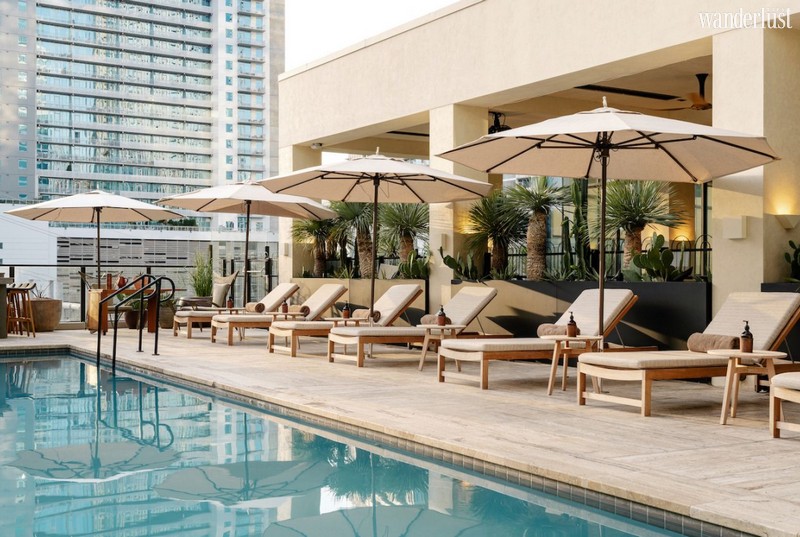 Located on the 5th floor of the Austin Proper Hotel, La Piscina is a convivial poolside restaurant and bar serving Texas-inspired Mexican cuisine. The vibrant, open space overlooks the downtown Austin bustle as groups convene over family-style platters, ceviches and table-top sizzling fajitas, with fresh seafood grilled over a wood fire and house-made tortillas from an open comal. The bar provides an accompanying selection of frozen margaritas, native Mexican spirits, small-batch tequila & mezcal as well as an assortment of outdoor-friendly snacks.
Address:
Austin Proper Hotel, 600 W 2nd Street, Austin, Texas 78701, USA
Opening hours:
11am – 10pm
WET DECK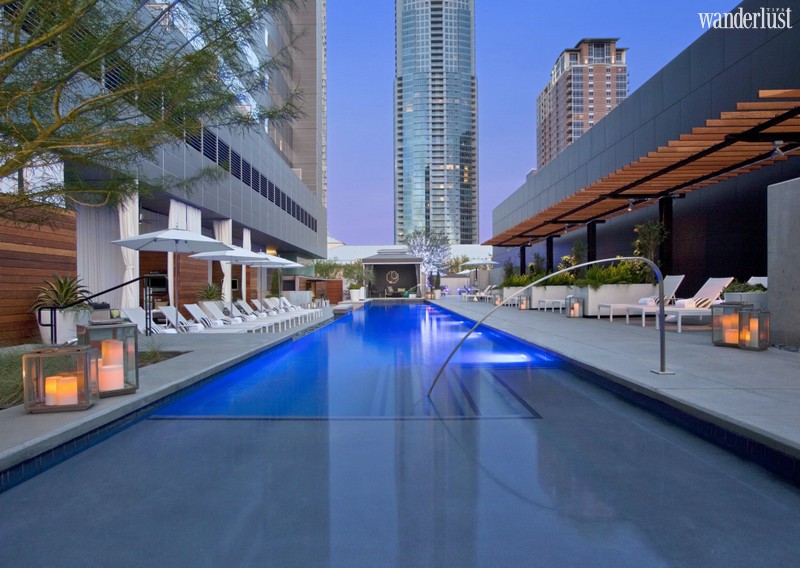 Whether spending a day relaxing while sipping on special cocktails or looking for a spontaneous day party, Austin's WET is the place to be. The outdoor pool and cabana scene allow hotel guests and locals to get their heads right and have the experience of a lifetime. This 4th-floor oasis draws swimmers, sun-chasers and social butterfiles with its tempting array of private cabanas, chaise lounges, tanning shelves, a pair of outdoor showers and a fireplace to keep chilly Austin evenings at bay.
Address:
200 Lavaca Street, Austin, Texas 78701, USA
Opening hours:
Monday – Thursday 11am – 6pm, Saturday – Sunday: sun up – sun down
RULES & REGS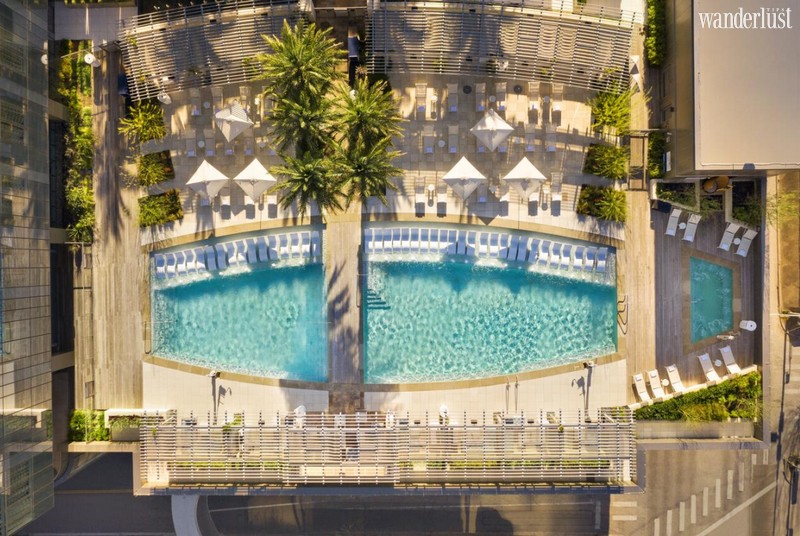 Located on the 7th floor and overlooking Austin's cityscape, Rules & Regs brings Miami breeze to downtown Austin, with resort-style amenities and skyline backdrop. Aside from a huge pool, there are also plenty of sun loungers and cabanas available, even on weekends. The restaurant and bar serve fresh flavours with a taste of the tropics, plus plenty of summer-inspired cocktails. The whirlpool is the best spot for people to watch.
Address:
101 Red River Street Austin, Texas 78701, USA
Opening hours:
Thursday 5pm – 12am, Friday 3pm – 1am, Saturday 10am – 1am, Sunday 10am – 5pm
GERALDINE'S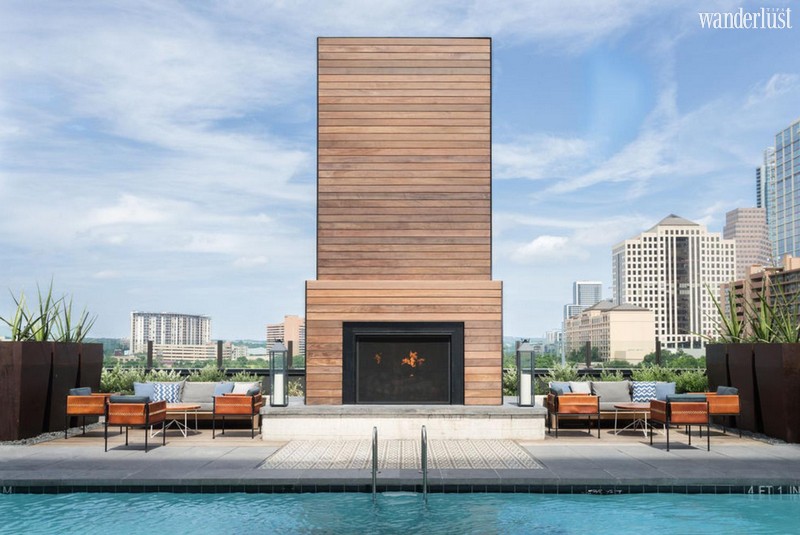 Sitting adjacent to Hotel Van Zandt's rooftop pool, Geraldine's is upscale luxe blended with local studio charm. Here, you will find a straight-up Texas-style, enjoy the live music, traditional Texas cuisine, skillfully executed cocktails, delightful beers and drink specials. If you are up for some adventure, grab some friends and order a feast. Summer pool parties featuring DJs are frequent.
Address:
605 Davis Street, Austin, Texas 78701, USA
Opening hours:
Tuesday – Thursday 5.30pm – 9.30pm, Friday – Saturday 5.30pm – 10pm
GROUP THERAPY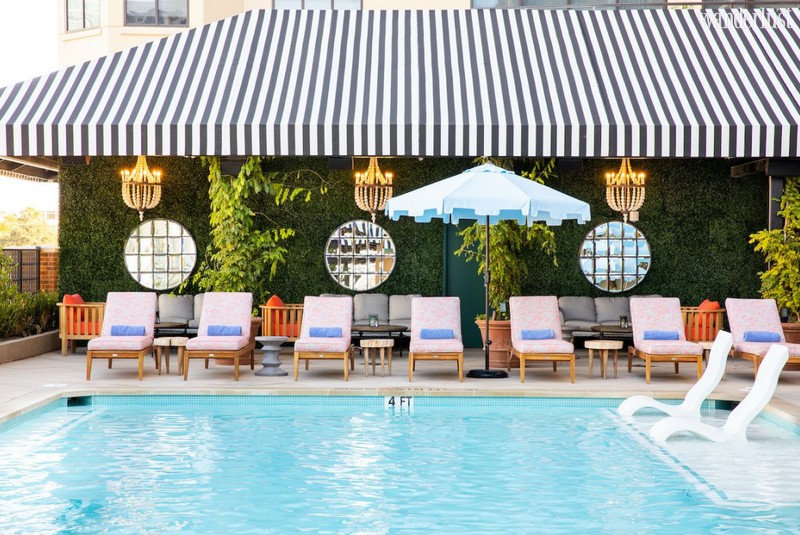 After a long day in the office or sightseeing, Group Therapy, Hotel ZaZa Austin's sky bar and restaurant should be on your travel bucket list. Located on the 7th floor, overlooking the comfortable pool and Republic Square Park, the venue offers all-day inside dining, plus bites and drinks outside on the canvas-covered terrace Cabana Bar. Additionally, two full-service restaurants and two distinctive lounges offer an ideal setting for a night out. From an intimate date night in a chic dining space to a casual day at the pool bar, Group Therapy's dining outlets are perfect for every occasion.
Address:
400 Lavaca Street Austin, Texas 78701, USA
Opening hours:
Monday 4pm – 11pm, Friday 3pm – 1am, Saturday 2pm – 1am, Sunday 2pm – 11pm
ZANZIBAR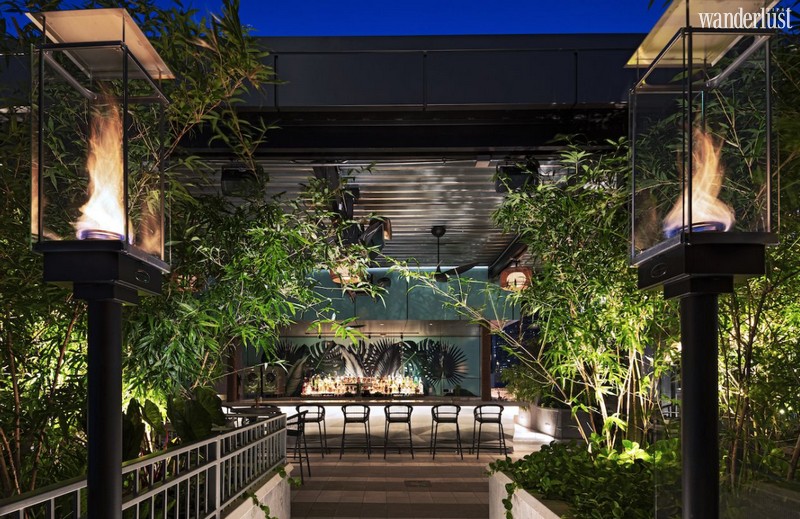 If you are looking for a nature-inspired bar in downtown Austin, you should pay a visit to Zanzibar. The concrete jungle transforms into a tropical jungle as you ascend seven stories up onto the rooftop terrace and pool. The bar menu features a wide selection of photogenic modern cocktails and island-inspired small plates such as sushi burritos and duck egg rolls. Many of their concoctions are influenced by spices grown on the island of Zanzibar, which was once the largest exporter of spices in the world.
Address:
304 E Cesar Chavez Street, Unit 700, Austin, Texas 78701, USA
SOUTH CONGRESS HOTEL ROOFTOP POOL & BAR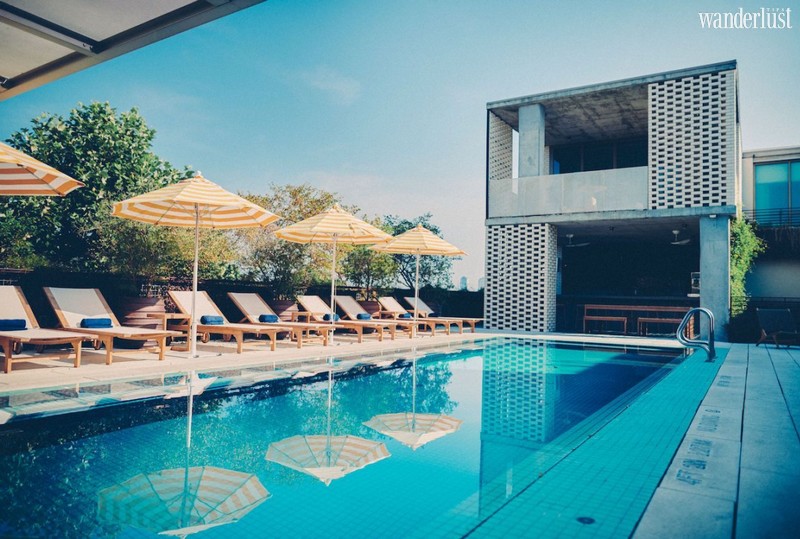 For those discovering outside of downtown Austin, head to the South Congress neighbourhood for a hidden oasis up on South Congress Hotel's rooftop. Surrounded by lush green gardens, the rooftop pool bar is a truly urban retreat where you can relax in the sun and enjoy poolside food and drinks provided by the on-site restaurant, Café No Sé. Non-hotel guests can access the pool with daily passes, from Monday through Thursday.
Address:
1603 South Congress, Austin, Texas 78704, USA
Opening hours:
7am – 10pm, daily
Wanderlust Tips