Dubbed as the Ocean State, the US smallest state of Rhode Island is home to a more than 400-mile coastline with stunning white-sand swimming beaches, year-round cultural attractions, top-notch restaurants and some of the finest historic architecture, galleries and museums in the US. If you are looking for a classic New England experience, Rhode Island is worth a visit.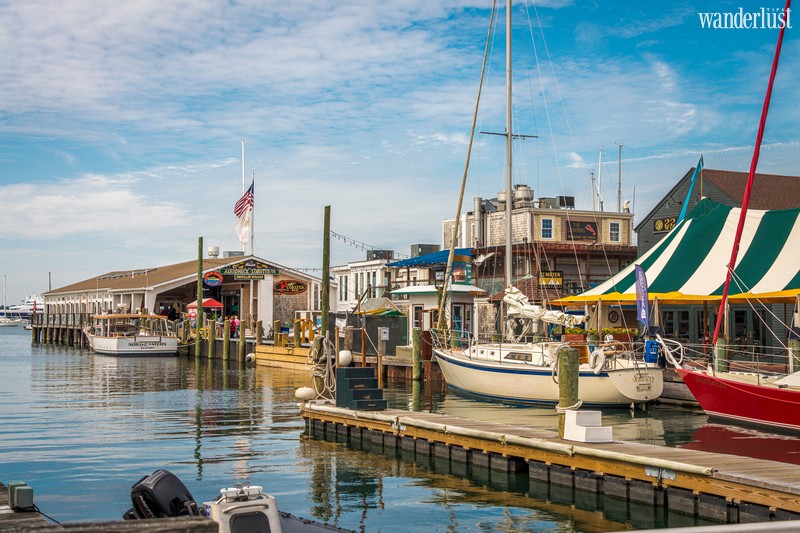 Rhode Island officially the State of Rhode Island is a state in the New England region of the United States. Despite the name of Rhode Island, most of the state is on the mainland with the capital of Providence. From stunning beaches, museums to the Newport Mansions and award-winning Roger Williams Park Zoo to quaint Colonial villages and lush fields of berry farms, Rhode Island is wonderful and well worth your time.
BEST TIME TO GO TO RHODE ISLAND
While you can really go any time of year, the spring and summer when the weather is mild to warm and nature is at its best are best for a perfect trip with fun outdoor activities. Winter and fall visits are also enjoyable but you will have less time outdoors.
TRANSPORTATION TO RHODE ISLAND
From New York City, you can easily get to Rhode Island by many means of transportation including train, bus, car or plane. If you want to save your time and spend more time exploring Rhode Island, a plane is the ideal mean of transportation to reach the Ocean State.
THINGS TO DO IN RHODE ISLAND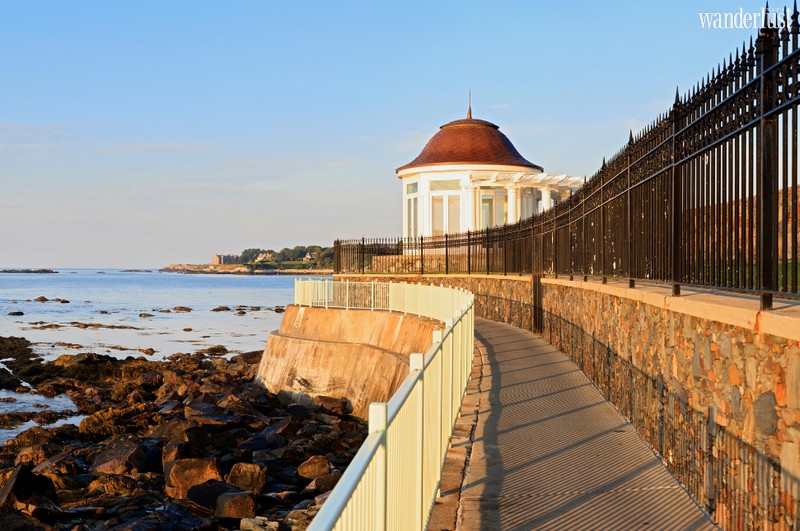 Visiting Rhode Island, you should not miss stunning attractions that will leave you in awe.   
Monhegan Bluffs Beach – the beach providing natural shelter and a beautiful vista and surrounded by natural bluffs.
Address: New Shoreham, RI 02807
Misquamicut State Beach – the most popular beach in Rhode Island stretching along several miles of beautifully maintained shoreline and having a ton to do for antsy families.
Address: 257 Atlantic Ave, Westerly, RI 02891
Roger Williams Park Zoo – a 150-year-old conservation and education zoo, featuring hands-on experiences for animal lovers of all ages.
Address: 1000 Elmwood Ave, Providence, RI 02907
WaterFire – an iconic art installation that frankly defies the explanation of "a bunch of metal basins are lit on fire and floated down the river'.
Address: 4 N Main St, Providence, RI 02903
The Breakers – the most famous of the Newport Mansions owned by the Vanderbilts and a stunningly preserved Gilded Age museum with a self-guided audio tour.
Address: 44 Ochre Point Ave, Newport, RI 02840
Cliff Walk – meandering along some of Rhode Island's most gorgeous coastline, with views of the ocean and famous Newport Mansions.
Address: Cliff Walk, Newport, RI 02840.
Ocean Drive Historic District – a famous 10-mile drive around the circumference of Newport, the Ocean Drive for architecture, history, and nature lovers.
Address: Newport, RI 02840
Newport Art Museum – a museum housed in one of the Newport Mansions with a lovely collection and exhibitions that change every few months.
Address: 76 Bellevue Ave, Newport, RI 02840
Besides, immersing yourself in birdlife at Sachuest Point, walking in the Majestic Streets of the East Side of Providence or feeding your inner explorer at Biomes are also must-try experiences while exploring Rhode Island.
RHODE ISLAND CUISINE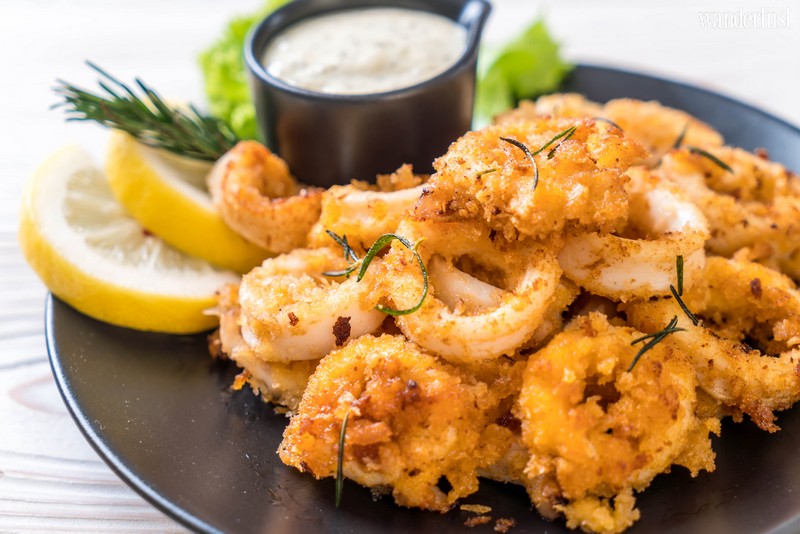 No trip to Rhode Island would be perfect without trying local or regional foods. Treat yourself to a plate of Calamari that is very lightly battered, fried or sautéed and served with a mix of garlic butter and hot cherry peppers. Big fans of seafood should not miss lobster ravioli that you can easily find in many restaurants in Rhode Island, Venda Ravioli – a gourmet Italian market or Dave's Market. In addion, one of the must-try food when visiting the state is pizza strips which are strips of focaccia-like dough topped with a thick tomato sauce. They are served at room temperature and are available at most local bakeries and markets.
Remember to order for dessert with a cup of Del's lemonade – the frozen lemonade with a variety of flavors including mango, peach and watermelon. And do not end your trip without trying Zeppole – small balls of fried dough topped with powdered sugar or cinnamon sugar and usually a cherry.
ACCOMMODATION IN RHODE ISLAND
Rhode Island offers fantastic hotels with excellent service and full of facilities. Travelling to the state, you are suggested to stay in hotels located in big cities such as Newport, Westerly or Providence. Spend your holiday in Weekapaug Inn hotel, Ocean House, Hotel Providence, The Chanler at Cliff Rock hotel or The Francis Malbone House in order to enjoy romantic and luxurious New England getaways.
WEATHER IN RHODE ISLAND
Rhode Island has four seasons in a year that gives travellers various unique experiences when visiting the state. Spring in Rhode Island can be quite rainy with the average temperatures ranging from -1°C at the beginning of the season to around 22°C at the end. Summer is balmy and humid with temperatures from 12°C to 32°C that are appropriately perfect for the beach experience. While fall is cool and comfortable in Rhode Island, with average temperatures ranging from 0°C to 26°C, winter can get very cold, and snowy with temperatures ranging from -6°C to 7°C.
WHERE TO GO SHOPPING IN RHODE ISLAND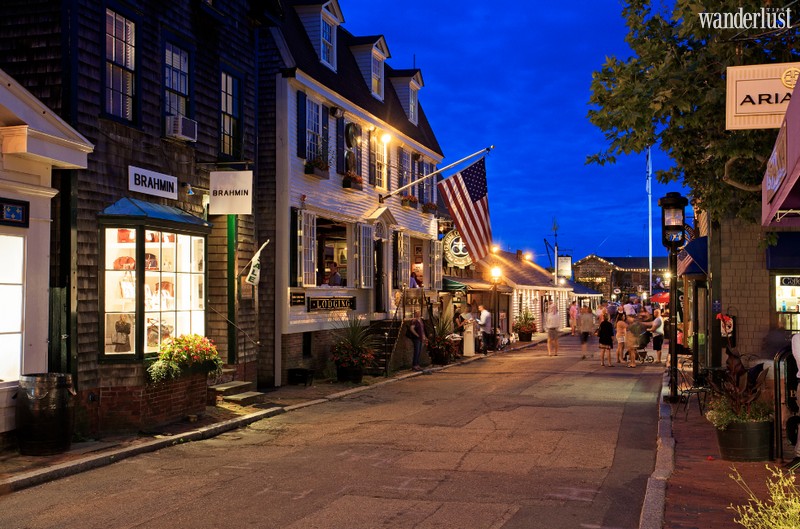 Rhode Island offers a collection of stores and shops for tourists to freely indulge in the shopping paradise. Do not miss famous shopping spots on your trip to Rhode Island.
Bannister's Wharf – the outdoor shopping plaza featuring 24 local gems, high-end shops, beautiful galleries, and the Candy Store Cup regatta every year.
Address: 1 Bannister's Wharf, Newport, RI 02840
Aardvark Antiques – an antique hunter's dream, and pretty fun for people who like odd, vintage, or interesting things with incredible collection of 30,000 square feet and conceivable genre of antique.
Address: 9 JT Connell Hwy., Newport, RI 02840
The Fantastic Umbrella Factory – a fun, funky bazaar consisting of eight locally owned boutique shops, the Small Axe Cafe and Lunch Box Food Truck.
Address: 4820 Old Post Rd., Charlestown, RI 02813
The Arcade Providence – an 1828 shopping arcade that is now home to local boutiques, restaurants, and micro-loft apartments for architecture buffs.
Address: 65 Weybosset St., Providence, RI 02908
TRAVEL TIPS TO RHODE ISLAND
Rent a car and have your own ride to have the most enjoyable experience when exploring Rhode Island beyond Providence.
The Ocean Drive is gridlocked by noon, but pleasant at 8 a.m, therefore, you should avoid the noon when making a plan to the Ocean Drive to have the best trip.
If you are considering the travel budget, spending part of it outside of Providence will be a cheaper vacation for you.
Rhode Islanders are friendly, and some of the states share an accent with Boston.
Wanderlust Tips