Myanmar once was considered a war-torn country, but now due to its political reform, after years of being isolated and closed tightly, Myanmar remains one of the most untouched places in the world. Myanmar is truly an experience, quite unlike anywhere else. This place is pure magic. Endowed with picturesque landscapes, a tropical climate, unique architecture and rich, diverse culture, it is no exaggeration to call this country a hidden gem of Asia.
[rpi]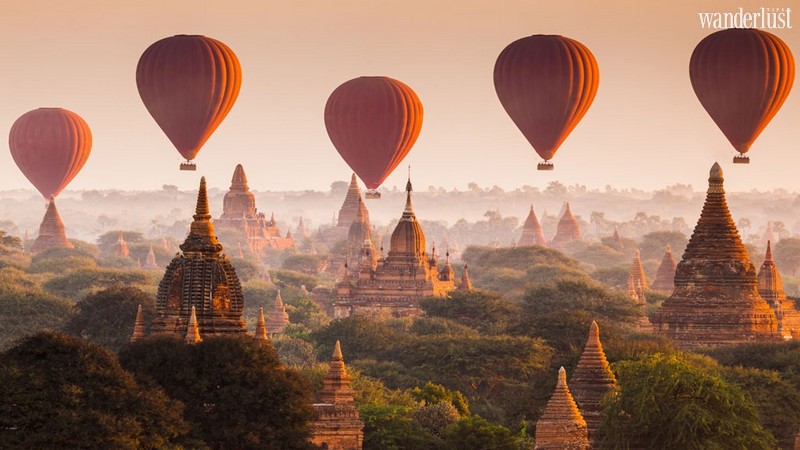 We – 3 girls in our mid-20s – struggle every day with work, lack of sleep, traffic jams, family, relationships, constantly pushing ourselves to get through the days. Our lives would still be trapped in that endless cycle if we hadn't one day suddenly wanted to slow things down. We started to wonder who we really are, what we really want to do, and where we really want to go from here. We don't want our youthful and carefree days to just slip away. So, after much consideration, we decided to drop everything and go.
We set off on our get-away trip to a magical place in late spring, following the classic route: Yangon – Bagan – Mandalay – Inle over six days.
A tour to the past in Yangon
Our first stop was Yangon, the former capital of Myanmar. Yangon is jumping into a time machine, turning back the clock and travelling to the past. Everything here has the charming vibe of days gone by – from the old facades of the colonial architecture to the locals' habit of chewing betelnut.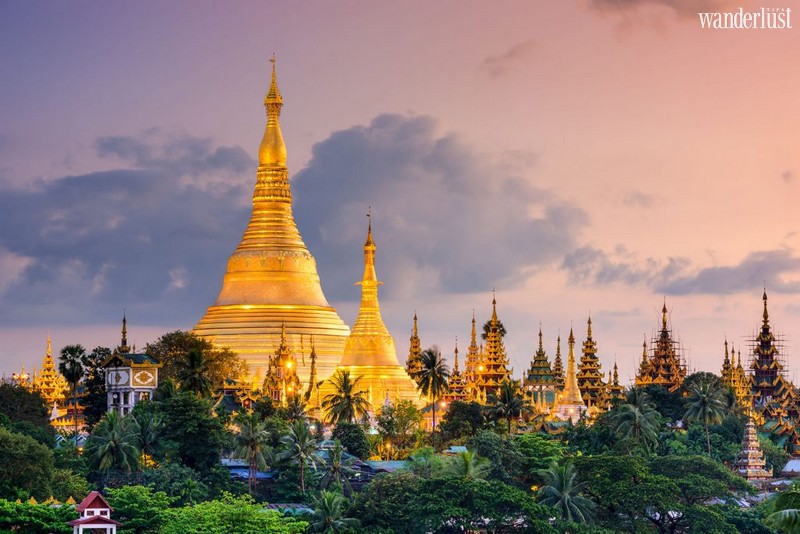 Buddhism has been the dominant religion here. You can see it in the magnificent religious monuments – golden pagodas encrusted with jewels and gems. Besides wearing the Longyi – the traditional costume of Myanmar, everyone also has Thanaka dabbed on his or her face, which is a yellowish-white herbal powder to block the skin from the sun. Both have been part of the Burmese culture for thousands of years and are still being kept intact.
Despite its old appearance, Yangon is a bustling city with food vendors, bookstores, restaurants and buzzing open-air markets. Downtown Yangon is filled with the fragrance of jasmine and the scent of food. Everyone here seems laid back when they comfortably have breakfast or read the newspaper. Despite the rough life circumstance, the Burmese remain one of the happiest people in the world. We spent a day wandering around every corner of the streets.
At the market, we bought some lovely small bundles of jasmine flowers, tried to put on the Thanaka and had a taste of Shan noodles (a traditional dish combining fish and curry seasoning). After that, we sat by the roadside, had a sip of hot tea in Chinatown, and observed the locals as they went about their daily life. It's definitely a perfect hideaway for those looking for some low-key downtime.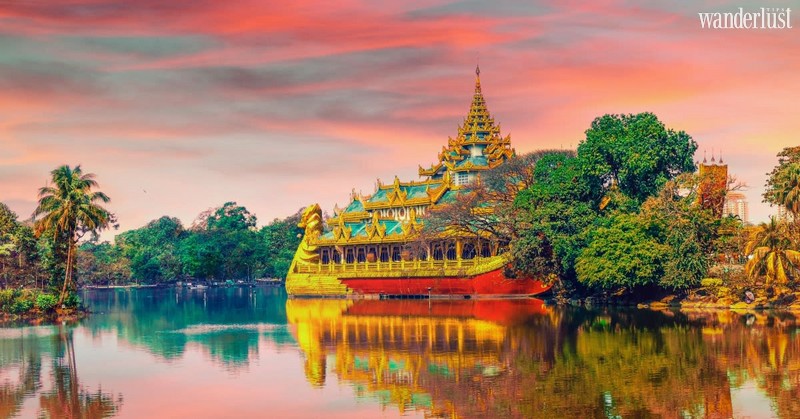 Sunrise in Bagan
We left Yangon and moved to our next stop – Bagan. There are many ways to get there but we decided to take an overnight bus because it sounded like a better choice than to travel by plane or by train. In Bagan, we stayed at Blazing Hotel. A small and lovely hotel with balconies, bamboo chairs, a garden and bicycles. The host and staff were helpful and hospitable.
Bagan is renowned for its temples, pagodas and historical sites. It's estimated that 13,000 temples and religious monuments were constructed during the golden age and more than 2,000 temples still survive until today. The beauty and uniqueness of these religious structures are second to none. These monuments take a variety of forms and everything seems to have a great story behind it. It's a reflection of cultural values and historical traditions.
The next thing we did was visiting Shwesandaw Pagoda – the most famous sunset viewing spot in Bagan, following a suggestion from our local guide name Minthu. " If there were a list of 101 things to do before you die, this would be one of it", he said. And Minthu was right. We three girls, at the crack of dawn, still half asleep, climbed the steep stairs barefoot. We couldn't believe how blessed we were to have a chance to witness this miraculous moment!  
Dawn sent its warm, rosy glowing sunlight through thick grey clouds to announce a new day.  Birds singing in harmony with the temple bell made for a sweet, melodious sound. We sat there, unwound our minds and stared deep into the horizon. This peaceful atmosphere soothed our soul so much. Looking down from the peak of the temple, we had a panoramic view of the landscape. It was outrageously beautiful. Our eyes sparkled with what we saw. Gilded pagodas shimmered in the sun with their incredibly golden surface. Hot-air balloons dotted the sky, gracefully floating over miles of temples and ruins around the city.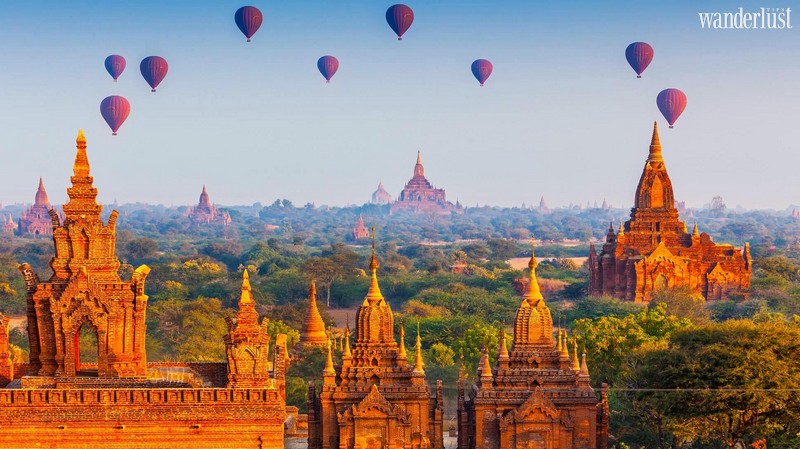 I asked Minthu, and he let us know that the cost for a 45-minute hot-air balloon ride was 250$, expensive but still something worth considering.
Under the blue and sunlit sky, we cycled around Bagan and ventured into some thousand-year-old temples to experience the spirituality of this land. Golden leaves laid on the ground and dazzling warm sunlight created a perfectly romantic setting.
When in Myanmar, don't forget to try the Burmese sweet milk tea. It has been part of Burmese culture for a long time and is drunk daily. This routine may be the result of the British colonial era. For the Burmese, tea is their most sociable drink. They drink it at any given time. But they usually gather around at 3 – 4 pm to have another cup of tea while having a little chitchat before getting back to work.
Night comes quickly in Bagan and we headed to a local restaurant named Monsoon to have dinner. Burmese cuisine is heavily influenced by Chinese cooking methods. The food is a little greasy and spicy, but delicious. While we were eating there was a water puppet show. I've heard from someone that in this conservative country, puppet shows are a way for people to express their opinions without feeling intimidated
Checking in at U Bein Teak Bridge, Mandalay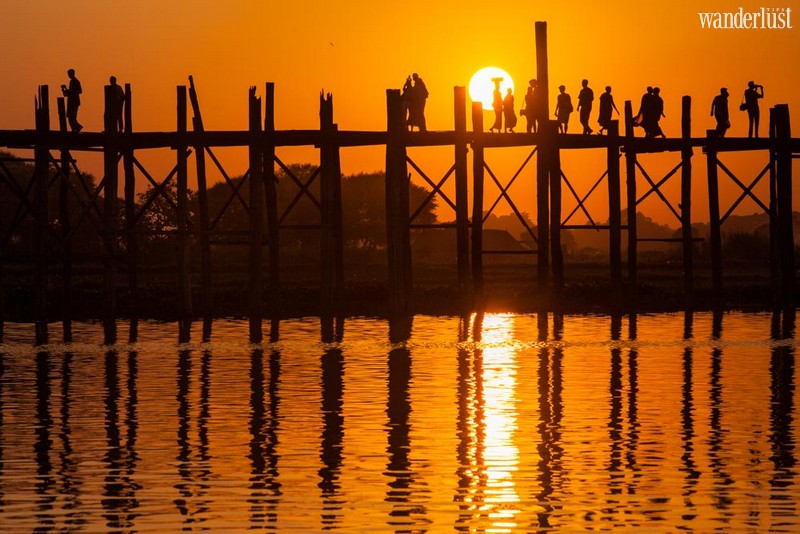 Mandalay is Burma's cultural hub and the religious centre of Buddhism. It was founded in 1857 by King Mindon. The name Mandalay is a derivative of a Pali word meaning City of Gems. Among the many ancient capitals in Myanmar, Mandalay is a relatively new city. But it is also the richest historical landmark after Bagan. U Bein Teak Bridge is one of the highlights of a visit to Mandalay. It is the longest teak bridge in the world and the most wonderful place to watch the sunset in Myanmar.
One of the greatest pleasures here is to visit the U Bein Bridge in the late afternoon, when you can watch the glorious sunset and observe crimson-coloured robbed monks slowly making their way back to the monastery. A deep sense of serenity overcame us as we stared at the ruby-red sun slowly disappearing below the horizon.
"If you haven't been to Inle Lake, you haven't been to Myanmar"
This is a saying we encountered again and again when doing online research before the trip. Inle was the last stop on our trip to Myanmar. Home to the Inthar, an ethnic group in Myanmar, Inle Lake is the second largest lake in Myanmar, covering 116 square kilometres. Everything here is afloat, from schools, houses, markets, and gardens to the pagodas. The people also plant and raise cattle on the water. Sounds surprising, right?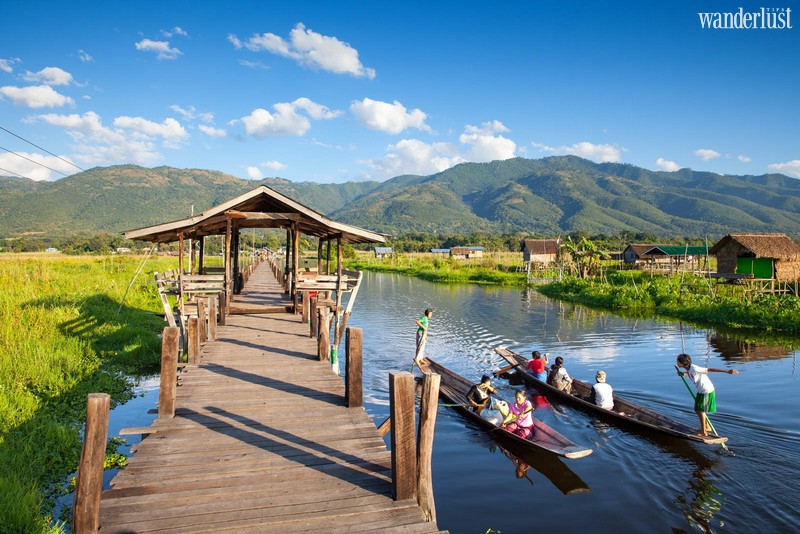 As you sail across the lake, you get to see numerous traditional floating crafts villages specialising in lotus weaving, cheroots, blacksmithing, boat building and silversmithing. Their final products, which are very skilfully done and sophisticated, are displayed in a very nice wooden stilt house – a kind of typical building in Inle. Make sure you spend some time watching the craftsmen doing their job, and be impressed by how meticulous and patient they are.
The most unique part of Inle Lake is the fishermen and their leg-rowing.  It is the only place in the world where rowing is done this way: One leg paddling while the other leg is carefully balancing on the extreme of the boat. The hands stay free to pull up the nets while propelling the boat. We had a fun time trying to catch fish and shrimp from the lake and picking fresh fruit and vegetables that the chef turned into a savoury lunch. We sat there, listening to the rhythm of the falling rain, letting the breeze cool our faces and watched ripples roll out across the water.
Myanmar never ceased to amaze us. In the afternoon, we climbed up to Red Mountain Hill. The view was utterly beautiful to behold. Rows of rolling lush green vine stretching across the hill, beyond the horizon. The grapes in Myanmar are small but delicately sweet. Therefore, the wine here has a very distinctive flavour. There's no better way to find inner peace than to disappear from the daily grind and get lost somewhere under the soft glowing sunlight, listening to the chorus of birdsongs, reading your favourite book and enjoying a wonderful glass of wine.
A trip to Myanmar is a well-balanced holiday filled with adventure and soothing renewal. We love and adore Myanmar. I felt like I was Liz in "Eat, Pray, Love". If Liz chooses Italy as a place to eat, India to pray, and Bali to love, then we choose Myanmar to be happy.
Vo Hong Anh – Vo Khanh Linh | Wanderlust Tips