Boasting a vibrant cultural scene for art, music, history, and nature lovers, Montpelier – Vermont's charming capital city is the ideal destination for anyone in need of a weekend getaway filled with cozy vibes.
[rpi]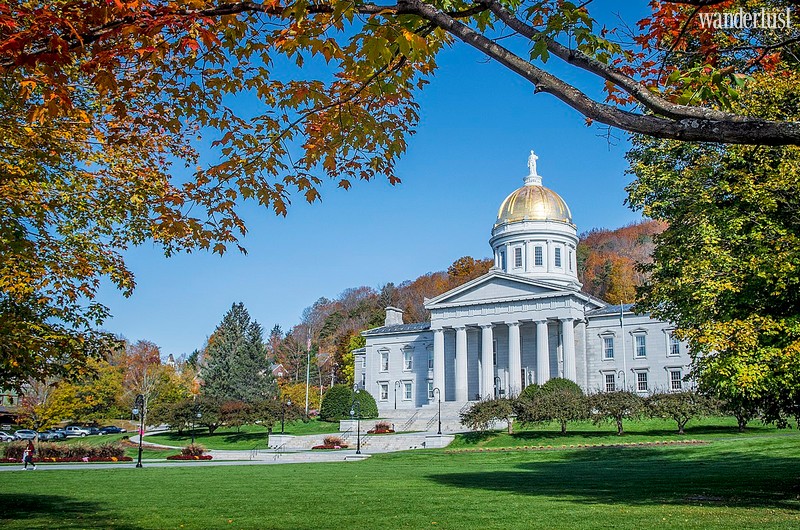 As the smallest state capital in the United States, Montpelier exudes not only the charm and character of a quiet township but also a vibrant cultural scene with something for art, music, history and nature lovers alike. This city is situated in the midst of all of the attractions of Vermont with a scene of lively arts and music, great restaurants, excellent schools, and active community life. With a population of just under 8,000 people and an area of 26.54 km2, Montpelier's humble appearance belies the abundance of activity and culture humming under its surface.
While Montpelier is the only state capital without a McDonald's, it intrigues those who love maple syrup and dazzling piles of autumn leaves. What's more, if you are seeking a more tranquil adventure, Montpelier is worth a visit on your upcoming trip.
CLIMATE IN MONTPELIER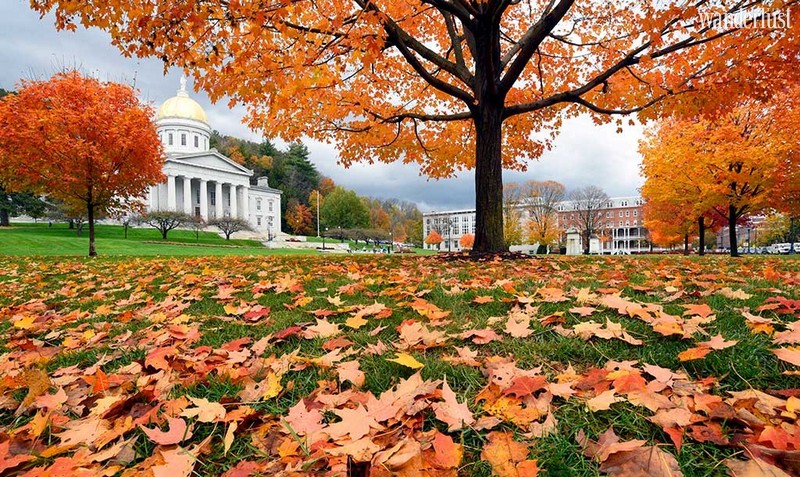 Featuring a humid continental climate, Montpelier has long, cold, and snowy winters, short springs, and autumns, and warm, humid summers. From January to July, the city has comfortable weather ranging from −8.7°C to 19.6 °C. Summer in the city is warm and often humid, with an average temperature of 32.2 °C, ideal to explore and experience fantastic outdoor activities.
Winter in the city is quite cold with the temperature falling below −17.8 °C in the morning and below freezing for the majority of afternoons from December to February.  If you are want to view the snow, the city of Montpelier covered with a blanket of snow throughout the winter will bring you the magnificent scene of white snow that is similar to spectacular movie shots.
TRANSPORTATION TO MONTPELIER
As one of Vermont's most readily accessible cities and towns, there are many ways to get to this pretty city due to the ideal location in the heart of the state.
Car
A common way to get to Montpelier is by auto. Located along Interstate 89, it is easy for visitors to get to the city from Burlington and the populous Lake Champlain Valley in the northwestern corner of the state. In addition, U.S. Route 302 has its western terminus in Montpelier that connects it with the nearby city of Barre and pointing east. You can also drive from Charlottesville along Virginia Route 20 through beautiful rural Virginia to get to the city. And less than three hours of driving from Norfolk and Washington DC also take you to Vermont's capital.
Plane
Located 56 km northwest of Montpelier, the Burlington International Airport in Chittenden County is the closest commercial air service offering flights to Montpelier. Besides, Charlottesville-Albemarle Airport (CHO) served by daily flights by American Airlines, Delta, and United Airlines is also ideal for visitors to reach the city.
Train
Montpelier station about 2.4 km from the downtown area is also a common means of transportation. Amtrak, the national passenger rail system Amtrak provides passenger trains with daily service between Washington, D.C., New York, and St. Albans, Vermont.
Bus
Greyhound and Megabus serve downtown Montpelier with buses that connect to Boston, Montreal, and Manchester NH airports. Additionally, the Green Mountain Transit Authority (GMTA) operates a series of link commuter buses with stops in Montpelier, Burlington, Richmond, and Waterbury.
THINGS TO DO IN MONTPELIER
Tour the Vermont State House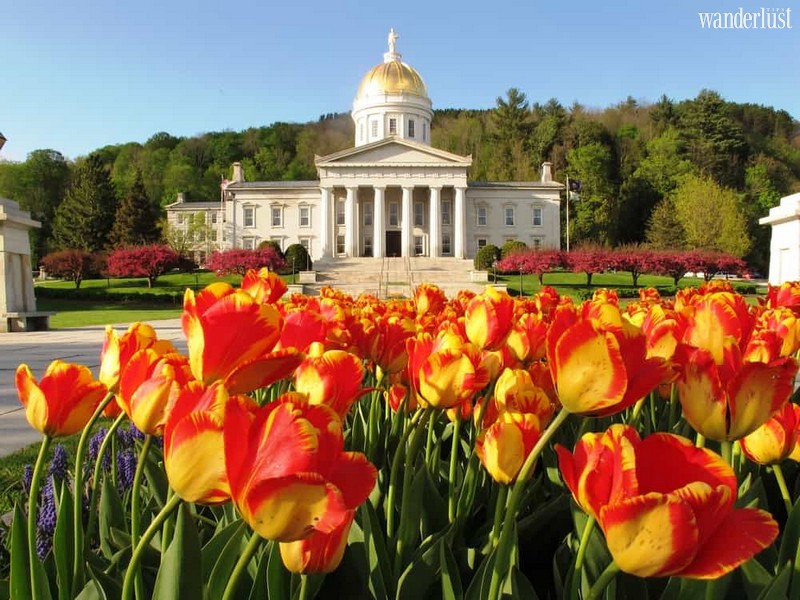 With its shiny golden dome and stately white columns, the nearly 160-year-old Vermont State House is the most notable in the capital which is the meeting-place of the Vermont Legislature. Visitors can explore the building throughout the year and admire the stunning architecture of the building with unique elements like the building's gilded dome, topped by a statue of the Roman goddess of agriculture.
Address: 115 State Street, Montpelier, VT 05633, USA
Visit the Vermont Historical Society Museum
The Vermont History Museum is a veritable treasure trove displaying the rich cultural and social heritage of the New England state. If you are a history buff, the museum with interactive exhibits and the collection of Vermont heritage from the 17th century is a must to add to your bucket list.
Address: 109 State Street, Montpelier, VT 05633, USA
Explore Hubbard Park
Located just north of the Vermont State House, Hubbard Park is a charming 194-acre public park with an iconic 54-foot observation tower offering a stunning view of the skyline of Vermont's capital city. Hubbard Park also offers miles of trails for wonderful hiking experiences and seven fireplaces nestled in the woods, where you can build a campfire and cook your own tasty meal.
Address: 400 Parkway St, Montpelier, VT 05602, USA
Relish maple syrup in Bragg Farm Sugar House
No trip to Montpelier would be complete without trying maple syrup in Bragg Farm Sugar House yhat has been in operation for more than eight generations, receiving major awards from national competitions. You can explore the farm's facilities and sugarhouse with more than 2,000 traditional sap buckets used to create 100% pure maple syrup. In addition to syrups, a variety of local Vermont goods are sold at the gift shop for you to give family and friends after the trip.
Address: 46 Barre St., Montpelier, VT 05602, USA
Drop in on T.W. Wood Art Gallery
With a unique combination of permanent and revolving exhibits, T.W. Wood Art Gallery is the preferred destination of art connoisseurs. The gallery is home to one of the oldest and largest Permanent Collections in the state and was given the honor of being the repository of Vermont's portion of the Federal WPA collection.
Address: 46 Barre St., Montpelier, VT 05602, USA
WHERE TO EAT IN MONTPELIER
J. Morgan's Steakhouse
Do not leave Montpelier without visit J. Morgan's Steakhouse – a Montpelier popular restaurant. Here, you will have the opportunity to try the creamy Lobster Mac and Cheese and sip a glass of extensive wine selection while your children can enjoy dishes on the children's dinner menu. You should make a reservation in advance if you want to guarantee a table.
Address: 100 State St, Montpelier, VT 05602, USA
Three Penny Taproom
If you are a beer avid, Three Penny Taproom in downtown Montpelier is a must while exploring the city. This upscale bar intrigues visitors with an excellent menu featuring artisan sandwiches and flatbreads along with New England-brewed lagers, India Pale Ale and witbiers (Belgium-style ale), and a craft beer selection from Hills Farmstead.
Address: 108 Main Street, Montpelier, VT 05602, USA
The Skinny Pancake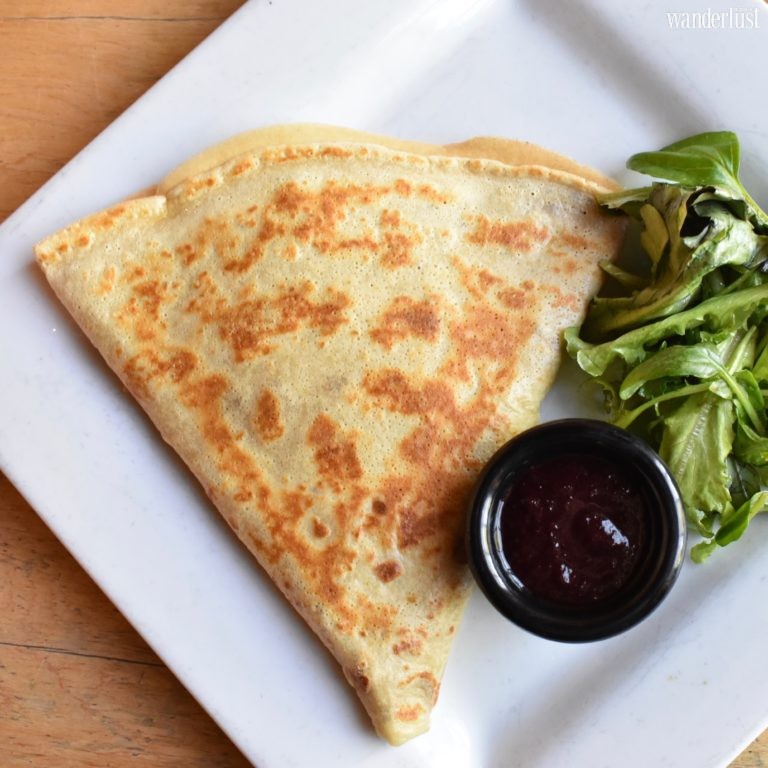 The Skinny Pancake's menu will definitely have your mouth watering when looking at it. You will not want to miss sweet and savory crêpes of every variety which are a specialty of this local joint. The Heart Breaker – a sweet crêpe with warm Nutella, strawberries, bananas, and whipped cream is a must-try dish for you while visiting this restaurant.
Address: 89 Main St, Montpelier, VT 05602, USA
Sarducci's
For the full five-course Italian dining experience, reserve a table for two at Sarducci's. With the view of the Winooski River by the porch and the river deck and the intimate, romantic ambiance in the restaurant, Sarducci's is the ideal date spot for a perfect night. Visiting this restaurant, make sure to try the Florentine pizza that will definitely leave you an unforgettable sense.
Address: 3 Main St, Montpelier, VT 05602, USA
Tulsi Tea Room
If you are not in the mood for Italian, American, or Japanese food, a vegetarian, Indian-inspired menu of sweet treats and savory dishes at Tulsi Tea Room will be the best choice. This restaurant offers delicacies such as Blue Moon cakes and Raw Cupcakes, homemade chapatis with ghee, traditional Indian flatbreads that will tantalize your tastebuds.
Address: 34 Elm St Montpelier, VT 05602, USA
ACCOMMODATION IN MONTPELIER
The Inn at Montpelier
If you are looking for a classic New England experience, The Inn at Montpelier with charming accommodations is an lovely stay for you. Located at the center of the town, you will get to attractions easily and freely explore the city.
Address: 147 Main St, Montpelier, VT 05602-2937, USA
High Hill Inn
High Hill Inn intrigues visitors with its stunning views and wonderful hospitality, perfect breakfasts and comfortable rooms.
Address: 265 Green Rd, Montpelier, VT 05651-4246, USA
Capitol Plaza Hotel Montpelier, Tapestry Collection by Hilton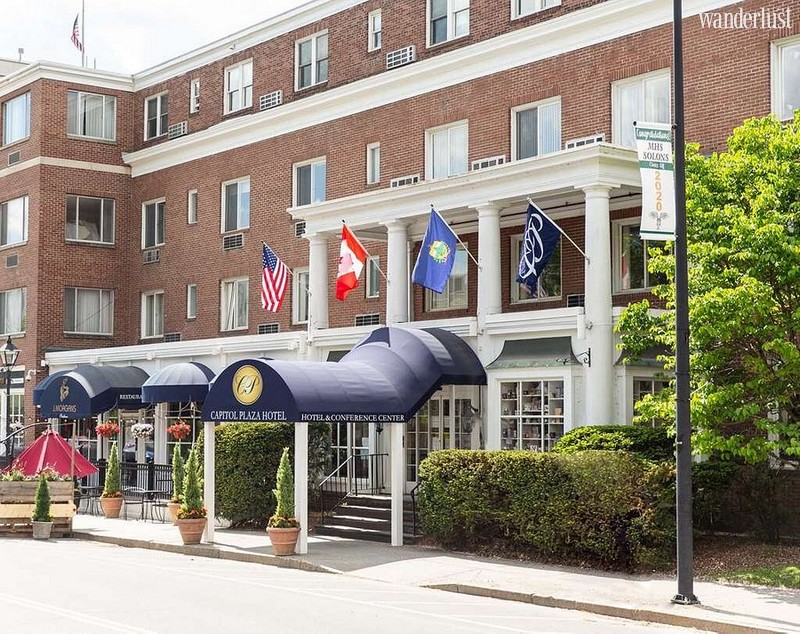 As a Vermont country inn, Capitol Plaza Hotel Montpelier, Tapestry Collection by Hilton offers guests convenient amenities and charming views. Amenities that guests will enjoy on-site include all-day dining at J Morgans Steakhouse, Fitness Center, free WiFi, access to meeting rooms and a business center as well as pet-friendly guest rooms.
Adress: 100 State Street, Montpelier, VT 05602-3099, USA
Firehouse Inn
Firehouse Inn is a luxury accommodation located on the 2nd floor of the building. Home to two one-bedroom suites and two studio suites, this inn offers guests convenient amenities including cable TV, wifi, a/c, queen beds, kitchenettes, private baths, and living area, and a larger kitchen with bar seating.
Adress: 8 S Main St, Barre, VT 05641-4880, USA
Wanderlust Tips