Chief representative of Korean General Administration of Tourism in Vietnam – Mr. Kang Sungghil took some time out of his busy schedule to give Wanderlust Tips an interview for the New Year 2016.
In recent years, Vietnam and Korea have strongly cooperated in Tourism. Could you please evaluate the effectiveness of these efforts, Mr. Kang Sungghil?
In recent years, Vietnam and Korea have strongly cooperated in many aspects including culture, economics, politics and especially tourism. The number of tourists between the two countries has reportedly been outstanding and growing steadily. Competent agencies and local authorities in the two countries have conducted tourism promotion activities enthusiastically. Numerous seminars, conferences, road shows introducing tourism were organised by the General Tourism Administrations and local authorities of both countries and took place in various major cities of Vietnam and Korea. These activities have been key to the success of the cooperation and exchange of expertise in tourism between the two countries, and confirm the effectiveness of this cooperation in recent years.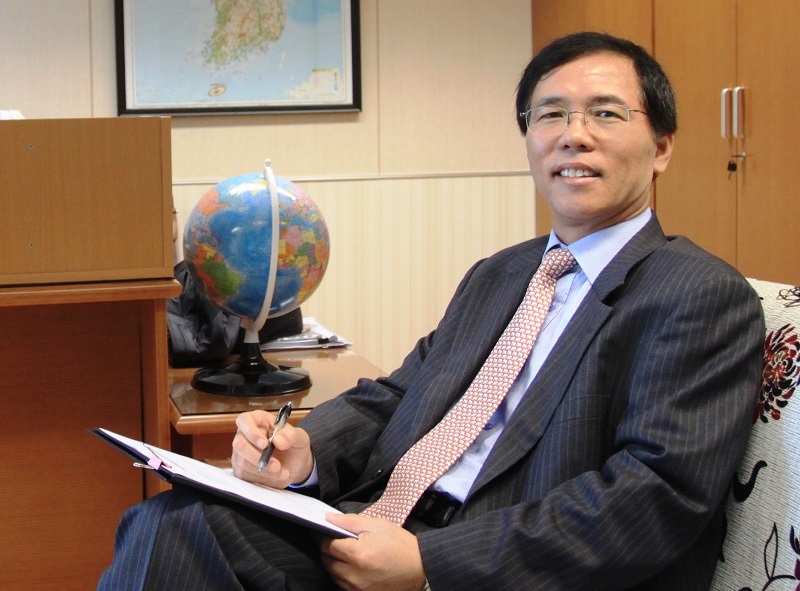 What specific figures and evidence prove that Vietnam and Korea's tourism industries are engaging with each other?
By the end of November 2015, the number of Vietnamese tourists visiting Korea reached more than 151 thousand, a 15% increase despite the Mers epidemic that constrained the development of Korean tourism during its peak in March of last year. Meanwhile the number of Korean tourists to Vietnam reached more than 1.1 million, up more than 30% over the same period last year. Vietnam has become an attractive travel destination for Korean tourists. In 2015, a lot of airlines opened new routes from Vietnam to Korea. Jeju Air followed VietJet with two routes from Hanoi to Incheon and from Ho Chi Minh City to Incheon, Jin Air has 2 two routes from Danang to Incheon and Hanoi to Incheon. The efforts of these airlines have made the travel markets of both countries more vibrant. We expect that many new routes will open to Busan, Jeju promising strong growth in the relationship between the two countries.
Reporter: What kind of Korean tourism attracts travel businesses and tourists?
Korea Tourism is diverse, which is particularly advantageous in the development of MICE tourism. With modern infrastructure, including a range of hotels, restaurants and conference centres with international standards and experience in organising large scale events, Korea ranks 4th in the world's most attractive MICE destinations. Many international businesses including those from Vietnam come to Korea to experience rewarding vacations, or organise their customer conferences there.
Would you please honestly assess the tourism potential of Korea compared with tourism in Vietnam?
Korea does not benefit from stunning nature like Vietnam. Therefore, we mainly develop tourism based on culture and experience. Korea has its own strengths and attracts Vietnamese tourists with seasonal changes in landscape, shopping, and the Korean Wave. However, Vietnam strengths are in marine tourism and its many wonderful natural wonders, which fascinate Korean tourists.
Vietnam and Korea want to go further in their tourism promotion programs. What do you think competent authorities should do next?
Competent authorities in recent years have successfully completed their duties. Many road shows, seminars and conferences have been held in Vietnam and Korea to introduce and promote tourism. If there is something to enhance now, it is to further improve customer services at tourist attractions, upgrading roads leading to our sights, building more recreation centres, cultural experiences and shopping opportunities. All to create a wider range of activities for visitors in addition to simple sightseeing.
You have lived in Vietnam for a relatively long time. What is your take on the people and country of Vietnam?
I think that Vietnam is a gentle country. Vietnamese people are very hospitable and very intelligent. Your language is very ambiguous and difficult, and your wordplays have impressed me immensely. The cultures of Vietnam and Korea have many similarities. Consequently, despite the language barrier, I feel at home when living in Vietnam.
Have you ever celebrated Tet in Vietnam? What about this traditional festival of Vietnam has most impressed you?
During the last three years, I did not return to Korea during Tet, but experienced all three holidays in Vietnam where I often travelled on that occasion. I am particularly impressed by Vietnam's flower markets, which take place in early spring across the lanes of the cities. Whenever I see peach and kumquat trees carried on motorbikes in the streets, I know that Tet is coming. In our country, there is no special type of tree to decorate the house during New Year like here, so that impressed me.
What are your favourite Vietnamese dishes?
I like chicken noodle soup and spring rolls. I have also tried a lot of other dishes here. In general, Vietnam food is easy to eat and caters to my taste buds. But chicken noodle soup with broth made from bones refreshes me every time I enjoy a bowl of it in the morning.
Thank you for the interesting conversation!
Wanderlust Tips