We met photographer Le Bich at the end of 2015 when a personal photo exhibition of his entitled "Capturing the Quintessence of Hanoi" was drawing to a close. The conversation took place in a quiet and relaxed Kim Ngan communal house.
Dealing with the topic of craftsmanship and life, photographer Le Bich has captured small scenes among the chaos of daily life that make us stop and listen. He shares with us what drives him as a photographer.
Good morning Le Bich. After having tirelessly photographed streets, artisans, craft villages, can it be said that the heritage of Hanoi is the subject of your work?
It is difficult to capture the complete heritage of Hanoi, because though the capital is small it contains an incredible amount of precious heritage and I simply try to capture as much of it as possible. In this exhibition, I focus on crafts that are in danger of disappearing, which is why you only see 26 artisans featured in the exhibition. Among these some no longer work on the craft, and some have not passed it on to their children. This saddens me. What we are going to lose and have lost will become valuable in the future. I am motivated by not wanting to have regrets in the future and to let the world know that Hanoi has corners where the quintessence of the city can still be found. Hanoi still has many artists practicing old crafts, but what is needed are people who can continue and develop and preserve these traditions, so they will not steadily disappear with time and the development of modern society.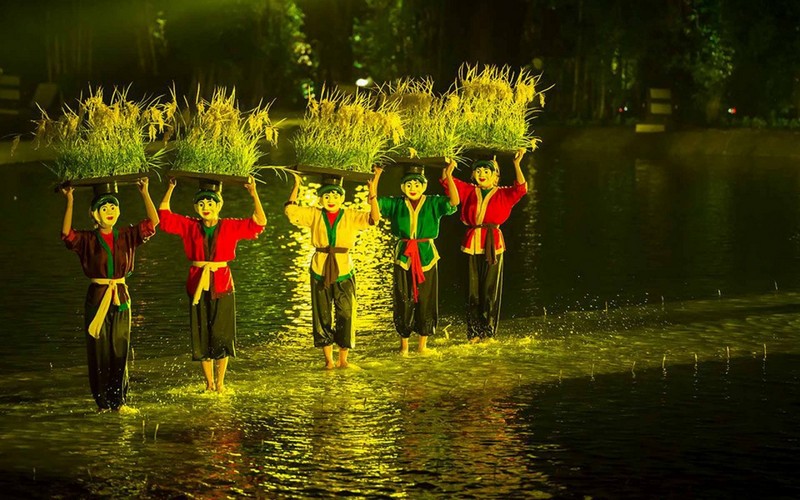 Since when have you been taking photos of Hanoi?
I grew up in Hanoi and my love for it is long established. In 2009, I participated in a program to draw and write about Hanoi during the city's 1000th anniversary. During that time, I had a chance to learn more about the culture and manners of Hanoi's elegant Trang An people. I created a series of articles and the momentum from that project and a passion for the topic has accompanied me since then. When working with artists, I try to capture the most authentic features possible. I have taken some photos again and again to get the perfect image.
The people I approached are talented and modest. At first, they did not know who I was and kept a certain distance. But once they understood what I was doing, they helped me enthusiastically. After working with one person, I was often referred to the next one. It took me five years to complete this photo collection. The exhibition has taken place in the heart of the Old Quarter, so my subjects are being honoured in the place they live. The best thing is that I have become their friend.
Prior to working as a photographer, you had another job. But you eventually followed your passion and pursued photography. Have your two jobs benefitted each other?
I used to work for a foreign company as a manager for many years. My father is an artist who loves beauty and he also takes photographs. I have always loved the fine arts, especially photography, but I set my first priority to earning a living. The managerial position taught me a lot about human interaction. So I know how to behave properly with my subjects and I know how to win their confidence and goodwill. I feel that I honour them with my work and I have enough life experience to write about their life stories.
I am over 40 years old now and I think that it is time to live my passion and follow my hobbies. I want to do what I like. I have decided to apply for a leave of absence from my job and work as a professional photographer.
In addition to your love for Hanoi, could talk about your special love for wells?
Wells are like traditional jobs: they are gradually being lost. People no longer use wells, especially in Hanoi. I am working on a collection of images of Hanoi wells. People might be surprised about some of the photographs as many wells have been covered or filled. For Hanoi's older residents, wells were not only a source of water but they were meeting places where culture was exchanged and they played a spiritual role in people's life. There were wells in every communal house and pagoda. Nguyen Phi Y Lan Temple, Bach Ma Temple, Kim Lien Pagoda all had wells. Unfortunately, all of those wells have been filled. I will take photos of all of the remaining once. My photos function as an archive. I have taken photographs of about 30 wells in Hanoi and nearly 300 wells across Vietnam.
In addition to wells, you have taken a lot of photos of craft villages, haven't you?
Craft villages are the most profound assets of our cultural heritage. They are a long-term topic of mine and I am determined to explore it for the rest of my life. Many craft villages no longer exist and some only have one or two people still practicing the art. Many people have researched the topic and by way of photography I have found my own way to get the message across that these craft villages must be kept and maintained. During the early stage, I intend to visit all craft villages, learn about them and listen to local stories. Following that, I will probably try to really honour the village together with those who love their craft village.
What do you intend to do in 2016?
I will continue with the Well and Craft Village projects. I have future plans for the well photographs already shaped out. As for the craft villages, I am learning about them still and do not have a clear direction yet. Over the past two years, I welcomed the new year by a well and I intend to do the same this year.
Thank you, Le Bich. I hope you can continue capturing the quintessence of Vietnam in your photos and gain more achievements in 2016.
Wanderlust Tips