I decided to visit Hue City on a clear day to get away from the buzzing city and to get a slice of peace. With its cosmopolitan feel, relaxed pace of life, breathtaking architecture, fantastic gastronomy and unbeatable climate, Hue did not serve me wrong, it is really worth visiting this unique city.
[rpi]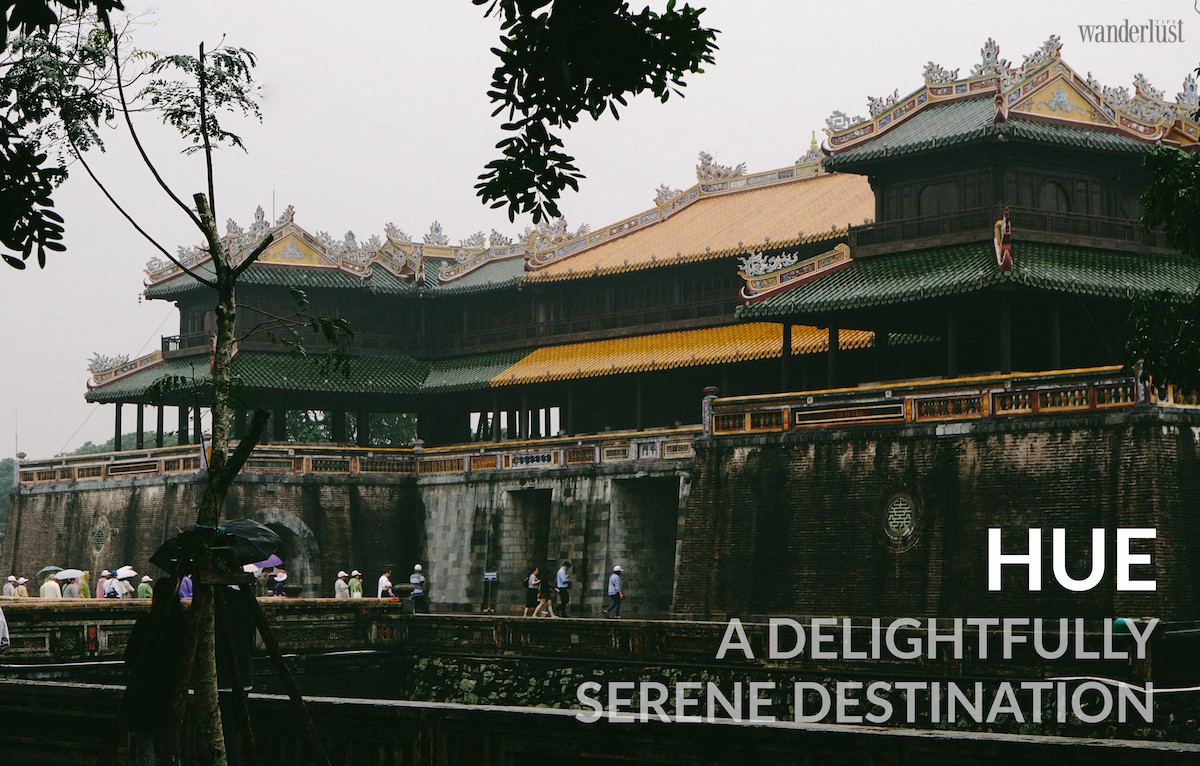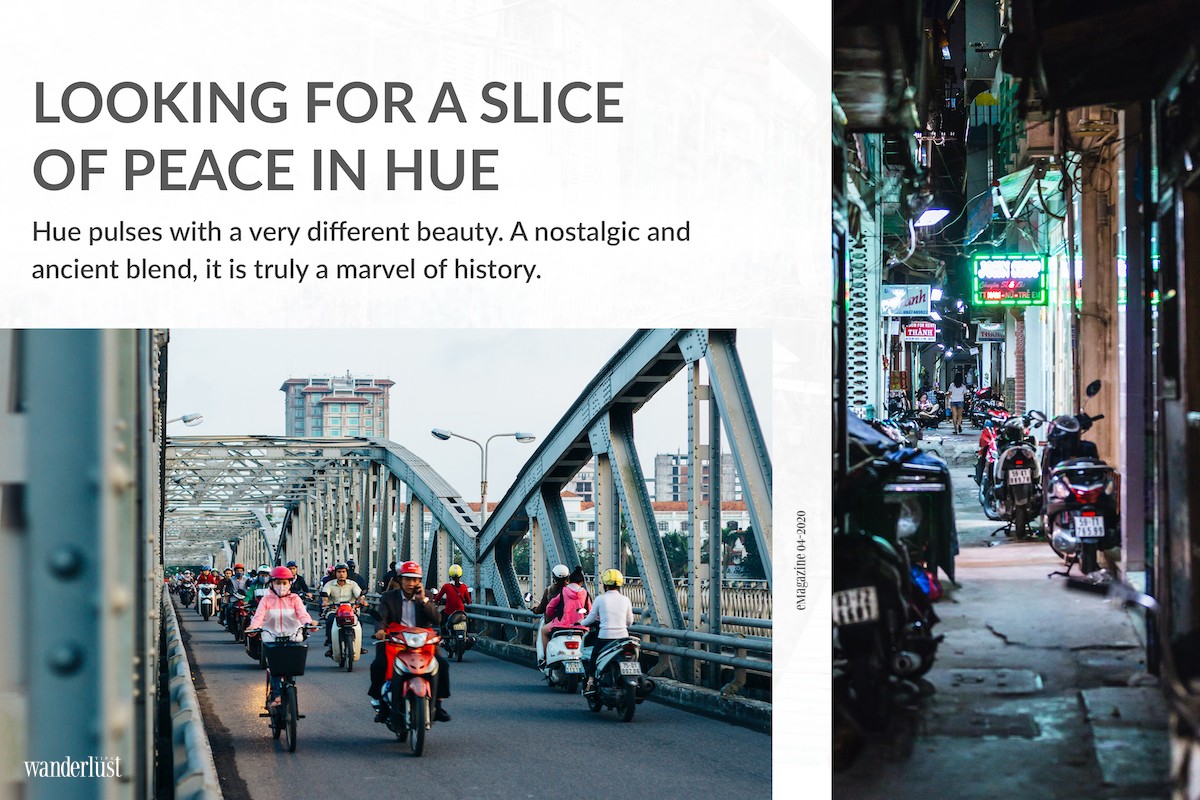 Many people associate Hue City with a place of elegance, charm and profound sadness. The city always conjures a peaceful yet somewhat tedious picture in my mind. However, whenever I want to feel at peace and rejuvenate my soul, Hue City is always on the top of my list. I usually travel to Hue at least once per year for a peaceful getaway. After wandering around the ancient city so many times in the past, I realise that what draws me to Hue is the nostalgic glamour, relaxed atmosphere and gentle ambience. Hue City exudes serenity as soon as the plane lands at Phu Bai Airport. Looking from above, the city is carpeted with lush green trees, rolling rice fields and houses sitting side by side.
Hue City pulses with a very different beauty. A nostalgic and ancient blend, it is truly a marvel of history. Taking a deep breath to appreciate the pure and tranquil ambience in Hue, I indulged myself in the slow pace of the locals. The last time I arrived in Hue, it was raining cats and dogs that made me a little sad. I did not want the rain to put a complete dampener on my whole trip. I had to admit that the rain in Hue City brought a sense of excitement to my trip. Even now, the image of the heavy rain in Hue still plays on my mind.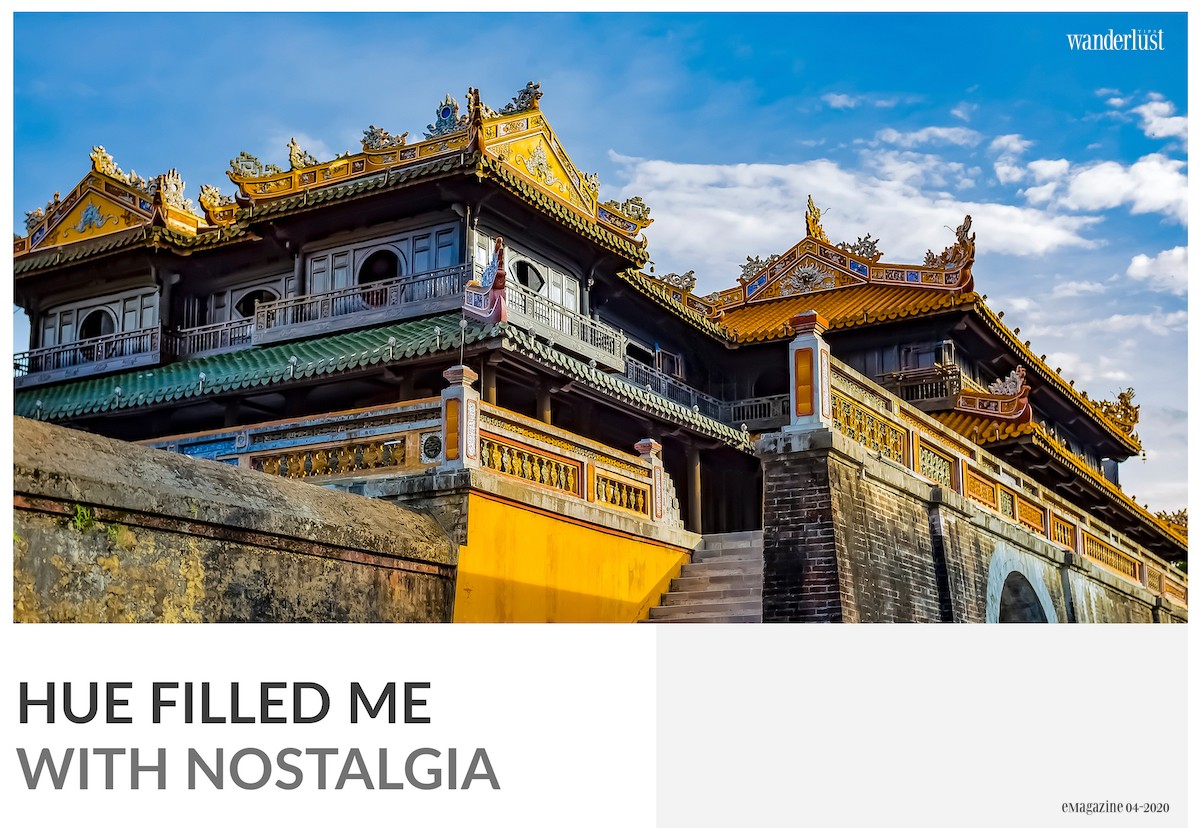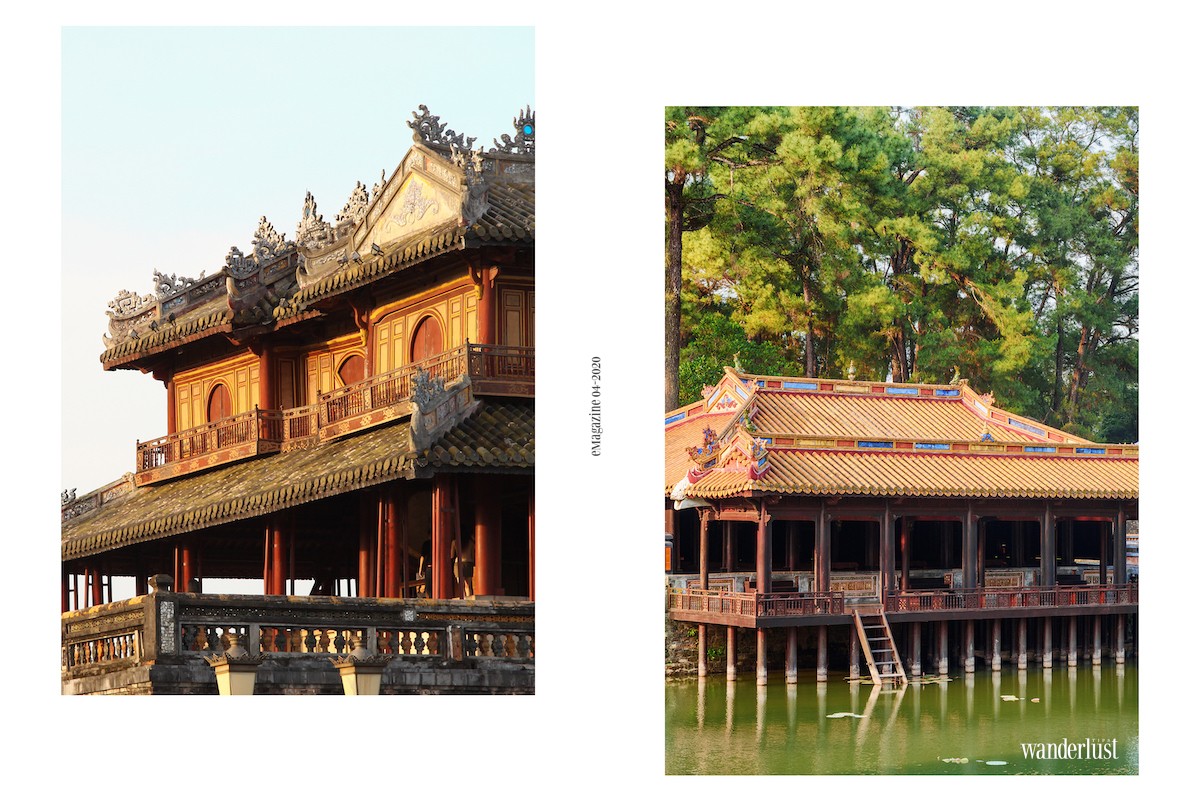 From my perspective, peace is when we pause to take a look back on the past and Hue City is a perfect destination to transport us back in time. The ancient capital fascinated me with the lavish royal court and famous tombs that were built during the Nguyen Dynasty. Whenever I visit Hue, I usually spend time strolling around the Imperial Citadel to get a profound insight into the magnificent past and sumptuous ancient lifestyle. After wandering the Meridian Gate overlooking the peaceful Huong River, I paid a visit to Thai Hoa Palace, Dien Ngo Palace, Imperial City and the Forbidden Purple City.
Hue City has locals and travellers falling head over heels for its hassle-free beauty and exquisite elegance. No Hue sightseeing trip would be complete without meandering through the mystifying historical structures, for instance, Khai Minh Tomb, Tu Duc Tomb, Minh Mang Tomb, Thieu Tri Tomb and Gia Long Tomb. Every tomb is the epitome of distinctive Vietnamese architectural, cultural and historical values. Strolling around these magnificent architectural constructions in Hue, I found serenity and peace in my mind as well as broadening my horizons.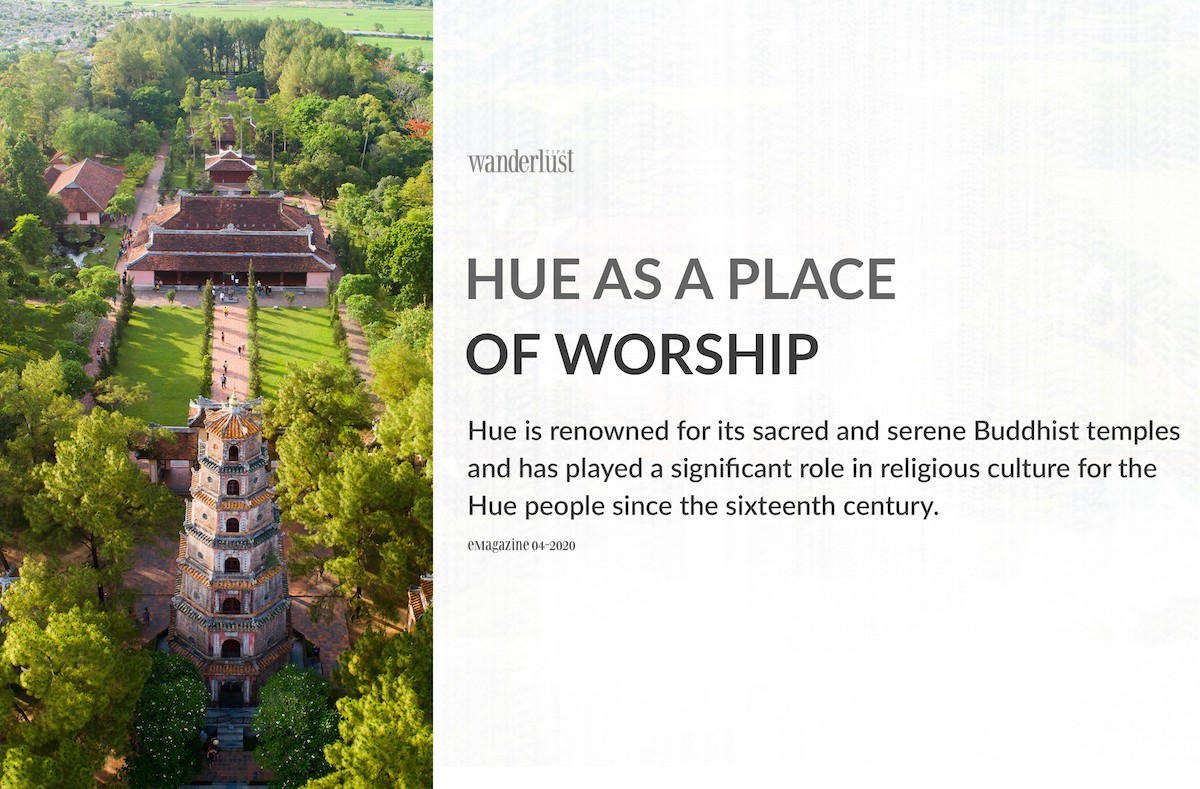 Hue City is renowned for its sacred and serene Buddhist temples and has played a significant role in religious culture for the Hue people since the sixteenth century. The ancient temples in Hue are not only a popular Buddhist destination, but they also intrigue a large number of architecture enthusiasts with their own distinctive beauty. I vividly remember that it was a beautiful afternoon, I did not know where to go, so I took the bicycle and ended up at Thien Mu Pagoda. After taking a walk along with the sacred temple alongside the peaceful Huong River and looking out over the brilliant crimson sunset, I felt my heart skip a beat. It was truly the most spectacular moment during my trip to Hue and I captured some photos of the gorgeous sunset.
Aside from the sacred Thien Mu Pagoda, Hue City is home to an amazing variety of other scenic temples. Located a stone's throw away from Thien Mu, Huyen Khong Son Thuong Pagoda stopped me in my tracks with its fairy-tale beauty. A tranquil and magnificent blend, this temple fascinated me with its exquisite architecture and laid-back ambience with colourful flower groves and stylish bonsai trees. My heart told me that there is no other place that it could be other than the tranquil and peaceful city of Hue.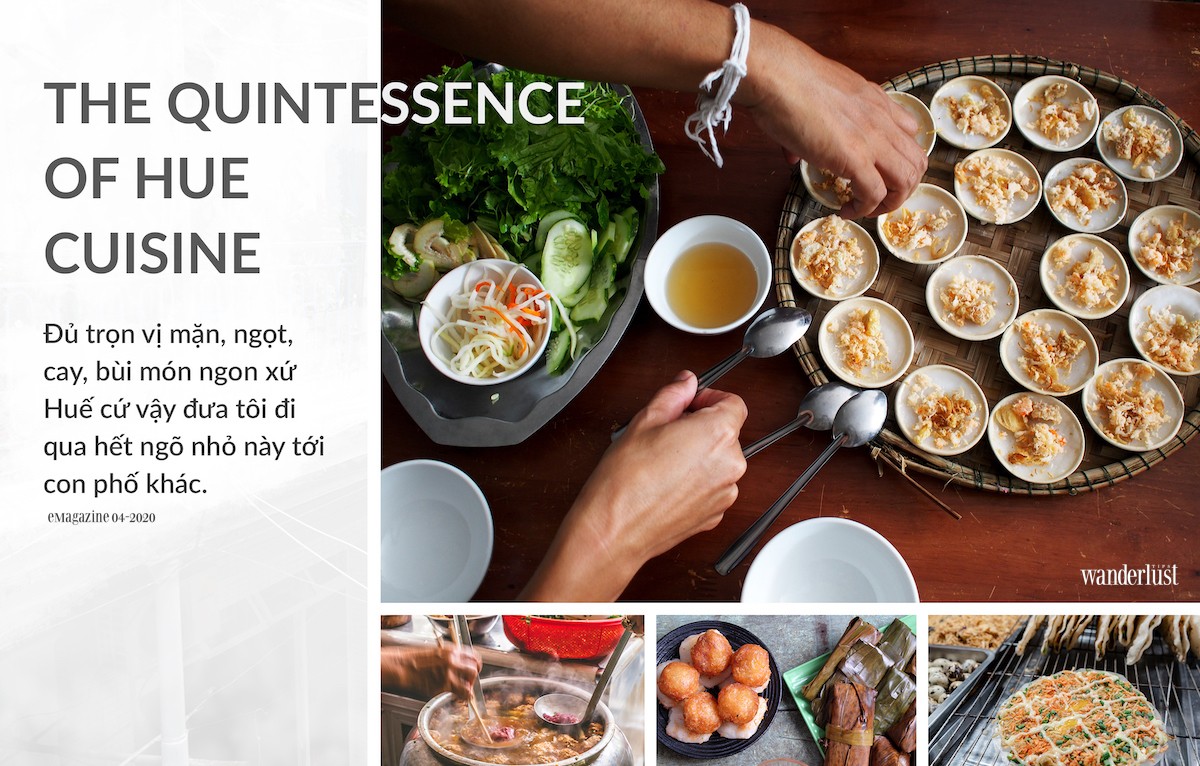 Hue is not only an ideal destination to rejuvenate the soul, but it is also a paradise to embark on a unique local culinary experience. From popular to imperial dishes, Hue cuisine is unique for both locals and travellers. A few days in the "food capital" is not enough to taste the signature flavours of Hue. There are so many types of rice noodles in Hue, for instance, beef noodle soup, Bun Mam, turmeric noodles and many kinds of famous cakes such as Banh Beo (bloating fern-shaped cake), Banh Nam, Banh It and Banh Xeo (Vietnamese sizzling pancake).
After savouring these delicacies, I went to the alleyways on Hung Vuong Street to chow down on a bowl of Hue sweetened gruel. An excellent combination of flavours infused in every bowl – salty, sweet, spicy and creamy, Hue took me on a culinary journey through its alleyways. Hue always intrigues me with its signature cuisine. Whenever I want to swap the daily grind for a more leisure lifestyle, Hue City is the ideal getaway. This picturesque city has people falling head over heels in love with its peaceful nature, sophisticated architecture, delectable cuisine and the friendly locals. Discovering the old city's eclectic pulse brings endless joy and peace to my heart, making it a must-visit destination on my Vietnam bucket list.
Wanderlust Tips | Cinet