Life in Greater Palm Springs is vivid, and there is always a lively world for art lovers. So you're an artsy soul, from museums, galleries to public arts, make sure these locations are all in your "been there before" note.
[rpi]
PALM SPRINGS' ART MUSEUMS & GALLERIES
1. Palm Springs Art Museum
It should be a must for any art enthusiast traveller to stop by this location to witness all the arts representing the soul of Greater Palm Springs. Being famous for its diversity of exhibition themes and the welcomeness for artists, you can find your favourite among the superb works of art displayed, all of them were influenced by the city's unique culture. With a history of over 83 years of development, the museum's mission is to expand the understanding of themselves and the world to a very special Palm Springs in the local artists' eyes.
Open: Thu – Sun 10 AM – 5 PM (7 PM on Thu)
Address: 101 Museum Drive, Palm Springs, CA 92262
Phone: (760) 322-4800
2. Palm Springs Art Museum Architecture and Design Center
As a part of Palm Springs Art Museum, the Architecture and Design Center is the creative hub for mid-century architecture and design exploration. This place now welcomes guests to visit and admire featured exhibitions, opens educational and community programs, remains research space, stores the museum's growing architecture, design collections, and archives.
Open: Thu to Sun  10 AM – 5 PM (7 PM on Thu)
Address: 300 S Palm Canyon Drive, Palm Springs, CA 92262
Phone: (760) 322-4897

3. Backstreet Art District
This place is literally a shelter for all artsy souls. It is a complex of galleries, art studios, and art stores where goers can visit the splendid artworks and their born-givers – even have a chance to see them creating their art if you get lucky. With 11 operating galleries and/or studios, for over 17 years, the complex has witnessed the development of the diversity of arts and embraced the uniqueness of every individual, all together shining in one place. And consider leaving Backstreet with a piece of art, the artists would love to give you the right one with the best deal – this is what's impressive.
Open: Mon to Fri 9.30 AM – 5.30 PM / Sat 10 AM – 5 PM / Closed on Sun
Address: 2600 S. Cherokee Way, Palm Springs, CA 92264
Phone: (760) 328-4144
AROUND EL PASEO STREET
Just about 1.2 miles from Palm Springs that it takes to get to El Paseo – the leading location for arts of the Palm Desert and the Greater Palm Springs area. Once getting to El Paseo, make sure you will visit all of these fascinating artistic destinations to appreciate the lavish colours that this desert area can paint.
1. Elena Bulatova Fine Art
Elena's gallery is where diverse artists can show their own colours with massive artworks that amaze visitors. You can also find an exclusive art piece here for your home sweet home.
Open daily, 10 AM – 6 PM (6.15 PM on Mon)
Address: 73190 El Paseo, Palm Desert, Palm Desert, CA 92260
Phone: (844)-353-6200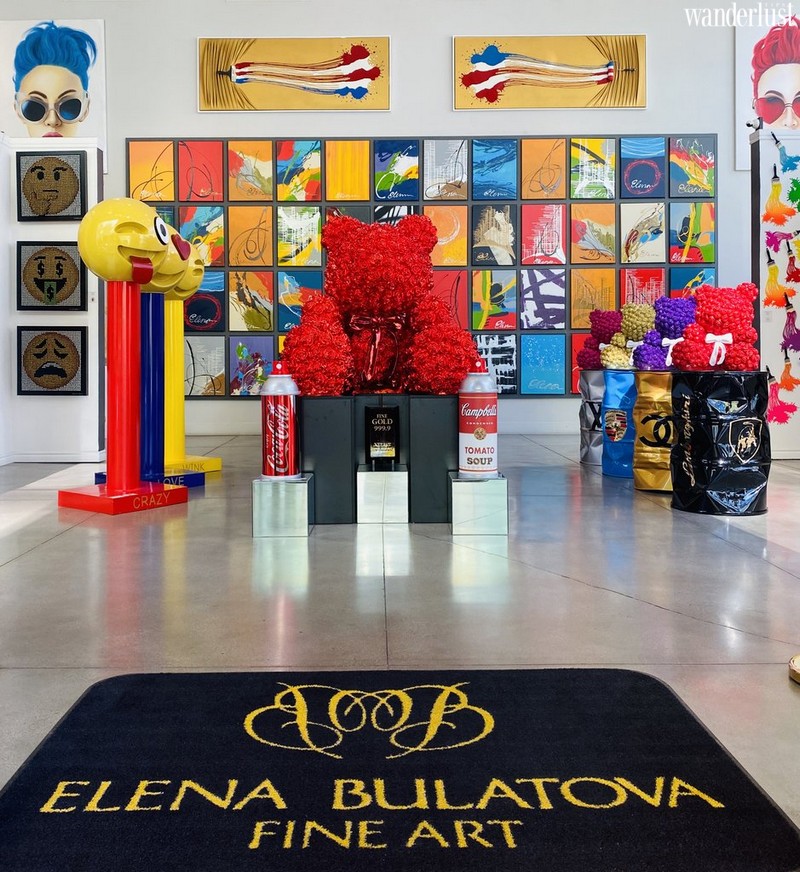 2. Melissa Morgan Fine Art
One of the world's premier destinations specializing in cutting-edge contemporary art, proudly located in Greater Palm Springs. This place was said as an exceptional place to talk with sophisticated art enthusiasts and enjoy the beauty of art in abundance. Melissa's is 5-minute-walking associated with Sculpture Garden – an unbelievably place that not only art lovers but all visitors can fall in love with.
Open Tue to Sat 10 AM – 5 PM
Melissa Morgan Fine Art: 73-660 El Paseo, Palm Desert, CA 92260
Sculpture Garden: 73-785 El Paseo, Palm Desert, CA 92260
Phone: (760) 341-1056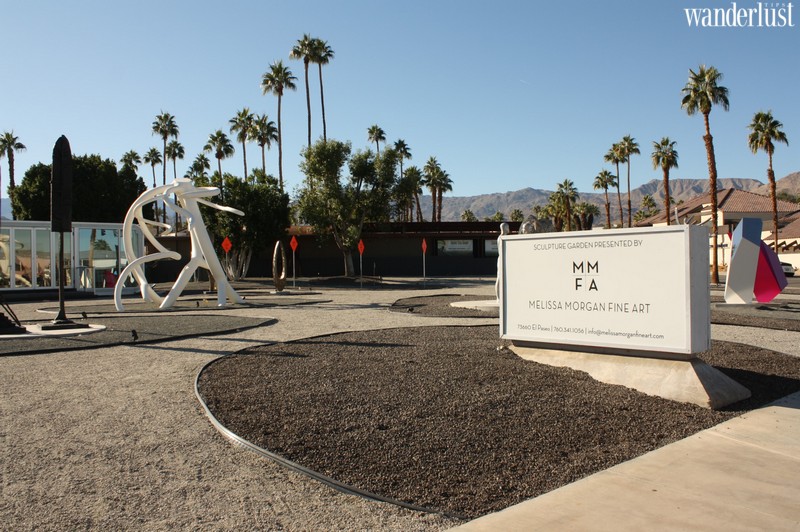 3. Imago Galleries
This eye-catching modern gallery will be a favourite for any Greater Palm Springs visitors who admire contemporary art. With massive past exhibitions, this place is one of the best places to get to know local artists. With the terrific architectural setting and stunning lighting, all artworks can be best displayed to create superb experiences.
Open Tue to Sat 11 AM – 5 PM
Address: 45-450 Highway 74, Palm Desert, CA 92260
Phone: (760) 776 9890
4. CODA Art Gallery
The colour blocks in this art gallery are unforgettable. It is spacious, so it has the space for ample types of art: paintings, glass, photography, and sculpture. Lots of visitors left CODA with an art piece for themselves for its diversity of choices for different styles, from pop arts to contemporary works.
Open Mon to Sat 10 AM to 5 PM, Sun 11 AM to 4 PM
Address: 73400 El Paseo #B1, Palm Desert CA 92260
Phone: (760) 346 4661

5. J. Willott Gallery
This is the perfect place for minimal art lovers with a neutral-tone design, glass concrete floors, state-of-the-art lighting, and a decent artistic vibe. This place is not only the favourite of visitors but also for artists who want to speak their art with a small-scale budget. The owners – Josh and Josh – humbly develop this place to admire all artists and encourage their own patterns.
Open Mon to Sat 10 AM – 6 PM, Sun 11 AM – 5 PM
Address: 73300 El Paseo, Palm Desert, CA 92260
Phone: (760) 568 3180

A WALK TO PUBLIC ARTS
On your way here and there, try to check out these arts in the open space that represent the community's artsy sides.
1. Forever Marilyn Statue
This dramatic 26-foot tall, 24,000-pound monumental sculpture is created by sculptor Seward Johnson with stainless steel and aluminium, is extremely realistic, especially in the skin tones. Get yourself an ice cream, witness the giant beauty and wander around the area – that could be fun!
Location: Corner of Museum Way and Belardo Road, Palm Springs, CA 92262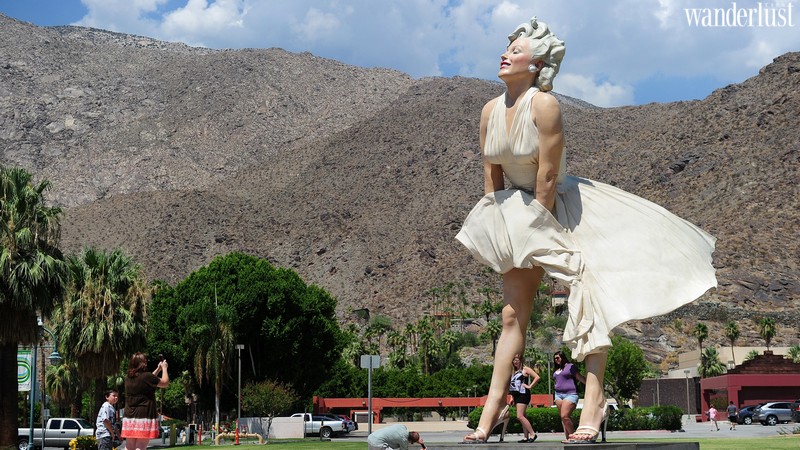 2. Rainmaker Fountain
Feels like water in the desert – spotting the two tubes bouncing up and down in perfect rhythm could be freshly chilling for those who want to cool down under the sun.
Location: 500 N Palm Canyon Dr, Palm Springs, CA 92262 (Frances Stevens Park)