Sun, desert and nature – not only sounds perfect for a winter getaway but also a wonderful idea for a family trip. Let your kids be free to learn from nature, just relax and get some deep breath by the botanical garden.
[rpi]
What is Palm Desert Living Desert Zoo and Gardens?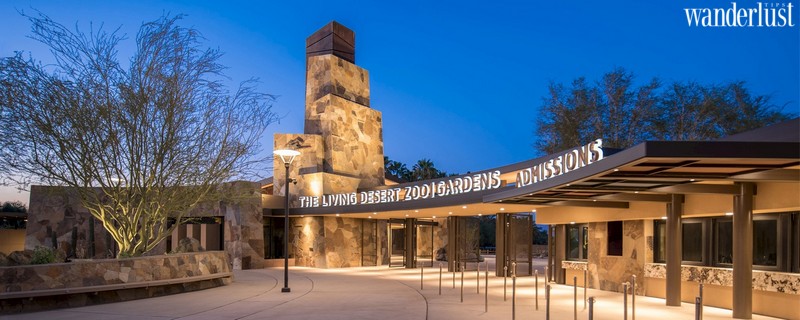 Location: 47900 Portola Avenue, Palm Desert, CA 92260
Phone: 760-346-5694
Website: www.livingdesert.org
The Living Desert Zoo and Gardens is a non-profit zoo and desert botanical garden, shelters more than 500 animals of over 150 species with the purpose of preserving, educating and appreciating wild friends and plants to conserve nature. It welcomes over 500,000 visitors annually, and sure would be a great idea to become one of those this year.
This zoo slash garden can give you the real wildlife feeling to visitors. You may be able to see an Amur leopard running over, wave at a Cattle egret flying over your head, have a wallaby roaming around, feed a giraffe that is as tall as a two-story gazebo, and so so much more.
What to prepare?
Spending all day in the desert seems like a big deal. Make sure you all are in your healthiest condition and best prepared for real wild exploration.
Comfy shoes and clothes, and a hat
Remember that you're going to stroll under the sun all day, and you must not want to experience that with hurt feet. A comfy pair of shoes – hiking or running shoes, for instance – is highly recommended for this trip.
As you're going to be physically active, make sure to choose clothes that bring convenience. Also keep in mind to check the weather forecast in advance, because it might be warmer than you expect.
Playing under the sun is fun, but let's add to the list some sun-protective options to stay healthy like sunglasses, sunscreen or a hat.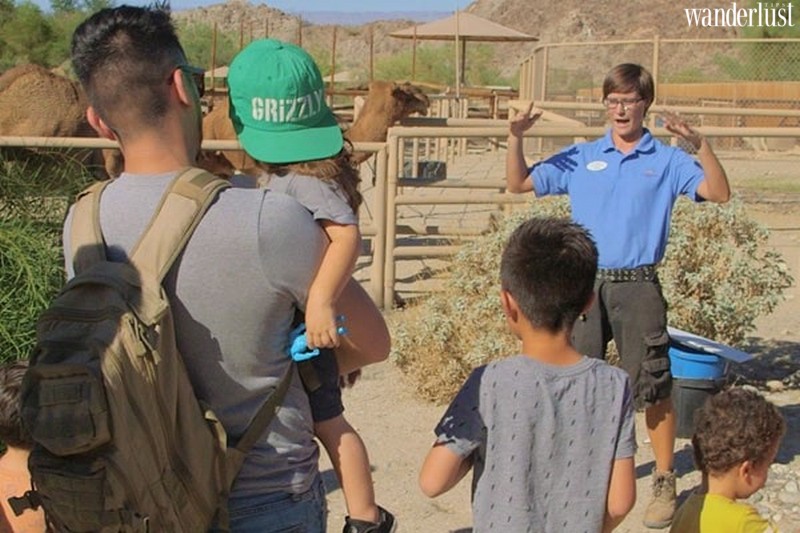 Check opening hours, today's schedule and upcoming events
The Palm Desert Living Zoo and Botanical Garden have different opening hours by season, hence, make sure you know that well so timing won't ruin the plan. There will also be different availability of activities every day, you should check out the daily schedule first to surely spend time to enjoy all the best out of it.
If you want to plan the trip ahead, checking out the upcoming events and marking them down on the calendar is always a crucial step. All of this information can easily be found on the zoo's official website, and below are some pieces if you need a quick look. So, FYI:
Summer hours
June 1 – September 30: Open daily, 7 AM – 1:30 PM
Last admission at 1 PM
Seasonal hours
October 1 – May 31: Open daily, 8 AM – 5 PM
Last admission at 4 PM
Closed December 25th
Snacks
Spending a day wandering in Palm Desert, especially with kids, must make you feel hungry. There are several restaurants in the place where you can find soft drinks, churros or even grilled dishes, but that should be convenient if it's on your route. Packing in some nice snacks and stopping by one of the picnic areas is very much a better option, and might also be a joyful experience.
Advance reservation (optional)
Tickets are always available to purchase on-site. Nevertheless, if you want to enter more freely with an expedited admission, online ticketing could be a great choice. Discounts and promotions are available to Senior 62+, Military and some cardholders – check out their website for your best deal.
In case you're a group of 2 to 6 preferring a comfortable way to witness the sight and sound of the zoo from a different perspective, The Living Desert Zoo and Gardens offers a private safari tour that helps you explore wildlife at its best. A two-hour tour includes an admission ticket, a tour guide and a private shuttle that drives you throughout the park and stops at every major habitat. You can also know so much more from the tour guides: they will tell you all about the wildlife, animal facts, park history and more.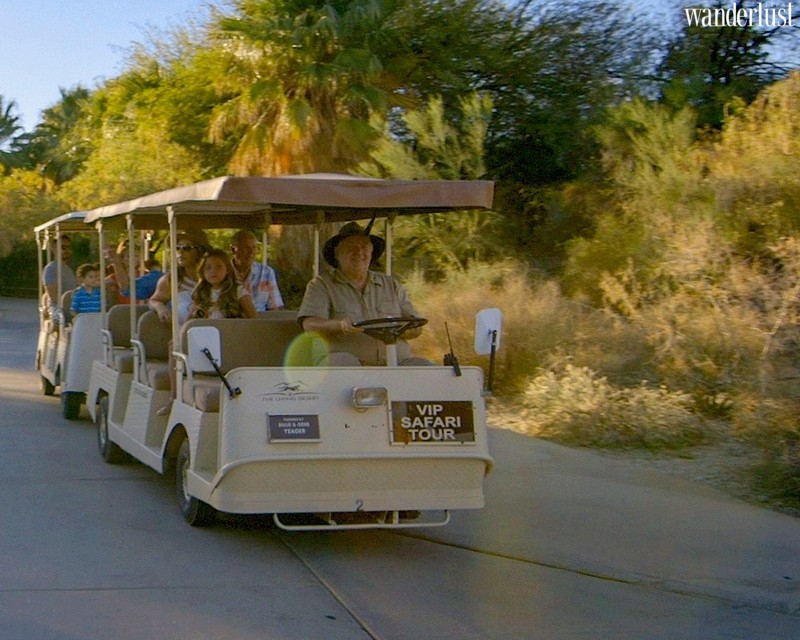 What to do?
The answer is everything!
Now that you know the address and are well-prepared, make sure you and your family will have the best experiences and make the most advantage at Palm Desert Living Zoo and Botanical Garden. Take a look at the activities we suggest, including children-friendly and family-friendly options. 
Feed a giraffe
Having the tallest animal in the world enjoying food in your hands and taking selfies with them must be a once-in-a-lifetime experience. This is also one of the kids' most favourite activities to do in the zoo. 
A kind reminder is the cost for this activity is not included in the general admission, but yes for the private tour, so that should be kept in mind.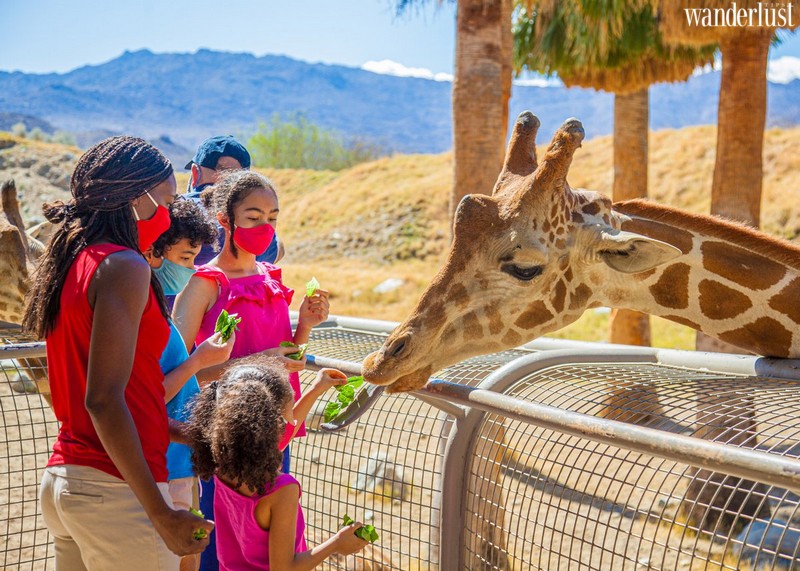 Visit the hospital and conservation center
Kids will love this! You are able to access some parts of The Tennity Wildlife Hospital and Conservation Center to see how professional caregivers look after the animals, view medical exams, get to know more about the procedures and other stories from the volunteers.
Pet the kraal
This must be a perfect family activity that is opened daily in Village WaTuTu as it welcomes all ages to go behind the fences and get closer to the African wild friends. You can get interactive with Ankole cattle, Sicilian dwarf donkeys and Nigerian dwarf goats.
Visit the discovery center and view model train
Your children can even learn more about the desert and nature by exploring The Miriam U. Hoover Discovery Center and viewing the journey of the G-scale model train. Inside the 3,600-square-feet centre, paintings and artifacts are demonstrated with the purpose of educating the evolution of the Coachella Valley in an interactive way. Plus, an indoor activity like this could be a pleasing break from the heat.
Similarly, seeing one of the largest G-scale model trains displayed on its route 3,300-feet rail track that passes the Grand Canyon, Rocky Mountains, and even Old Indio is also a fascinating chance to learn about the areas.
Ride the carousel
Now that your kids are familiar with the wild friends, let them meet again and take a ride at the Endangered Species Carousel located inside the area. Spinning around creating a lovely scene will be a lovely and memorable experience for all. Also, note that the cost for a ride is not included in the admission.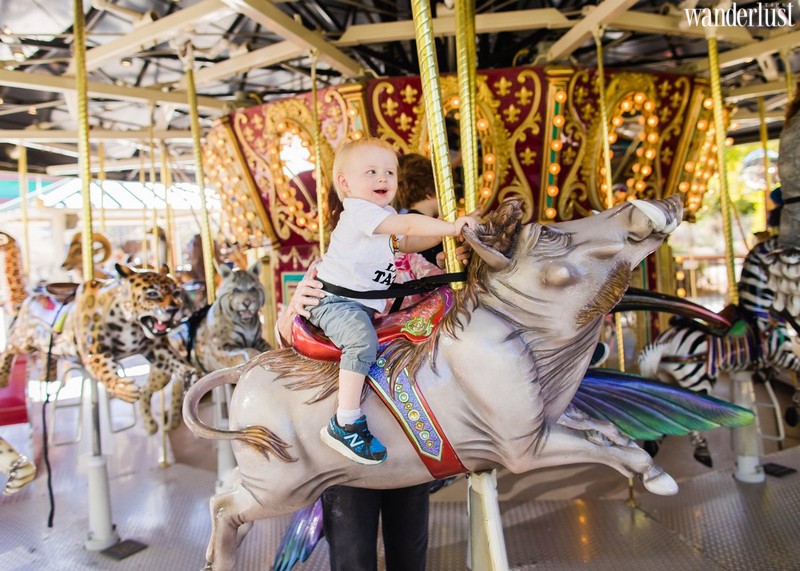 Hike with nature
So these should be the wildest hike trails to try in Palm Desert for all hikers! Coming to the zoo, you may be able to explore 3 splendid natural trail loops: Discovery – Adventure – Wilderness, which are all worth discovering.
Don't forget to be well-prepared, especially when hiking with your children. Check the opening and closing hours in advance, and it is recommended to go with hike partner(s).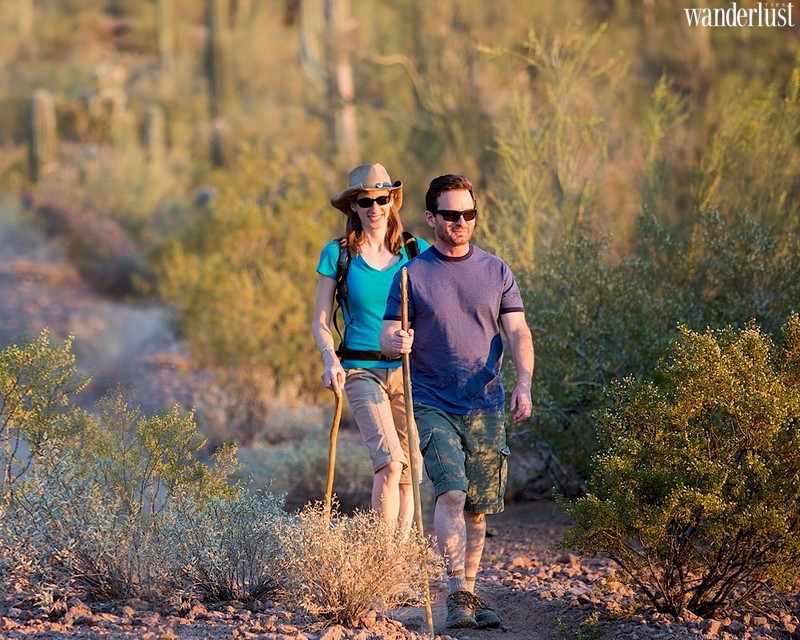 Dining in the desert
To enjoy a family meal by the nature is never a bad idea! There, you will have options to dine at 4 restaurants with a diversity of menus, including American-styled dishes, takeaway sandwiches, desserts, snacks, beverages and more. Family menu and kids menu are also available. Later, drive up to Palm Springs for an ice cream to cool down should be an amazing idea, too.
If you don't feel like going to a restaurant, then outdoor picnics are even more fun to do. Look for the picnic tables in the zoo and enjoy the food that you have prepared earlier – such an ideal family outing.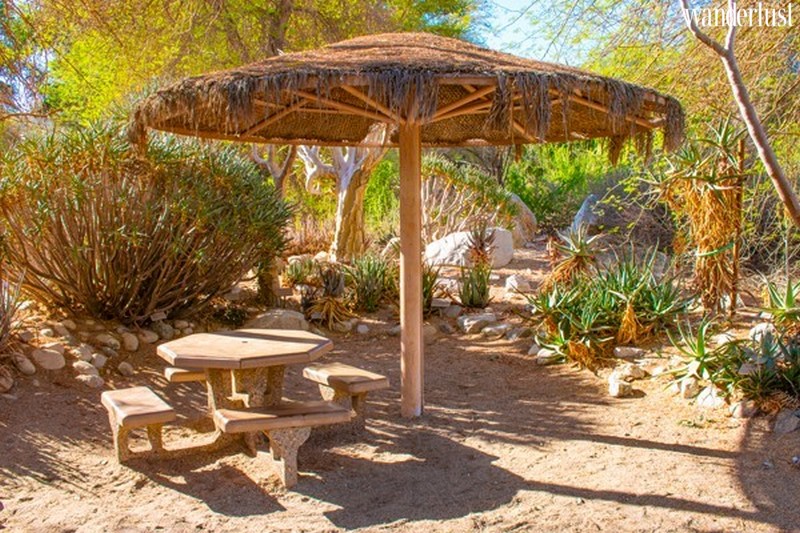 Now pack up, the adventurous wildlife in Palm Desert is waiting for you!