"We travel to open our hearts and eyes and learn more about the world than our media will accommodate" – That's what a traveler has in mind when she packs a luggage and goes on the way. Accompanion with Wanderlust Tips, Let's discover thoughts and emotion of Vietnamese travelers after their trips.
[rpi]
Van Nguyen
When I set foot in Hong Kong, the first that struck me were all the flavours of life. The smell of street food, the sound of traffic, the laughter of people and the hustle and bustle of life here, all blend together in a unique harmony. For me, the beauty of Hong Kong is not only found in the glamour of luxury shopping malls, or expensive restaurants, but also in the vitality of the culture, hidden in the shadows of the skyscrapers. This hidden beauty was what impressed me more than anything.
The intense mix of tradition and modernity has created the special metropolis that is Hong Kong, a place where West and East meet and a dream come true for city explorers.
2. Linh Lena
Dong Van in Ha Giang province with its immense mountains and clouds, and its winding Ma Pi Leng Pass is compelling to visit and explore. So three pilgrims, two Australians and one Vietnamese, packed only necessities and started travelling. From Hanoi, we took a bus to Ha Giang province and then rented bikes. The pass is only 3 – 4 metres wide, and our companions on this road included buffalos, hogs and dogs! The herds of buffalo crossing the road on our journey amazed us. On one side was the mountain, and on the other the cliff, but we still saw local men riding motorbikes fearlessly without helmets, which shocked us.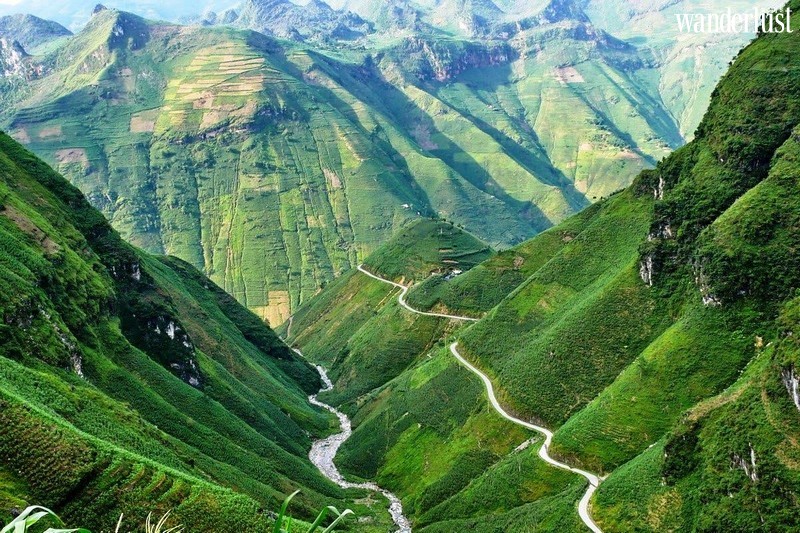 The pristine landscape on our journey made us fall in love. Unfortunately even the best camera cannot capture the majestic landscape. From the top of Ma Pi Leng pass, we could see the blue Nho Que river, decorating the mountain like a silk scarf. On the top of the mountain amid its immense natural beauty, surrounded by the heavenly mountains and clouds, we were ecstatic and proud of our homeland.
The food in Dong Van is not diverse and on the expensive side, but fresh and delicious. I still remember the taste of stir-fried wild vegetables and beef. The dish was sweet and savoury, completely different from the artificial flavours of food in the cities. At twilight, the sunlight shone down on the desolate and immense mountains, which compelled us to stop and enjoy the scenery for a while. On our way back, I told myself that I must return to visit someday.
Van Nguyen & Linh Lena | Wanderlust Tips