When referring to romantic cities and villages in Europe, especially in France, Colmar takes the cake. Colmar, the capital of haut Rhin department, and Strasbourg in Bas-rhin department are the two most beautiful cities of Alsace region in the northeast of France. Colmar features vineyards grown for winemaking and fairytale villages. The picturesque and peaceful green scenery of the village will bring a deep sense of peace to your soul.
[rpi]
Alsace wine route is 170 kilometres long, stretching from north to south, running through rolling hills covered in green grape leaves and 70 prosperous craft villages. Alsace is home to a wide range of wines, of which the most famous are Muscat, Riesling, Pinot Gris, and Gewurztraminer. The wines have delicate aromas, with lots of juicy fruit flavours. While Muscat wine is often served with Asian spicy foods, Riesling and Pinot Gris are a great match when paired with fish, seafood, and white meat. Gewurztraminer- sweeter and more aromatic – pairs well with appetizers and desserts.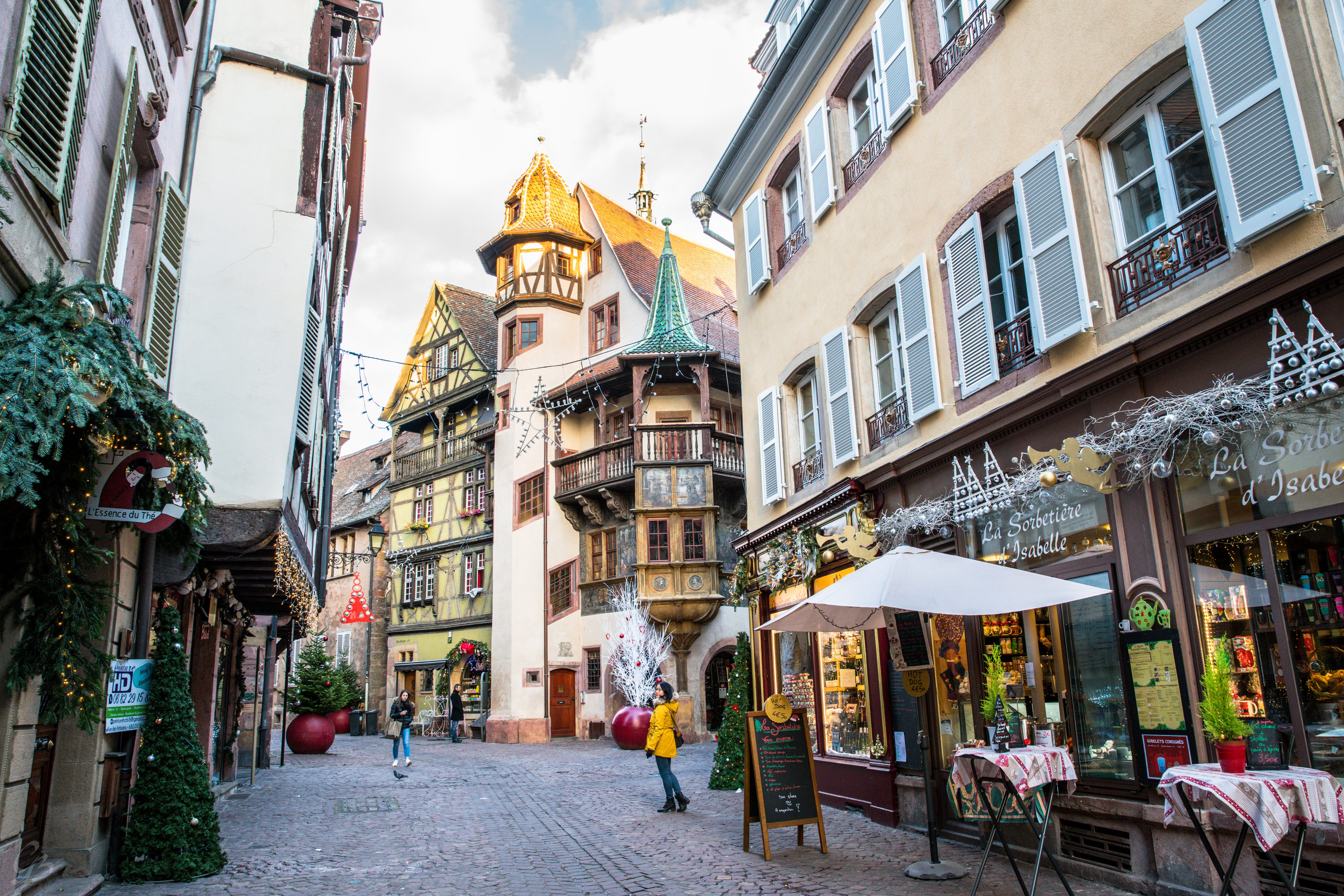 If you like wine with a sweeter flavour than the 4 mentioned above, Vendange Tardive (which translates to "late harvest"), made from overripe grapes which fully absorb the warm sunshine and moderate wind, has a sweeter and stronger taste. Personally, I am a fan of Pinot Gris vendange tardive which has a delicate fruit flavor that helps it maintain a fresh and natural acidity.
On the Alsace wine route to Colmar, make sure not to miss Petite Venise, the "Little Venice" of France. As the name implies, Petite Venise is a little old town located in the city centre, from Marché couvert, stretching through Quai de la Poisonnerie to Saint-Pierre street. In this town, there are small canals and pretty modest houses. These small houses and canals are what make visitors, including me, fall in love.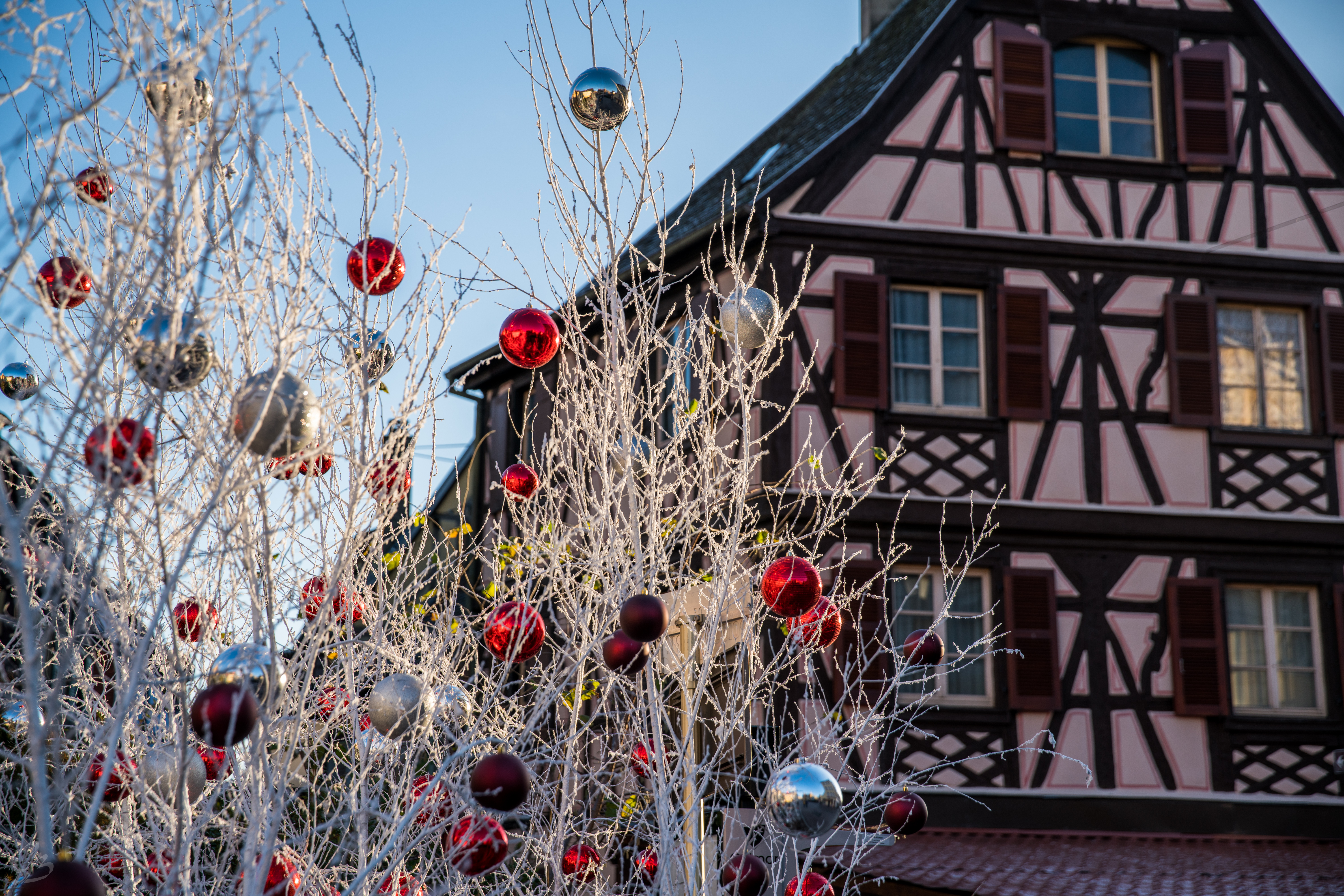 Though I used to find it amusing whenever I read articles with titles such as "If you haven't been to Colmar, you haven't been to France", I had to admit that Petite Venise looks really beautiful in pictures. Small, traditional, and colourful wooden houses reflect off water from the gentle canal. They are decorated with red geranium flower trusses in the summer and covered in white snow and early morning mist in the winter. Petite Venise's scenery is picturesque. Perhaps that is why Colmar is home to many poets and painters; the most famous ones are Auguste Bartholdi, a French sculptor who is best known for designing the Statue of Liberty, and painter Jacques Walz, also known as "Hansi", who often paints the scenes of village life and family life in Alsace.
The early train at 8am took me from Strasbourg to Colmar as the dawn was gradually breaking. After arriving at the train station in Colmar, it took me fifteen minutes to walk to Petite Venise. The early morning was my favourite time of a day because the whole city was still asleep and Colmar appeared so peaceful and quiet. The small roads were getting more crowded as locals were slowly emerging from their homes to go to work. Some owners were opening their stores, and several elders were taking out their bicycles to bike to the local market. A pristine and authentic Colmar.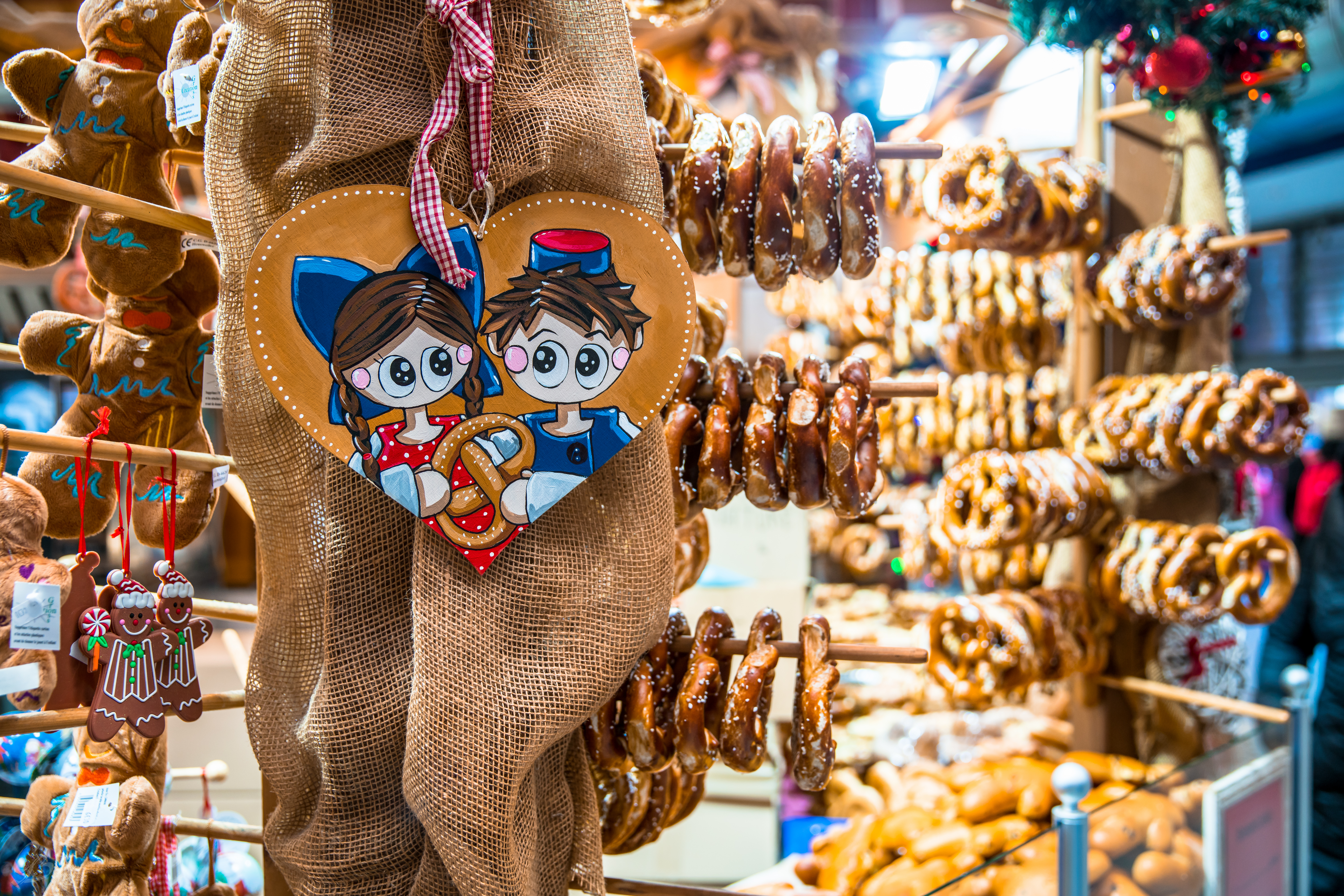 The Christmas market in Colmar opens from late November to the end of December. Here, visitors will find many little stalls on small paths at the city centre. In the cold air of the early winter, it is really interesting to breathe in the aroma of orange mixed with cinnamon from a mulled wine pot. Mulled wine is the most signature alcoholic beverage during the Christmas season in Europe. Alsace is famous for white wine, therefore beside hot red wine, it is also possible to find mulled white wine; it is really hard to find it anywhere else.
When the night falls, stalls selling candies, cakes, toys, and handmade ornaments light up brightly. The bright lights, vibrant music, and the crowds of people laughing happily warm up the atmosphere. In a mere instant, a few white first snowflakes fall down on the steps of the wooden houses. Winter, a season of love, is coming.
WTIPS
HOW TO GET TO COLMAR
Visitors can travel from Paris to Strasbourg, the capital of Alsace, in less than 3 hours by the most modern high-speed train in France.
Colmar is merely 64 kilometres away from the large city of Alsace. Every hour of everyday, there is a train that travels between the two cities. Travel time is about 30 to 40 minutes. Train ticket prices are around EUR9-EUR13 (VND238,000-VND345,000).
Tickets can be purchased on the website of SNCF or at vending machines at the railway station. You do not need to buy tickets in advance because there is not a big change in prices. In addition, in Alsace, you can buy Alsa+ tickets which allow unlimited access to a set of transportation services such as regional trains, buses, tramways, and cars for individuals or groups of 2 to 5 people. Thanks to the distribution of difference zones, you can determine the perimeter within which you wish to travel. Ticket prices range from EUR3.5 to EUR37.6 (VND90,000-VND1,000,000). This is very beneficial when travelling in groups or by trains which travel long distances, for example from Strasbourg to Colmar and vice versa.
CHRISTMAS IN COLMAR
Colmar Christmas market is open from 24th November to 30th December, from 10am to 7pm on Mondays to Thursdays, and from 10am to 8pm on Fridays to Sundays. On 24th December, it will open from 10am to 5pm, and on 25th December, it will open from 2pm to 7pm.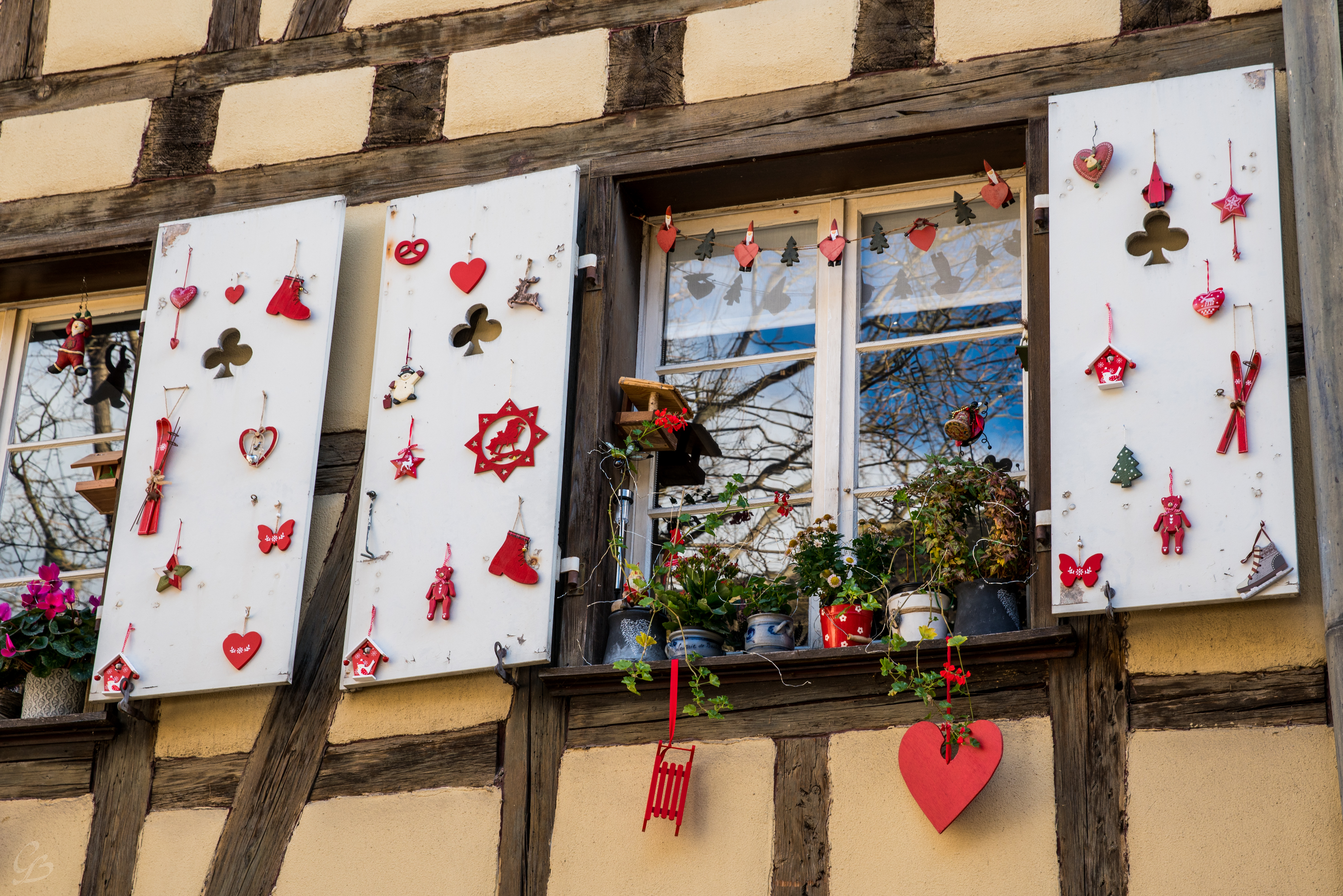 Markets in small villages near Colmar: During Christmas, you can visit any of the Noel markets which can be found in the small beautiful villages in surrounding neighbourhoods such as Kaysersberg, Éguisheim, Münster, Neuf-Brisach, Ribeauvillé, Riquewihr, Rouffach, and Turckheim. It is called "Pays des Etoiles de Noël" (the Land of Stars) by the people of Alsace. Each village's Noel market has its own theme that bears traditional features, and the theme is changed every year.
ATTRACTIONS NEAR COLMAR
During the Christmas season, there are three bus routes added to the regular bus routes from Colmar, which also includes Sundays. Ticket prices range between EUR8 (VND208,000) per person per day for the weekends, and EUR5 (VND130,000) per person per day from Monday to Friday. Tickets are available for purchase on the bus or in the Eguisheim, Ribeauvillé, and Riquewihr tourist offices.
– Route 1: Colmar – Kaysersberg – Riquewihr – Ribeauvillé – Colmar.
– Route 2: Colmar – Ribeauvillé – Riquewihr – Kaysersberg – Colmar.
– Route 3: Colmar – Eguisheim – Colmar.
TAKE PHOTOS OF COLMAR DURING CHRISTMAS
The best time of the day to take photos of the streets covered in shimmering lights is during the blue hour, 1 hour before sunrise and 1 hour after sunset. In Alsace, in December, the blue hour is from 6.30am to 7.30am and from 5.30pm to 6.30pm. However, before Christmas, many tourists flock to Alsace, so it is really difficult to capture the broad view of the beautiful empty streets in the evening. So, it is recommended to take photos in the morning. At this time, decoration lights are still on, so you can take the most romantic and magical photographs.
Some beautiful sites in Colmar: Rue des Marchands, the small bridge on Turenne street, Quai de la Poissonnerie, to name a few.
Bui Huyen Chi | Wanderlust Tips