With its eye-poping natural beauty during rainy season, An Giang Province intrigues many travellers with a sparkling variety of unique architectural structures.
[rpi]
CU LAO GIENG CHURCH – A MUST-SEE DESTINATION IN AN GIANG PROVINCE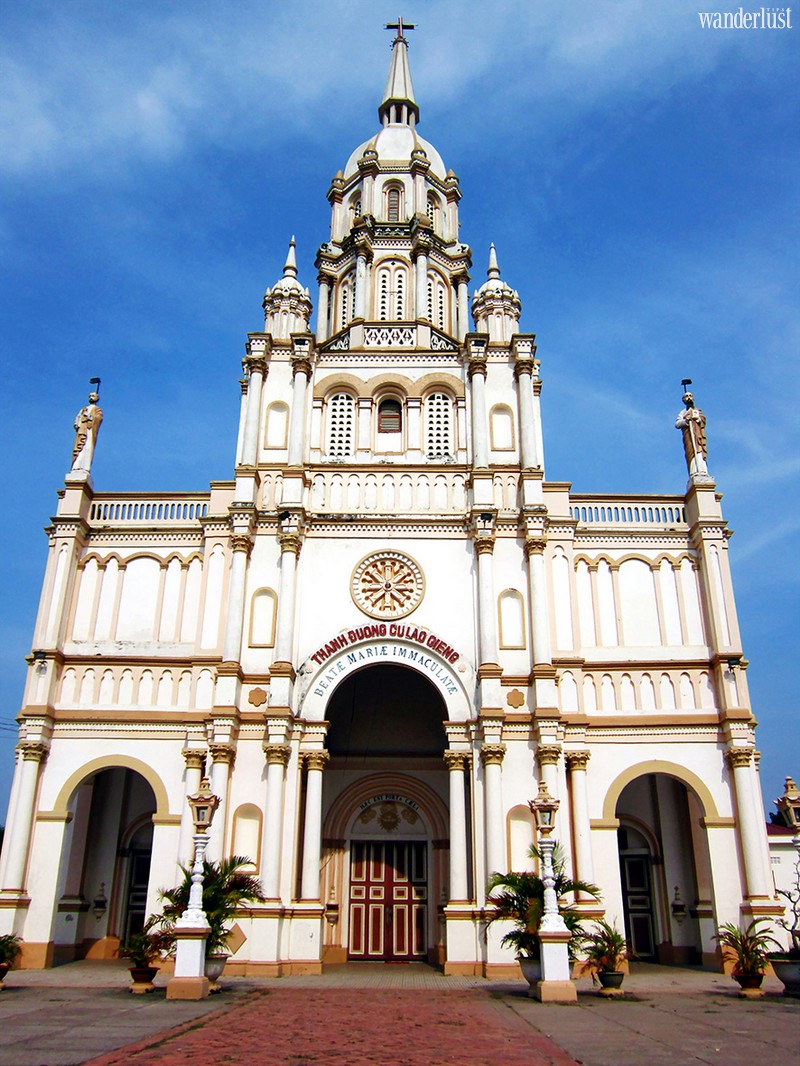 Established in 1778, Cu Lao Gieng is undeniably one of the oldest and largest churches in Southwestern Vietnam. Covering an amazing area of 7,367m2, Cu Lao Gieng Church retains authentically traditional elements of Romanesque architecture. A 35-metre steeple topped by an elaborate cross makes it even more stunning. The walls are made of solid brick and its domed roof is beautifully adorned with unique materials and exquisite patterns that add a touch of elegance and brilliance to the church.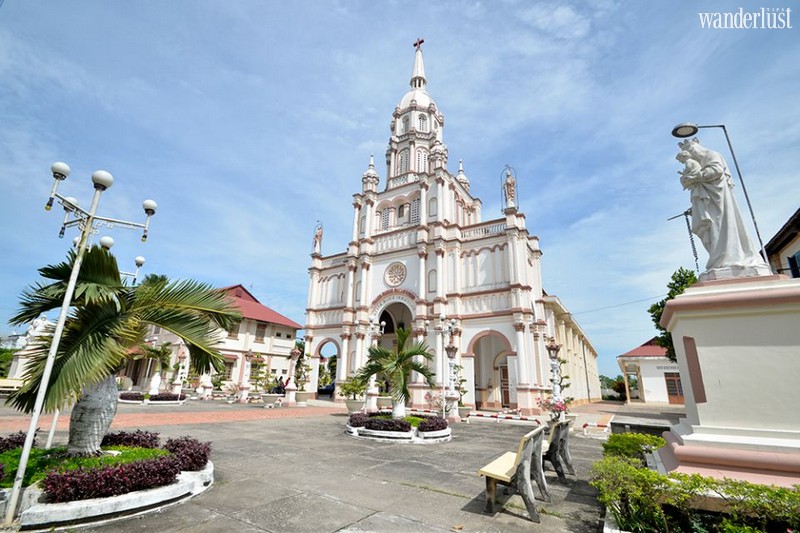 Inside, it is much more light and airy with a tall ceiling and white walls, providing comfort and simplicity as a contrast to the solemn look of the church's exterior. The floor is covered with unique tiles that have still retained their authentic colour and pattern over the course of the years. Take a step through the large wooden door and appreciate the imposing church, you will feel like you are being transported back to an ancient European castle.
MASJID JAMIUL AZHAR MOSQUE IN AN GIANG PROVINCE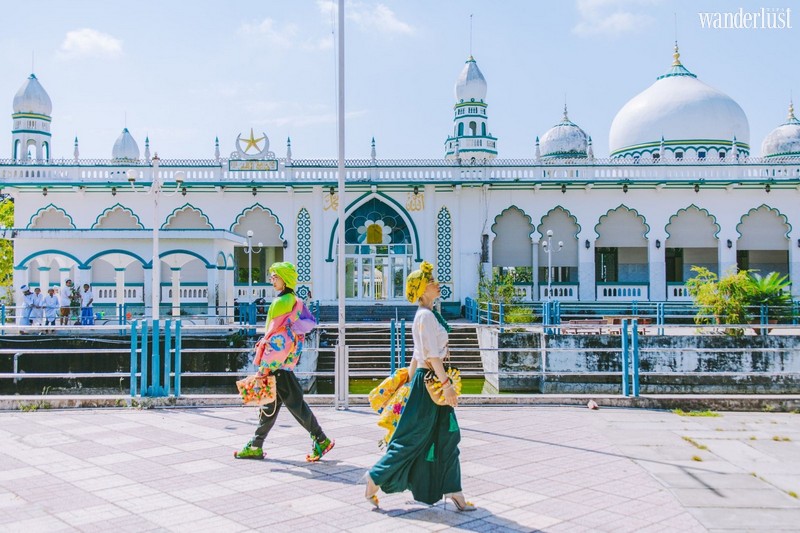 Built-in 1959, Masjid Jamiul Azhar Mosque is also one of the oldest and largest mosques in An Giang. After being reconstructed many times, the mosque has become a religious landmark for Muslim residents in An Giang. Boasting a unique architectural concept in only white and turquoise, Masjid Jamiul Azhar Mosque intrigues both locals and travellers with towering domes and impressive patterns – a genuine architectural masterpiece in An Giang Province. If you want to see a piece of unique architecture and Muslim culture in Southern Vietnam, then take a trip to Masjid Jamiul Azhar Mosque and get a profound insight into the local religion.
XA TO TEMPLE – THE OLDEST ARCHITECTURAL STRUCTURE IN AN GIANG PROVINCE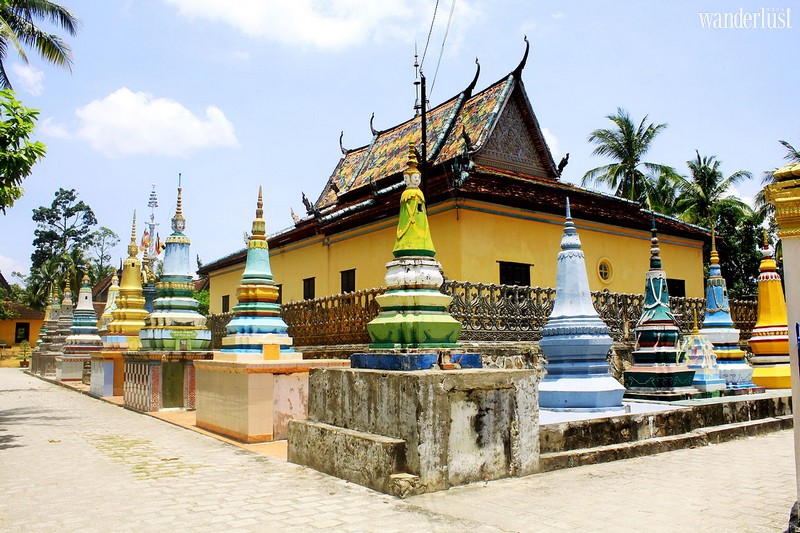 Xa Ton Temple, commonly called Clayton, is one of the most famous spiritual destinations in An Giang that embodies the signature architecture of the Khmer people in Southern Vietnam. Known as the oldest Khmer temple in An Giang Province, Xa Ton Temple is home to an amazing variety of scriptures in Vietnam. Xa Ton Temple is a seriously impressive structure thanks to its stunning high location and precious spiritual values. Any trip to An Giang Province would not be complete without taking a stroll around this place and enjoy its meditative ambience.
LAU PAGODA – A SLICE OF JAPANESE ARCHITECTURE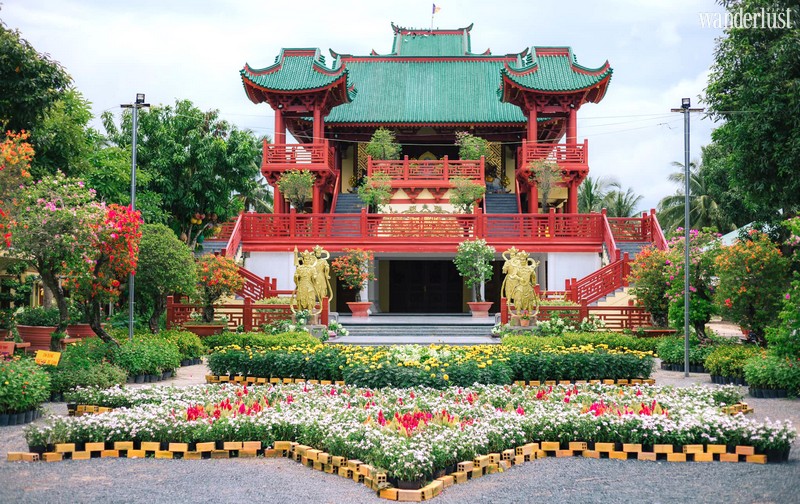 Lau Pagoda or Phuoc Lam Tu Pagoda is located in Xuan Phu Village, Tinh Bien Town, Tinh Bien District, An Giang Province. Also known as "Little Japan in the heart of An Giang", the site deftly and meticulously depicts unique Japanese architecture with its stacked upper floors, inviting travellers to immerse themselves in an exceptionally tranquil ambience. With its enchanting landscape and unique architecture, Lau Pagoda has been a significant holy site for both Buddhists and travellers.
Wanderlust Tips