(#wanderlusttips #seasideresorts) With their stunning beachfront locations, unique architecture and luxury amenities, the following resorts are the perfect getaways between the ocean and the mountains.
[rpi]
Mia Resort Nha Trang – A peaceful haven
Add: Bai Dong, Cam Hai Dong Commune, Cam Lam District, Nha Trang City, Khanh Hoa Province, Vietnam
Phone: +84 58 3989 666
Email: info@mianhatrang.com
Website: www.mianhatrang.com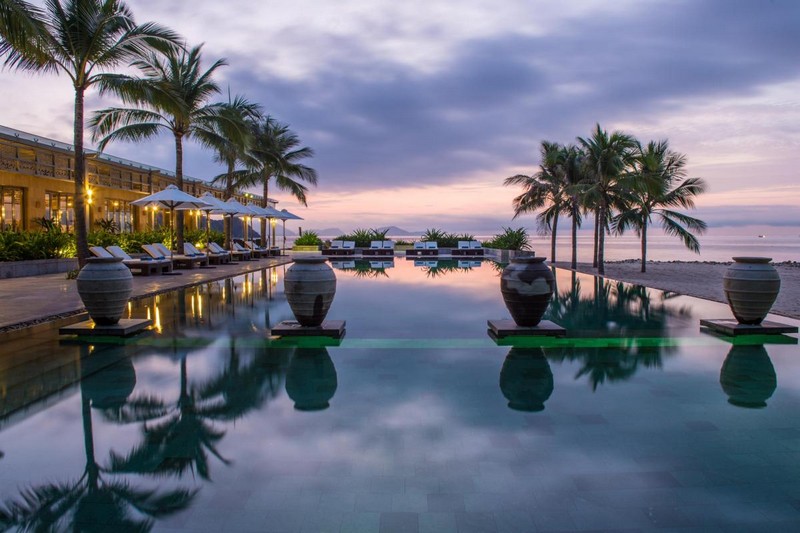 Mia Resort Nha Trang is a harmonious combination of nature and architecture, a safe haven for those who seek peace and relaxation. Whether you are a solo traveller, a couple on a romantic getaway, a family with young children, or a group of friends looking for an unforgettable experience, Mia Resort Nha Trang's many options will satisfy your every need. Couples will love a stay at a Standard Condo, garden villa, hillside villa, or beachfront villa. Family Condos are perfectly designed for families travelling with young children. If it is refreshing stay with the privacy and comfort of your own home that you are after, then the two-bedroom Mia Suite with a private pool and fully equipped living room is the best choice. Currently, Mia Resort Nha Trang is putting the finishing touch on 12 new 5-bedroom beachfront villas, which will officially open in the third quarter of 2016.
These luxury villas promise to be perfect for a group of friends or family who wish to enjoy big natural space as well as their privacy. The 5-bedroom villa is a paradise if you are wanting to escape the hustle and bustle of everyday life and completely relax. All 12 villas stand alone and are just a few meters from the beach, with a large environmentally friendly outdoor pool. Each villa has its own quiet garden. Green grass decorates roofs and cobblestone paths.  Green bamboo, sugar cane, and lemongrass trees surround the garden, and an immense white sand beach connects it to the ocean, together creating the harmonious beauty of the resort. From your bedroom, you have a beautiful view of the ocean, which makes waking up every morning all the more exciting. Whichever room you decide to stay in at Mia Resort, you are bound to have an unforgettable experiences at this 5-star tropical paradise.
Mia Resort Nha Trang offers a special promotion: 10% discount for 1-night stay, 20% discount for 2-night stay, and 30% discount for 3-night stay. The program is available from September 5 to November 30, 2016.
Evason Ana Mandara Nha Trang – A tropical garden by the beach
Address: Beachside, Tran Phu Boulevard, Nha Trang City, Khanh Hoa Province
Tel: +84 58 352 2222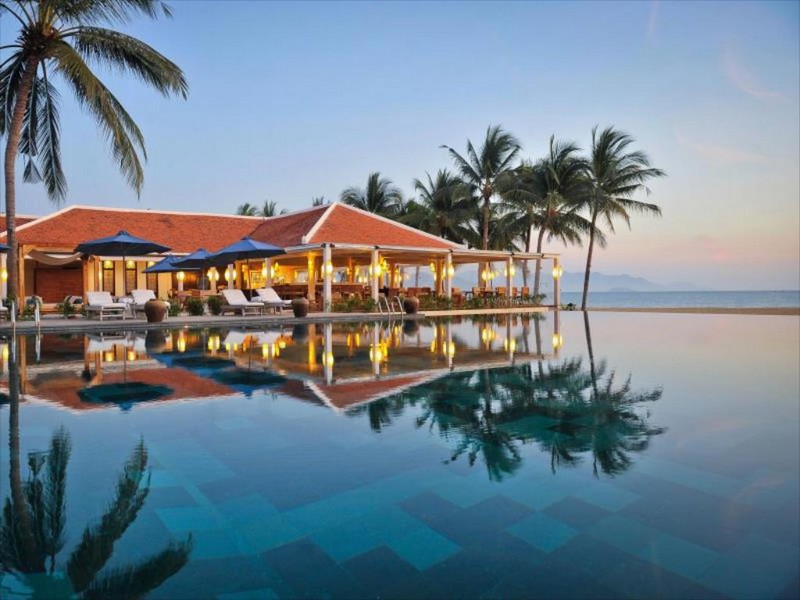 Nestled in beautiful Nha Trang Bay, Evason Ana Mandara Nha Trang resembles an ancient Vietnamese home. Making it an ideal choice for families wanting to enjoy their vacation at a 5-star beachside resort. Poetic sunsets await you and when the resort is bathed in candlelight the setting is perfect to simply let go. The resort's 17 villas and 74 rooms are fully equipped with modern facilities, and line up along the ocean.
Each room has a panoramic view of the vast ocean and overlooking Nha Trang Bay. If you are travelling with young children, you can spend time with them at the Children's Club and the children's swimming pool. The outdoor Ana Beach House Restaurant, which serves fresh seafood upon request and the Pavilion Restaurant, which serves Vietnamese cuisine, are both family friendly. Also on offer are recreational activities including snorkelling, scuba diving, beach volleyball, mountain biking, a fully equipped fitness and wellness centre and a massage room. After a tiring day of discovering your surroundings, enjoy total relaxation at the Six Senses Spa or take a dip in the cool water of the pool.
At Evason Ana Mandara Resort Nha Trang, you can fully let go amidst a colourful tropical garden.
Tips: From now until October 31, 2016, Evason Ana Mandara Resort Nha Trang offers a special promotion program: Guests who book 1 – 3 nights at the resort enjoy a 20% discount of the bar rate for all room types.
Mia Resort Mui Ne – A wonderful holiday by the sea
Add: 24 Nguyen Dinh Chieu Street, Mui Ne, Binh Thuan Province
Phone: +84 62 3847 440
Website: www.miamuine.com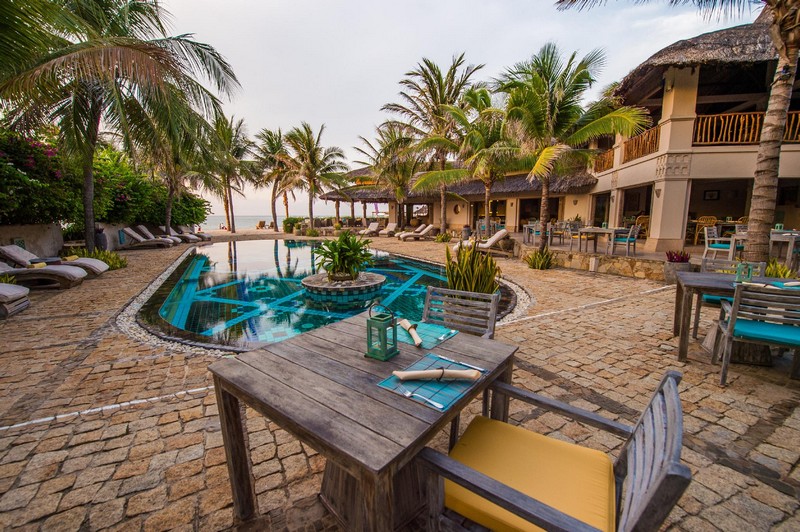 Mia Resort Mui Ne impresses at first sight with its traditional folk architecture. From the roofs and brickworks to he lotus leaf-shaped sinks and the green garden, this resort is one of a kind. Poetic Mia Nui Ne Resort sports its own private beach and offers excellent service that exceeds all expectations.
The 31 rooms of Mia Resort Mui Ne are unique artworks fusing the beauty of nature and tradition with modern amenities. All furniture, curtains and bed sheets are carefully designed to suit the aesthetic and add to the cosy and intimate atmosphere of the resort. All Sapa rooms have private balconies, and all the bungalows open onto the lush garden. The spa is outdoor, surrounded by flowers and a romantic and peaceful atmosphere, which ensures absolute relaxation. After spending your day exploring, you can soak in the cool water of the multi-coloured pool or enjoy a great treatment at the Green Spa.
Mia Resort Mui Ne is truly a paradise for those who seek a rustic, quiet space that offers the comfort and class of a 4-star resort. That is the kind of vacation that awaits guests at Mia Resort Mui Ne.
Currently, Mia Resort Mui Ne offers a special promotion of up to 25% off. The program applies from now until November 30, 2016.
Wanderlust Tips | Cinet