What are your favorite moments of the day? After a hard day at work, you can shed the worries of life, and come home to your loved ones to enjoy a simple meal, whilst relating snippets of your day to your family- the little stories that can seem so meaningless, yet can impart such warmth. The heat emanating from your cozy little kitchen does not just warm the stomach but also helps kindle the love in a family.
They say the woman of the house is the person stoking the fire of love. They possess the knowledge to prepare delicious meals, they can offer an ever-changing 'menu' to sustain a voracious appetite, and can ensure the family gets adequate nutrition.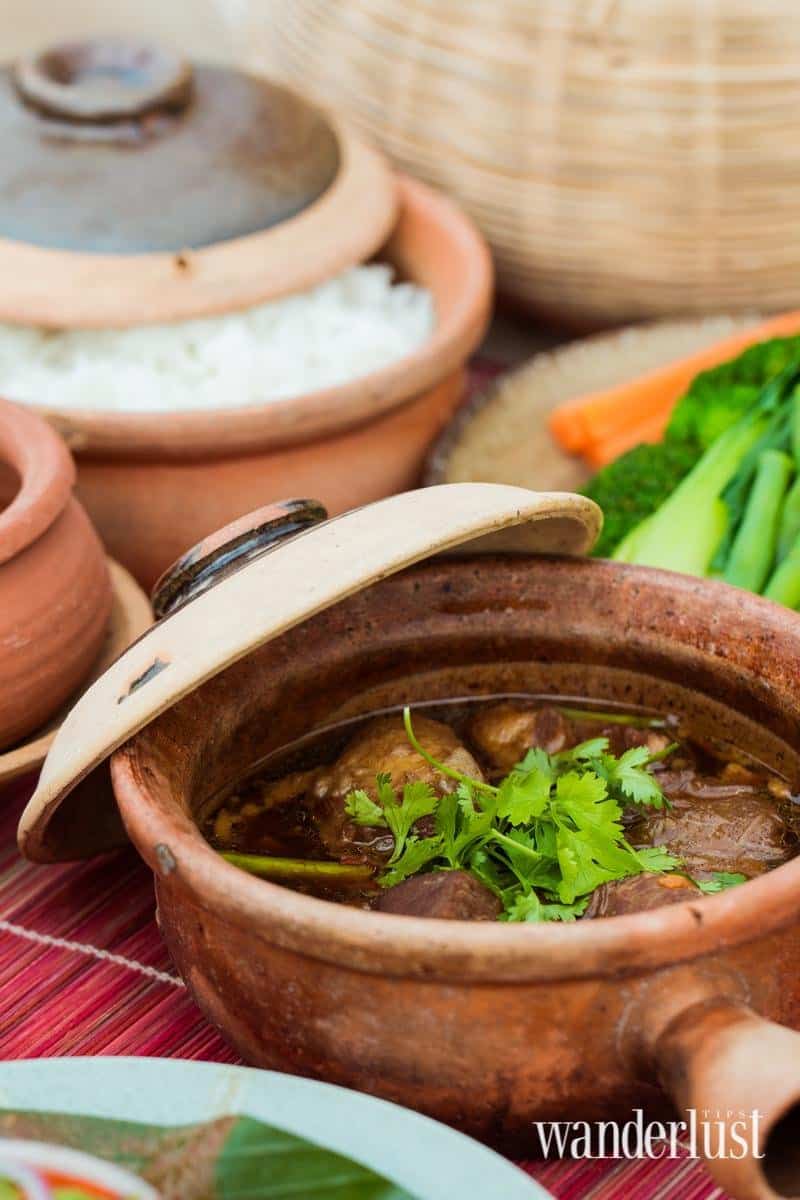 The secret of a family meal is stimulating appetizers. You can combine familiar ingredients such as squid and shrimp with refreshing green mango to create a seafood mango salad. Try combining it with some sesame chips and take a bite that combines coriander, mango julienne, fresh seafood, and in particular, savor the sauce that is spicy, sour, salty, and sweet all at the same time. Everyone will be eager to sample this dish and will be excited about the entree.
On a cold February day, some white rice served with hearty braised pork is enough to fill the stomach. Braised meat is often the main course in a Vietnamese meal. Braised pork with pepper is delicious, yet quick and easy to make, which makes it a firm favorite of many a family dinner. The fragrance of Phu Quoc white pepper can awaken your sense of smell, the golden-brown of the caramel sauce adds to its visual appeal, and the tender, braised, lean pork, cooked with a couple of boiled eggs, can satisfy the tastebuds. To make a delicious serving of braised pork, many women cook it in a pot and simmer it over charcoal or on a wood stove for an hour, after first marinating the meat for at least an hour. For these women, preparing these delicacies for their loved ones brings joy to an otherwise mundane daily life.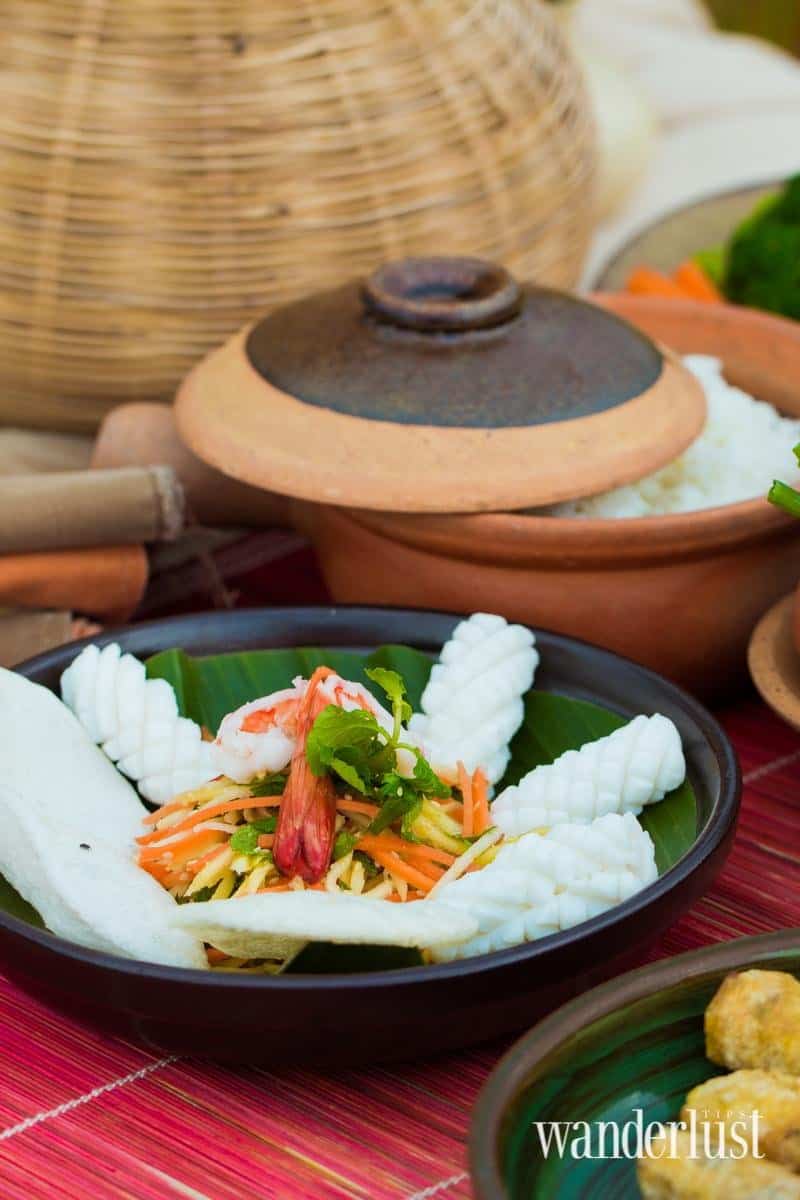 A dish loved by many young children is crab spring rolls. Spring rolls are a must-have dish during any Vietnamese festivities. The dish requires careful preparation by the chef and careful selection of the ingredients with which to cook. Inside each crispy spring, the roll is a combination of nutrition: lean ground meat, cloud ear mushroom, carrots, jicama, bean sprouts, crab meat, and egg. The rice paper wrappers must be thick enough to hold their shape but once cooked, must not be too crispy or flimsy. This will ensure the most perfect roll. Spring rolls, however delicately prepared, must be served with sweet and sour sauce and herbs.
Tofu is another popular dish in Vietnam and features on many a home cooking menu. Tofu is often prepared in very simple ways, such as boiled or fried in a tomato sauce. With a little twist, mushroom-stuffed tofu cooked in tomato sauce can make for an interesting dish. It's a simple dish, but it requires the homemaker to choose exactly the right kind of tofu; ideally soft and rich with the flavors of soybeans. Fried golden tofu, stuffed with mushroom and cooked with fresh pureed tomato sauce is healthy yet appetizing.
If you're tired of boiled or steamed vegetables, mix a medley of carrots, courgettes, bitter melon, and broccoli, and serve it with sesame salt. No home-cooked meal is complete without a bowl of crab soup, so simple but still so memorable. Crabmeat is cooked with Vietnamese vegetables like vine spinach, luffa, and jute mallow, offering a sweet but pleasing taste. A truly great bowl of crab soup must contain chunks of crab meat, plenty of green vegetables, and a clear broth. Crab soup is rich in nutrients, especially calcium, which is great for your health.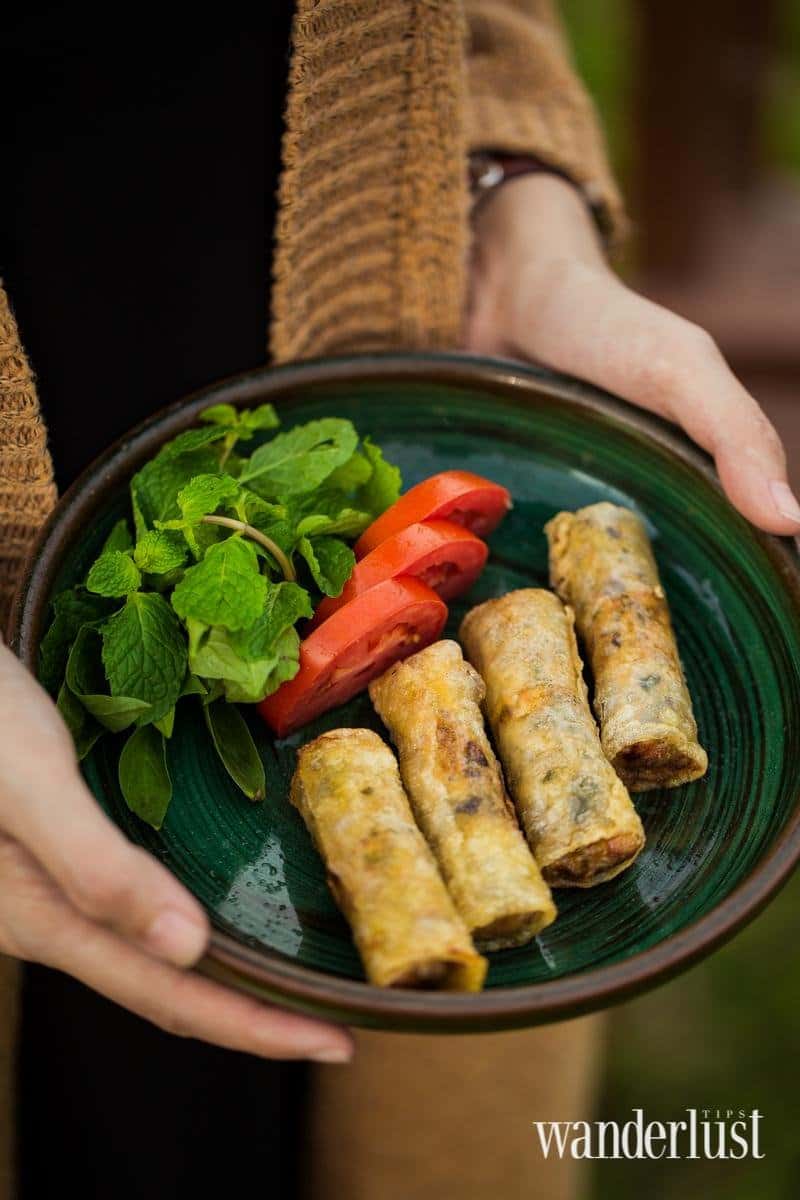 At the end of the meal, offer a green pomelo, rich in Vitamin C for dessert, a worthwhile companion to extend your storytelling.
Happiness is often hidden in the small moments that many are unaware of. Only when you're away from home, eating a rushed, fast-food dinner, can you truly appreciate the value of the simple, family meal? It's an inseparable part of life, the invisible thread which bonds a family for years to come.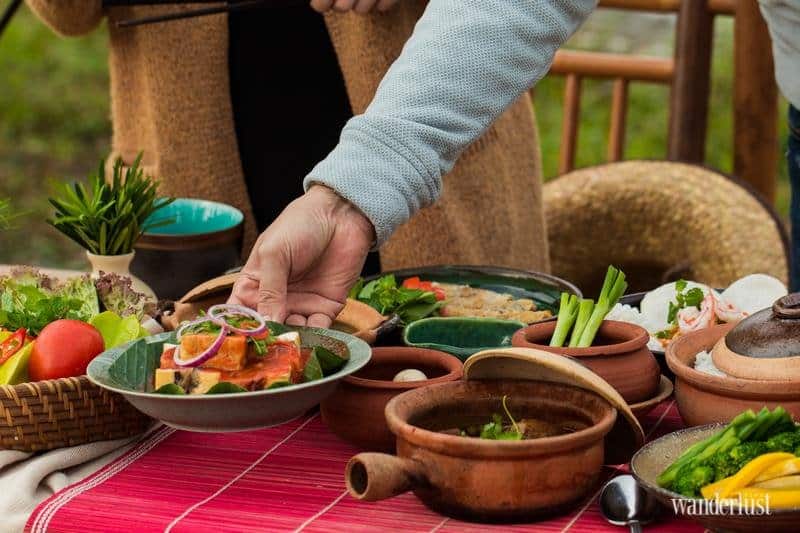 Mango seafood salad
Ingredients: 150 grams squid, 150 grams shrimp, 200 grams green mango, herbs such as basil, mint and coriander, fish sauce, minced chili and garlic, and sugar and lemon juice to taste.
Recipe:
+ Sauce: Mix the fish sauce with sugar and lemon juice, and combine with the minced garlic and peppers.
+ Mix the shrimp, squid, mango, and herbs, then slowly add the sauce and toss lightly. Serve with sesame chips or shrimp chips.
Crab spring rolls
Ingredients: 50 grams ground lean meat, 10 grams of cloud ear mushrooms, 20 grams julienne carrots, 20 grams slaw, 100 grams crab meat, seasoning, pepper, spring onion, one egg.
Recipe: Mix the ingredients well until blended, roll them in rice paper (Safoco brand, 22-centimeter size is recommended), use egg yolk to seal the rolls, and fry them until golden and crispy. Serve with sweet and sour sauce and herbs.
Phu Quoc style braised pork with pepper
Ingredients: 500 grams of lean pork, sugar, fish sauce, Phu Quoc white pepper, red onion, 2 peeled hard-boiled eggs, seasoning.
Recipe:
+ Dip the pork lightly in boiling water to seal the edges and cut it into 3-centimeter cubes, marinate in fish sauce, sugar, pepper, and chopped onion.
+ Heat the sugar in a pan over low heat until brown, add cold water, and marinate the pork in the mixture for 30 minutes.
+ Put the eggs and pork in a pot, add water and cook on low heat for about 2 hours.
Crab soup
Ingredients: 200 grams carb, 100 grams spinach, 100 grams luffa, 100 grams jute vegetable, 150 grams pickled eggplant.
Recipe:
+ Puree the crabmeat and drain it to separate the juice, boil the juice until the crabmeat floats, take out the crab meat, and set aside.
+ Add seasoning to taste, add the vegetables and boil for 2 minutes, scoop the mixture into a bowl and add crab meat on top.
Special thanks to Mr. Le Ngoc Phi, head chef at Emeralda Resort, Ninh Binh, who contributed to this article.
Wanderlust Tips