After a day traveling to discover attractions in Ninh Binh, where  you should go in the evening, what to do to have a new experience? Here are the detailed suggestions from Wanderlust Tips for so you to have a journey to discover the perfect land of Ninh Binh.
[rpi]
Bai Dinh Temple at night – Explore the Shimmering Beauty of Thien Ha Cave at Night
During the daytime, Bai Dinh Temple is majestic among the mountains, standing tall in the sunlight. At night, Bai Dinh Temple has a different beauty adorned by thousands of shimmering lights. Offering a more novel experience for visitors, the local Tourism Promotion Information Centre, Department of Culture, Sports and Tourism and Nam Thanh International Travel Trade Service JSC (Hanoi) are hosting tours themed 'Experience Bai Dinh and explore Thien Ha Cave at night'.
Top tips: You can explore Bai Dinh Temple by tram, enjoy the beautiful view of the shimmering complex from the 13th floor of the stupa, listen to a Buddhist sermon and explore Thien Ha Cave. Tours start every Saturday. A 2-day, 1-night tour package is priced from 1,190,000 – 1,500,000 VND per person.
Dining: Hoang Giang Restaurant, Thang Long Restaurant and Thanh Cao Restaurant.
Camping at Cuc Phuong National Park – Explore the Animal Kingdom at Night
At night, Cuc Phuong National Park has many amazing things to explore. Camping here over night, you can enjoy the fresh air and the smell of the damp earth, grass and wood. You can also explore and learn about wild nocturnal animals.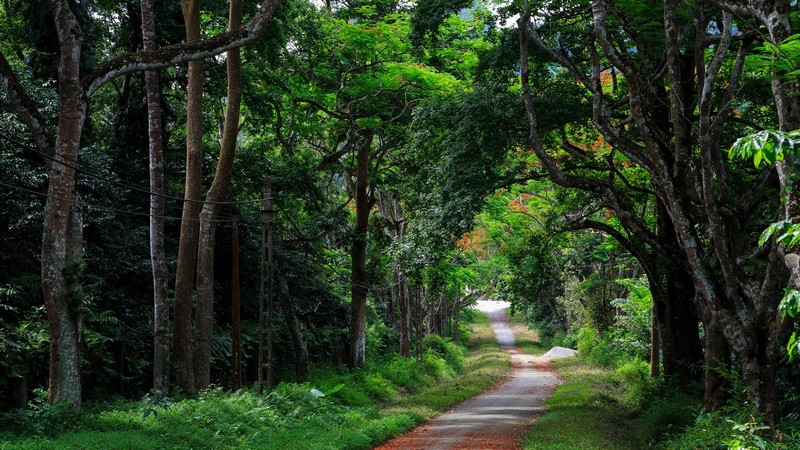 Top tips: If you do not have much experience in the forest, you can join a tour offered by the Environment Education and Services Centre. The ideal time to visit is the dry season from September to December, because in the rainy season there will be more mosquitoes and leeches. You should also bring necessary tools such as hiking shoes, flashlights, sleeping bag, binoculars, camera and insect repellent.
Dining: Bring food and water to prepare for the night.
Ky Lan Moutain – Ninh Binh's Penjing
Ky Lan Mountain is located in Ninh Binh's city centre, in Tan Thanh Ward, near Highway 1A and Trang An Avenue, which connects the city centre to Trang An – Hoa Lu Citadel – Bai Dinh Temple. It is a mountainous island inside a lake, which is also named Ky Lan. The mountain is shaped like the head of a Quilin looking toward the North. The mountain is 50 metres tall, and the North of the mountain has an indentation shaped like the mouth of a Quilin. Surrounding it are cliffs and lush greenery, like the beard of the Quilin.
Top tips: With its airy space and charming beauty, Ky Lan Mountain is a favourite with both locals and tourists. At night this place is lit, creating a magical landscape.
Must see: Gate of Trang An Complex is also lit in the evening.
Dining: Trau Vang Restaurant (Tran Hung Dao Street), Nhu Y Restaurant (Trang An), BQSea Restaurant (1st Road, Khanh Thanh Street and Bingo Café (Dao Duy Tu).
8th Street – Dining and Entertainment
8th street, now named Cu Chinh Lan Street, is in the city centre of Ninh Binh. This is a famous dining and entertainment area of the city. There are many dining options here, from street food to big restaurants, as well as karaoke bars for entertainment. Walking along this street, you will be attracted to the countless tasty treats on offer here including hot sticky rice, rice crackers, grilled chicken feet, escargots, goat meat and steaming hot pots. The bustling streets with theirs crowds of visitors turn make for a cheerful atmosphere.
Dining: Many choices of restaurants and street food are on offer.
Ninh Binh Stadium – Experience the Idyllic Life of Local People
Ninh Binh Stadium and Sports Complex is on Dinh Tien Hoang Road, Dong Thanh Ward in Ninh Binh City. This is one of the most modern stadiums in Vietnam, hosting national volleyball competitions.
The stadium exists to host sport activities, but in the evening, it is a popular gathering spot for the youth. Here, you can walk around, choose a roadside restaurant or café, enjoy a tasty treat and enjoy the peaceful rhythm of life.
Dining: Restaurants and cafes around the stadium include Thanh Long Restaurant, Hoang Long Restaurant, Anh Khanh Restaurant, Sochu BBQ and Café Hien.
Aria Café – A Cosy and Relaxing Space
Aria Café is a unique space to relax, offering an unconventional café experience. It is also an ideal rendezvous spot for work meetings, gatherings, or simply to enjoy a cup of coffee. At Aria Café, you can choose from many seats with different purposes, from quiet corners to an outdoor green space.
Top tips: The café is located on the 1st floor of Bong Lau Event Centre – The Reed Hotel Ninh Binh (Dinh Dien Street, Dong Thanh Ward, Ninh Binh City). The café opens daily from 6:30 a.m. to 11 p.m.
Dining: The menu offers a variety of beverages for guests to choose from.
Chookie's – A favourite Destination for Tourists in Ninh Binh
Chookie's Café and Restaurant is highly praised on TripAdvisor. The clean and airy space is decorated with cheerful and eye-catching red and gold colours. The menu at Chookie's combines Western and Vietnamese cuisine, including many interesting choices, suitable for the taste buds of Vietnamese and foreigners alike.
Top tips: Chookie's is at No. 17 Luong Van Tuy, in the city centre. The restaurant is open daily from 11:30 a.m. to 9:30 p.m. The staff is friendly and speaks good English. Chookie's also offers services such as motorbike rentals, tours and booking train ticket.
Dining: The restaurant is famous for it burgers, sandwiches and fresh fruit juices.
Tu Tu Coffee – Experience Romantic Vintage Style
Tu Tu Coffee is located at No. 14, Lane 248, Ngo Gia Tu Street – a quiet alley near the old train station in Ninh Binh. Visitors who stop for a drink frequently hear the train horn. The sound is the reason for the café's unique name: Tu Tu.
The interior blends elements of nature and romantic European vintage styles. The unique and striking décor was designed by the owner and features items he brought back from his travels.
Dining: Popular drinks here are Thai milk tea, blueberry shakes, peach tea and xuka flan.
Van Ly | Wanderlust Tips | Cinet