You have three days to explore Ninh Binh, where you should go and what to do to have enjoyable experience? Here are the detailed suggestions from Wanderlust Tips  for you to have a perfect journey in Ninh Binh.
[rpi]
Hoa Lu Citadel – The First Capital City of Feudal Vietnam
Hoa Lu Citadel is located in Truong Yen Commune, Hoa Lu District. It is an important national historical and cultural relic and one of three parts of the Trang An Scenic Landscape Complex – a UNESCO World Heritage. Hua Lu Citadel is the first capital city of the feudal state of ancient Vietnam, tied to the Dinh, early Le, and Ly dynasties. Over the centuries, the ancient citadel has preserved its historical relics including the temple of Dinh Tien Hoang, the temple of Le Dai Hanh, the tomb of the Dinh Kings, the tomb of the Le kings, Vuc Vong Temple, Nhat Tru Pagoda and Cua Dong Stel. The mountains, rock walls, and caves around them make these relics more beautiful. All elements combine to create a historic and long-standing stone citadel.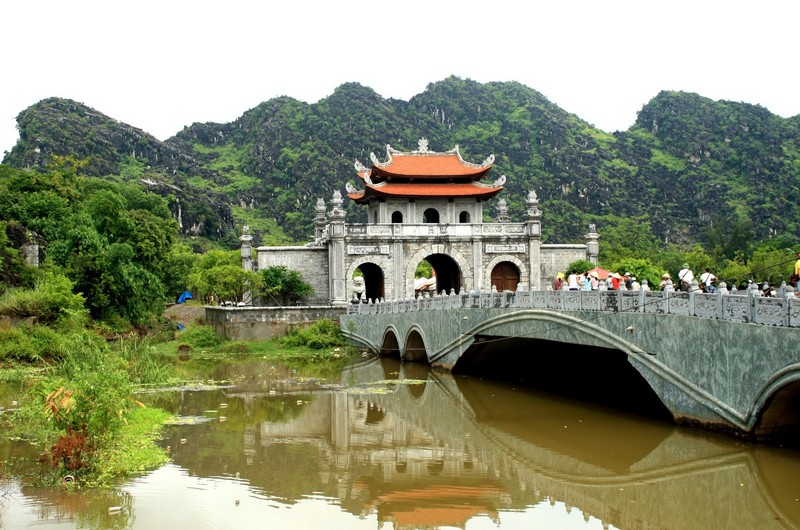 Top tips: Entrance fee is 20,000 VND per person.
Dining: Hoang Giang Restaurant, Ba Cua Restaurant, Ma Yen Restaurant (specialised in goat) and Truong An Restaurant.
Bai Dinh Temple – The Temple of Records
Bai Dinh Temple's Spiritual and Cultural Complex is located in the mountains of Sinh Duoc Village, Gia Sinh Commune, Gia Vien District, about 12 kilometres from Ninh Binh City and 5 kilometres from Hoa Lu Citadel. Bai Dinh Temple is located next to Trang An Complex. The spiritual complex covers an area of 700 hectares, and is the largest temple in Vietnam. Its architecture represents the rich history here, with structures built on the hillside from low to high, across five levels. The temple also holds many records including housing the biggest bronze Buddha statue in Asia, the longest Arhat corridor in Asia, the biggest bronze Buddha Maitreya statue in Southeast Asia and being the biggest temple in Vietnam.
Top tips: Tram rides from the parking lot to the temple are 30,000 VND per person per way. Entrance fee to the stupa is 50,000 VND per person. Guided tours are 300,000 VND per tour.
Dining: A food court is located inside the complex and there are nearby restaurants including Tuan Hao Restaurant, Huu Nghi Goat Restaurant and Sy Hao Restaurant.
Trang An Ecotourism Complex – The "Ha Long Bay on Land"
Trang An Ecotourism Complex possesses a diverse system of natural limestone mountains and caves. You will be overwhelmed seeing the protruding mountains, greenery and small ponds at the foot of the rocky mountains and the mysterious caves. The Trang An Complex is rich in tectonic geology, geomorphology, archaeology and aesthetics, and has been recognised as a UNESCO World Cultural and Natural Heritage.
Top tips: Boats are the main way to explore the complex. There are currently two 3-hour tour routes; each covers many impressive caves and ancient temples. Fares are 150,000 VND per adult and 80,000 VND per child (under 1.4 metres tall)
Dining: Ben Trang An Restaurant (Tran An Port), De Pho Nui, Que Vu Restaurant and De Chinh Thu Restaurant.
Tam Coc – Bich Dong Complex – The Second Best Cave in the Country
The Tam Coc – Bich Dong Complex covers an area of 350.3 hectares. It is a part of the Trang An Ecotourism Complex – a UNESCO world natural heritage. It is part of Ninh Hai Commune located about 7 kilometres from Ninh Binh City.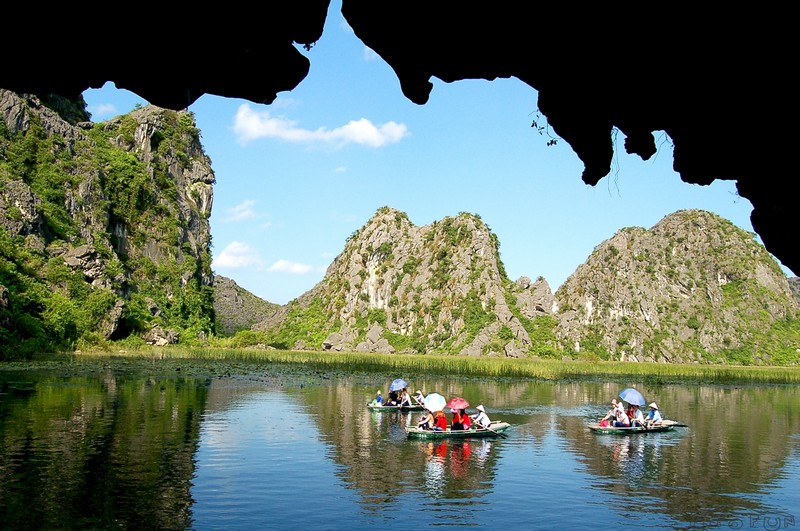 Top tips: The complex offers sightseeing routes via boat, bike or on foot, which cover nearly 20 destinations. Boating rotes include: Van Lam Port – Ngo Dong Lake – Tam Coc, cave tour, Thach Bich – Nang Valley, Nham Valley – bird garden, But Cave – Thien Ha Cave. Bicycling, walking and hiking tours cover Bich Dong Mountain and Pagoda, Tien Cave, Mua Cave, Co Vien Lau Ancient Houses, Thai Vi Temple – Thien Huong Cave.
Tickets are 120,000 VND per adult and 60,000 VND per child (under 1.4 metres tall). Ferry rides to Tam Coc cost 150,000 VND each way, each can carry 4 Vietnamese or two foreigners.
Must see: Van Lam Embroidery Village
Dining: Bamboo Bar and Restaurant, Anh Dzung Garden Restaurant, Minh Toan Restaurant Father Cooking, Tam Coc Bar and Hoang Duc Restaurant.
Thung Nham Bird Park – A Sky Filled with Birds
The bird park is in Ninh Hai Commune, Hoa Lu District is about 12 kilometres from Ninh Binh City. The bird park combines culture, spirituality, nature and biodiversity. Bird Valley is the most famous destination, home to over 50 thousand birds of nearly 40 species. At sunset, flocks of white storks fly home, covering the earth and the sky, creating a fascinating spectacle.
Top tips: The bird park is located inside Trang An Complex and next to Tam Coc – Bich Dong Complex. To reach the bird park, follow the path from Bich Dong Temple (inside Tam Coc – Bich Dong Complex) about four kilometres. Tickets are 100,000 VND per adult. You can also buy a tour of the Tam Coc – Bich Dong Complex that includes Thung Chim Bird Park.
Dining: Thung Nham Restaurants inside the resort.
Van Long Nature Reserve – A Heavenly Ink Painting
Located North of Gia Vien District, Van Long looks like a heavenly ink painting, with limestone mountains reflecting in the clear blue water. Inside the mountains are 32 beautiful caves including Ca Cave, Bong Cave, Rua Cave, Chanh Cave and Thung Doi Cave. In addition to its beautiful natural scenery, Van Long possesses rich culture and history, with many relics such as Dich Long Temple and Cave, Hoa Ly Temple, Dinh Tien Hoang Temple and Duc Thanh Nguyen Temple.
Top tips: You can explore the nature reserve by boat, which takes about 1.5 to 2 hours. The ideal time to visit is at sunset, when you can see flocks of birds returning home or see the rare Delacour's Langur. Entrance fee is 50,000 VND per person.
Dining: Nha La Restaurant, Van Long Stilt house Restaurant, thee restaurant inside Emeralda Resort Ninh Binh or restaurants inside the nature reserve.
Thien Ha Cave – The Milky Way Between the Mountains
Thien Ha Cave is about 700-metres deep and divided into two areas: the dry cave is about 200-metres deep, and the wet cave is 500 metres deep. Dividing the two areas is a natural gate, which brings natural light into the cave, allowing visitors to see the stalactites of many shapes and colours.
Top tips: Thien Ha Cave is in Thien Ha Commune, Nho Quan District, about 24 kilometres from Ninh Binh City. The cave is located in the heart of the mountains, at a height of nearly 200 metres. To reach the cave, you need to take a boat following the canal, which brings you to the port by the cave. Tickets are 80,000 VND per adult and 40,000 VND per child under 1 metre tall. You can also buy a tour of Tam Coc – Bich Dong Complex to see Thien Ha Cave and other destinations.
Must see: Thien Thanh Cave.
Dining: There are restaurants inside the Tam Coc – Bich Dong Complex or you can return to Ninh Binh City for more choices.
Kenh Ga Hot Spring – Ecotourism and Leisure Spot
Kenh Ga Hot Spring is located in Kenh Ga Village, Gia Thinh Commune, Gia Vien District, about 15 kilometres North of Ninh Binh City. The spring originates from inside a mountain in Kenh Ga's floating village. The water temperature here is 53 degrees Celsius, and it is clear and salty. This is a valuable source of mineral water and provides physiotherapy for therapeutic and medical purposes.
Top tips: Kenh Ga Hot Spring offers dining, entertainment and recreational services. Accommodation options include stilt houses (private or dorm rooms) and 2-star hotels. Restaurants here offer Ninh Binh specialties. Entertainment services are also on offer here including a pool, massages, karaoke and campfires.
Dining: Enjoy local specialties such as rice, goat, mountain snails and fish salad at the restaurant inside the complex.
Van Ly | Wanderlust Tips | Cinet