Though provence is famous for abundance of beautiful fields of purple Lavender, coming here you will be amazed by its other stunning aspects. Nestled at the foot of montagne sainte-victoire, aix-en-provence, a Yormer capital of provence is a fabulous city-commune in northern France. Legend has it that it was where the ghost of the kings and Artists shone on the water surface. Spending days walking on the Streets, listening to the whisper of the fountains, or immersing in the Sweet sunlight, my life suddenly became so poetic.
In its golden time during the Middle Ages, Aix en-provence (or simply Aix) was an independent kingdom ruled by René of Anjou. While Provence was a castle located on jagged rock mountains, Aix was compared to a queen or a rich patrician, and was also considered a powerful city of traders and dancers. Luxury castles, elegant fountains, and closed squares all feature the affluence, power, and the soul of the city. And we need to have a sincere heart to tell the story of Aix.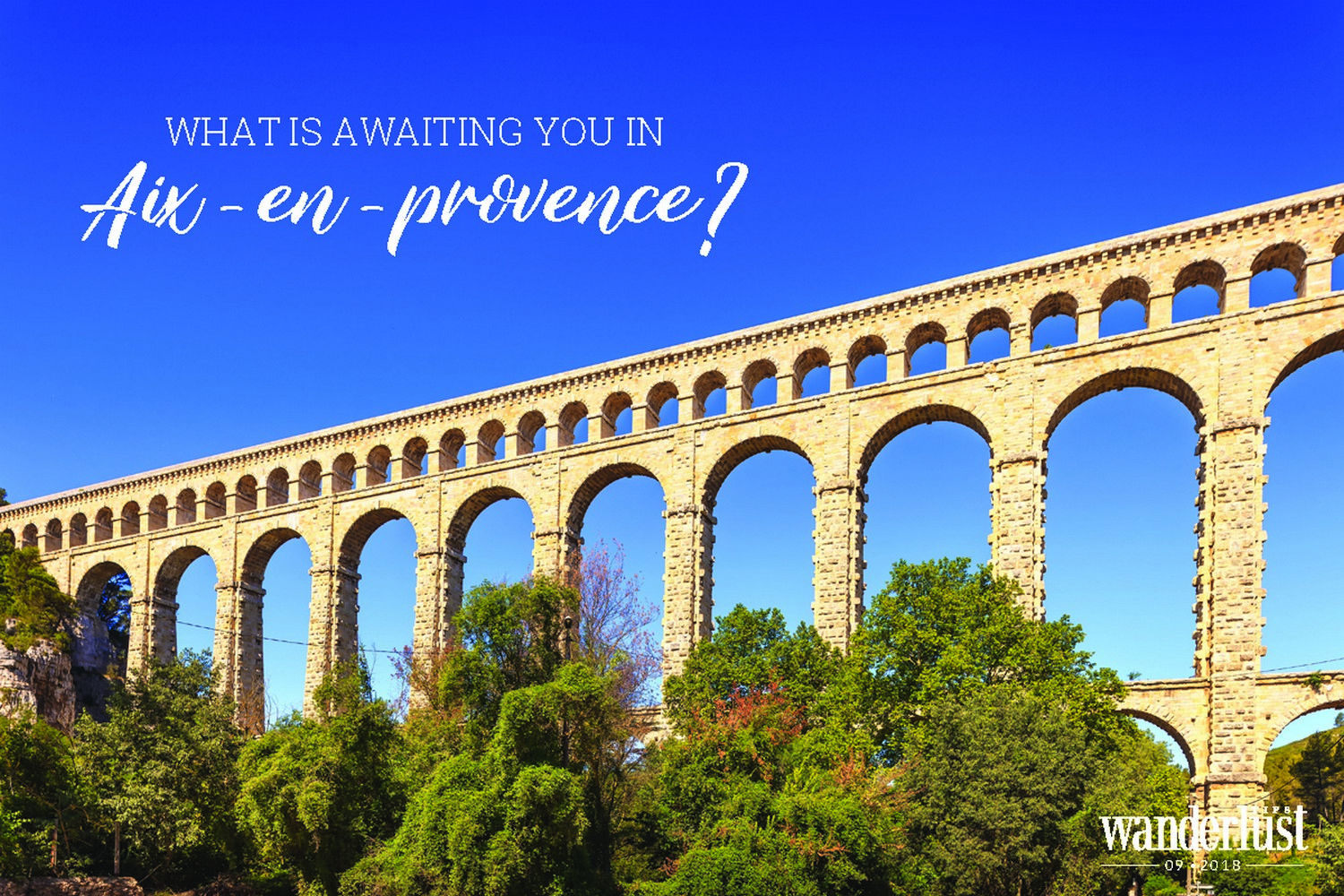 GREAT WORKS OF ART
People call Aix by different names, but one of its well-known names is villed'eau, the city of water, as there is an abundance of fountains in this city. The number of fountains in Aix may be more than you can imagine. You will have to spend many days in order to explore all the fountains here.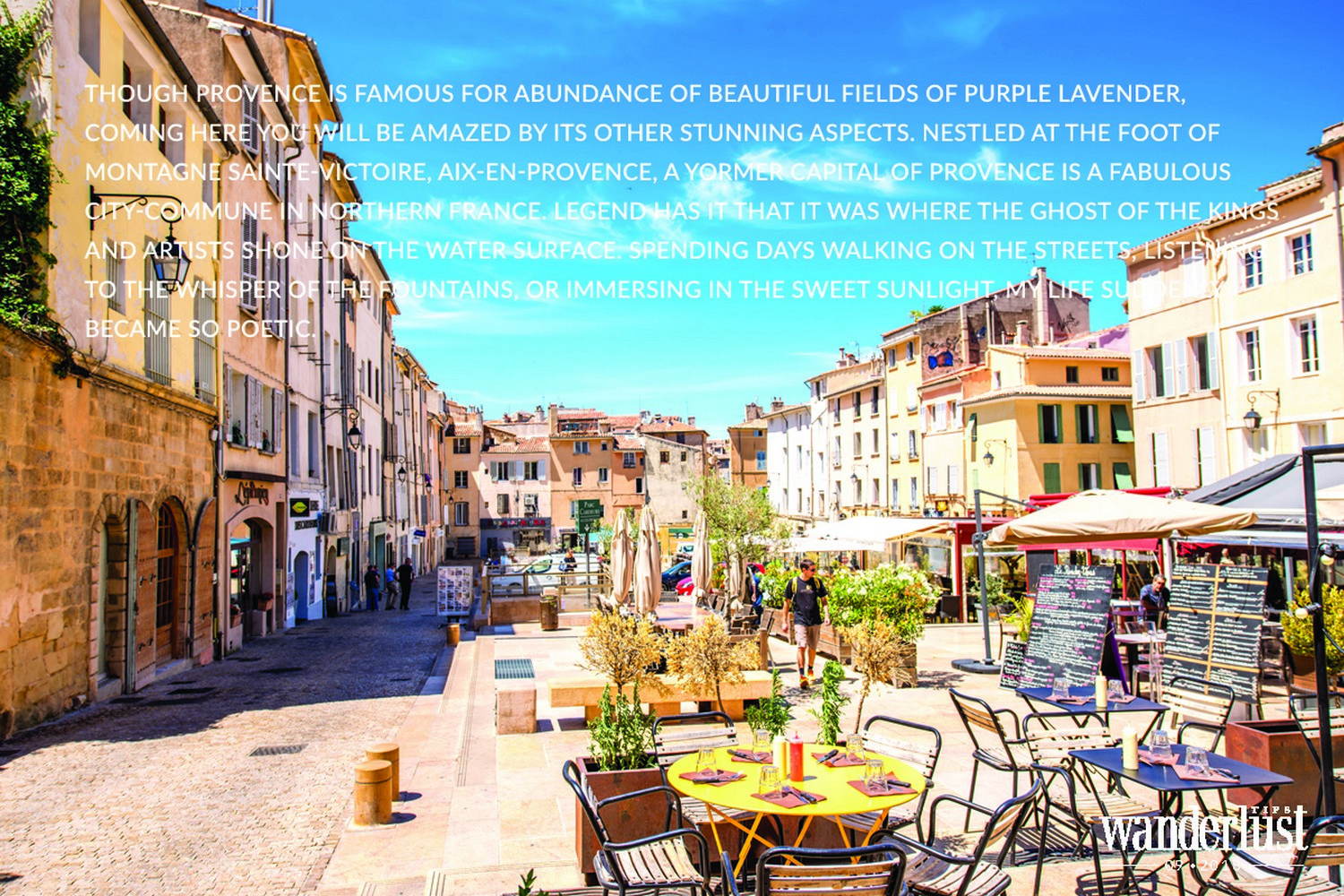 Only in Cour Mirabeau, there are already 4 fountains, and the most famous one is La Fontaine de la Rotonde. Situated at the centre of Général de Gaulle square at one end of the Cours Mirabeau,the majestic Rotonde was designed by Théophile de Tournadre and built in 1860. It is 32 metres wideand 12 metres high. It is surrounded by bronze sculptures of twelve lions, sirens, swans, an dangels on the backs of dolphins. At the top of the fountain, there are sculptures of female figures presenting Justice (towards the Cours Mirabeau), Agriculture (towards Marseille), and Fine Arts(towards Avignon). Therefore, people here call it"les trois Grâces" (Grâce in France means kindness, favour, esteem). At the centre of the square, it appears so beautiful, deserving the attention and admiration of all visitors who walk by. Citizens here are also very proud of the artwork representing the wealth of both material and spiritual means of their homeland.
During the days in Aix, I wandered on typical small streets of Provence that led to incredibly beautiful attractions. Aix has many historical relics such as Cathédrale Saint-Sauveur, Archevêché de Paris, Pavillon Vendôme which exhibits modern an contemporary arts, Musée Granet that features more than 12,000 works of art, in which there are 10 paintings of Paul Cézanne. And it's important not to forget to mention Paul Cézanne, he is the one who breathed life into the scenic paintings of Pays d'Aix, now they are displayed at museums around the world. You can visit his house which has fully been restored; it is where hecreated great works of art in his life.
I took a rest at a small square where a fountain was singing and the cool breeze was blowing, soothing my soul and mind which were burned by the heat of the summer during the journey of discovering the city. This was a truly refreshing noon to me.
AWAKING ALL OF THE SENSES
Aix is like a stream, it never sleeps. I was very interested in the nightlife because the atmosphere in all the small squares were very thrilling. You and your friends can gather at bars in Place des Cardeurs or Rue Espariat to enjoy some cups of wines; there are many friendly visitors who come here. You can also choose to enjoy a couple's
dinner at the romantic La Chimère restaurant or go on a journey to explore different aspects of Aix when the sun goes down. When the night comes, fountains full of water on every street of Aix bring a sense of pleasantness and refreshes the atmosphere.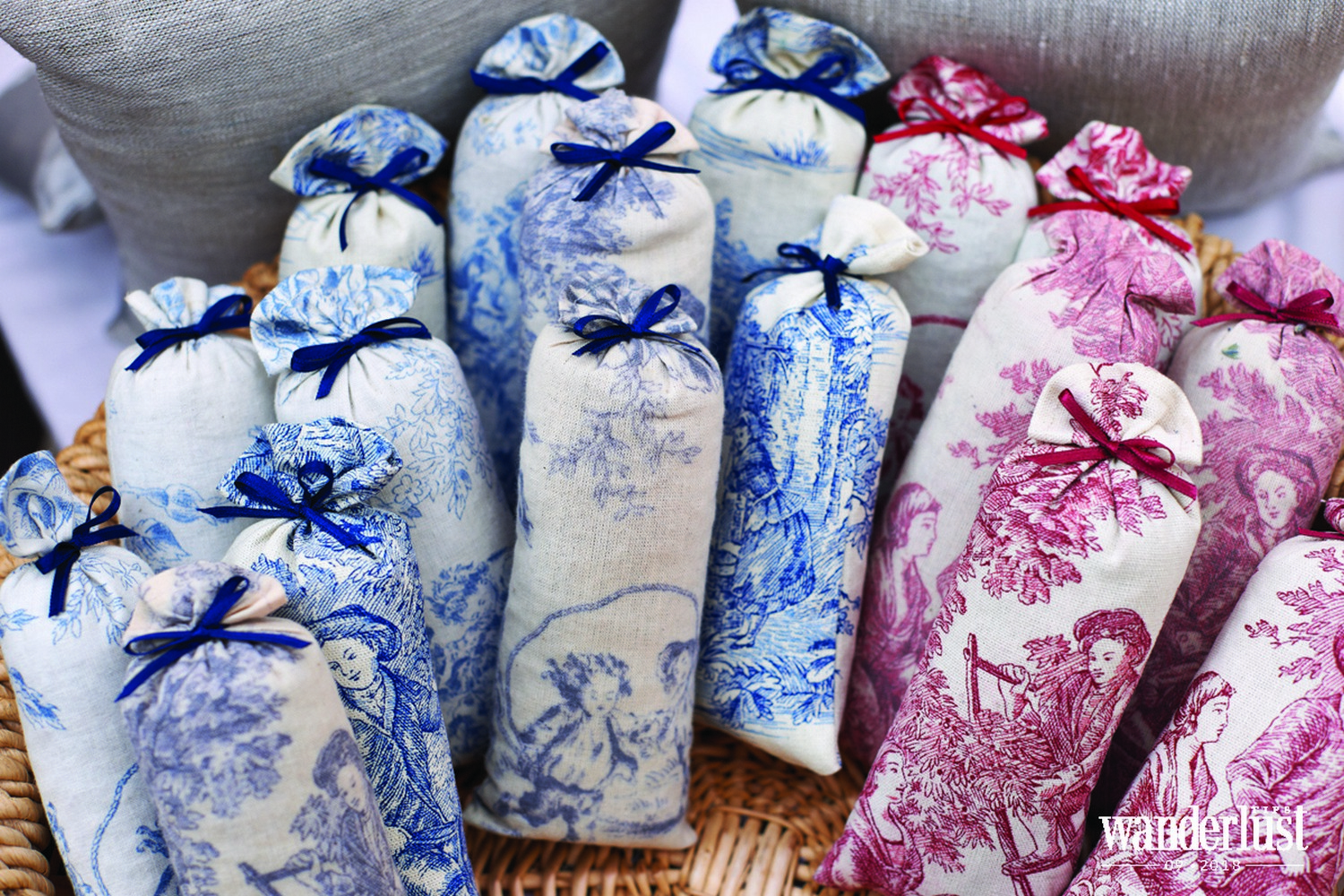 Cours Mirabeau is an avenue located at the centre of the city, connecting the Quartier Mazarin, which extends to the south, and the Ville comtale, the old town which lies to the north. There are many big stores and lovely cafés alongside the street, which reminded me of The Avenue des Champs-Élysées in Paris. By the order of the Cardinal Michele Mazzarino, Cours Mirabeau was built in the 17th century while the city was being expanded. Mazzarino hoped the capitalists and nobles would build elegant buildings representing their affluence and success. If you are a devotee of history, architecture, and arts, it is a must-see place in Aix. Today, Cours Mirabeau is one of the most crowded streets of Aix, attracting visitors by its lines of giant trees, exclusive high buildings, and stunning fountains.
When the night comes, Cours Mirabeau fully lit up by the lights of cafés and cluster of stalls in the night market that sells local products along the road. The night market is a cultural feature of the city and opens in the summer, an ideal time for visitors to wander around the city and enjoy the pleasant atmosphere in the evening. You can find a lot of specialties of Provence such as dried lavender and its products like dried flower bags, lavender essential oil, aromatic soap, honey; calisson made in the traditional method. You can also find the herb of Provence, which is the ingredient of many famous French dishes and is considered the cuisine feature of this region. Crafts and jewels can also be found in Provence. Walking along the street, I was amazed by the sparkling lights and bustling noises, enjoyed the calisson, and immersed in the fragrance of lavender while reaching to touch cool water in the fountain. It was a memorable night in Aix where all my senses seemed to be awakened.
THE CHARM OF LOCAL CUISINE
The cuisine is an indispensable part of the journey to explore the local culture. Food culture was formed and influenced by the historic and geographical conditions of a region. Aix in particular and Provence, in general, has a diverse climate and landscape The coast here is bordered by bays and creeks with nearly 1,000 fishing boats going in and out daily. It is also the place that produces a great amount of salt for the country. Its great fruitful plains create very favorable conditions to develop agriculture like growing fruits, vegetables, flowers, herbs, grains, oilseeds, and nuts. The mountain ranges offer extremely diverse fauna and flora in this region. In addition, Provence cuisine is influenced by Mediterranean Sea cuisine, especially Italian. Tomatoes and eggplants brought here after the Exploration of North America have changed the eating style of many citizens of Provence.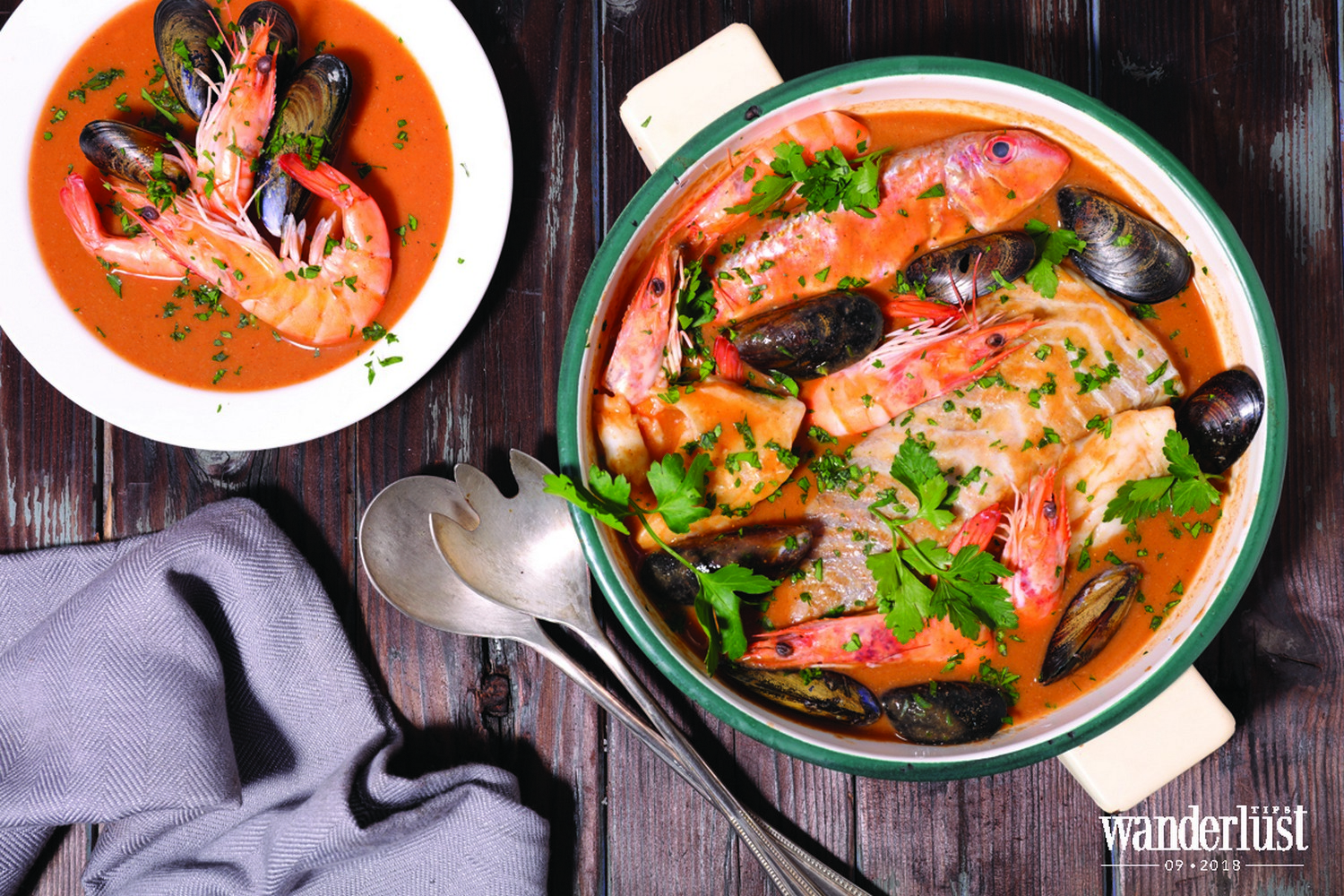 The long-standing history, ideal geographical and climate conditions has led to the blend of different traditional cooking styles from many regions in Provence's cuisine. However, the unique features which differentiate the Southern cuisine are garlic and olive oil, which appear in almost every dish of the locals. Not being complicatedly decorated, dishes here are just full  of colors and cooked with a lot of ingredients such as fruits, vegetables, fish, seafood, and fragrant herbs. Some specialties of this region include Bouillabaisse (seafood and fish soup), aioli (a Mediterranean sauce made of garlic and olive oil), pistou (a Provençal cold sauce made from cloves of garlic, fresh basil, and olive oil), and ratatouille (made of courgettes, eggplant, red pepper, and tomato sauce).
My most favorite meal was at a small local restaurant. The friendly waiter brought us two cups of Pastis (an anise-flavored spirit and apéritif from France) and tapenade (a dish consisting of puréed or finely-chopped olives, capers, and olive oil) served with bread; they are both specialties of this region. After my taste was stimulated, the dishes were brought to the table in succession and served in French style: entrée (appetizer), plat (main course), and dessert. I chose gazpacho (a cold soup made of cantaloupe and watermelon), this was a typical summer dish of south France. Then I chose veal fillet served with rice and mixed with mushrooms and black garlic cream, seared tuna served with taboulé and turmeric sauce. The meal ended with the sweet taste of chocolate cake. And it would have been a big mistake if we did not enjoy a cup of Côte de Provence while eating. Trying food cooked from local fresh ingredients in a harmonious atmosphere of Aix brought a deep impression of this city to me,and I fell deeper in love  with the streets, hospitable people, and local cultural features.
W.TIPS
VISA. You can apply for a Schengen Visa to travel to countries in Europe bincluding France. Otherwise, you can also apply for a visa at the Embassy of France in Vietnam for around EUR50.
HOW TO TRAVEL TO AIX 
From Paris, there are many ways to travel to Aix.
⇒If you have time and want to take a scenic route, you can go by car through the A7 and A6 motorways, which will take about 8 hours to drive and cost EUR70 to pass through the toll station.
⇒You can also easily find public transportation such as highspeed trains that will take only 3 hours. Buses are also available. You should choose iDTGV or OUIGO because the price is much cheaper than TGV. – Travelling by airplane will be very time-consuming with the flight process and the travel time between the city and the airport.
VEHICLES. There is no subway in Aix, but the bus network reaches all over city, and another option is to rent motorbikes or bicycles.
WEATHER. Provence has a Mediterranean climate which is hot and dry during summer time, while winter is not too cold. You can expect temperatures of 38°C when visiting Aix and this can be expected all year round.
Wanderlust Tips