Visit Italy, you may find coffee shops in almost every corner of the street. Italians enjoy coffee throughout the day, with certain beverages at certain times. So there is a lot to learn about Italian coffee culture, including when to drink, what to order and how to order coffee in Italy.
Coffee has become a culture in Italy since coffee beans were first introduced in the 15th century. The Italians have had intriguing arts of making and drinking coffee since then, by using the popular steam-driven, high-pressure espresso machine.
What and how to order
Drop by a coffee shop in Italia, here are some common options you may probably have:
Caffè
Basically, this is espresso, served black and only in one-shot increments, held in a small warm cup.Italians often order it at the bar, while standing, and drink it quite quickly while it's still at optimum temperature.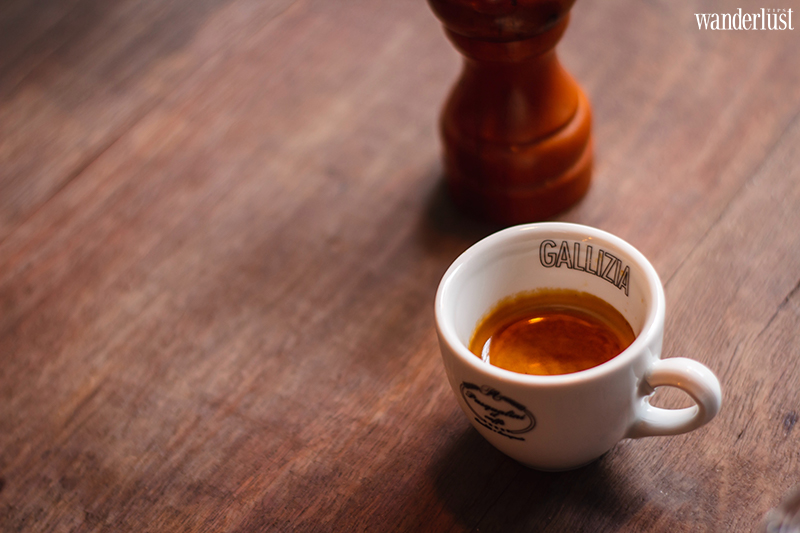 Divide it into two or three sips, take a moment between each sip to feel the taste notes and aftertastes. Finish with a sip of water and get on with your day, this is one of the most classic ways to enjoy the rich flavors and aromas of high-quality coffee. 
While it's common to order a doppio in the US, people here only take a caffè and will return to the barista if they wish to have another cup. 
And an important thing to remember: it's not locally and culturally friendly to ask for a takeaway cup of caffè. Drop by a coffee bar, order a warm shot of caffè, have the sips quickly, get enough caffeine, smile with your barista, that is the thing!  
Cappucino
This is one of the most favorited coffee drinks of Italian. This is a cup with an equal amount of espresso, steamed milk and milk foam. 
Caffè Latte
Also have three layers made of espresso, steamed milk and milk foam, do you wonder what is the difference between a cup of cappuccino and a caffè latte? 
Caffè latte has a thinner layer of milk foam on top, which brings a different mouthfeel when you have a sip. In Italy, if you order a "latte", you will get a simple glass of cold milk. So remember to ask for a "caffè latte" if you are looking for a silky coffee drink. 
Caffè Macchiato & Latte Macchiato
There are two types of macchiatos in Italy. If you are looking for a strong drink, go for a caffè macchiato, which has espresso and a splash of warmed milk. 
Latte Macchiato is essentially an exact opposite of a caffè macchiato, it's warmed milk with a splash of espresso
Marrochino
Many Italians love marrochinos. This is a dessert coffee drink comprised of an espresso, some dashes of chocolate and topped with milk foam and a sprinkle of cacao or cinnamon powder. 
Caffè Corretto 
A cup of caffe mixed with alcohol such as grappa, brandy, rum or sambuca is called caffè corretto in Italy – which means corrected coffee, interestingly!
When to order what?
People here often kick off the day with a cup of coffee and breakfast, typically Cappucino, Latte Machiato and Caffè Latte. However, the Italians do not drink any coffee made with milk after 11 A.M, as milk is too heavy for them to consume after a meal. Therefore, if you want to "act locally", go for other types of coffee after lunch!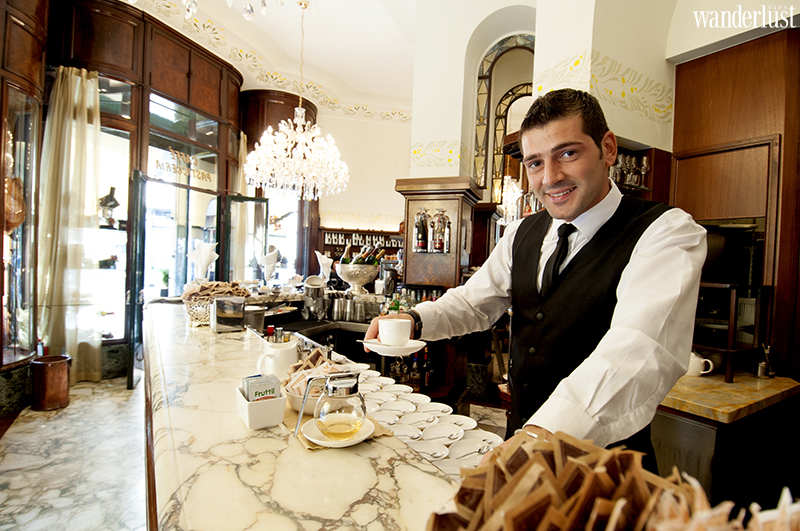 After a meal, or at an afternoon pick-me-up drink, Italians often have a caffè, or macchiato – this is one of the few coffee drinks with milk that is not ordered without any rasing eyebrowns after 11 A.M!
Italians still enjoy coffee at night, especially after dinner and dessert. Finish a day with a cup of caffè or caffè corretto, what a fantastic way!