Tired of the daily tension and craving for a sunny getaway? Without a doubt, Palm Springs it is! Pack up a bottle of sunscreen, put on your sunglasses, and prepare yourself a fully charged body for a heart-and-soul restoration.
Why Palm Spring-ing in fall?
Whether it may be pouring somewhere else, Palm Springs still guarantees its acquainted sun will come up to proudly engulf its roofs with sunshine for more than 360 days year-round. The perfect time to visit this sunny city is believed to be from January to April, which comes along with the foreseeable unavailability of rooms, if yes, with very high prices.
Not joining the bulk, we suggest you give Palm Springs a chance around October to December, when the weather is decent and it is a high chance to spend your nights in a wonderful room with a much more pleasing price.
The temperature in this period ordinarily reaches its peak at around 90 degrees in October and could chill down at nearby 45 degrees on the coldest days around year-end. You may even be found putting on your shorts under the sun in the morning, and holding tight onto a jacket during a chilly night walk by the beach. Taking advantage of this unique kind of weather, here are 5 fascinating activities we suggest giving a shot.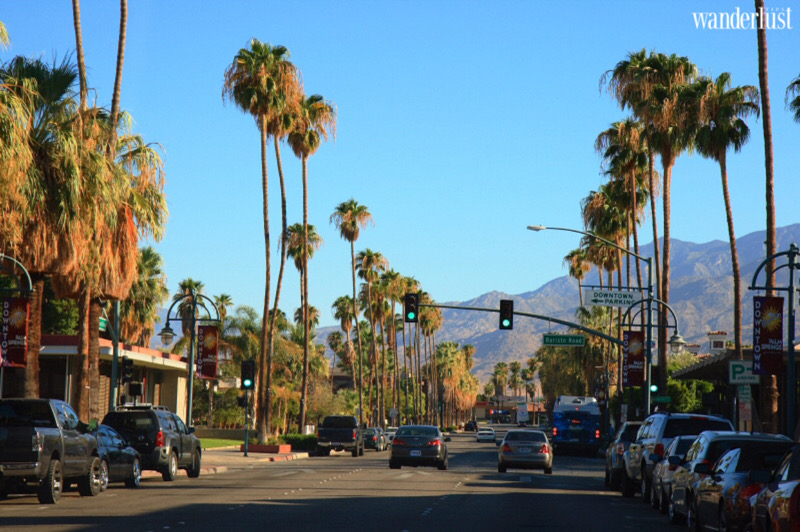 Sunbathing
Sunbathing under the sunshine because why not! It seems to be a must-have experience for any Palm Springs traveller to lie down and get tanned by the nature. 
All you got to do is to pick a cool spot by the pool, never forget your sunscreen protection, put on sunglasses and be ready to soak your full body into the glow. There are no limitations, but we suggest you start at 8 a.m and do not stay in that comfy spot later than 4 p.m falling asleep since it would get cooler in the evening.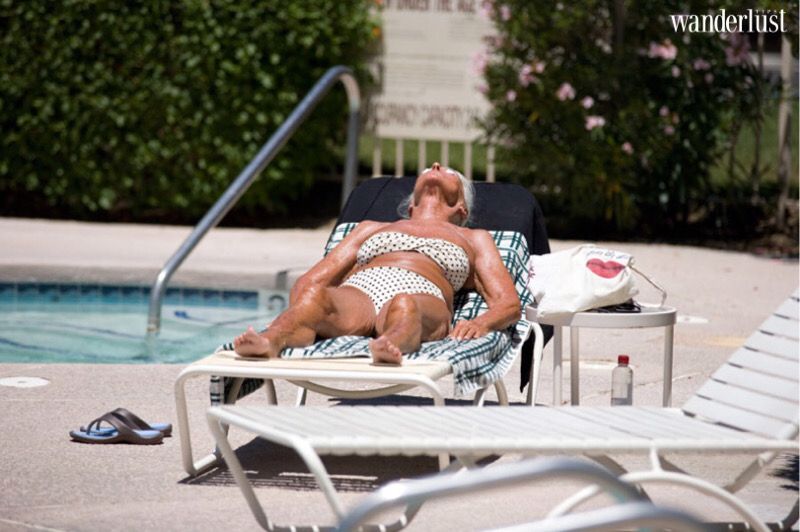 Go hiking
Did you know? Hiking in Palm Springs is the ideal experience for outdoor enthusiasts for an extensive adventure. There's no lovelier way to not only get fit and train your legs but also to be given a serene chance to wash out all the worries and admire the natural beauty.
There are dozens of trails for hikers to explore, offering from beginner to professional level. Here we suggest you start at Cap Rock Trail for a flat hike in easy mode. If you're seeking a more adventurous trek, try Murray Canyon Trail to see a reward at the endpoint of a 5-mile-long trail: the splendid view of the Seven Falls. For the hardcore, be well-prepared to spend half a day exploring San Jacinto Peak – one of the most favourite trails in the area. Make sure to be well-packed, fully charged, don't forget to look online first since you'll have to take Aerial Tramway to get to the trail, hence reservations in advance are recommended.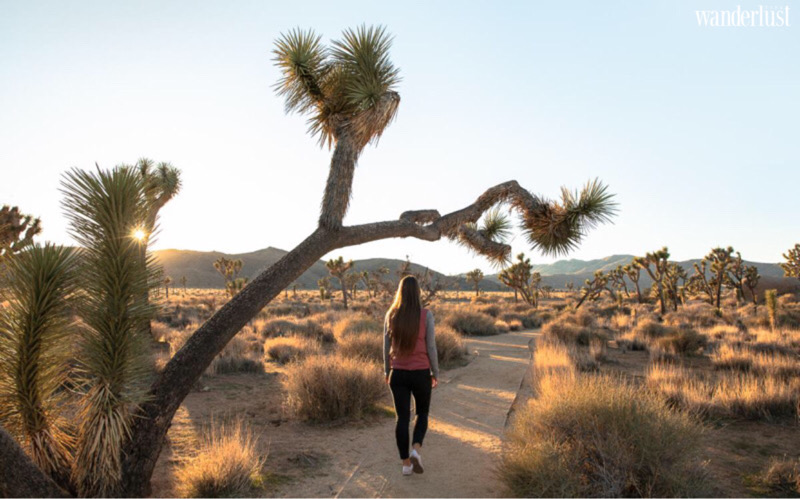 Try sports: golf & footgolf
Golfing in Palm Springs sounds so prestigious, and in fact, it is! Strolling on the green, enjoying the desert breeze, staying calmly focused because there are scores to make. There may also be a chance to catch the Palm Springs Golf Annual Championship spirit with the community if you're planning to stay longer till January. 
There are stunning places with dreamy views suggested: Escena Golf Club offering a classy nature view, or the La Quinta Resort & Club at PGA WEST providing 5 marvellous public courses with deluxe experiences. 
Golf is fine, but how about footgolf? Now let me introduce you to some new things: just kick it! Sounds odd, but it's actually pretty familiar: a combination of soccer and golf, as you basically kick a football into a hole with as few shots as possible. Footgolf can be played in some golf courses, take a look at Desert Willow Golf Resort, or ask Tahquitz Creek Golf Resort if you want to give it a try.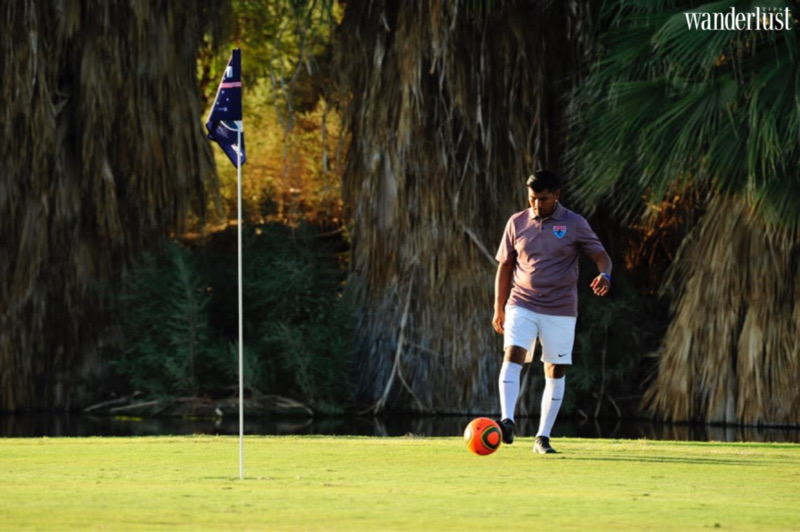 Spa
If you're not feeling like going out, spas are here to cherish your beauty and shelter your wellness. Spas in Palm Springs with the lovely tropical-inspired climate might grant you the best desert-feel relaxation to ease all the hurry off.
If you're looking for a fully-equipped spa that includes pools and steam rooms along with signature treatment like the sticks & stones massage or honey massage, The Well Spa at Miramonte Resort Indian Wells must be the one. Or else, try Two Bunch Palms Resort and Spa with a lavish spa menu to immerse yourself with a healing hideaway by the water lullaby.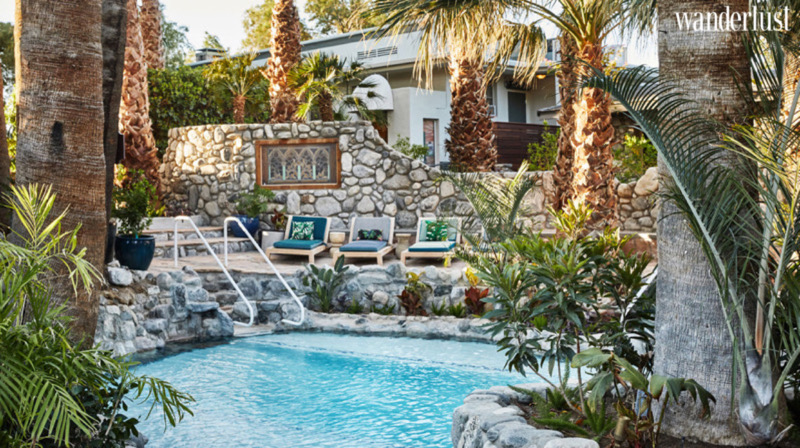 Shopping
Straight fact: Nothing is more stress-release-fun than shopping! Note down these recommendations, head downtown and have yourself a spree.
If you're an antique lover, you may want to check out Mitchells Palm Spring on 106 S Indian Canyon for some one-of-a-kind fashion finds, or head to 505 East Industrial Place to visit a two-story store called Antique Galleries of Palm Springs with a vast of choices, from jewels, fashion, artworks to vintage furniture, collectables and more. For those who want to bring home a Palm Spring-ish representative, Just Fabulous is just the place for it. Here you can have full options, from summery printed apparel, stylish home decor to vibrant gift cards, all can be found in this lively store.