Chinese cooking is one of the oldest and most diverse in the world, each of the 23 provinces within china has its own cooking style. Of all the Chinese regions, the cuisine in Guangdong province is believed to be the most varied, they're usually referring to the cantonese cuisine;and it may be indeed true to say that the cuisine cannot be completed without dim sum mania.
[rpi]
HISTORY-TREASURE DIM SUM
Dim sum means 'touch of heart' in Chinese. The small portions were designed to merely touch the heart not sate the appetite, and as such were first enjoyed as snacks. It is inextricably linked with yum cha, or the act of drinking tea – so much so that even now the two phrases are used interchangeably.
There are many myths surrounding the origins of dim sum. The most popular story is that it was created by chefs of the Royal Court many centuries ago, in order to 'touch the heart' of Chinese emperors. As the tradition began to spread, those who travelled along the ancient Silk Road through China would often need a place to rest before continuing on their journey. In response to the increasing amount of people passing through, teahouses opened up along the roadside of southern China. It was later discovered that tea aids digestion, so teahouse owners began offering bite-sized snacks as an accompaniment, and thus yum cha was born.
THE CUISINE OF DIM SUM
Nowadays Dim Sum is an integral part of Chinese culture, and is widely appreciated in many other Asian countries. The filling, pastry and shape depend on the region and climate from which it originates. The tastiest is said to come from Southern China such as Guang Dong and Hong Kong. In most cities and towns in Guangdong province, many restaurants start serving Dim Sum as early as five in the morning. It is a tradition for the elderly to gather to eat Dim Sum after morning exercises. For many Southern people, Yum Cha is also treated as a weekend family meal. More traditional dim sum restaurants typically serve dim sum until mid-afternoon. However, in modern society, it has become commonplace for restaurants to serve Dim Sum at dinner time; various dim sum items are even sold as take-out for students and office workers on the go.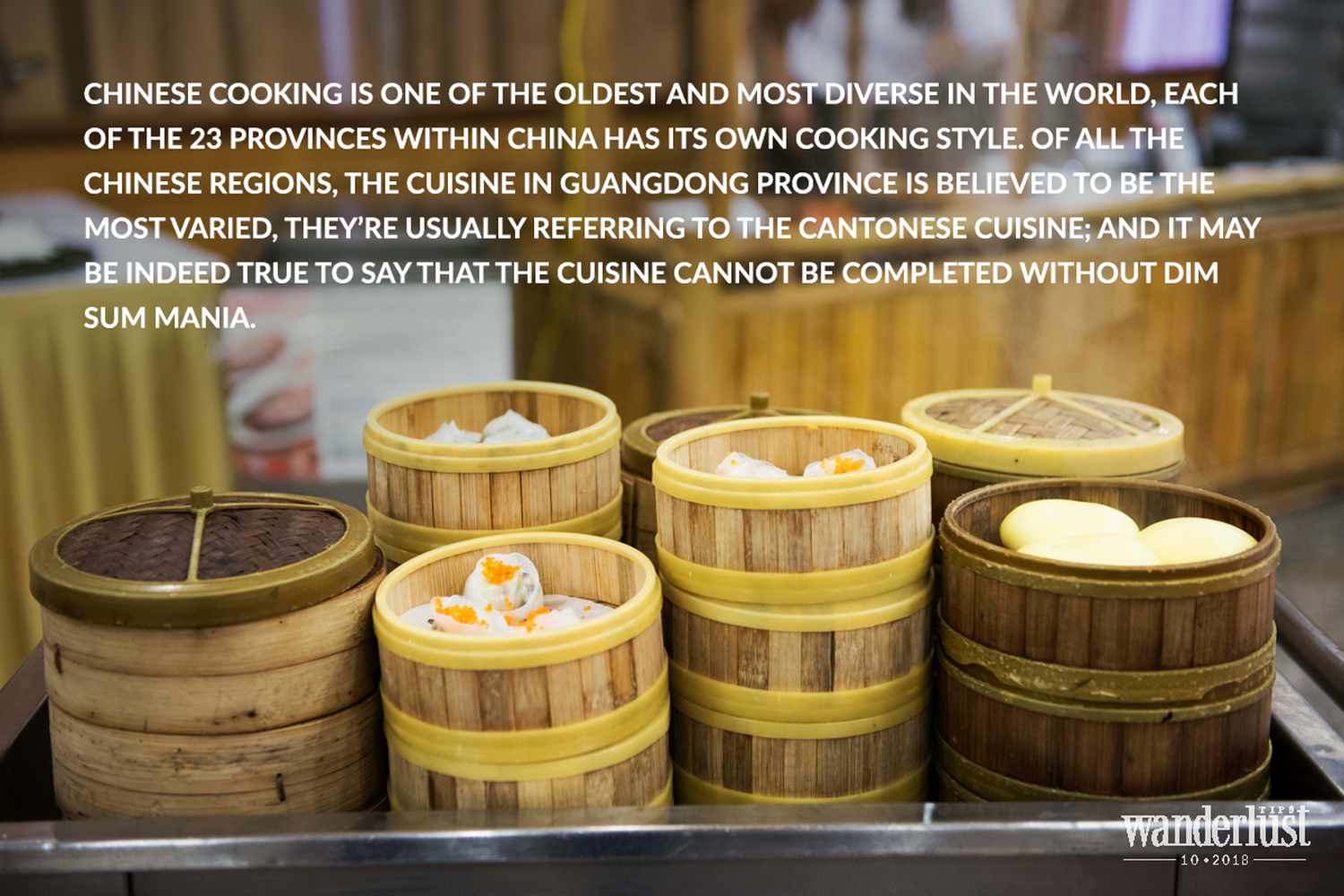 Each Dim Sum dishes consists of three to four pieces, which arrives in piping hot bamboo steamer baskets or on small plates. Often, in restaurants, the morsels are served from carts that move around from table to table, which means they're great for sharing, and provide the perfect excuse to try as many items as possible. Nowadays, many restaurants serve Dim Sum in A la carte menu and it is ideal for customary order to family style, sharing dishes among all members of dining party. Visiting any dim sum restaurant and you will always be served a big pot of tea as you sit down, black, green or herbal tea are best friends of every dim Sum dishes.
HERE ARE TOP 5 DIM SUM DISHES THAT CANNOT BE MISSED
1. HAR GOW
Known as the king of classic Dim Sum, this is a Chinese dumpling wrapped with shrimp inside. There are so many qualities that define this small dish and the skills of a dim sum chef can be determined by how well this dish is prepared. The translucent skin of the Har Gow must be thin and clear enough where you can see the succulent pink shrimp inside but not too thin where it breaks when picked up by chopsticks. If it is too wet, it'll most likely be too sticky and weak where it'll break, too dry and it'll not look or taste too appealing. With so much to talk about with just the wrapping, it's easy to see why there is so much emphasis on this dish in the world of dim sum.
2. SIU MAI
If Har Gow is the king of dim sum, the queen is Siu Mai. These two dishes are pretty much default orders when having Dim Sum. Wrapped in a thin yellow coat, dim sum Siu Mai is usually made with pork, sometimes shrimp is added to the mix. To garnish, many restaurants decide to use roe to add a little orange pizzazz. This dim sum dish is so popular that it has made a leap to street food as well.
3. STEAMED CHICKEN CLAWS
With a fierce name like "Phoenix Claws," you know that this dish is not for the faint of heart. While many people will not try chicken feet, this dish is usually heavily spiced with black pepper and is colored red – kind of like a phoenix. Don't knock it until you try it though!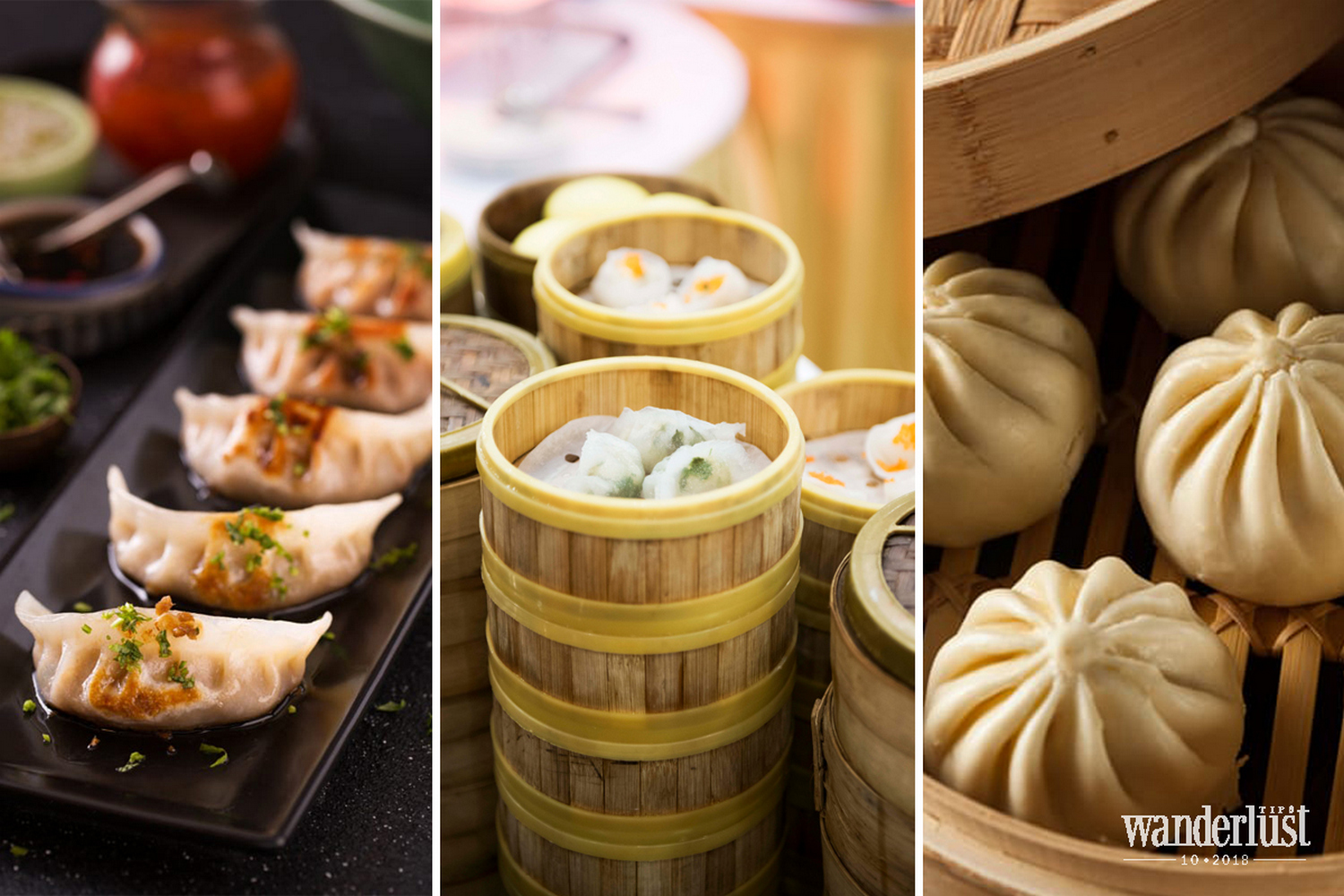 4. BARBECUED PORD BUNS
One of the most well-known bun dishes to eat while having Dim Sum is Barbequed Pork Buns. This dish is made with Chinese barbecued pork (char siu) and has a sweet-savory flavor to it. Traditionally, this is a steamed bun characterized by its fluffy white appearance, but recently the baked version has come up to be on par with the classic. New twists on this dish include putting a pastry top on the bun, creating a flakey texture to complement the soft bun.
5. SALTED EGG YOLK BUNS
The lightly crisp exterior encases a center that bursts with a fine medley of salted egg and sweet custard. The luscious lava tastes heavenly and clearly surpasses others with it delicate balance of texture and tang.
Renowned as one of the best Dim Sum restaurant and Chinese cuisine in Hanoi, May Man Restaurant which is located on 2nd floor of Fortuna Hanoi is an ideal destination for "Yum Cha" fans. Diner can enjoy All You Can Eat Dim Sum made to order from Monday to Saturday, indulge in the Sunday Brunch or enjoy Dinner A la carte menu, with many varieties of dim sum including steamed, panfried, noodle dishes, snacks and desserts.
All You Can Eat Dim Sum: Monday – Saturday, 11:00 am – 2:00 pm
Dim Sum Brunch: Sunday, 11:00 am – 2:00 pm
For more enquiries and reservation, kindly contact F&B Dept at:
Wanderlust Tips